I received free samples of California walnuts mentioned in this post. By posting this recipe I am entering a recipe contest sponsored by the California Walnut Commission and I am eligible to win prizes associated with the contest. I was not compensated for my time.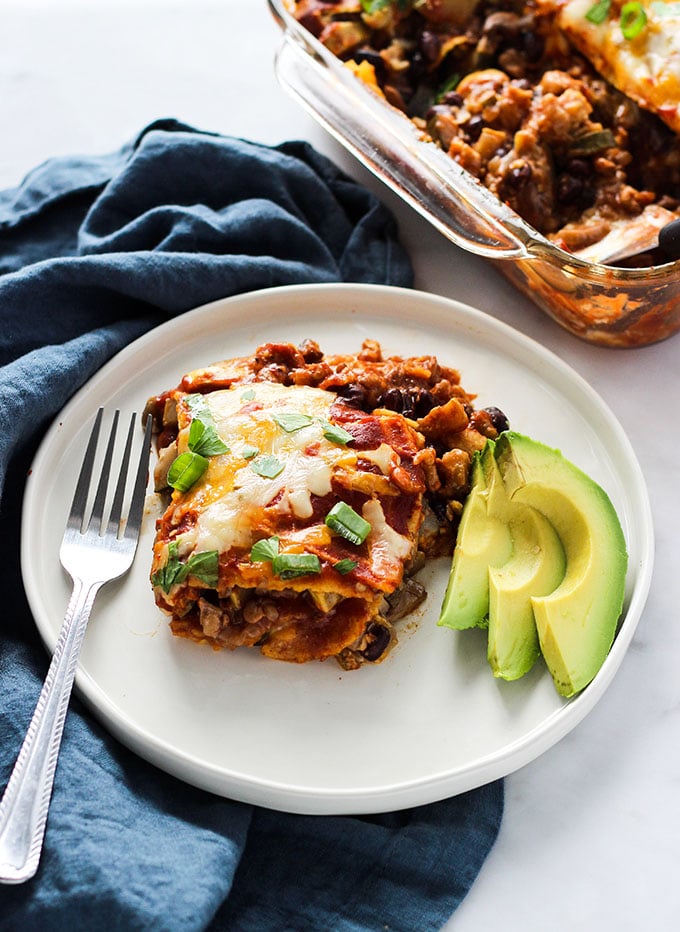 I've got a fun spin on classic enchiladas to share with you today! You may think I'm a little off my rocker by suggesting that you add walnuts to your enchiladas, but I promise it is so tasty. I've lightened up traditional enchiladas by replacing the meat with mushrooms, beans, and chopped walnuts. All of which provide healthy nutrients like protein, fiber, and Omega 3s.
In fact, each serving of this walnut mushroom enchilada casserole provides the equivalent of one ounce of walnuts. That one ounce of walnuts has a lot to offer including: 2.5 grams of the essential plant-based omega-3 alpha-linolenic acid (ALA), and 4 grams of protein and 2 grams of fiber to keep you feeling full!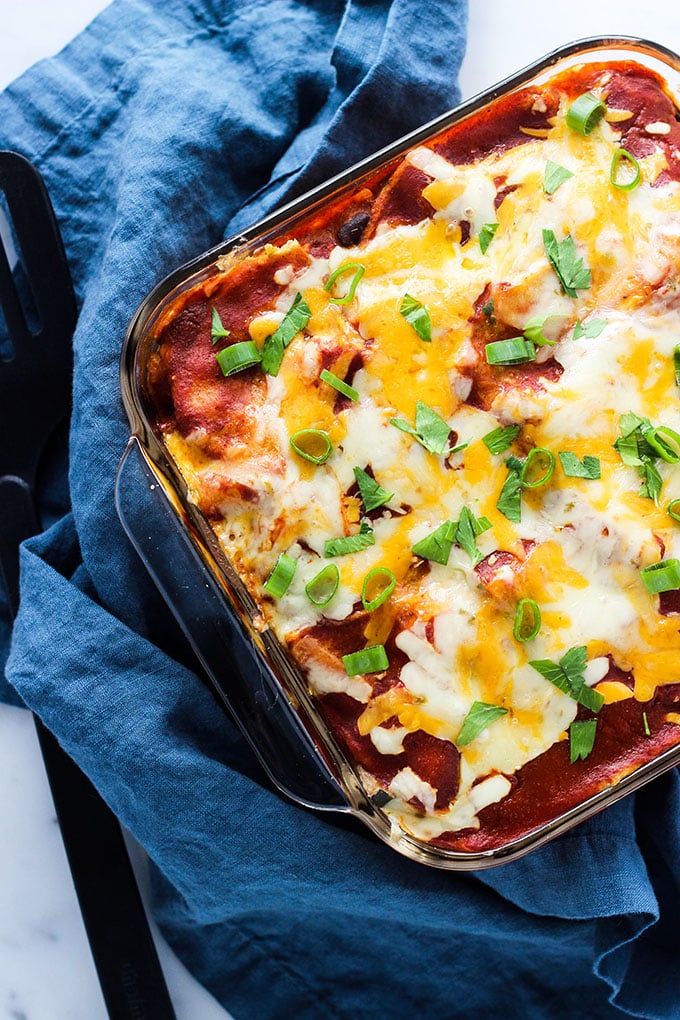 To make this recipe more feasible for a weeknight, I skipped the enchilada rolling step and just layered everything in a casserole dish similar to a lasagna. It goes so much faster this way! You can also easily adapt this recipe to be vegan too by leaving out the cheese or replacing it with your favorite vegan shredded cheese. We like making this a meal by pairing it with a big side salad for a satisfying dinner.
More Recipes You'll Love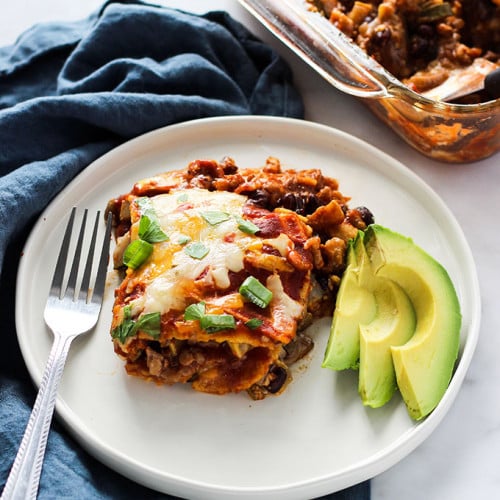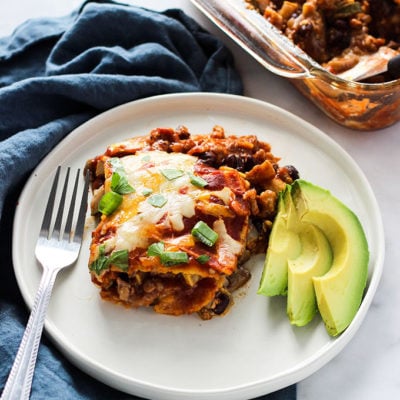 Walnut Mushroom Enchilada Casserole
Try a fun twist on a Mexican favorite with this walnut mushroom enchilada casserole for dinner. It is packed with plant based protein, fiber, and heart healthy omega 3.
Ingredients
1 1/2 cup walnuts
16 oz. baby portobello or cremini mushrooms
1 tablespoon olive oil
1 onion, chopped
3 cloves garlic, minced
1 lb. zucchini, chopped (~3 small)
1 (4 oz) can diced Hatch green chiles
1 teaspoon cumin
1/8 teaspoon salt
1/8 teaspoon ground black pepper
1 (15 oz) can black beans, drained and rinsed
1 (15 oz) jar red enchilada sauce
1 cup shredded cheddar cheese
1 cup shredded pepper jack cheese
8-10 corn tortillas
Instructions
Preheat the oven to 350 degrees Fahrenheit.

In a food processor, add the walnuts and mushrooms. Pulse until chopped well, about the consistency of cooked ground meat. Set aside.

In a large skillet, heat the olive oil. Add the onion and cook until translucent and lightly browned, about 2-3 minutes. Add the garlic and cook another minute.

Add the mushrooms, walnuts, and zucchini. Cook for 5-7 minutes or until liquid from mushrooms is cooked off and zucchini begins to soften.

Add the green chiles, cumin, salt, pepper, and black beans. Stir well to combine and cook another minute then turn off the heat.

In the bottom of an 8″x8″ pan, spread about 1/4 cup worth of enchilada sauce. Top with a layer of tortillas (cut tortillas as needed to fit in pan). Top with 1/2 of the mushroom/zucchini mixture. Add 1/3 of the cheese. Top with 1/2 of the remaining enchilada sauce.

Repeat by layering tortillas, mushroom/zucchini mix, and cheese. Top with another layer of tortillas and pour the rest of the enchilada sauce over. (May need to tap casserole on counter gently to allow sauce to flow down into casserole.)

Top with remaining 1/3 of the cheese. Place a sheet of aluminum foil that has been sprayed with cooking spray over top of the casserole and bake for 20 minutes.

Remove the foil and bake another 10 minutes. Allow to cool 10 minutes before cutting and serving.
Nutrition
Serving: 1serving | Calories: 601kcal | Carbohydrates: 51g | Protein: 27g | Fat: 36g | Saturated Fat: 10g | Polyunsaturated Fat: 15g | Monounsaturated Fat: 8g | Cholesterol: 36mg | Sodium: 1002mg | Potassium: 973mg | Fiber: 14g | Sugar: 10g | Vitamin A: 997IU | Vitamin C: 25mg | Calcium: 381mg | Iron: 5mg
Reader Interactions