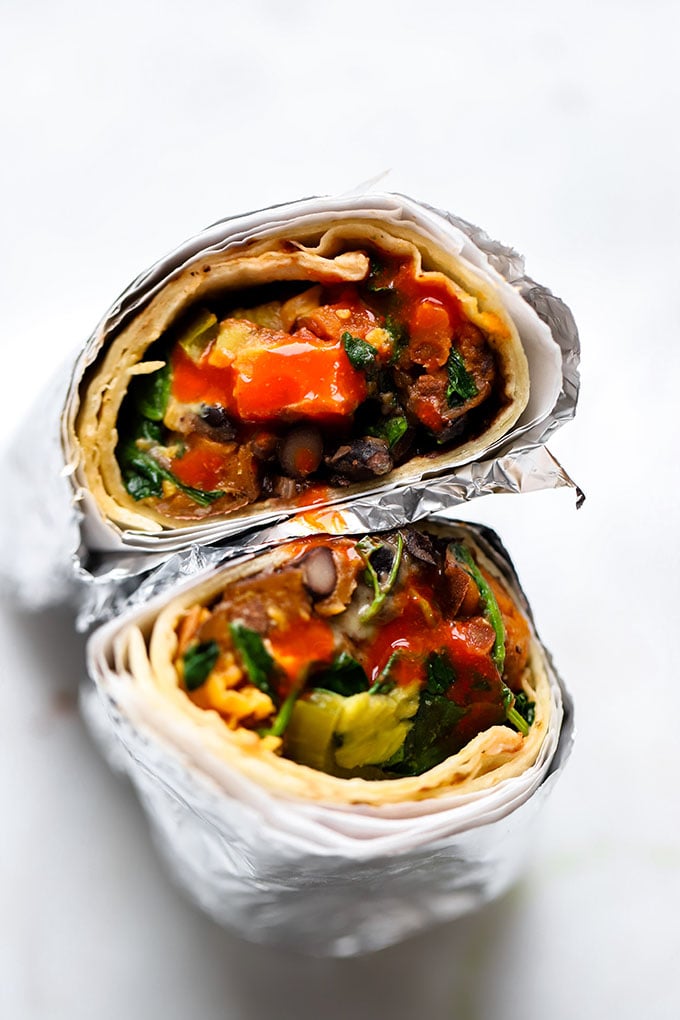 I shared the photo above on my instagram a couple of weeks ago and I am finally getting around to sharing it here! This vegetarian black bean and sweet potato burrito is basic but so delicious. I've made them a couple of times now to get the recipe right so I could share it here and I've thoroughly enjoyed them packed in my lunch for work.
The recipe makes stuffing for 4 burritos, so you'll have enough for almost a week's worth of lunches for work. I just stored them in an airtight container in the refrigerator and reheated them in the toaster oven or microwave when ready to eat.
The most time intensive part of this recipe is the roasted sweet potatoes. Depending on how much time I have, I sometimes roast up the potatoes ahead of time and then add them to the burritos later. You could also do it all at once as the other components of the burrito (beans, spinach, avocado crema) come together really quick so you can have them made while the potatoes roast.
Although it isn't typical to put cooked spinach in a burrito – I think it works! I have added spinach to other sweet potato dishes in the past and love the combo. The avocado crema sounds fancy, but it is basically a creamy guacamole made with some yogurt. If you'd rather make a vegan burrito, simply add the avocado alone rather than making the avocado crema.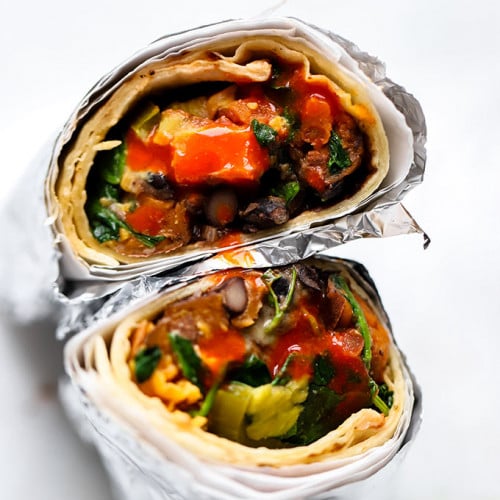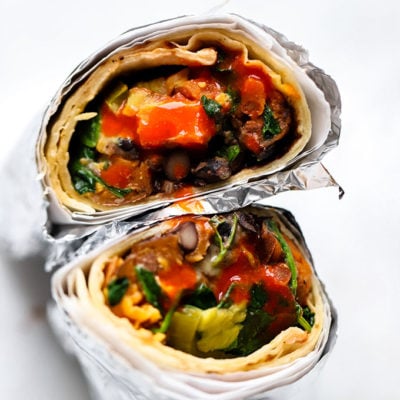 Vegetarian Black Bean Sweet Potato Burrito
These vegetarian black bean sweet potato burritos are hearty, filling, and easy to make ahead for lunch for the week! They're packed with beans, potato, spinach, avocado, and salsa. 
Ingredients
For the Sweet Potatoes
2 medium sweet potatoes
1 tablespoon olive oil divided
For the Black Beans
1 tablespoon olive oil
1 tablespoon finely chopped jalapeno
1/4 cup chopped yellow onion
1 15 oz can black beans, drained
2 teaspoons taco seasoning
For the Spinach
5 oz bag baby spinach leaves
1/4 teaspoon garlic powder
Sea salt and black pepper to taste
For the Avocado Crema
1 avocado
1 tablespoon fresh lime juice
1/4 cup fresh cilantro leaves
1/4 cup plain yogurt
Pinch sea salt and ground black pepper
To Serve: 4 burrito size tortillas salsa, hot sauce, fresh cilantro, cheese, pickled jalapeño slices
Instructions
Make the Potatoes
Preheat the oven to 375 degrees Fahrenheit. 

Chop sweet potatoes into 1/2″ pieces and spread in single layer on baking sheet. Drizzle with 1 tablespoon olive oil and sprinkle with salt and pepper. Toss with a wooden spoon to coat in oil. Bake for 35-40 minutes or until fork tender and browned.
Make the Beans
While potatoes are baking, add another 1 tablespoon oil to non-stick skillet and add the onion. Cook for 1-2 minutes until translucent. Stir in the black beans and taco seasoning. Saute 3-4 minutes until black beans are hot. Set aside. 
Make the Spinach
In the same skillet, add the spinach and garlic powder. Cook 3-4 minutes until wilted. Sprinkle with salt and black pepper. Set aside. 
Make the Avocado Crema
In a food processor, add the avocado, cilantro, yogurt, lime juice, salt and pepper. Puree until mostly smooth. 
Assemble
Assemble burritos by layering 1/4 sweet potatoes, 1/4 beans, 1/4 spinach, 1/4 avocado crema, cheese (optional), salsa, cilantro, hot sauce.

Serve immediately or wrap in aluminum foil or store in an airtight container in the refrigerator until ready to serve. 
Nutrition
Serving: 1Burrito (1/4 Recipe) | Calories: 479kcal | Carbohydrates: 71g | Protein: 17g | Fat: 15g | Saturated Fat: 2.5g | Polyunsaturated Fat: 12.5g | Cholesterol: 2mg | Sodium: 497mg | Fiber: 17g | Sugar: 7.5g
Reader Interactions