Disclosure: This post is sponsored by Dole® as part of their #SharetheSunshine campaign.
One of my go-to healthy snacks is hummus and fresh vegetables, but recently I wanted to create a hummus-alternative that I could use as a dip for fruit. Traditional fruit dip is usually made of some combination of either marshmallow cream or whipped cream mixed with cream cheese. Although delicious, it isn't something I would normally make as a fruit-based alternative to my favorite hummus snack. So, I created this healthy strawberry yogurt fruit dip as an alternative! You only need 4 ingredients to create it at home: Dole® frozen strawberries, plain Greek yogurt, maple syrup, and water.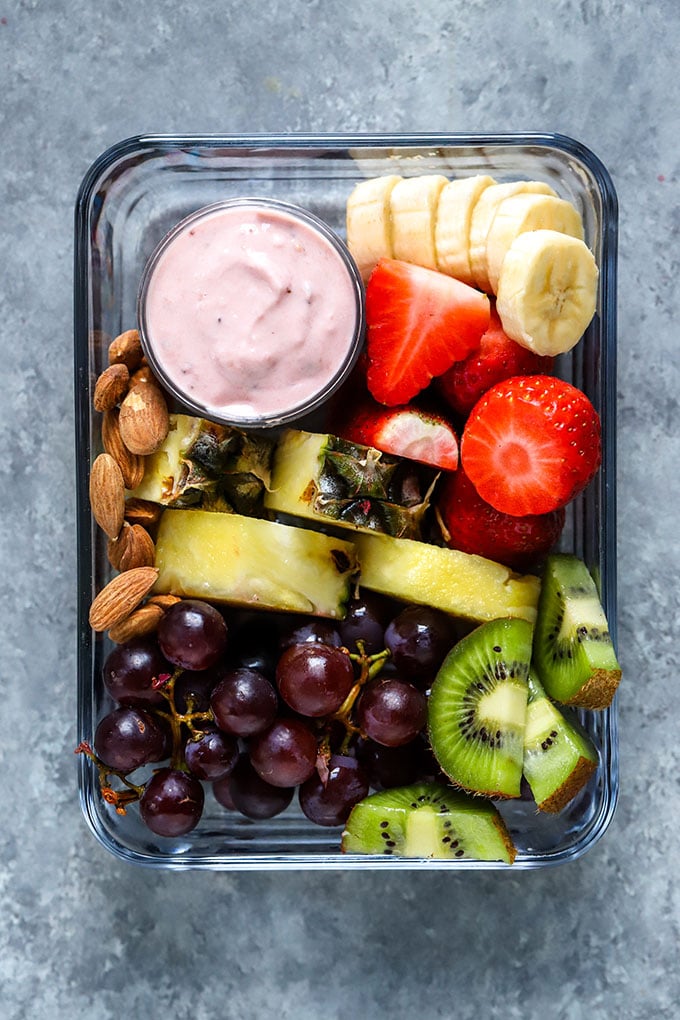 You may be wondering, why take the extra time to cook down the strawberries rather than just pureeing them in the yogurt? Cooking the strawberries into a sauce brings out a lot of their natural sweetness so you don't have to add a lot of extra sugar to this dip. That's also the reason why I didn't just use a strawberry flavored yogurt, since I like to be able to control how much sugar goes into this dip. (Many flavored yogurts you can buy at the store usually have a lot of sugar added!)
The cooking process also draws out more of the natural strawberry flavor too. I kept it super simple for the recipe and video below, but feel free to add some other ingredients for additional flavor. I think vanilla extract, ground ginger, or lemon juice would be some great options for add-ins.
Since the dip needs some time in the fridge to thicken after blending, this dip is perfect for making ahead. I usually make it on a weekend and chop up a variety of fresh fruit that I plan to pair with the dip while I wait for it to chill. I love these glass rectangle containers for transporting my fruit and dip to work with me during the week. In addition to fruit, I usually toss in a few almonds as well for additional protein.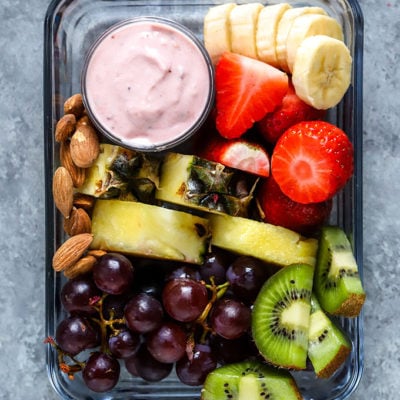 Healthy Strawberry Yogurt Fruit Dip
Up your healthy snack game with this simple strawberry yogurt fruit dip made with Dole frozen strawberries, yogurt, and maple syrup. Perfect for meal prepping on the weekend for the week ahead. 
Ingredients
2 cups Dole frozen sliced strawberries
1 tablespoon water
2 tablespoons maple syrup
1 1/2 cups plain Greek yogurt
Fresh fruit for serving
Instructions
Add strawberries, water, and maple syrup to a small saucepan over medium heat. 

Bring to a simmer, stirring occasionally. As strawberries begin to break down, mash them with the back of a wooden spoon to break them apart even further. 

Continue to simmer gently until thick sauce has formed. This should make ~1 cup strawberry sauce. Transfer to the refrigerator and allow to cool completely.

Add Greek yogurt and strawberry sauce to a food processor and puree until smooth. Transfer to a bowl and chill at least 1-2 hours. (Dip will thicken slightly more with chilling.)
Notes
If you prefer a sweeter dip, use 1/4 maple syrup instead of the water and 1 tablespoon maple syrup listed above.  Jazz it UP! Switch up the flavor of the dip by adding 1 teaspoon vanilla extract OR 1/2 teaspoon fresh ground ginger OR 1 teaspoon lemon juice to the strawberry sauce when it is nearly finished cooking. 
Nutrition
Serving: 1/6th recipe | Calories: 77kcal | Carbohydrates: 13.5g | Protein: 6g | Fat: 1g | Saturated Fat: 1g | Cholesterol: 3mg | Sodium: 22mg | Fiber: 1.5g | Sugar: 9g
Reader Interactions