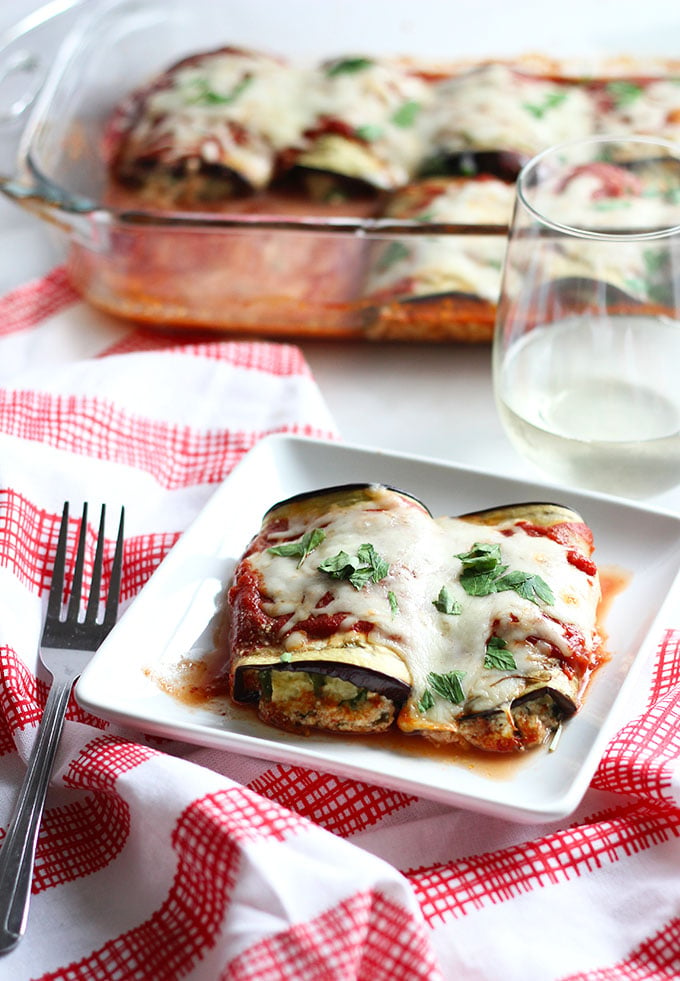 In addition to zucchini, eggplant is one of those vegetables that tends to get out of hand by this point in the summer. If you handed me an eggplant a few years ago, I would have had no idea how to prepare it. Maybe you are in the same boat wondering what you should do with a bunch of eggplant? Well, one option would be to make these delicious eggplant lasagna rolls! All you need are a few simple ingredients and a few minutes for rolling. Eggplants work well as a substitute for lasagna noodles in this dish for those who wish to go low carb or need to avoid gluten.
Why do I Need to Salt Eggplant when Cooking?
When buying your eggplants for this recipe, look for the large, bulbous American eggplants rather than the skinny Chinese eggplants. Pick out eggplants that have smooth skin and are still relatively firm to the touch. You may be tempted to skip the salting step in this recipe, but it is actually important! The initial salting helps draw out some of the bitterness from the eggplants which makes them much tastier. Definitely worth the extra 10-15 minutes it takes to let them chill in a colander after salting.
Also, when buying your tomato sauce, make sure to take a look at the label. Choose a tomato sauce without added sugar, which is often added to store bought tomato sauces. The ingredient list should be short and sweet with just tomatoes and some herbs.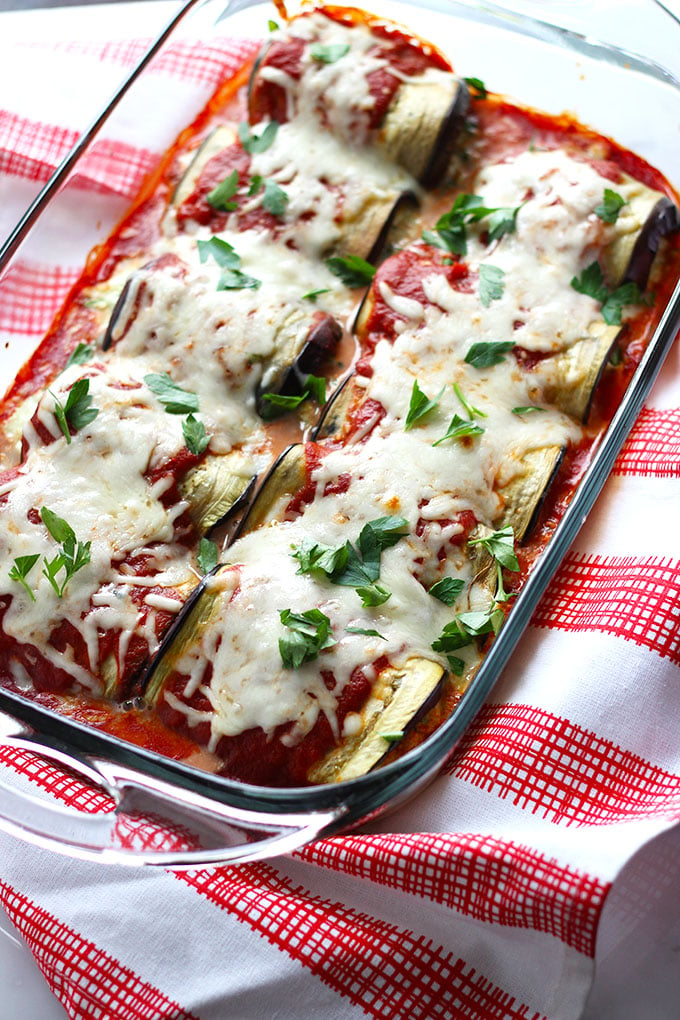 More Delicious Eggplant Recipes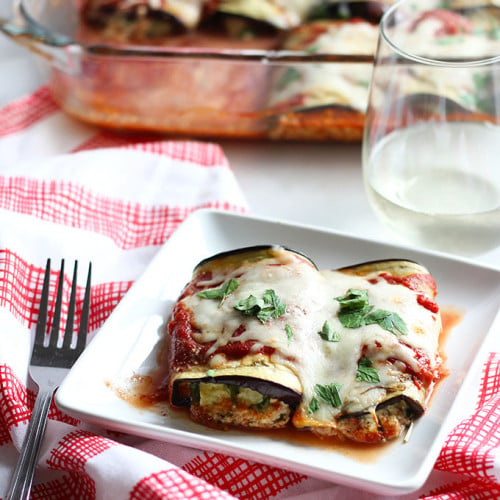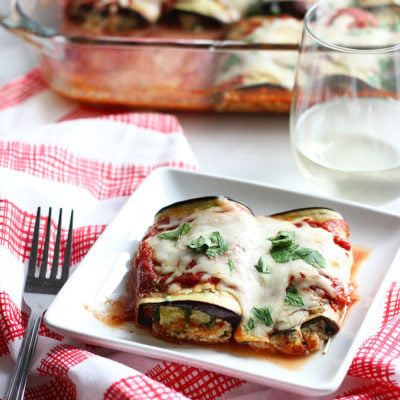 Eggplant Lasagna Rolls
Use up that surplus of summer eggplant by making several batches of these yummy eggplant lasagna rolls which are perfect for meatless Monday!
Ingredients
2 eggplants cut into 6-8 slices
1 15 oz. container ricotta cheese
1 cup chopped spinach leaves
1 egg
10-12 fresh basil leaves chopped
1 clove garlic minced
2 cups shredded mozzarella cheese
1 15 oz. can tomato sauce
Salt and Ground Black Pepper to taste
Instructions
Preheat the oven to 425 degrees Fahrenheit.

To slice the eggplants, chop the top and bottom ends off and slice into 6-8 pieces lengthwise. Add the slices to a colander and generously sprinkle with salt. Set aside for about 15 minutes or until the slices start to "sweat". (Little droplets will form along the cut surfaces of the eggplant slices.)

Rinse the eggplant slices well and pat dry with a paper towel. Arrange in a single layer on a cookie sheet and generously spray with cooking oil. Flip the slices and add oil to the other side. Bake for ~12 minutes or until slices are just beginning to get slightly browned. Remove from the oven and set a side to cool.

As the eggplant slices bake, make the cheese filling by combining the ricotta, spinach, egg, basil, garlic and 1 cup of the mozzarella cheese together in a large bowl. Sprinkle with salt and pepper and stir to combine.

When the eggplant slices are cool enough to handle, you are ready to make your rolls. Spread 1/2 cup of the tomato sauce evenly along the bottom of a 9"x13" baking dish.

Take a slice of eggplant and add about 2-3 tablespoons of cheese filling to the center of the slice. Roll into a burrito shape so that the two ends fold over each other and place end side down into your prepared baking dish. Continue rolling the eggplant slices until you've used up your cheese and eggplant slices.

Spoon the rest of the tomato sauce along the tops of the eggplant rolls in your pan. Top evenly with the rest of your mozzarella cheese.

Bake for 20-30 minutes or until cheese is melted and sauce in the bottom of the pan is bubbly.

Serve with chopped fresh parsley.
Nutrition
Serving: 1/4 recipe | Calories: 265kcal | Carbohydrates: 18g | Protein: 29g | Fat: 10g | Saturated Fat: 5.5g | Polyunsaturated Fat: 4.5g | Cholesterol: 88mg | Sodium: 505mg | Fiber: 7g | Sugar: 9g
Reader Interactions