Whenever people tell me that they don't like vegetables, I always suggest that they give roasted ones a try. There is just something magical that happens to roasted vegetables. They take on a tender texture without getting mushy, crisp up nicely around the edges, and become subtly sweet. Mmm… It makes me sad that I missed out on roasted vegetables for so many years growing up!
As a dietitian, I wanted to make sure any future Thanksgivings I host feature a lot of tasty vegetable dishes. These rosemary roasted vegetables would be the perfect side dish. I know there aren't usually enough non-starchy vegetables on the Thanksgiving table, so why not make this dish a new tradition? Who says that the turkey and pumpkin pie have to be the stars of the show?! I know I am considering it!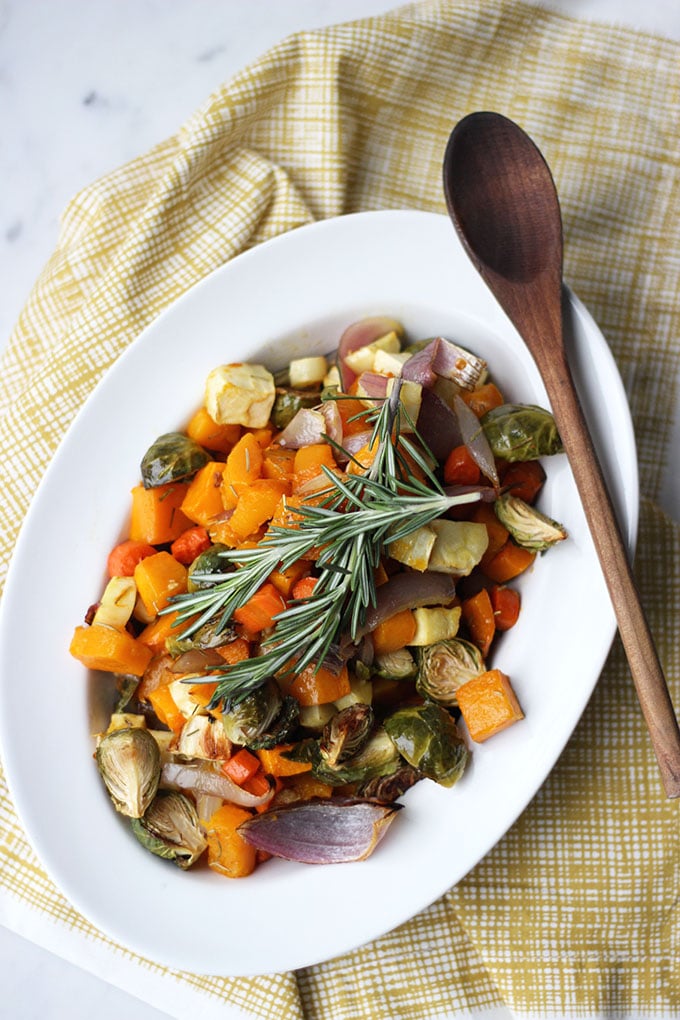 Fall vegetables pair really well with rosemary, which is a Thanksgiving favorite. I used brussels sprouts, butternut squash, parsnips, red onion, and carrots in my dish, but feel free to substitute with other hardy vegetables you have on hand. (Think sweet potatoes, delicata squash, rutabaga, etc.)
To make it extra special, I browned a bit of butter to toss the vegetables in after cooking to add even more flavor. (Roasted vegetables with a little brown butter = heaven.) Not sure how to brown butter? Check out this helpful tutorial.
More Roasted Vegetable Recipes You'll Love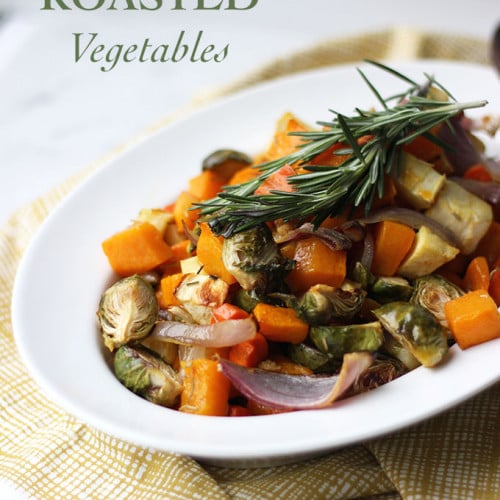 Rosemary Roasted Vegetables
No Thanksgiving dinner would be complete without a delicious vegetable filled side dish like these rosemary roasted vegetables.
Ingredients
1 butternut squash peeled and chopped into 1/2″ pieces
1/2 red onion sliced
1 large parsnip peeled and sliced in 1/4″ wide pieces
2 carrots peeled and sliced in 1/4″ wide pieces
1 large handful brussels sprouts halved
3 cloves garlic minced
3 tablespoons olive oil 2 tablespoons if making browned butter
1 sprig fresh rosemary leaves removed
Salt to taste
Instructions
Preheat oven to 350 degrees Fahrenheit.

Chop vegetables and place into a large mixing bowl.

Add garlic, olive oil, rosemary leaves and salt to vegetables. Toss to coat.

Spread onto baking sheets in a single layer. (Try not to overcrowd the vegetables.)

Bake for 50-60 minutes or until vegetables are browned and tender.

Optional: Melt butter in a small saucepan. Stirring continuously, allow butter to continue to cook until it begins to foam. As soon as the butter begins to turn golden brown and smell caramel-like, remove from the heat and pour into a heat safe bowl. Toss vegetables in brown butter to serve.

Garnish with fresh rosemary.
Nutrition
Serving: 2/3 Cup | Calories: 182kcal | Carbohydrates: 18g | Protein: 1.8g | Fat: 12g | Saturated Fat: 5g | Sodium: 103mg | Fiber: 3.5g
Reader Interactions