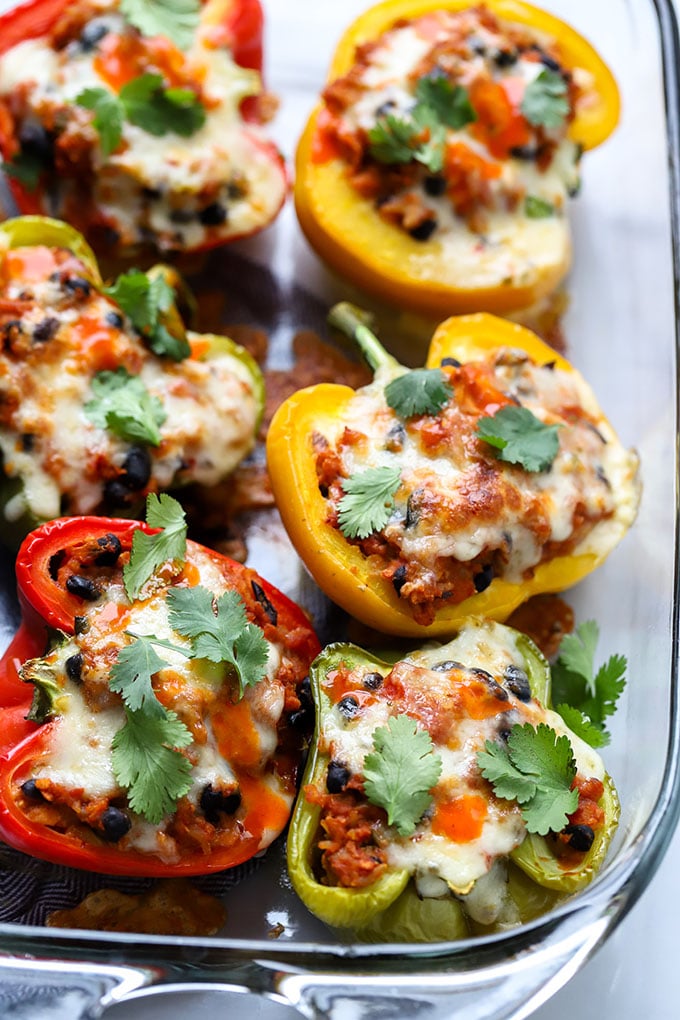 I've been a vegetarian for years and for some reason I never tried cooking with TVP, ie. Textured Vegetable Protein. TVP is a by-product from the process of making soybean oil, which doesn't sound very appetizing, but I promise it is good! In every 1/4 cup serving of uncooked TVP there is 80 calories, 12 grams of protein, and 3 net grams of carb which makes it a great plant-based meat stand-in for dishes. Will and I bought some ages ago from the bulk bins at Whole Foods and it was quickly forgotten in our pantry. I decided to finally dig it out to figure out how to use it and I was so excited about how easy it was to use for these vegetarian TVP stuffed peppers! Since TVP is a dehydrated product, all you need to do is rehydrate it in some broth or water before using. I soaked it for just 5 minutes in hot water and it was ready to use!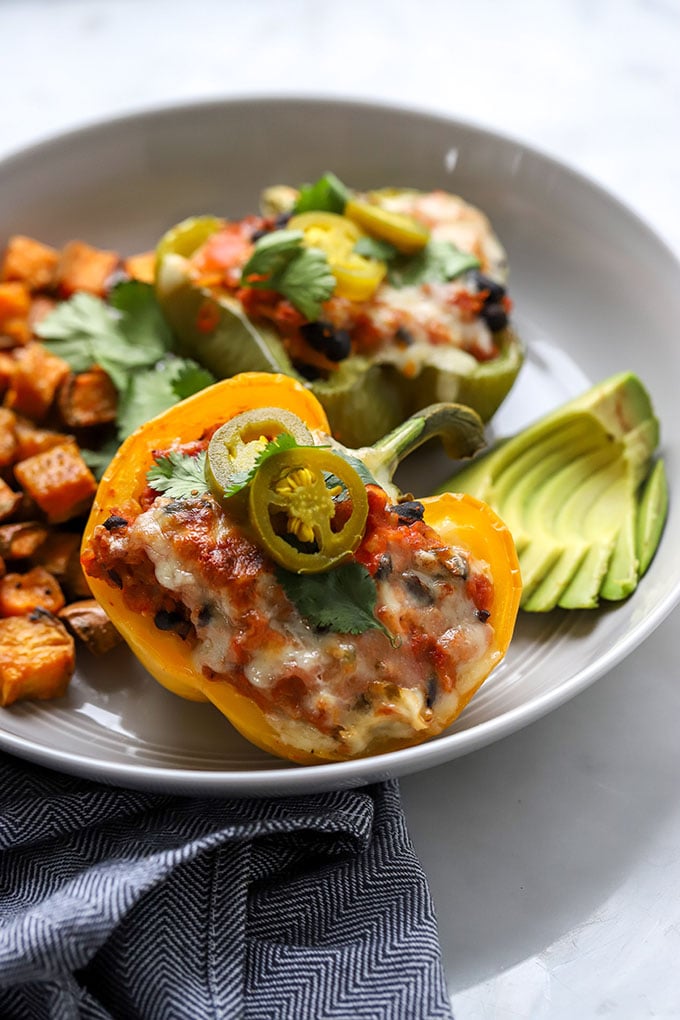 These vegetarian TVP stuffed peppers were super simple to whip up. I made the prep time even shorter by using instant brown rice that could be cooked up in the microwave. (Also, because I am terrible at cooking rice properly!) Otherwise, you could make some brown rice during meal prep and use it for this recipe later in the week. Other than the TVP, the ingredients in this recipe are ones that you likely already have at home. If you don't want to try TVP or can't find it, you can easily use 2 cans of black beans vs one in these.
PS – It packs well for lunch at work!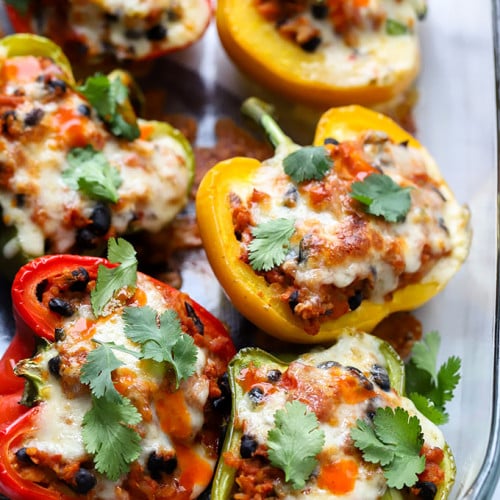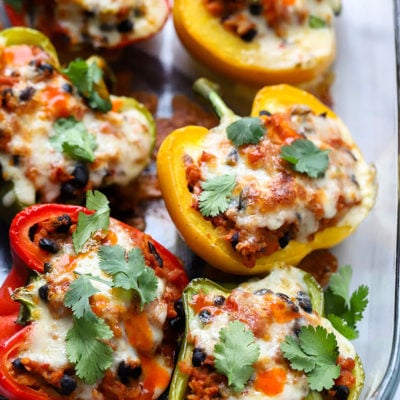 Vegetarian TVP Stuffed Peppers
Overcome any misgivings you may have about cooking with TVP and whip up these simple vegetarian TVP stuffed peppers for dinner tonight. 
Ingredients
1 cup dried textured vegetable protein TVP – (I used Bob's Red Mill brand)
1 tablespoon olive oil
1/2 cup chopped yellow onion
2 cloves garlic minced
2 tablespoons taco seasoning
1 15 oz. can diced tomatoes
1 cup cooked brown rice
1 15 oz. can black beans, drained and rinsed
1 jalapeno seeds removed, chopped
2 tablespoons tomato paste
1 cup shredded cheddar or pepper jack cheese
4 bell peppers halved
Instructions
Preheat the oven to 350 degrees Fahrenheit. 

Add TVP to a bowl and cover with 1 1/4 cup hot water. Let sit for 5-7 minutes until water has been mostly absorbed and TVP has plumped up. 

In a deep skillet, add the olive oil and onion. Cook over medium-high heat for 3-4 minutes or until onion is translucent. 

Add the garlic and taco seasoning. Cook for 1 minute. 

Add the tomatoes, rice, beans, jalapeno, tomato paste, and TVP. Bring to a simmer for 5 minutes allowing any excess moisture to cook off. 

Stir in 1/2 cup of the cheese and cook another 1-2 minutes until cheese is melted. 

Arrange halved bell peppers in a 9″x11″ baking dish. Divide billing up between peppers. Cover with foil and bake for 15 minutes. 

Remove foil and divide the other 1/2 cup of cheese onto the top of the peppers. Cook another 15-20 minutes or until peppers are tender and cheese has browned. 

Serve with chopped cilantro, jalapeno, and/or sour cream. 
Nutrition
Serving: 1/4 recipe | Calories: 420kcal | Carbohydrates: 55g | Protein: 30g | Fat: 13g | Saturated Fat: 6g | Polyunsaturated Fat: 7g | Cholesterol: 25mg | Sodium: 620mg | Fiber: 14g | Sugar: 5.5g
SaveSaveSaveSave
SaveSave
Reader Interactions