Not sure how to get protein in your diet without eating meat? Check out this vegan protein guide for tons of tips for eating more plant-based protein.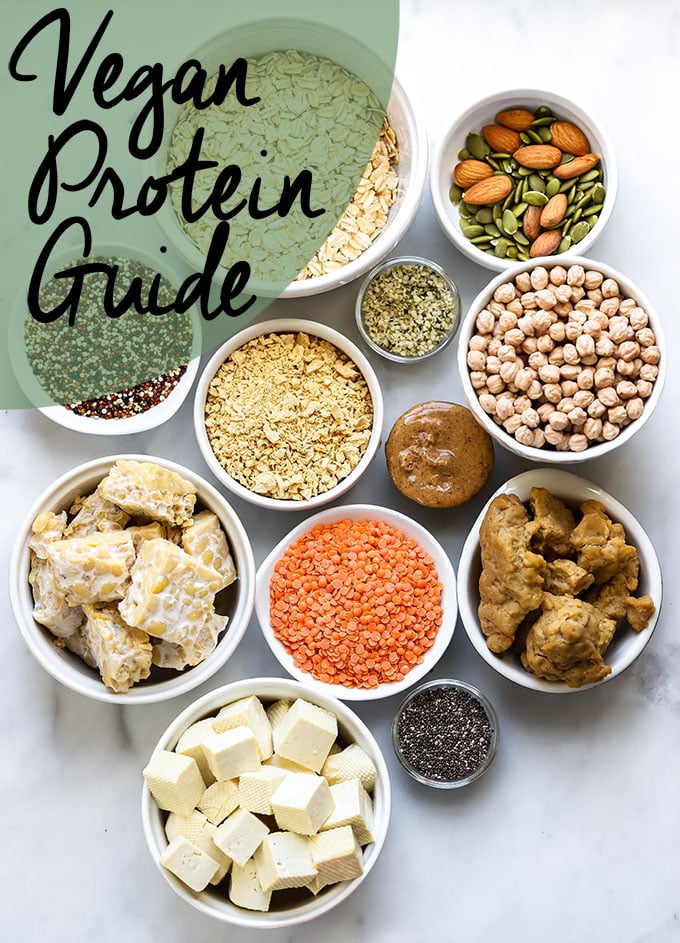 Why Do We Need Protein?
As one of the 3 macronutrients (carbohydrates, fat, and protein), it probably goes without saying that it is essential to eat enough protein. Most people probably know that protein plays a role in building/maintaining muscle, but did you know that it does so much more for us? In fact, almost every part of our body (skin, hair, enzymes, hemoglobin, etc.) is made up of protein, not just our muscles. Every protein is made up of a unique combination of smaller building blocks called amino acids.
Our bodies use 20 different amino acids from the foods we eat to perform the different functions listed below. You need to consume all 20 amino acids on a regular basis to properly fuel all those different functions. However, 9 of the 20 amino acids are considered "essential" because the body can't make them.
The other 11 amino acids are "nonessential" because the body can make enough of them on its own as long as you consume enough of the essential amino acids and calories. For example, in order for your body to make the nonessential amino acid tyrosine, you need to consume enough of the essential amino acid phenylalanine. Also, your body can't store essential amino acids so it is important to continually fuel your body with the protein it needs.
Protein Functions:
Cell Growth and Repair: Every cell in your body is in a constant state of growth (anabolism) and breakdown (catabolism). The food you eat supplies your body with the protein it needs to continue this process.
Regulation of Body Functions:

Hormones: Hormones are essential for signaling certain processes to occur in different organs. For example, insulin is a protein-based hormone that plays a very important role in blood sugar regulation.
Immune Function: Your skin, which is made of protein, is your greatest defense system against infection. In addition, the antibodies that run your immune system are protein-based.
Transport Proteins: Proteins help carry nutrients around your body. For example, hemoglobin transports oxygen in your blood to cells.
Enzymes: Enzymes are essential for speeding up chemical reactions in your body. For example, the enzymes in your stomach are made from protein and are necessary for helping you digest food.

Energy: The body's preferred fuel is carbohydrate and fat, but if too little of that is available, protein can be converted into glucose. Like carbohydrates, protein provides 4 calories per gram while fat provides 9 calories per gram.
How Much Protein Do You Need?
The Recommended Daily Allowance (RDA) for protein is 0.8g per kg body weight. (1 kg = 2.2 lb) For example, if you are a healthy female who weighs 145 lbs (66 kg), you need at least 53 grams of protein per day. The Acceptable Macronutrient Distribution Range (AMDR) for protein is 10-35% of total calories for adult men and women.
If you consume just the RDA, you will be meeting the lower end of the AMDR range, around 10% of calories. For example, if that same female's total calorie needs for the day was 2000 calories, she'd need to eat anywhere from 50 grams (10%) to 175 grams (35%) protein per day.
Protein needs are higher for some individuals like women who are pregnant or breastfeeding and some elite athletes. In addition to meeting your total protein needs, try to divide your total protein intake between each meal. Some research shows that consuming a consistent amount of protein at all of your meals throughout the day rather than at a single meal better supports muscle growth. In the example above, the healthy female weighing 145 lbs would want to try and consume at least 18 grams of protein per meal.
Can You Get Enough Protein on a Vegan/Vegetarian Diet?
Yes, according to the most recent Position Paper from the Academy of Nutrition and Dietetics on Vegetarian Diets. "Vegetarian, including vegan, diets typically meet or exceed recommended protein intakes, when caloric intakes are adequate". As you'll see in the printable pdf below, you can easily meet your protein needs with plant-based protein foods. Here's also an example menu that shows how easy it can be to meet your protein needs on a vegan diet:
Breakfast: 1 cup oatmeal (6 grams) made with 1 cup soy milk (7 grams), 2 Tbsp almond butter (7 grams), 1 tablespoon hemp seeds (3 grams), 1 chopped apple (0.5 grams) = 23.5 grams
Lunch: 2 cups green salad (1 gram) topped with 1/2 cup black beans (7 grams), 1 ounce almonds (6 grams), 1 serving soy yogurt (6 grams) = 20 grams
Dinner: 5 ounces cooked tofu (15 grams), 1 1/2 cup cooked vegetables, 1 cup brown rice (4 grams), 1/4 cup peanut sauce (9 grams) = 28 grams
Total = 71.5 grams protein (More than adequate protein to meet estimated needs of a 145 lbs female = 53 grams protein/day OR a 190 lbs male = 70 grams protein/day)
What About Complementary Proteins?
Plant-based protein foods like beans and legumes do not have all 9 essential amino acids, ie. they are "incomplete". Essential amino acids commonly missing in plant-based foods include one or more of the following: cysteine, lysine, methionine, and tryptophan. On the other hand, meat like steak or pork provides all 9 essential amino acids and is considered a "complete" protein. (Soy beans and quinoa are the exceptions as these plants are "complete" proteins and provide all 9 essential amino acids.)
It was once believed that vegetarians needed to pair foods with complementary essential amino acids at a meal to get all 9 essential amino acids. (For example, pair beans which are high in lysine but limited in cysteine and methionine with rice which is high in methionine but limited in lysine.) However, the concept of consuming complementary proteins has since been debunked.
As long as you are eating a variety of different plant-based protein foods throughout the day, you will get all the essential amino acids you need.
As a Vegan, How Do I Get Enough Protein If I Am Allergic to Soy?
Although soy is a great source of plant-based protein, you can still get all the protein you need from the other plant-based protein foods like beans, nuts, seeds, grains, etc. If you are not gluten-sensitive, seitan can also be an option for you. Just make sure to check the label to make sure no soy has been added to the product.
You can also make your own seitan at home from vital wheat gluten (Bob's Red Mill carries it) and broth to ensure no soy is incorporated. As noted above, soy isn't the only complete plant-based protein food. Quinoa also provides all 9 essential amino acids. Just like anyone else following a vegan diet, make sure to consume a variety of plant-based protein foods throughout the day.
Is Soy Good for You?
There is so much confusion around whether soy is good for you or not. The short answer is, yes! Soy is a great way to incorporate plant-based protein into your diet. To dive deep into the topic of soy, check out my Everything You Need to Know About Soy post.
Sources of Vegan Protein: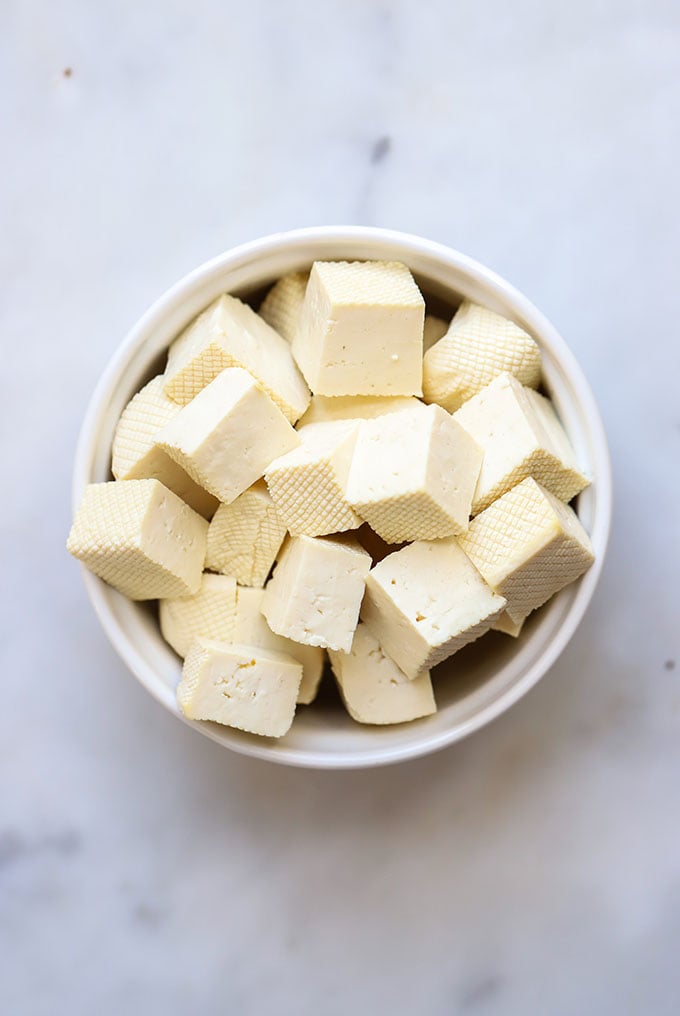 Tofu
Tofu is made by curdling soy milk with a coagulant such as nigari, magnesium chloride, calcium sulfate, or magnesium sulfate and then pressing the solids into a block and cooling it. The longer the curds are pressed, the more firm the tofu. The process is actually very similar to making a dairy-based cheese. Also similar to dairy cheese, the different types of tofu you find the store have different levels of firmness from silken to extra firm. You want to pay attention to what type of tofu a recipe calls for since they are not always interchangeable.
Flavor: Tofu has little to no flavor which means it can be dressed up in any number of ways with marinades, sauces, etc.
Protein Content: The protein content of tofu differs slightly based on the type of tofu. A 1/2 cup serving of firm tofu has ~80 calories, 11 grams of protein, and 1 net grams of carbohydrate.
Where to Find It: You'll usually find tofu in the refrigerated section in sealed plastic trays. Some tofu is sold in a shelf stable pack and typically stocked in the international foods aisle.
Preparation Suggestions: After opening, tofu should be drained and rinsed before prepping. Depending on the recipe you plan to make, tofu may need to be pressed to remove excess water. To press tofu, wrap it in a clean cloth or towel and sandwich it between two plates and stack something heavy on top. If you make tofu often, you can also invest in a tofu press. If you want to make crispy tofu, you'll want to buy extra firm tofu and press it. Silken tofu works well in smoothies. Use firm tofu for dishes like tofu scramble where a crumbled texture is preferred.
Diet Pattern: Vegan, Vegetarian, Gluten Free, Keto, Low Carb, Low FODMAP (firm varieties only, NOT silken)
Favorite Brands:

Phoenix Tofu is a smaller brand that makes delicious tofu but sales are limited to the Chicagoland area.
Tempeh
Tempeh is a soy product that originated in Indonesia. It is made by taking whole soybeans, soaking them until softened, slightly cooking them, and then fermenting them so that they form a solid block. Unlike tofu, tempeh is minimally processed, so the soybeans are intact in the final product. The outside texture of the tempeh has a white film which is totally normal.
Flavor: Tempeh has a mild, nutty flavor which works well in any number of savory dishes.
Protein Content: A 3 oz serving of tempeh has 160 calories, 15 grams protein, 7 grams fiber, and 2 net grams of carbohydrate.
Where to Find It: Tempeh is sold in the refrigerated section of the store near the rest of the meatless options and tofu.
Preparation Suggestions: Use tempeh the same way you might use tofu or other meat alternatives in recipes like salads, casseroles, soups, etc. Tempeh holds its form well when sliced or cubed. You can also crumble it into smaller pieces and cook it up as an alternative to ground meat in dishes.
Diet Pattern: Vegan, Vegetarian, Gluten Free, Keto, Low Carb, Low FODMAP
Favorite Brands:

Lightlife carries a couple varieties of tempeh. We really like their organic flax one.

Recipe Suggestions: Vegan Tempeh Nachos // BBQ Tempeh and Ranch Kale Bowl // Mexican Tempeh Skillet Casserole // Fall Harvest BBQ Tempeh Bowl // Spicy Tempeh Stuffed Peppers // Teriyaki Tempeh Bowl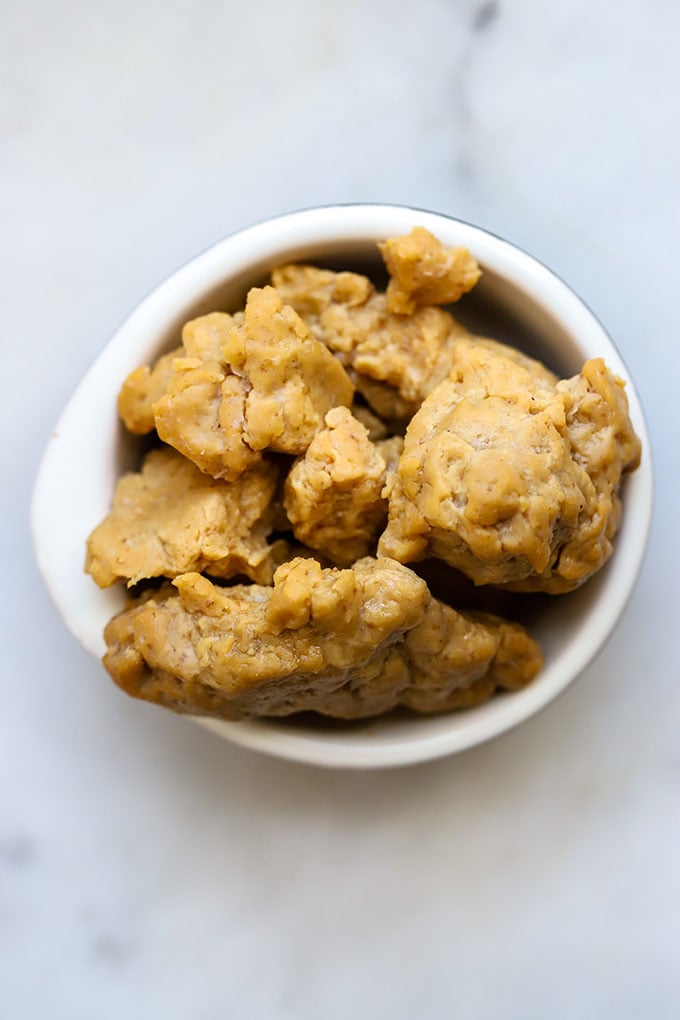 Seitan
Seitan is made from wheat gluten, which is the protein contained in wheat. To isolate the gluten, wheat flour is washed to remove the starch so that only the gluten is left behind.
Flavor: Seitan has a yeasty, nutty flavor that works well in savory recipes.
Protein Content: A 2 oz portion of seitan has 100 calories, 15 grams protein, and 7 grams of carbohydrate.
Where to Find It: Seitan is available in the refrigerated section of the store with the rest of the meat-alternatives. It is also often the main ingredient in many vegan sausages and some vegan burgers.
Preparation Suggestions: Seitan has a very "meaty" texture so use it in recipes as a stand in for chicken, beef, or pork. You can also make your own seitan by purchasing vital wheat gluten and mixing it with vegetable broth to form a solid loaf that can then be chopped or sliced into smaller pieces for recipes.
Diet Pattern: Vegan, Vegetarian, Low Carb
Favorite Brands:

You can purchase plain seitan in pieces or ground or make your own at home with a bag of wheat gluten and some broth!
Upton's is a Chicago based brand that makes a variety of seitan products.
Field Roast brand sausages are made from seitan; I usually rotate through their different flavors depending on the week, but I think the smoked apple sage sausages (25 g pro/sausage) are my favorite.
Tofurky is relatively easy to find at any grocery store. They make quite a few of their products from seitan. I really like their beer brats (24 g pro/sausage) and peppered deli slices (13 g pro/serving).

Recipe Suggestions: Quick and Easy Vegan Stroganoff // Vegan Sausage and Kale Pasta // Vegan Sausage Sheet Pan Dinner // Vegan Stuffed Seitan Loaf
Check out my seitan vs tofu post where I break down the specific macronutrient and micronutrient differences between the two as well as tips for cooking them and more recipes!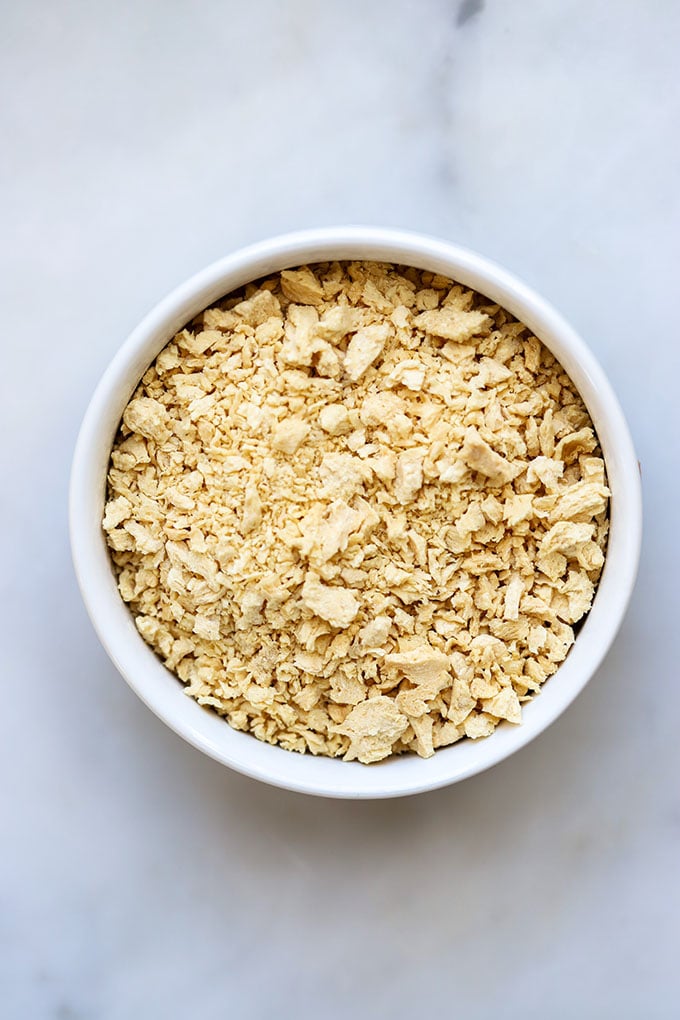 Textured Vegetable Protein (TVP)
Textured Vegetable/Soy Protein (TVP) is made from defatted soy flour that has been cooked under pressure and dehydrated. All it needs is a quick soak in water or broth and it is ready to use in recipes. Even if you haven't bought plain TVP before, you may have already tried it in another meat-free product from the store like Trader Joe's vegan chorizo.
Flavor: Like tofu, TVP has little to no flavor on its own so it makes a great canvas for whatever seasonings you want to use.
Protein Content: A 1/4 cup (dry, uncooked) serving of TVP has 80 calories, 12 grams protein, 4 grams of fiber and 3 grams net carbohydrate.
Where to Find It: Plain TVP can be found in the bulk bins at some health food stores. Bob's Red Mill also carries TVP so you can purchase it wherever their products are sold.
Preparation Suggestions: Simply soak 1 cup of TVP in a bowl with 1 cup of water or vegetable broth for 5-10 minutes until it has soaked up the liquid and softened. The crumbly texture of TVP works well as a substitute for ground beef in recipes like tacos, chili, stir fry, soup, etc.
Diet Pattern: Vegan, Vegetarian, Gluten Free
Favorite Brands:

Bob's Red Mill carries a bagged TVP that runs from $2-4 depending on where you buy it.
Trader Joe's Chorizo is made from TVP and a delicious way to try TVP for the first time!
Lightlife's Gimme Lean Beef and Gimme Lean Sausage

Recipe Suggestions: TVP Stuffed Peppers // Vegetarian Lasagna Soup
Beans and Other Legumes
Consuming beans and other legumes like lentils is a great way to incorporate vegan protein into your diet. Unlike seitan or tempeh, beans are easy to find at any local grocery store. In addition to protein, beans and legumes are also a great source of fiber, iron, vitamin B6, and magnesium.
In case you are wondering about the nutritional benefits of different types of beans, check out my other post where I break down the difference between pinto vs black beans.
Protein Content: A 1/2 cup serving of beans has anywhere from 5 grams (chickpeas) to 8 grams (kidney beans) protein. Soybeans like edamame have 9 grams of protein per 1/2 cup serving. Lentils are similar and have about 9 grams of protein per 1/2 cup serving, cooked.
Where to Find It: Look for dried beans in the bulk bins or purchase them by the bag. Canned beans are a convenient pantry staple.
Preparation Suggestions: Beans and lentils are very versatile and you can likely find recipes using them in everything from savory dishes like chili to desserts like black bean brownies. We often make a large batch of dried beans on the weekend from scratch in the crockpot. Soak your dried beans overnight in the bowl of your crockpot by covering them with at least 1″ of water. The next day, drain the water and cover up to 1″ with broth and add salt, pepper, and spices. Cook on high heat for 6-8 hours in the crockpot until softened. We also keep a few cans of beans on hand in the pantry. Also, be sure to check out the newer pastas made from beans and lentils. If pasta is a staple in your diet, switching to a bean/lentil based pasta is an easy way to incorporate more protein into a meal.
Diet Pattern: Vegan, Vegetarian
Favorite Brands:

We usually buy our beans or legumes from the bulk bins! I honestly don't have a preference for any particular brand of canned bean, but if you need to restrict your sodium intake I would look for low sodium canned beans.
Eat Banza Pasta is made from chickpeas and provides 14 g protein per 2 oz dry pasta
Trader Joe's Red Lentil Pasta has 13 g protein per serving which is 3/4 cup dry pasta
Tolerant Black Bean Pasta has 22 g protein per 3 oz dry pasta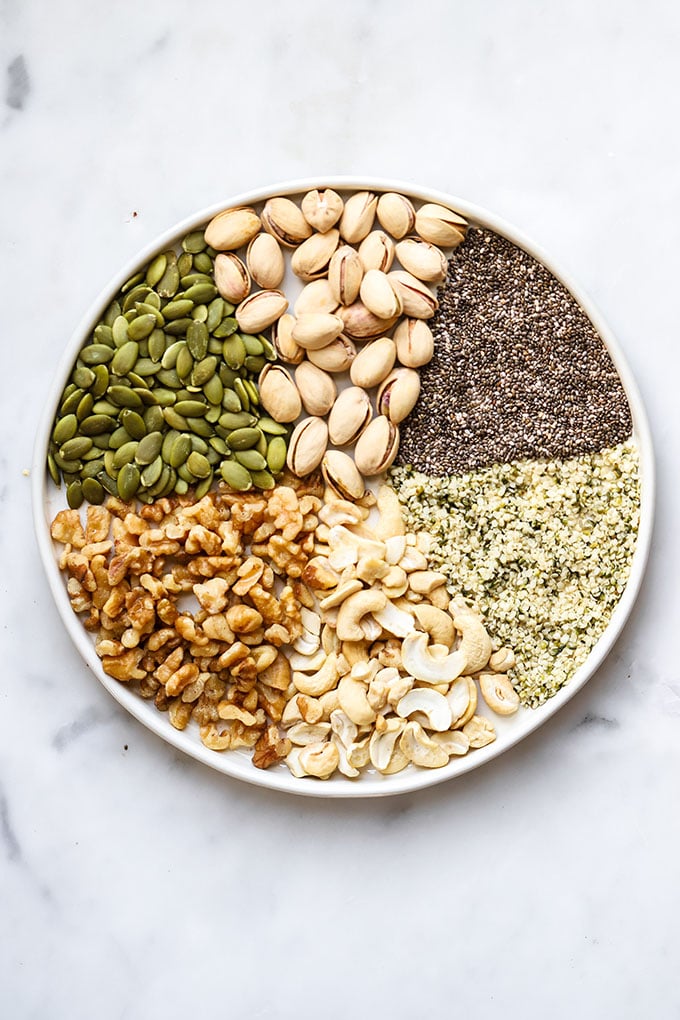 Nuts and Seeds
Nuts and seeds not only provide necessary protein, but they are also a great source of other nutrients healthy fats, vitamin E and magnesium. The standard portion size of a serving of nut is 1 ounce (ie. 23 almonds, 14 walnut halves) or 2 tablespoons nut butter.
Protein Content: In general, a 1 ounce portion nuts has about 4-6 grams of protein. A 2 tablespoon serving of peanut butter has a little more, about 9 grams per serving.
Where to Find It: It is easy to find nuts and nut butter in the store. I usually buy nuts from the bulk bins at the store since I like having control over how much I buy at once. For nut butters, I try to choose ones with no or little added sugar or other ingredients. Some supermarkets even have a machine that allows you to grind your own nut butter in the store.
Preparation Suggestions: Nuts are a great addition to your morning oatmeal, salads, smoothies, and more. Nut butters are also great in oats and smoothies. I have also used nut butters in savory sauces like the soba noodles with peanut sauce recipe linked below.
Diet Pattern: Vegan, Vegetarian, Gluten Free, Paleo, Whole 30, Keto, Low Carb
Favorite Brands: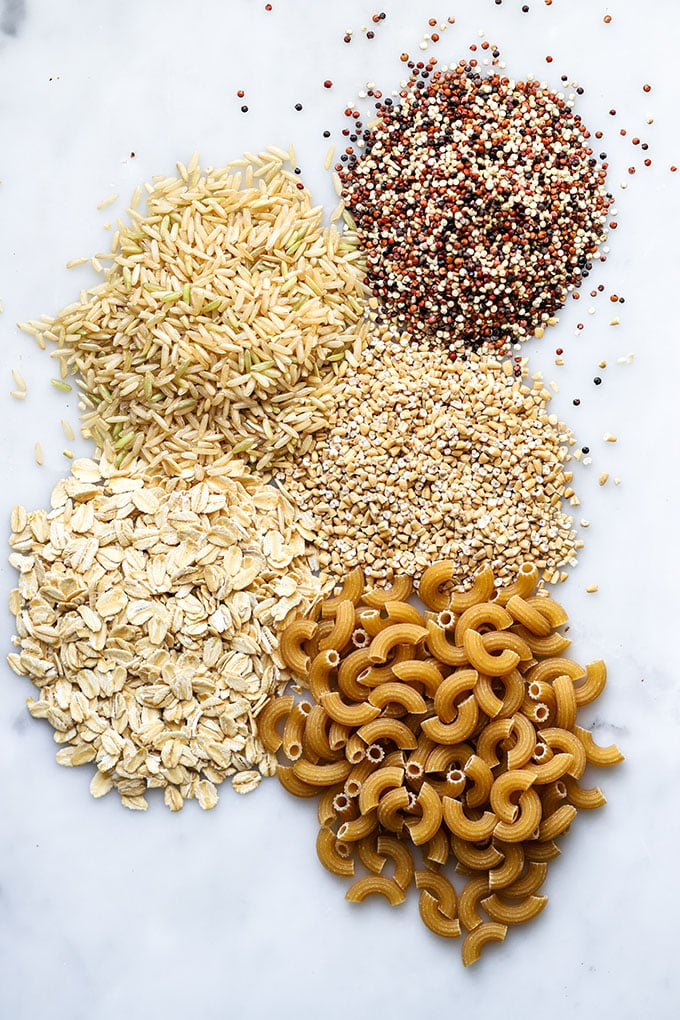 Grains
Although the protein content in grains isn't as high as other foods like tofu and seitan, I thought it was still worth mentioning as grains are a staple in a vegan/vegetarian diet and over the course of a day's worth of meals would likely contribute a significant amount of protein.
Protein Content: Most whole grains like oats, brown rice, barley, etc have about 2-4 grams of protein per serving. A 1 cup serving of pasta has about 7 grams of protein. As mentioned above in the beans section, there are many bean/legume based pastas available now that may have more protein and fiber per serving than traditional pasta. I included quinoa here because although it is the technically a seed, I use it like a grain in dishes. A 1/2 cup serving of cooked quinoa has 4 grams of protein.
Where to Find It: We often buy our grains from the bulk bins at the store.
Preparation Suggestions: Preparation will depend on the type of grain you are preparing.
Diet Pattern: Vegan, Vegetarian
Favorite Brands: No particular brand favorites here!
Click below to download a PDF of a complete list of the protein content of vegan protein foods.
References:
Duff, R. Protein Power. In: Academy of Nutrition and Dietetics Complete Food and Nutrition Guide. 5th Ed. Boston New York: Houghton Mifflin Harcourt; 2017: 373-384.
Melina V, Craig W, and Levin S. Position of the Academy of Nutrition and Dietetics: Vegetarian Diets. J Acad Nutr Diet. 2016; 116 (12): 1970-1980.
Disclosure: This post was not sponsored in any way by the brands mentioned above. I am just recommending them based on my own personal experience with the products. I have worked with Lightlife in the past, but I am not currently collaborating with the brand.
SaveSave
SaveSave
SaveSaveSaveSaveSaveSaveSaveSave
SaveSaveSaveSaveSaveSave
SaveSaveSaveSaveSaveSaveSaveSave
SaveSave
SaveSave