When I was making up the grocery list this week, I told Will that I was planning on making some enchiladas for the blog. Since I wanted to keep it simple, I had added enchilada sauce to the list. When he looked at it later to add a few things, he exclaimed "we will not bring store-bought enchilada sauce into this house!". I should have known the guy from New Mexico would know how to make his own.
It turns out, Will does know how to make a mean enchilada sauce! However, to make the prep time for this dish a bit quicker, feel free to use store-bought enchilada sauce. (I won't tell!) In between the layers of tortillas, sauce, and cheese, I stuffed some roasted butternut squash, black beans, and kale. Whenever I make a traditional casserole-type dish, I always try my best to sneak in as many extra vegetables as possible. With these tasty additions, you'll get up to a third of your recommended fiber intake for the day.
More Recipes You'll Love
Butternut Squash Black Bean Enchiladas
Whip up this vegetarian, veggie-packed version of a classic main dish – enchiladas. Your family is sure to love it!
Ingredients
2 cups butternut squash, cubed
1 tablespoon olive oil
1 red bell pepper, chopped
1 poblano pepper, chopped
1/2 yellow onion, chopped
1 can (15 oz) black beans
2 cups red enchilada sauce
2 cups chopped kale
5-6 six inch round corn tortillas
8 ounces shredded cheddar and/or pepper jack cheese
Chopped fresh cilantro sour cream, and guacamole for serving
Instructions
Preheat oven to 350 degrees Fahrenheit.

Toss the cubed butternut squash in the olive oil and spread in a single layer on a baking sheet. Bake for 30 minutes.

Add the chopped peppers and onion to the same pan as the butternut squash and let bake another 15 minutes. Remove from the oven and set aside.
To make the enchiladas:
Spread about 3 tablespoons of enchilada sauce evenly along the bottom of an 8″x8″ glass baking dish. Add a layer of tortillas. Next add all of the roasted squash mixture, 1/2 of the kale and ~1/3 of the cheese. Next, add another layer of tortilla and then the beans and the rest of the kale. Add the rest of the cheese, another layer of tortilla and top with the sauce. (See GIF below!)

Cover with foil and bake for 35 minutes. Remove foil and sprinkle with a little more cheese if you have it and bake, uncovered for another 10 minutes or until bubbly and cheese on top has melted.
Notes
Store leftovers in an airtight container in the fridge for up to 3-4 days.
Leftovers also freeze well. 
Nutrition
Serving: 1/6th | Calories: 368kcal | Carbohydrates: 38g | Protein: 17g | Fat: 17g | Saturated Fat: 8g | Cholesterol: 39mg | Sodium: 700mg | Fiber: 9.5g | Sugar: 8g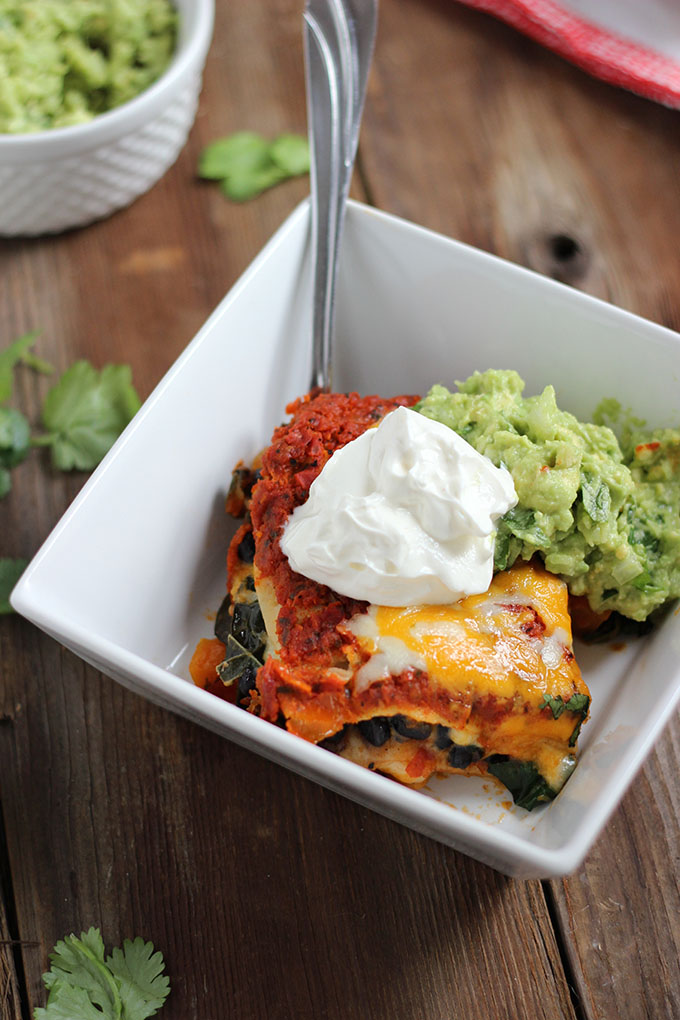 Reader Interactions