For an updated version of this recipe, check out my post from 1/26/2017! –> Vegan Burrito Bowl 2.0!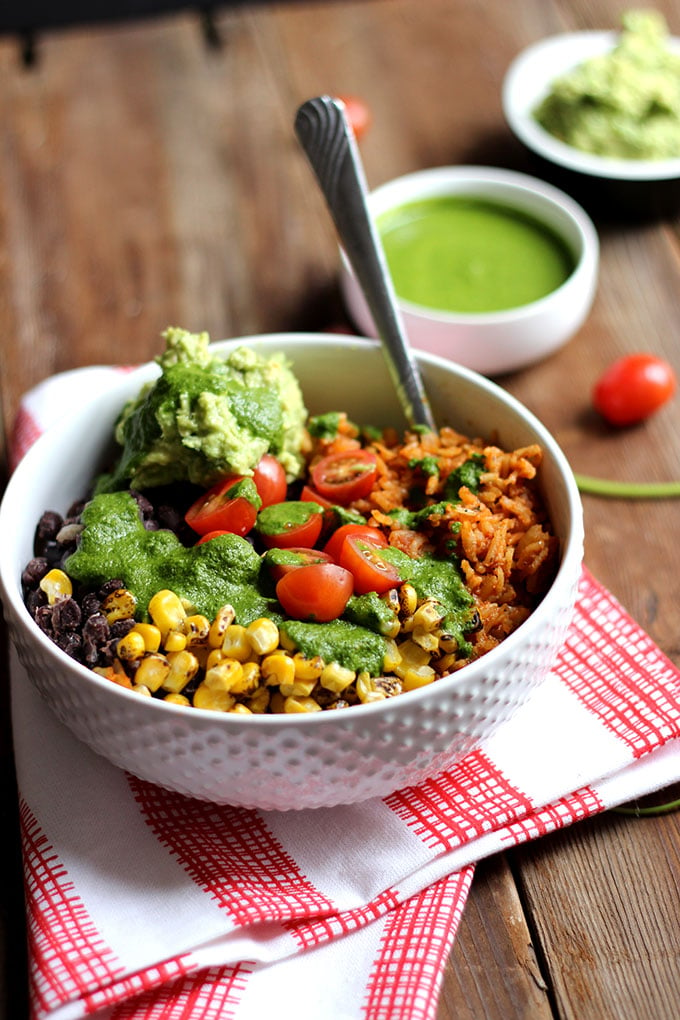 First off, this vegan burrito bowl is absolutely delicious! Second, I must warn you that it does create quite a mess in the kitchen! It is so worth it though. This is one of those meals that you could prep the ingredients over the weekend and toss together for an easy weeknight meal. Just reheat everything and set it out as a build-your-own-burrito-bar at home. No need to run out to chipotle to get your burrito bowl fix.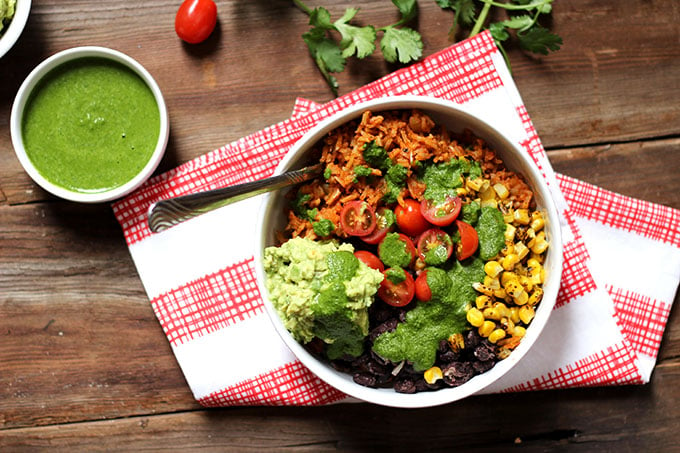 In this bowl you'll find spanish rice, seasoned black beans, roasted corn, guacamole, cherry tomatoes, and chimichurri sauce. However, you can customize it as much as you like and make it non-vegan if you prefer – adding cheese, chicken, sour cream, roasted peppers, etc. Either way, this bowl is loaded with good for your nutrients like fiber, protein, monounsaturated fat, vitamins A and C, and iron. If you aren't familiar with chimichurri sauce, it is simply a green sauce made from pureed parsley, cilantro, oil, and vinegar that originated in Argentina.
Since many of you reached out to say you loved this recipe (thank you!!), I have left the original recipe here. If you want to see an updated version check it out here –> Vegan Burrito Bowl 2.0! I know some have left comments that you had trouble with the brown rice, there are a couple of things you can try. You can cook the brown rice completely beforehand and then just add the rest of the ingredients when you are ready to make the bowl. (Check out this helpful post from The Kitchn on cooking brown rice on the stovetop!) You can also purchase quick cooking brown rice to ensure that your rice will be cooked through in just 15 minutes.
Vegan Burrito Bowl (OLD Recipe!)
This vegan burrito bowl is loaded with flavor and nutrients like fiber, protein, and healthy fats. Topped with a simple chimichurri sauce that can't be beat!
Ingredients
For the Rice:
For the Beans:
1 tablespoon olive oil
¼ cup chopped yellow onion
¼ teaspoon cumin
¼ teaspoon smoked paprika
1 clove garlic minced
¼ cup vegetable broth
1 15 oz can black beans, drained and rinsed
For the Chimichurri:
To Serve:
Guacamole
Corn
Tomatoes
Red cabbage
Instructions
To Cook the Rice:
In a large, deep skillet, heat the olive oil and onions. Cook for about 5 minutes or until translucent. Stir in the minced garlic and cook another minute until fragrant.

Stir in the rice and cook until lightly browned, about 3 minutes.

Meanwhile, puree the canned tomatoes and jalapeño together until smooth in a blender or food processor.

Add the tomato puree, broth, and seasonings to the pan and stir. Bring to a simmer and cover. Cook until all the liquid is absorbed, ~15-25 minutes.
To make the Beans:
Heat the olive oil and onion up in a small saucepan. Cook about 5 minutes or until onion is translucent.

Add the garlic and cook another minute.

Stir in the seasonings, beans, and broth.

Simmer for ~7 minutes or until beans are heated and most of the broth has been absorbed.
For the Chimichurri:
Simply puree all the ingredients together in a food processor until smooth.
To Assemble:
Divide the rice, beans, and add-ins evenly among four bowls. Drizzle with chimichurri.
Nutrition
Serving: 1bowl | Calories: 541kcal | Carbohydrates: 43g | Protein: 5g | Fat: 39g | Saturated Fat: 5g | Polyunsaturated Fat: 4g | Monounsaturated Fat: 28g | Sodium: 428mg | Potassium: 313mg | Fiber: 3g | Sugar: 2g | Vitamin A: 1859IU | Vitamin C: 25mg | Calcium: 65mg | Iron: 3mg
If you are looking to try the updated version of this recipe, click below!
Reader Interactions