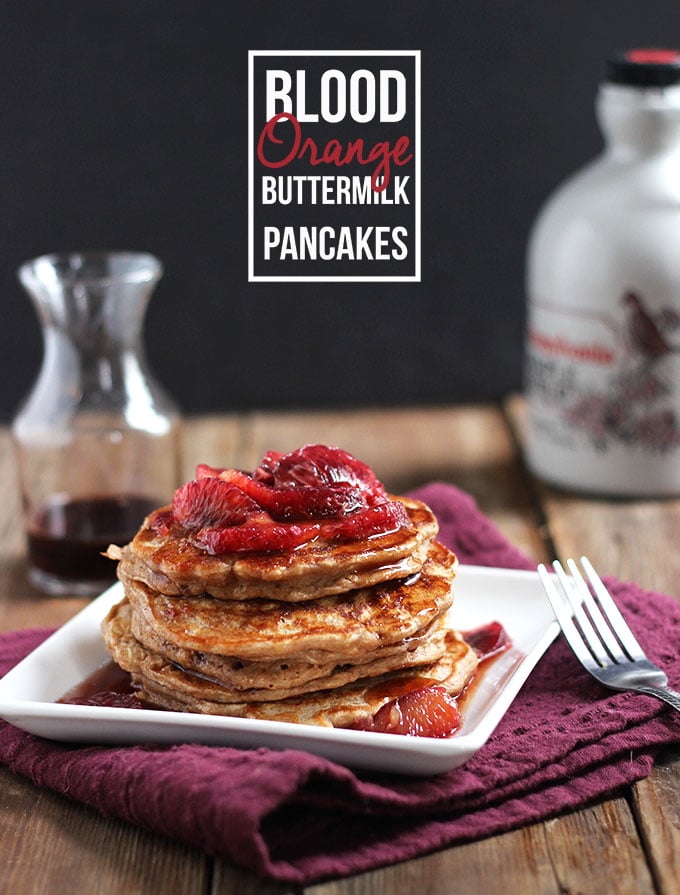 This weekend I was craving one thing – pancakes! It had been entirely too long since I had last made up a batch of pancakes. Instead of my usual whole grain ones, I thought I would experiment a bit this weekend. Until spring gets here, I have been savoring as many blood oranges as I can get my hands on at Trader Joe's. Since we had a few left in the fridge from our last grocery trip, I figured why not try them in pancakes?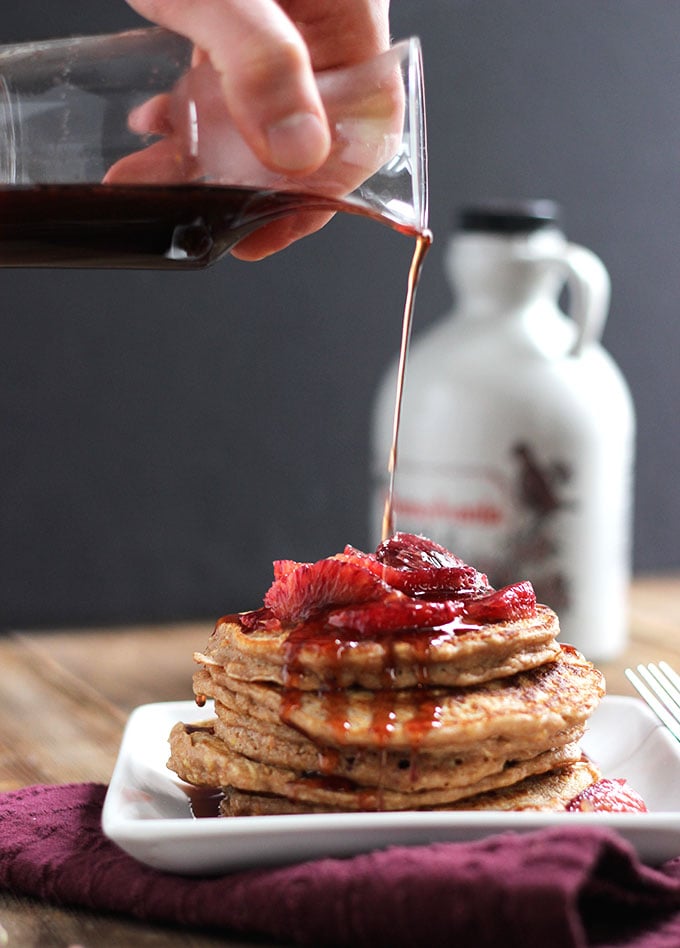 I love that Will agrees to hand model for me. 🙂 I added just a bit of blood orange zest and a couple tablespoons of juice which gave the pancakes a nice citrus flavor and just a hint of pink color. Too bad I hadn't come up with these before Valentine's Day! Since I wanted just a bit more flavor, I went ahead and added a little blood orange juice to the maple syrup as well. Thanks to my Dad, I always have a supply of delicious, Pennsylvania tapped maple syrup tucked away in the fridge for occasions just like this one.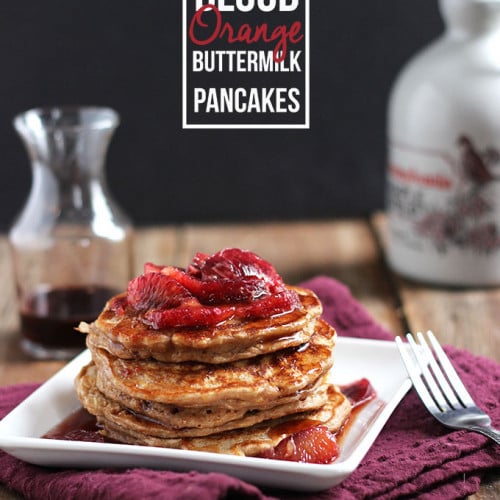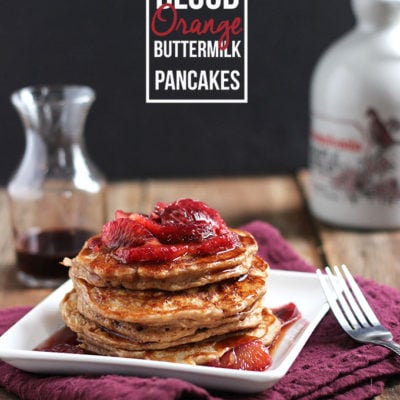 Blood Orange Buttermilk Pancakes
Try out this new variation of your Saturday morning pancakes. These blood orange buttermilk pancakes are not only delicious but gorgeous too!
Ingredients
1 cup whole wheat flour
1/4 cup rolled oats
1/4 teaspoon baking soda
1 cup buttermilk
1 egg
1 teaspoon blood orange zest
1 teaspoon vanilla extract
4 tablespoons fresh squeezed blood orange juice
1/4 cup maple syrup
Instructions
Combine the flour, oats, and baking soda in a mixing bowl. Use a whisk to stir well.

Add the buttermilk, egg, zest, vanilla, and 2 tablespoons of the juice. Whisk just until moistened. (Try not to over-mix, some small lumps will remain.)

Spray a non-stick skillet with cooking oil and turn on the heat. Spoon 1/4 cup of batter into pan and spread into a ~4" round circle.

Cook until the surface of the pancake starts to bubble. Flip and cook on the other side until lightly browned.

In a small serving pitcher, warm up the maple syrup and the other 2 tablespoons of blood orange juice in the microwave.

Serve with additional slices of blood orange.
Notes
- These pancakes would also be good topped with some yogurt too!
- Nutrition information includes the syrup and juice.
- To decrease the calories, make smaller 3" pancakes and you'll be able to stretch it into 3 servings. Serve with a side of eggs.
Nutrition
Serving: 21/2 Pancakes | Calories: 476kcal | Carbohydrates: 90g | Protein: 18g | Fat: 6g | Saturated Fat: 1.8g | Cholesterol: 87mg | Sodium: 429mg | Fiber: 8.5g | Sugar: 31g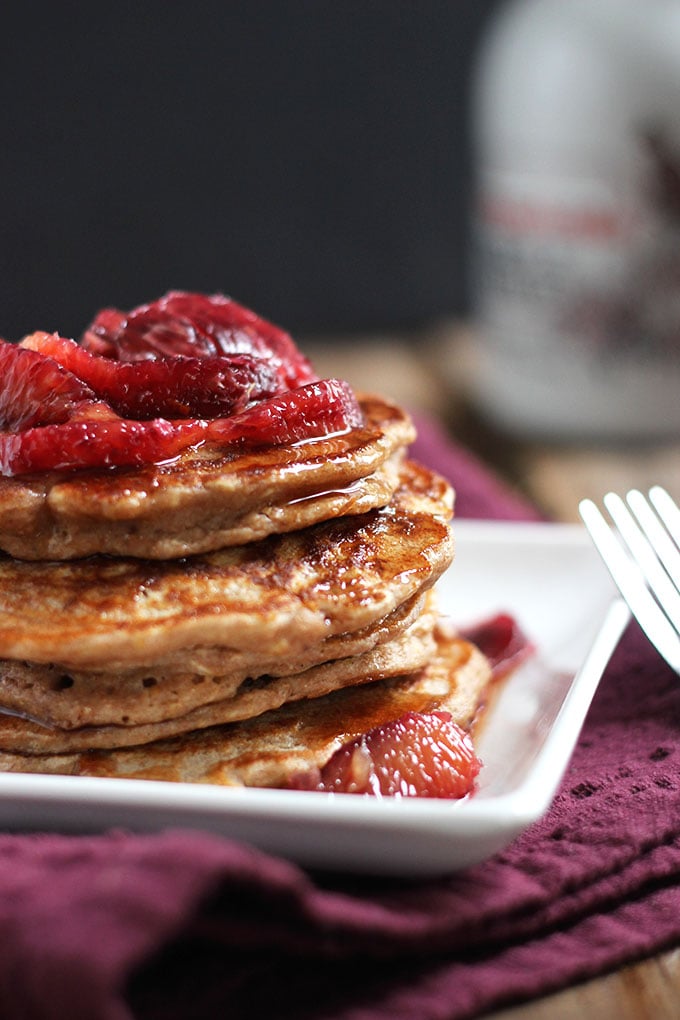 Reader Interactions