Warm up on a chilly morning with a bowl of this carrot cake oatmeal recipe which incorporates all the flavors of your favorite dessert in a healthy breakfast. The carrot cake fans in your life will love this recipe!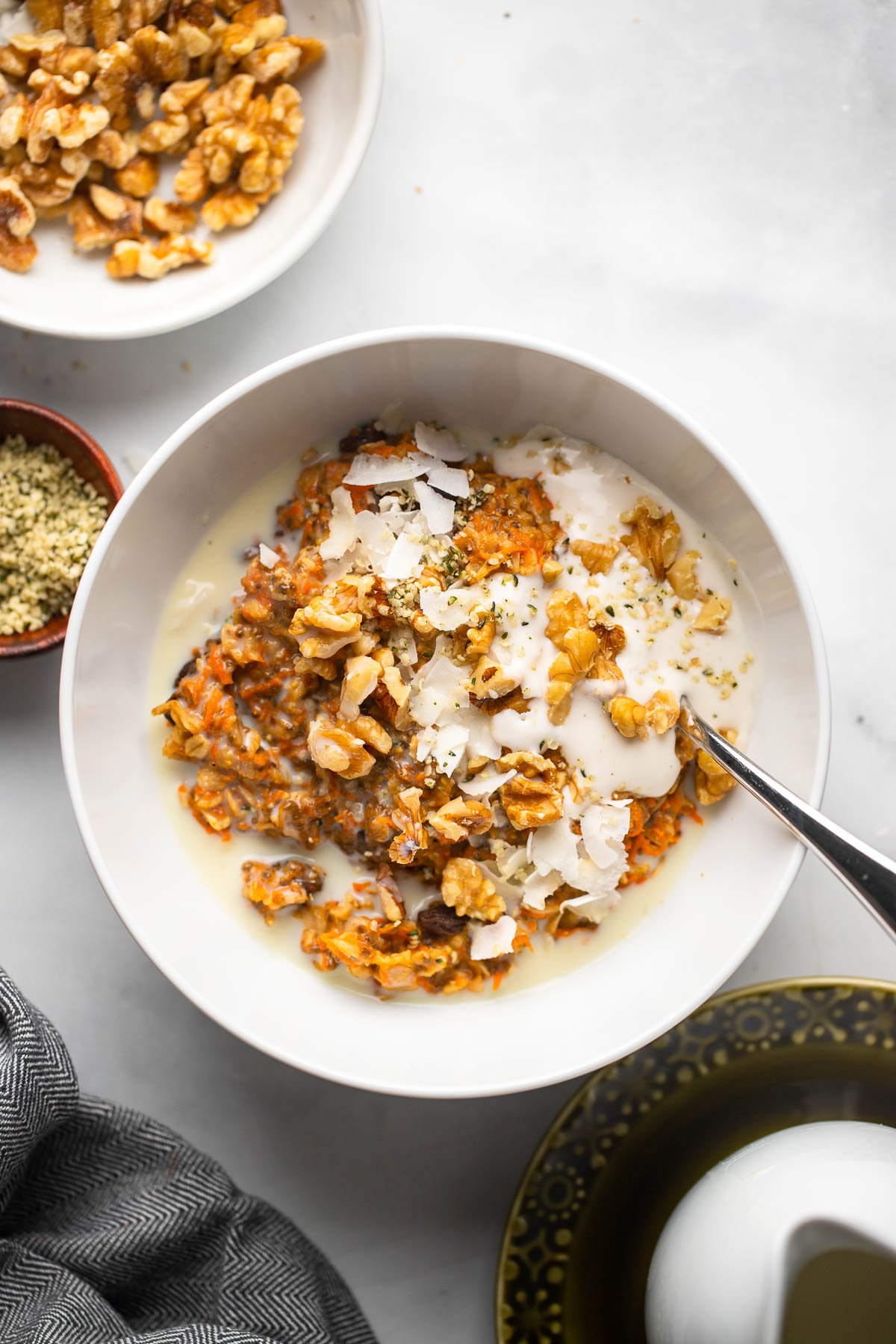 There's nothing better on a chilly day than a big bowl of oatmeal. Since oatmeal can be pretty boring on its own, I am always experimenting with new ways to add flavor. In the past I've shared a banana bread oatmeal and a gingerbread oatmeal. Today, I am excited to share my vegan carrot cake oatmeal recipe!
Pssst… In case you are looking for a big batch/meal prep friendly version of this recipe – check out my carrot cake oatmeal bake!
Why You'll Love this Recipe
No more boring oats! Give your morning bowl of oatmeal a makeover with all the classic flavors of a healthy carrot cake.
Reduce food waste by using up any leftover carrots in your produce drawer for this carrot oatmeal.
Budget friendly! Oats, spices, and carrots are cheap pantry staples.
This easy breakfast recipe is vegan, gluten-free, dairy free, and egg free!
Ingredients You'll Need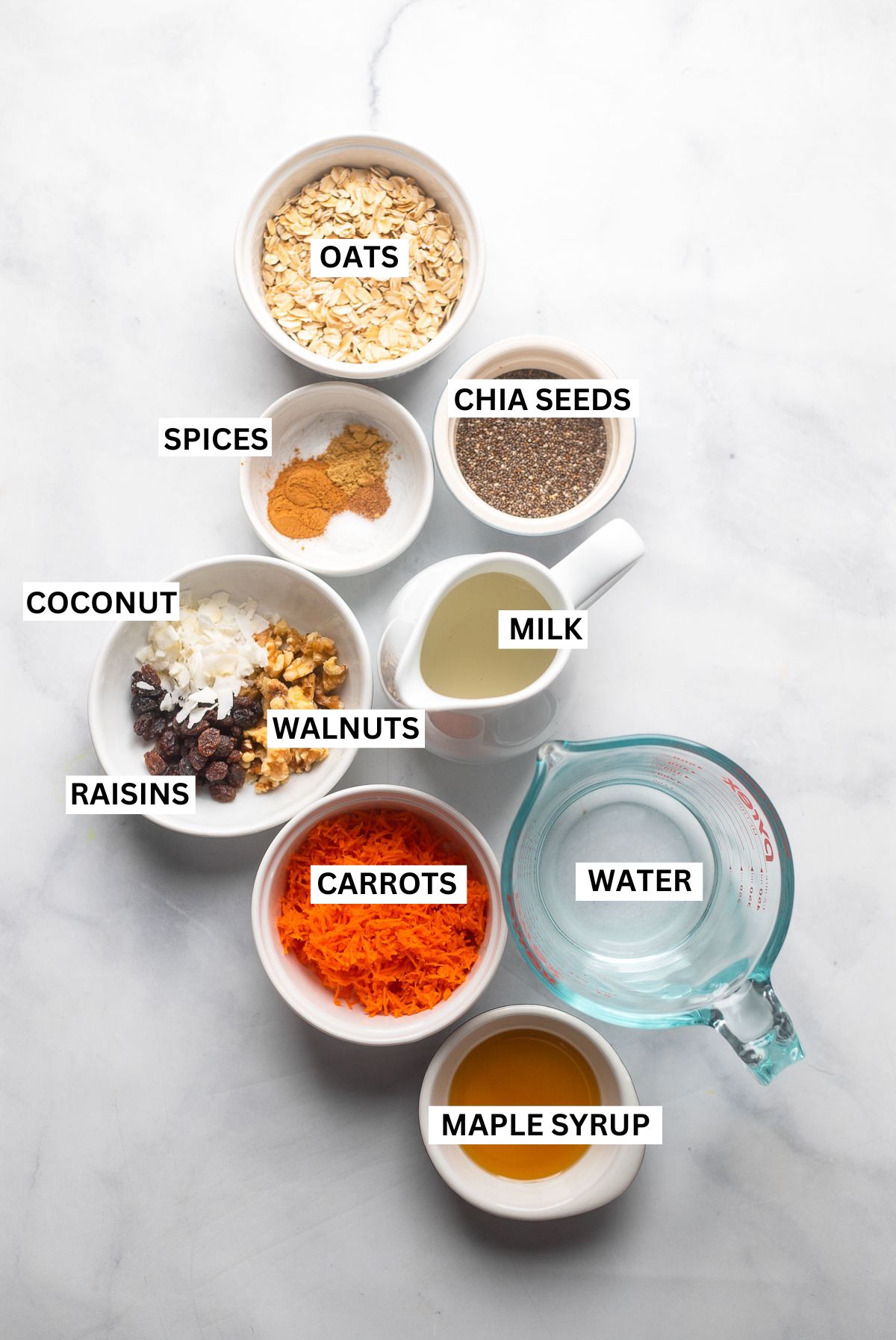 Old fashioned oats: you could also use quick oats if you prefer, I just like the texture of old fashioned rolled oats better. Steel cut oats will also work, you'll just need to cook it much longer. Use gluten free certified oats to make a gluten free version.
Milk: use your favorite milk of choice, both dairy or nondairy milk will work well for this recipe. Soy milk is what I like to use.
Shredded carrot: I like to finely shred my fresh carrots on the smaller side of the grater.
Spices (cinnamon, ginger, nutmeg): these add all the warm flavors of carrot cake but in oatmeal form for this recipe. You'll also want to add a pinch of salt to really bring out all the flavors in your oatmeal.
Maple syrup: adds a bit of natural sweetness. Also, the maple flavor pairs really well with the spices in these oats.
Topping Suggestions
Walnuts: just like a carrot cake dessert – chopped walnuts make a great addition to the top of your oats. You could also use pecans or pistachios if you'd like. If you aren't interested in adding chopped nuts, almond butter would also be delicious.
Raisins: stir raisins into the oats while cooking and add more on top if you'd like. Make it extra special by using golden raisins.
Coconut Flakes: Love using big coconut flakes for my oatmeal. We buy the coconut flakes from Bob's Red Mill and they are so good. You could also use shredded coconut.
Hemp Hearts: I'm always adding a sprinkle of hemp hearts to my morning oats for a bit of extra protein and omega 3s.
Vegan Yogurt: add some creaminess by adding a spoonful or two of yogurt to the top of your hot oatmeal. (Kind of like frosting!) I really like the vegan vanilla yogurt from Kite Hill.
Step by Step
MICROWAVE: One busy mornings, you can make it in the microwave if you prefer. Simply add all of your oatmeal ingredients to a large microwave safe bowl and heat for up to 5 minutes in the microwave. (Oats can swell in the microwave so use a bigger bowl than you think you need! I like to use a small mixing bowl.) Stir oats occasionally while they cook in the microwave. Carefully remove from microwave when oats have thickened to your liking.
STOVE TOP: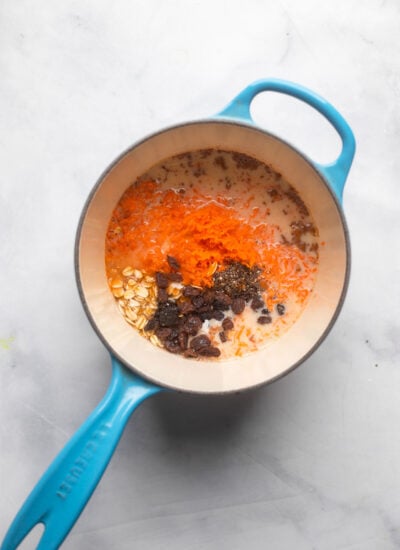 Step One: To make stovetop oatmeal, add all of the carrot cake oatmeal ingredients except for the walnuts and coconut to a small pot. Bring to a simmer over medium-low heat.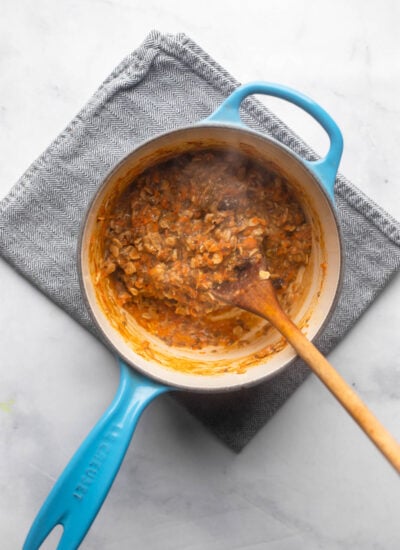 Step Two: Simmer oats until thickened to desired consistency (about 5 minutes). Transfer to bowl and garnish with desired toppings like a dollop of yogurt and a drizzle of maple syrup.
Expert Tips
Finely grate your carrots. I use the smallest grater section for my carrots because I don't like big pieces in my carrot cake oats. The smaller you shred the carrots, the softer they cook in the oats as well.
Sweeten to taste. For one serving of oatmeal, I usually add about 1 tablespoon of maple syrup. Feel free to adjust the sweetener to your liking. You can also use honey, coconut sugar, or brown sugar.
Top as desired. One of the best ways to elevate a boring bowl of oatmeal is to add more toppings! Add toppings with different textures to make it more interesting.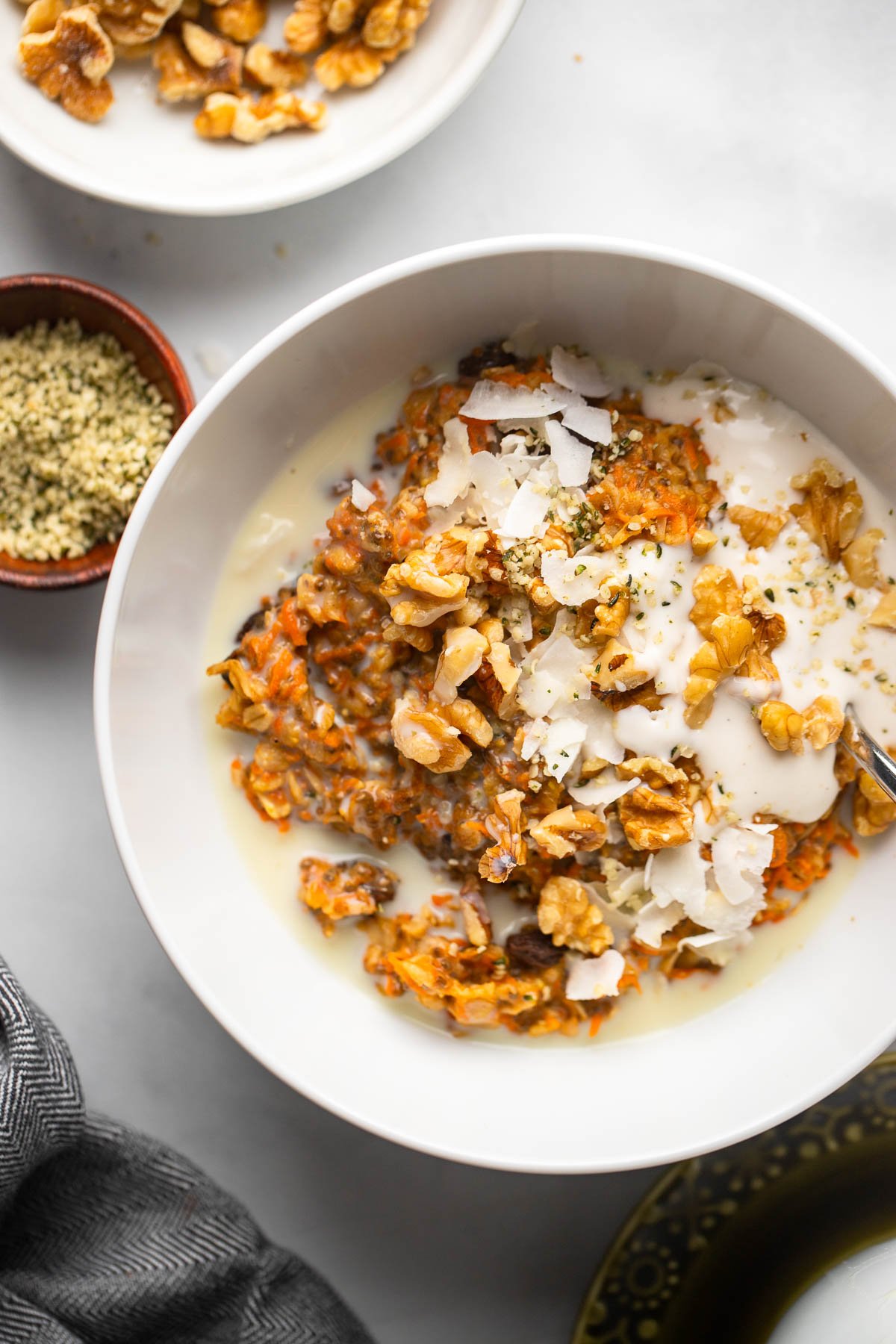 Recipe FAQs
Can I make this recipe sugar free?
Yes – just use a sugar-free sweetener like Splenda instead of the maple syrup. If you are looking to reduce the total sugar content of the recipe, you can also omit the raisins.
Can I make this as overnight oats?
To make this recipe into overnight oats, just add all of your ingredients to an airtight container and refrigerate overnight. In the morning, give it a stir and add a splash of milk if needed. Top with walnuts and coconut.
How can I make this higher in protein?
My favorite way is to add a scoop of protein powder before cooking. You could also stir in a couple of tablespoons of chia seeds or hemp hearts to boost the protein by as much as 10 grams.
Health Benefits of this Recipe
Carrots are a great source of beta carotene which is important for a strong immune system as well as eye and skin health.
Both oatmeal and carrots are a good source of soluble fiber which can help lower "bad" LDL cholesterol as well as support gut health by feeding the beneficial bacteria that live in the digestive tract.
Carrots are rich in carotenoids, a compound with powerful antioxidant activity which research has linked to reduced risk of chronic diseases like heart disease and cancer.
Did you love this recipe? Make sure to leave a ⭐️ rating and tag #dietitiandebbie on instagram!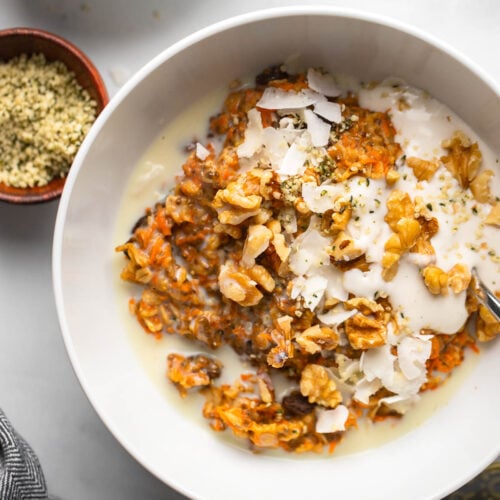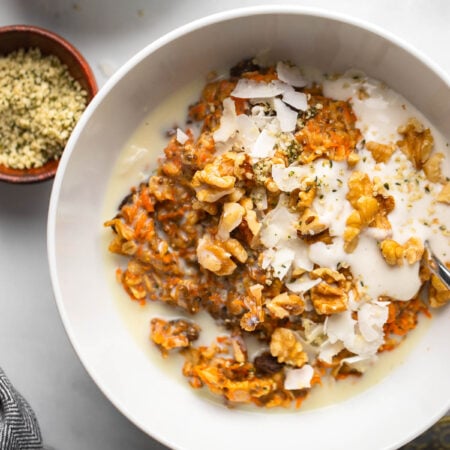 Carrot Cake Oatmeal
Warm up on a chilly morning with a bowl of this carrot cake oatmeal which incorporates all the flavors of your favorite dessert in a healthy vegan breakfast.
Instructions
Add all of the ingredients to a small saucepan, stir well to combine and bring to a gentle simmer.

Cook for ~5-7 minutes or until oats have thickened to desired consistency.

Serve with desired toppings. I added hemp hearts, coconut, walnuts, maple syrup, and milk.
Notes
Microwave directions: Add all of your ingredients to a microwave safe bowl. Cook uncovered for 3-5 minutes, stirring occasionally, until oats are thickened to your liking.
Topping suggestions: chopped walnuts, coconut flakes, hemp hearts, vegan vanilla yogurt.
Storage: leftovers can be stored in the fridge in an airtight container. Reheat in the microwave with a splash of milk as leftover oats will be thicker. 
Nutrition
Serving: 1recipe | Calories: 449kcal | Carbohydrates: 82g | Protein: 12g | Fat: 9g | Saturated Fat: 1g | Polyunsaturated Fat: 5g | Monounsaturated Fat: 2g | Trans Fat: 0.02g | Sodium: 163mg | Potassium: 885mg | Fiber: 14g | Sugar: 19g | Vitamin A: 11169IU | Vitamin C: 14mg | Calcium: 339mg | Iron: 5mg
Reader Interactions