Warm up on even the coldest morning with a bowl of this banana bread oatmeal that tastes just like a warm slice of fresh baked banana bread thanks to a bit of spices like cinnamon, vanilla, and nutmeg.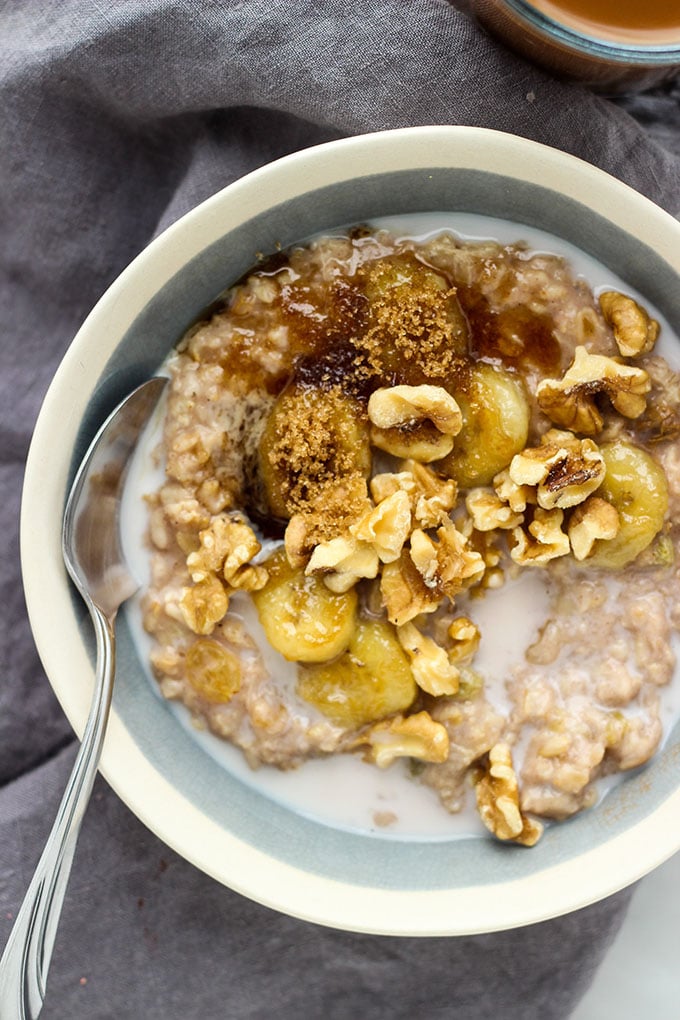 Say hello to my new favorite healthy breakfast this winter! This banana bread oatmeal is super simple to make, vegan (!), and insanely delicious. I need big comforting bowls of hot oats like this to get me going on cold winter mornings. Brrrr! Just like regular banana bread, this oatmeal tastes even better the more ripe your bananas. When you cook this up, the sliced bananas dissolve into the oats adding natural sweetness and yummy flavor which is complemented with vanilla, nutmeg and cinnamon.
One of the reasons I just love oatmeal so much is that the flavor combinations are endless so you don't have to get bored with it. Check out my how to flavor your oats post for more ideas!
Ingredients You'll Need
Oats: I like the texture of old fashioned oats, but this recipe would work with quick cooking/instant oats as well.
Milk: use whichever milk you prefer. I like soy milk best but you can use dairy milk OR any non-dairy milk you like such as almond, oat, or rice.
Water
Banana: the more ripe your banana, the sweeter this recipe turns out.
Maple syrup: adds just a bit more sweetness.
Cinnamon/Nutmeg: gives this oatmeal the banana bread flavor that you love.
Vanilla
Raisins & Walnuts: feel free to switch up the toppings! Some other great options include: peanut butter, almond butter, chopped pecans, hemp hearts, and chocolate chips.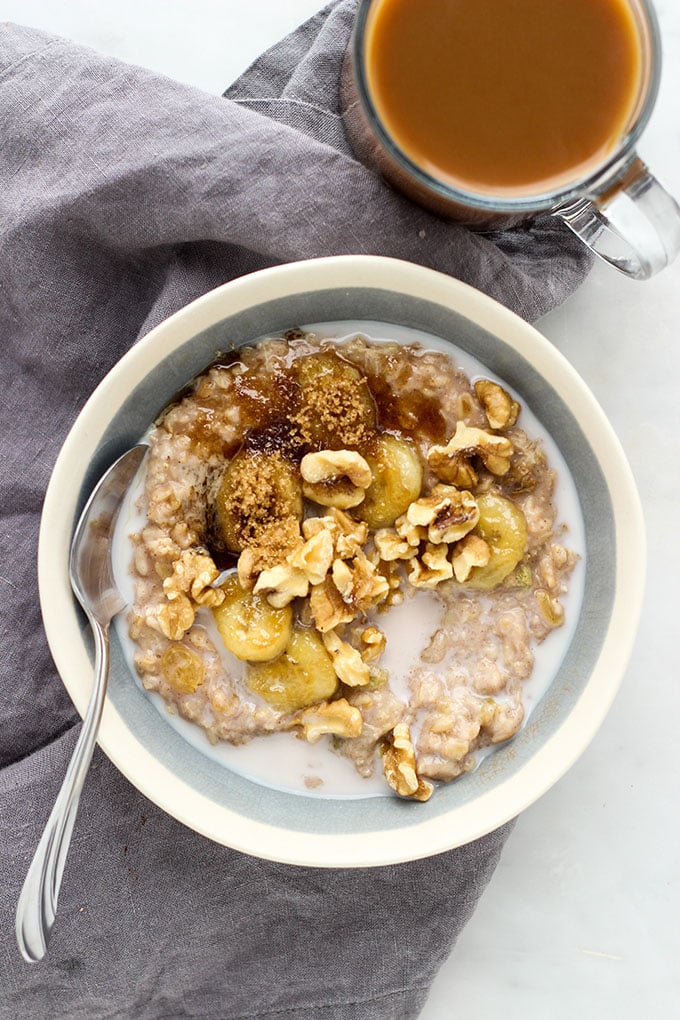 To make this oatmeal extra special, I stir fried a few extra slices of banana in coconut oil and a sprinkle of brown sugar until they were caramelized to add on top. Sprinkle a few chopped walnuts, a bit of brown sugar (if desired), and a drizzle of almond milk to serve.
More Oat Recipes You'll Love
Banana Bread Oatmeal
Warm up on even the coldest morning with a bowl of this banana bread oatmeal that tastes just like a warm slice of fresh baked banana bread.
Ingredients
1/2 cup old fashioned oats
1/2 cup water
1/2 cup milk dairy or any non-dairy milk will work – I prefer soy milk
1 banana sliced (reserve 1/4 banana slices for topping)
1/2 tablespoon maple syrup
1/2 teaspoon vanilla extract
1/4 teaspoon nutmeg
1/2 teaspoon cinnamon
Dash of sea salt
2 tablespoons golden raisins optional
3 tablespoons chopped walnuts optional
To serve: sliced banana, brown sugar, almond milk
Instructions
In a small saucepan, add the oats, water, milk, and sliced banana. Bring to a simmer and cook until most of the liquid has been absorbed and oats become creamy.

Stir in maple syrup, vanilla, nutmeg, cinnamon, salt, and golden raisins. Cook for 1 minute then turn off the heat.

To serve, top with walnuts, sliced banana, brown sugar, milk, etc.
Notes
– If desired, make some caramelized banana slices for the top! To make caramelized banana slices, melt 1-2 teaspoons of coconut oil in a non-stick skillet and add the reserved banana slices to a pan. Sprinkle slices with brown sugar. Cook banana slices on each side until lightly browned. Serve on top of cooked oats.
Nutrition
Serving: 1recipe | Calories: 525kcal | Carbohydrates: 77.5g | Protein: 14g | Fat: 17g | Saturated Fat: 2.5g | Polyunsaturated Fat: 14.5g | Sodium: 205mg | Fiber: 10.5g | Sugar: 28.5g
Reader Interactions