When I first posted this recipe a year ago, I was in the midst of a bunch of moving boxes. I am so glad that isn't the case this year! When I made this vegan gingerbread oatmeal again a couple of weekends ago, it was just too good to let it languish with it's terrible photos in the archives of the blog. So, I took some new photos and wanted to republish it again! If you are looking to change up your typical oatmeal flavor and topping combo, this is the one to try. I love the rich flavor and spice from the molasses, nutmeg, and cinnamon. For fun, I topped it with pomegranate seeds, macadamia nuts, and Dang Foods unsweetened coconut chips. (Those coconut chips are amazing! They aren't even sponsoring me to say that – I just like them that much!)
Everything about this vegan gingerbread oatmeal just screams cold weather comfort. Plus, it happens to be much healthier than many other cheese laden dishes that are popular during the winter. Feel free to top this with any fun things you may have in your pantry or fridge like raisins, cranberries, pecans, or orange zest. It's best enjoyed while wrapped up in a warm blanket with a cup of hot tea. (At least, in my opinion!)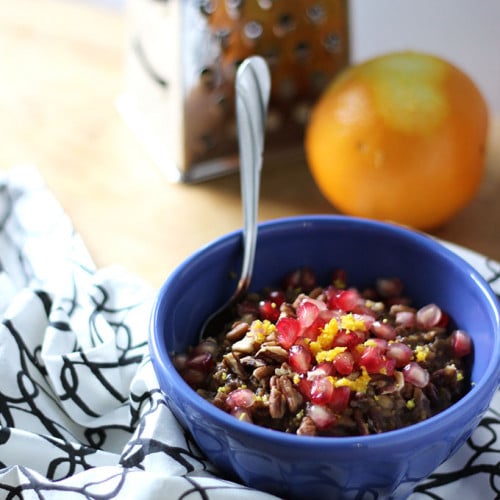 Vegan Gingerbread Oatmeal
This sweet and spicy vegan gingerbread oatmeal is perfect for chilly mornings. Top it with pomegranate seeds, almonds, raisins, coconut, or whatever you have on hand!
Ingredients
1 cup oats
1 cup water
1/2 cup unsweetened almond milk
1 tablespoon molasses
1 tablespoon brown sugar
1/2 teaspoon ginger minced
1/4 teaspoon ground cinnamon
1/4 teaspoon ground nutmeg
Dash of salt
Toppings:
Pomegranate
Chopped nuts
Orange zest
Raisins
Instructions
In a medium saucepan over medium-high heat, combine all the ingredients.

Bring to a simmer and stir. Stir continuously until liquid is absorbed and oats thicken.

Serve hot with option toppings.
Nutrition
Serving: 1/2 Cup | Calories: 399kcal | Carbohydrates: 69g | Protein: 15g | Fat: 7g | Saturated Fat: 2g | Cholesterol: 6mg | Sodium: 114mg | Fiber: 8.7g | Sugar: 17g
Reader Interactions