This post was sponsored by Silk which offers many options for creating a delicious, homemade smoothie. Check out their website for more smoothie solutions!
Green smoothies are everywhere these days and for good reason since smoothies are such a simple, easy breakfast option. Plus, with warmer summer days on their way, I just can't stomach a hot bowl of cereal in the morning anymore. A lot of the nutrients you find in smoothies are ones that support healthy skin and hair, something that has been on my mind more of late as I look forward to getting married in the next year! With summer coming up soon, I'm sure we all may be thinking a bit more about our skin as we shed long sleeves for tank tops. One new to me ingredient that I was excited to try in this smoothie was Silk's Cashew Milk, which added more delicious creaminess to this smoothie than my go-to almond milk.
Spinach // Spinach gives you a lot of "bang for the buck" since it has only 7 calories per cup of fresh leaves but provides more than 50% of your daily needs for Vitamin A, a powerful antioxidant, and Vitamin K which is essential for blood clotting and helps maintain bone health.
Pineapple // Pineapple is a great source of Vitamin C which helps promote smoother skin due to its role in the formation of collagen, a structural component of our skin, teeth, and hair. It is also a powerful antioxidant that can help protect against the free radical damage from sun exposure.
Mango // Like pineapples, mangos are also a good source of the antioxidants Vitamins A and C. Both of these vitamins protect your skin from sun damage by preventing free radical damage and decreasing inflammation.
Cashew Milk // Cashews are a good source of iron, magnesium, and monounsaturated fats. Adequate dietary fat is important for maintaining smooth skin as fat is a major component of skin cell membranes.
Ginger // I love the punch of flavor that a bit of fresh ginger adds to my morning smoothie. Ginger has been used for thousands of years for alleviating all kinds of stomach ailments. It also contains powerful antioxidants that can alleviate inflammation.
Hemp Seed // Hemp seeds are a good source of protein and Omega 3 fatty acids. Including fat in your diet is important as fats are the main component of skin cells. In fact, the type of fat you include your diet can significantly effect the fatty acid profile in your skin! High intakes of Omega 3 fatty acids appear to be able to help protect against UV radiation and sunburn in a couple of small studies.
**Source: Linus Pauling Institute**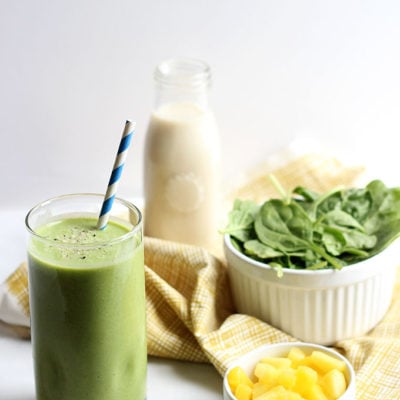 Tropical Ginger Smoothie
Get a head start on beach-ready skin by sipping on this tropical ginger smoothie on your way out the door!
Ingredients
1/2 cup Silk Cashew Milk
1/2 cup fresh or frozen mango
1/2 cup fresh or frozen pineapple
1-2 cups fresh spinach leaves 1 handful
1/2 cup yogurt Non-dairy Silk yogurt if vegan
2 tablespoons hemp seeds
1 inch peeled ginger root
Ice cubes if using fresh fruit
Instructions
Place all the ingredients into a blender and puree until smooth.
Nutrition
Serving: 10ounces | Calories: 380kcal | Carbohydrates: 52g | Protein: 10g | Fat: 4g | Saturated Fat: 2.5g | Cholesterol: 16mg | Sodium: 140mg | Fiber: 5.5g | Sugar: 44g
This conversation is sponsored by Silk. The opinions and text are all mine.
Reader Interactions