These healthy banana oatmeal chocolate chip muffins are super simple to whip up with a few basic pantry ingredients and are naturally sweetened with the ripe banana and maple syrup. They freeze well so I try to keep a batch on hand for a grab and go snack!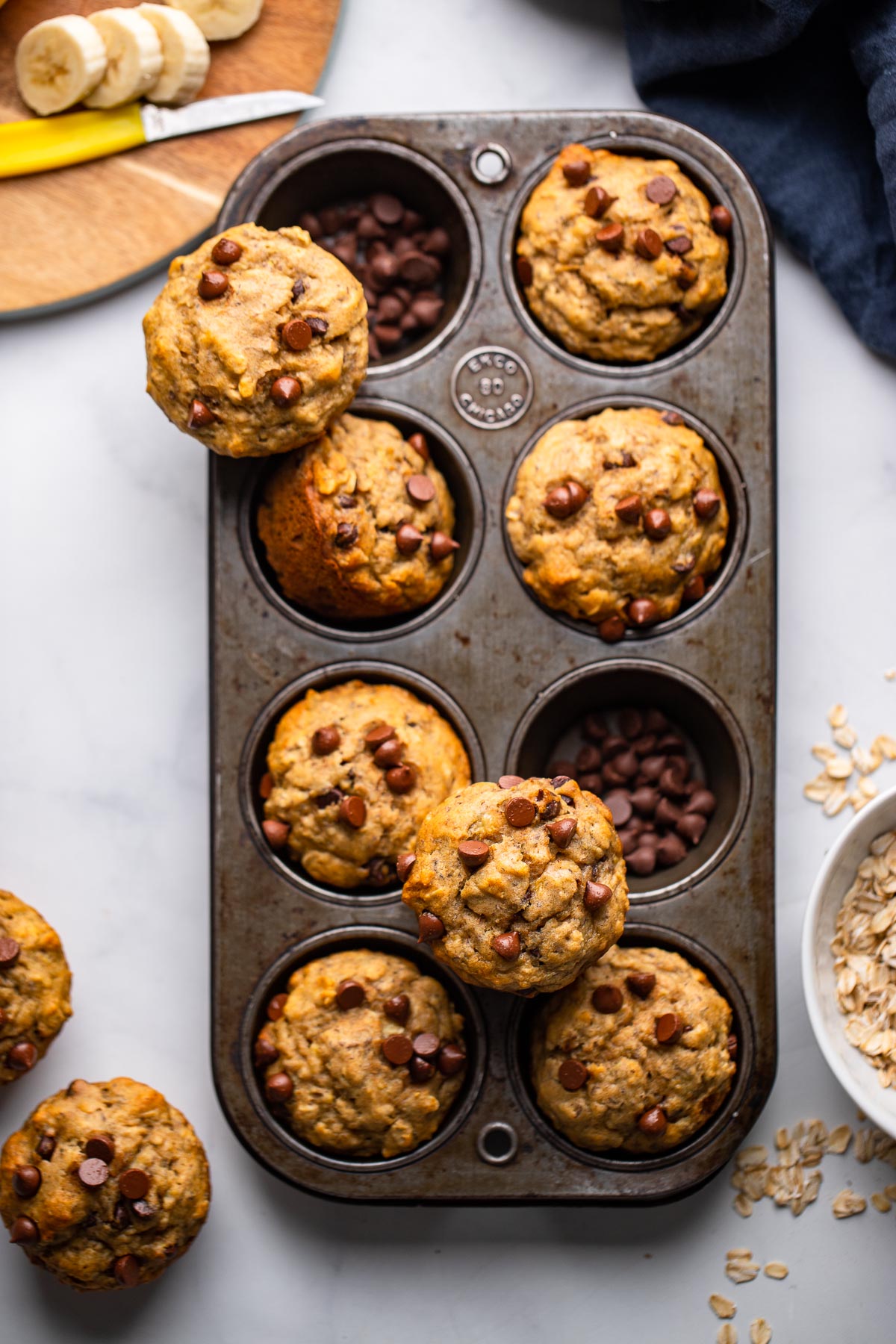 I'm not sure these vegan chocolate chip banana muffins need much introduction – just trust me that they are absolutely, 100% delicious! For this recipe, I wanted to make the classic banana muffin a bit healthier. So I've made these ones vegan, incorporated whole wheat flour, and sweetened them with maple syrup.
Why You'll Love this Recipe
Easy to Make: takes just 10 minutes to mix up the batter for these muffins.
Naturally Sweetened: maple syrup and bananas naturally sweeten these muffins without additional sugar.
Freezer Friendly: just pop into a container or ziplock bag and freeze. Reheat for 30-45 seconds in the microwave when ready to eat.
Vegan/Dairy Free/Egg Free: these are a great option for those who are plant-based or have dairy/egg allergies. Flax seed is used as an egg replacement and soy milk instead of dairy milk.
A Healthy Snack: love keeping these on hand for a quick grab-and-go snack. Add a smear of peanut butter for a bit more protein.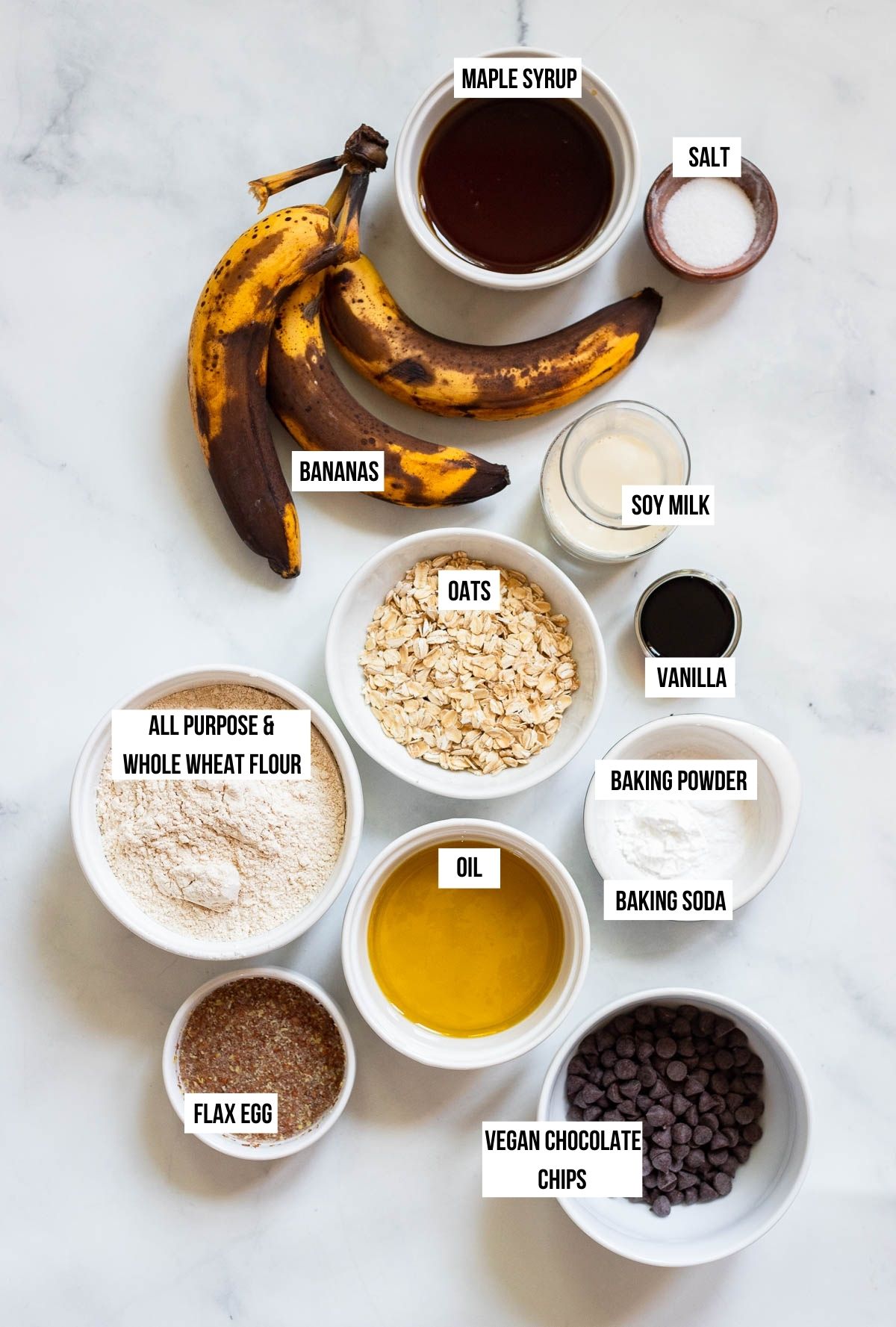 Vegan Banana Muffin Ingredients
Bananas: You'll need three bananas for this recipe and the more ripe they are, the better! Super ripe bananas mash better and will give you a sweeter muffin.
Flour & Old-fashioned oats: You'll use whole wheat flour for these muffins. However, if you like a lighter/fluffier muffin, use a combination of whole wheat and all-purpose flours. Oats add some extra fiber to the muffins, but could be omitted if you want.
Maple syrup: Maple syrup and banana add natural sweetness to these muffins without the need for sugar.
Plant-based milk: I've made these with both almond milk or soy milk. Most any plant-based milk could be used interchangeably in this recipe. You just want to make sure it is unsweetened and not flavored.
Baking powder/Baking soda: These guys do the heavy lifting to help make these muffins fluffy.
Oil: Feel free to use whichever oil you prefer. I've used olive oil, melted coconut oil, and canola oil with equal success.
Coconut: I love adding a little unsweetened shredded coconut onto the top of muffins before baking. It toasts into a golden brown in the oven and looks so pretty! If you don't like coconut, you can skip it.
Chocolate chips: I like Enjoy Life brand vegan chocolate chips.
How to Make this Recipe
STEP 1: Preheat your oven to 350 degrees Fahrenheit and grease muffin tin or add paper liners.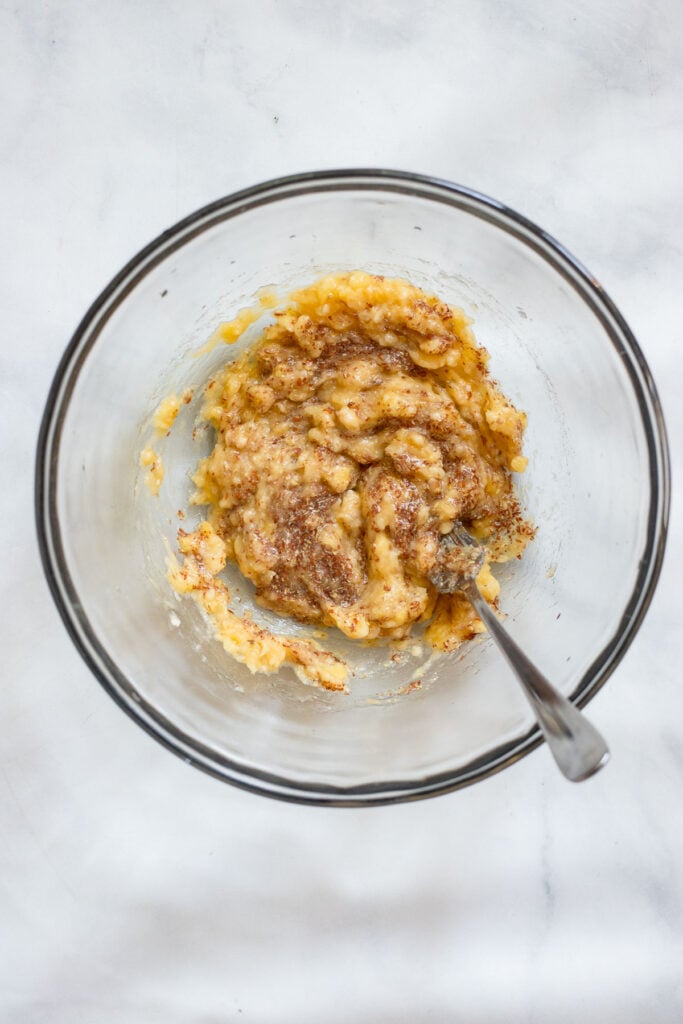 STEP 2: Add ground flax and warm water to large mixing bowl. Stir with a fork and let it sit for 2-3 minutes until it forms a gel (ie. a flax egg!). Add the bananas to the same bowl with the flax egg and mash well with a fork.
STEP 3: Add all the rest of your wet ingredients (oil, milk, maple syrup, and vanilla) to the bowl with the mashed banana and stir.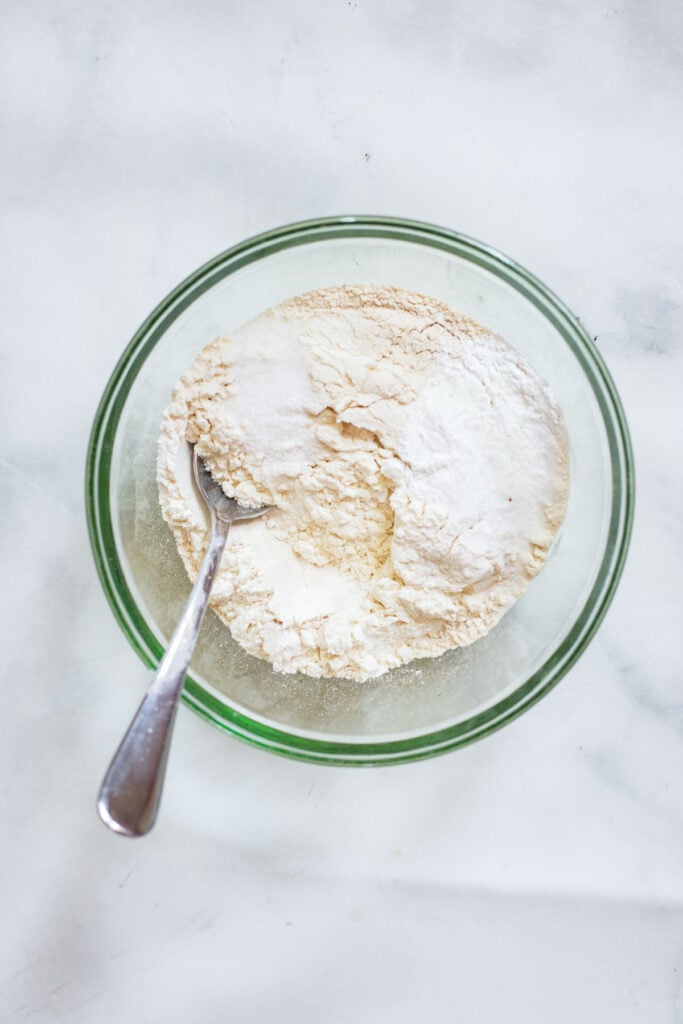 STEP 4: In a small mixing bowl, add the flours, baking soda, baking powder, and salt. Whisk to combine. Add to the banana mixture in the large mixing bowl.
STEP 5: Add oats and chocolate chips and stir just until combined. Use an ice cream scoop to evenly divide batter between 12 cups in your muffin tin. Bake for 15-20 minutes until golden brown or until toothpick inserted into center of muffin comes out clean.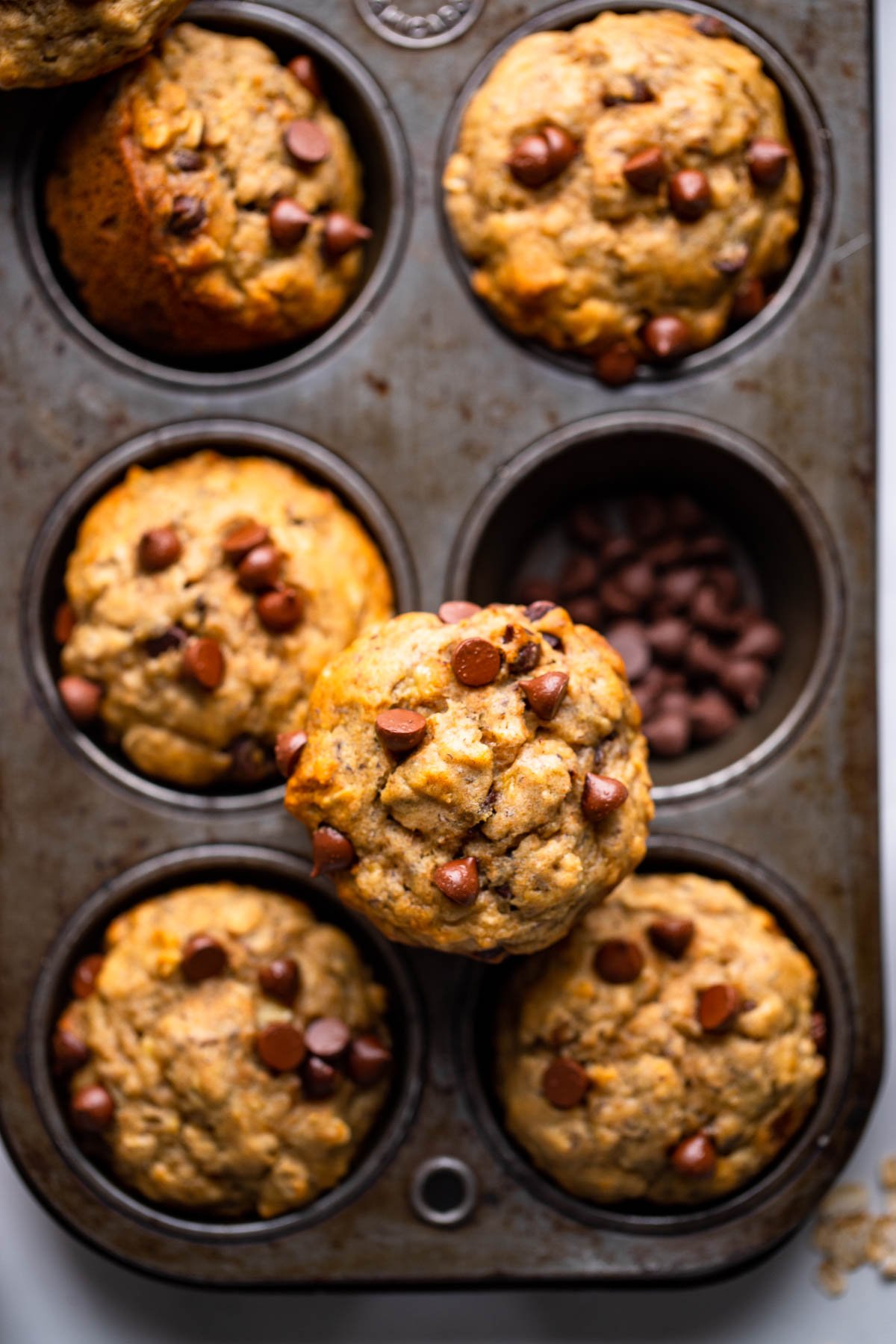 Recipe Notes:
Measure your flour correctly. Make sure to spoon your flour into your measuring cup rather than scooping to cup into the container. When you scoop from the container, you can compact the flour in the cup which can lead to dry muffins.
Use EXTRA ripe bananas. Use bananas that have turned almost entirely brown for these muffins. They will have more flavor, make a sweeter muffin, and are easier to mash into the batter.
Don't over-mix the batter. Muffin batter does not need much stirring. Too much mixing and you'll end up with a dense/rubbery muffin. Stir just until there are no clumps of flour and no more.
Use chia seeds instead of flax. If you prefer, you can use 1 tablespoon chia seeds instead of ground flax for the vegan egg.
Frequently Asked Questions
Do banana muffins freeze well?
You bet! Once completely cooled, transfer the muffins to an airtight container or bag (I like these from Stasher!) and freeze. Whenever I want to snack on a muffin, I just defrost it for about 30 seconds in the microwave.
Can I use steel cut oats?
No, I do not recommend using steel cut oats for this recipe as they aren't tender enough to use whole in baked goods like these muffins.
Why didn't my muffins rise?
Old baking powder or baking soda could be the reason. Baking powder usually only has a shelf life of 6 months to a year. Test if it is still good by adding 1/2 teaspoon baking powder 1/4 cup boiling water – it should fizz. If not, it's time to replace it. Baking soda should fizz when you add a drop of lemon juice or vinegar; if not – replace.
Other tasty vegan baked goods: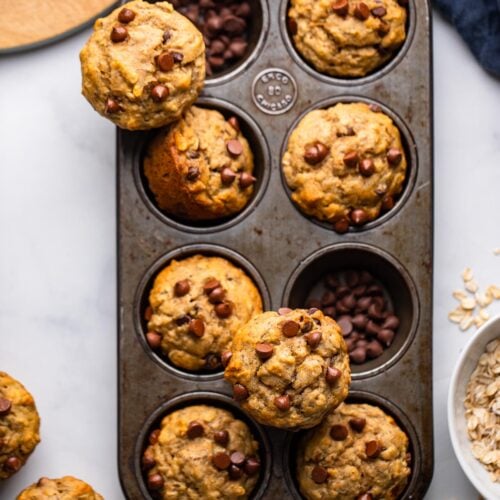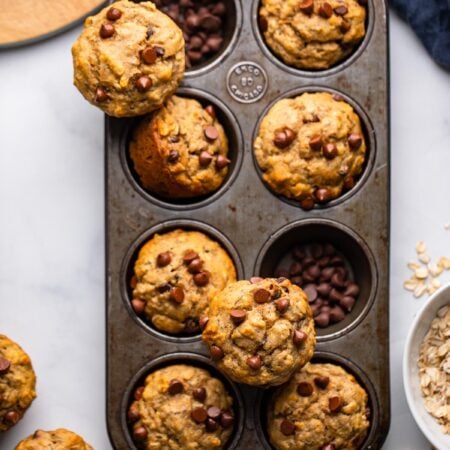 Banana Oatmeal Chocolate Chip Muffins
These healthy banana oatmeal chocolate chip muffins are super simple to whip up with a few basic pantry ingredients and are naturally sweetened with the ripe banana and maple syrup.
Ingredients
1 tablespoon ground flax seed
3 tablespoons warm water
3 bananas (very ripe is best)
1/3 cup oil (canola, olive, melted coconut oil all work)
1/3 cup maple syrup
1/3 cup plant-based milk, unsweetened (I prefer soy milk)
2 teaspoons vanilla extract
1 3/4 cup whole wheat flour for a fluffier muffin, use 1 cup white flour and 3/4 cup whole wheat flour
1/2 cup old-fashioned oats
1 teaspoon baking powder
1 teaspoon baking soda
1/4 teaspoon sea salt
1/2 cup vegan chocolate chips
3 tablespoons shredded coconut, unsweetened (optional)
Instructions
Preheat your oven to 350 degrees fahrenheit. Grease your muffin tin with cookie spray.

In a small bowl, stir together the flax seed and water. Set aside for 5 minutes or until gel forms.

In a large mixing bowl, mash the bananas well with a fork. Stir in the melted coconut oil, vanilla, maple syrup, and almond milk. Set aside.

In a small bowl, whisk together the flour, oats, baking powder, baking soda, and salt.

Stir dry ingredients and flax/water mixture into the banana mixture until well combined.

Add the chocolate chips. Stir to combine.

Divide batter evenly between 12 muffin cups. Sprinkle batter with shredded coconut (if desired).

Bake 18-20 minutes or until coconut flakes are lightly browned and toothpick inserted into the center of a muffin comes out clean.
Notes
To freeze: add cooled muffins to a large ziplock or reusable bag and store in the freezer for up to several months. Reheat for 30-45 seconds in to microwave to defrost. 
Nutrition
Serving: 1Muffin | Calories: 218kcal | Carbohydrates: 34g | Protein: 4g | Fat: 8.5g | Saturated Fat: 6.5g | Polyunsaturated Fat: 2g | Sodium: 150mg | Fiber: 4g | Sugar: 12g
Reader Interactions