Learning how to stock a healthy vegan pantry makes cooking at home so much easier. Keeping some essentials on hand like canned beans, pasta, and nut butter on hand means you can whip up a healthy meal even with an empty fridge.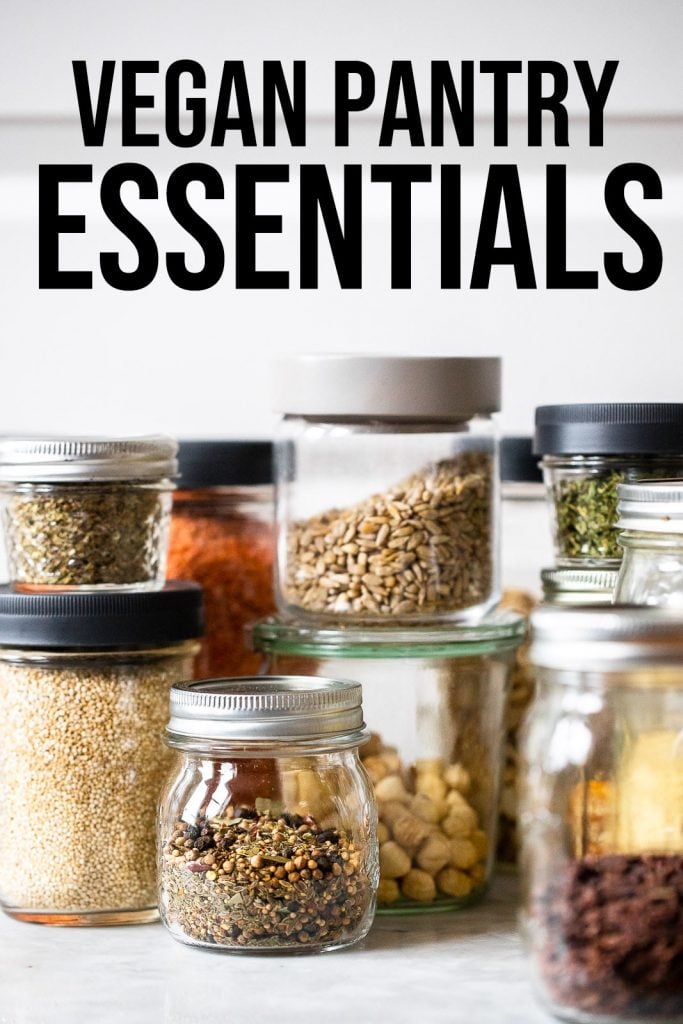 Learning how to adequately stock your pantry makes cooking at home so much easier. Even when your fridge looks bare, you can usually whip up a healthy meal if you keep some of these essentials like canned beans, pasta sauce, and rice on hand.
Once you've got your pantry stocked using the list below, be sure to check out my roundup of easy vegan pantry meals. You'll find a variety of options for breakfast, lunch/dinner, and snacks/desserts that are all simple to make with pantry friendly ingredients.
We stock up on a lot of our pantry staples from the bulk bins at our local co-op grocery store. Since we use various jars and containers at home to store our goods in the pantry, it is nice to be able to purchase just what we need from bulk vs a pre-packaged bag or container. This also helps us avoid extra food packaging waste!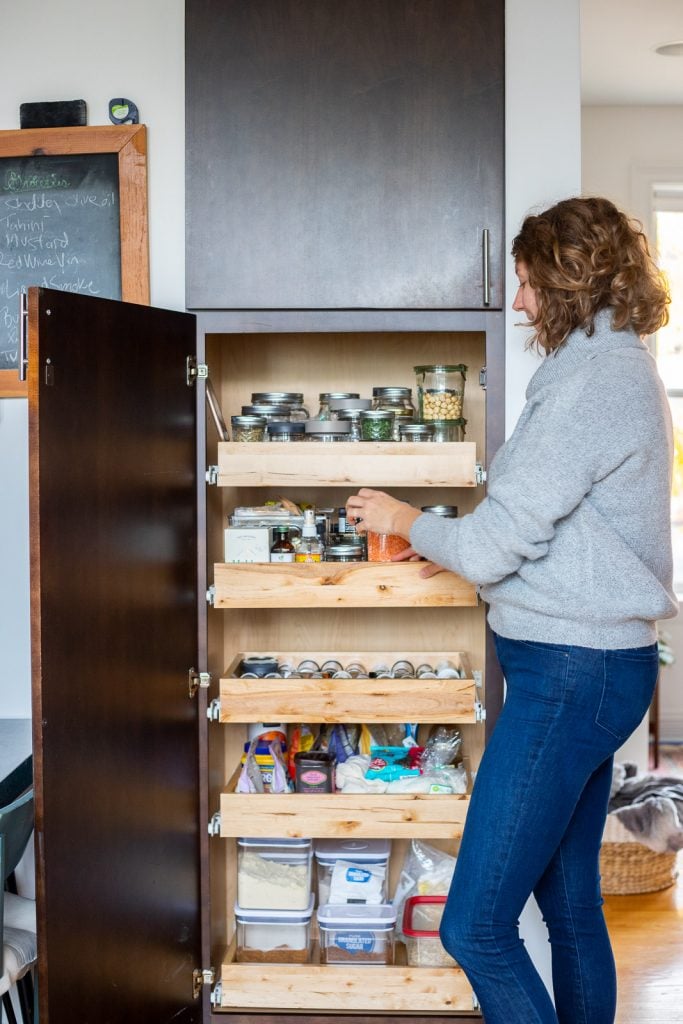 Beans and Legumes
Legumes like lentils and dried beans are total rock stars when it comes to nutrition so I like to incorporate them into meals often. To start, they are a great source of plant-based protein: 1/2 cup serving of beans has anywhere from 5 grams (chickpeas) to 8 grams (kidney beans) protein. Soybeans like edamame have 9 grams of protein per 1/2 cup serving. Lentils are similar and have about 9 grams of protein per 1/2 cup serving, cooked. Plus, legumes are high in fiber, B-vitamins, iron, folate, calcium, potassium, phosphorus, and zinc.
Tip: Our favorite way to cook dried beans is to rinse them and then soak them overnight in our crockpot. Drain and rinse them again the next morning and then add water and/or broth and spices until covered by at least 1 inch of liquid. Cook in the crockpot for 8 hours on low or until beans are tender.
Lentils

Brown or green lentils: super versatile and great for everything from soup to meatballs.
Red lentils: these cook quickly and are great in curries, soup, etc.
French lentils: these ones hold their shape better than the other varieties so they are great in salads.

Dried Beans

Black beans
Chickpeas
Kidney beans
Canellini/white beans

Rice

Brown Rice
White Rice
Wild Rice

Textured Vegetable Protein (TVP): made from soy flour, TVP is great to have on hand since it just needs a quick soak in water or broth and it is ready to use in recipes. Even if you haven't bought plain TVP before, you may have already tried it in another meat-free product from the store like Trader Joe's vegan chorizo.
Soy curls (affiliate link): made from whole soy beans, soy curls are a great, pantry friendly vegan protein when you are tired of beans or lentils. They are super easy to make, just rehydrate and use in recipes like this easy vegan enchilada casserole.
Grains and Pasta
In addition to legumes, a variety of grains are a staple in our pantry. We try to keep a variety on hand, everything from oats to pasta to rice. Adding whole grains to your meals is a great way to boost the fiber which is important for gut health, lowering cholesterol, and more.
Oats: We usually keep old fashioned rolled oats on hand and use them for oatmeal, snack bites, blitzed into oat flour and more.
Quinoa: Love having quinoa on hand for a quick starch to add to salads, soups, or on its own as a side.
Whole wheat pasta (spaghetti, lasagna noodles, macaroni)
Lentil or bean pasta: I love trying out new lentil and bean based pastas – such a great way to boost the protein in a meal!
Rice (brown or white)
Vital Wheat Gluten: we keep this on protein-packed ingredient on hand to make our own seitan. It's actually really simple to make it at home!
Baking
Keep a variety of baking flours and ingredients on hand so that you can easily whip up a batch of your favorite baked goods whenever the craving hits. I always like to keep my freezer stocked with a batch of muffins or banana bread for grab and go snacking.
All-purpose flour
Whole wheat flour
Almond flour
Baking powder
Baking soda
Chickpea flour
Cornstarch
Granulated white sugar
Brown sugar
Coconut sugar
Vanilla extract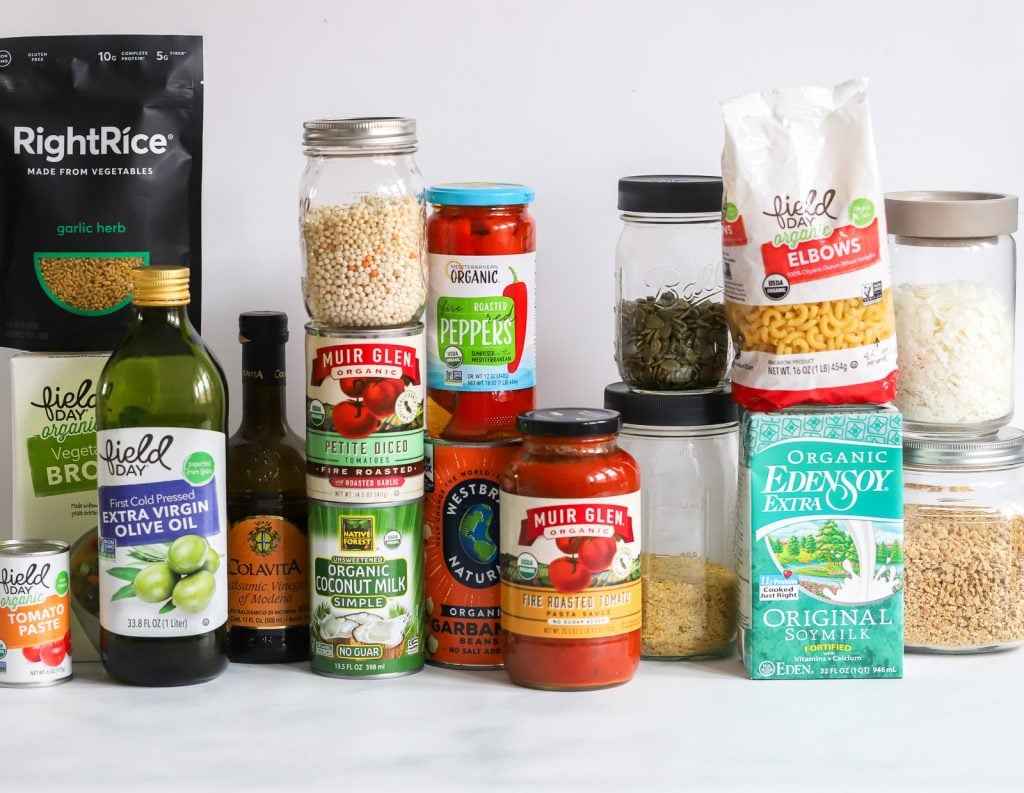 Canned Goods
Canned goods are great for whipping up healthy meals when you are short on time. We keep a few cans of beans and tomato sauce on hand all the time for quick meals.
Canned beans (black beans, chickpeas, white beans, kidney beans)
Coconut milk
Curry paste – not all curry paste is vegan, so double check the ingredient list as many contain fish sauce
Enchilada sauce
Fire-roasted jarred red peppers
Olives
Tomato paste
Spaghetti sauce
Sun-dried tomatoes
Tomato Sauce
Diced tomatoes
Pumpkin puree
Oils, Vinegars, Sauces, Flavor Enhancers
Obviously, you'll need a few oils on hand for baking and cooking. We love having a variety of vinegars around to whip up homemade vinaigrettes for salad and add a punch of flavor to dishes.
Apple cider vinegar
Balsamic vinegar – we love these balsamic roasted vegetables.
Barbecue sauce – double check the ingredient list as many barbecue sauces contain honey.
Canola oil
Coconut oil
Jarred salsa
Liquid smoke
Nutritional yeast – add cheesy flavor to vegan recipes like this vegan macaroni and cheese.
Olive oil
Red wine vinegar
Sesame oil
Soy Sauce
Tahini – we keep this on hand for dressing and homemade hummus.
Teriyaki sauce – we keep some teriyaki sauce on hand for my favorite speedy weeknight dinner recipe, this teriyaki tofu sheet pan dinner.
Vegetable broth
White wine vinegar
White vinegar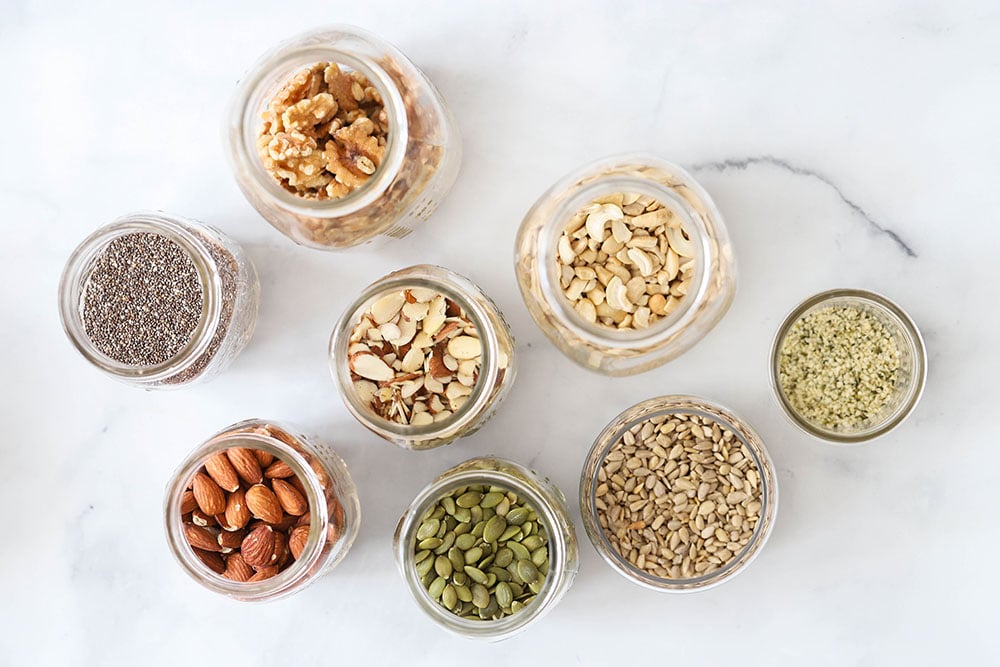 Nuts and Seeds
We always have a variety of nuts and seeds stocked in our pantry for adding to all kinds of different foods. Nuts and seeds not only provide necessary protein, but they are also a great source of other nutrients healthy fats, vitamin E and magnesium. The standard portion size of a serving of nuts is 1 ounce (ie. 23 almonds, 14 walnut halves) or 2 tablespoons nut butter. In general, a 1 ounce portion nuts has about 4-6 grams of protein. A 2 tablespoon serving of peanut butter has a little more, about 9 grams per serving.
Almonds
Almond butter
Cashews
Chia seeds
Flaxseed – we keep this on hand for making a vegan egg replacer in recipes, just ground flaxseed and water.
Hemp hearts
Peanut butter – not just for toast! This peanut sauce is soooo good!
Pecans
Pistachios – check out my vegan parmesan! This also lives in our pantry for sprinkling on pasta, soup, veggies, and more.
Pumpkin seeds
Sesame seeds
Sunflower seeds
Walnuts
Dried Fruit
We keep a variety of dried fruit on hand for a healthy snack or to add to oatmeal. Dates are the perfect afternoon or after-dinner sweet treat filled with a bit of nut butter and a sprinkle of salt. A serving of dried fruit is about 1/4 cup. Dried fruit contains the same nutritional benefits of the whole fruit like vitamins, minerals, fiber, and phytonutrients.
Apricots
Cranberries
Dates
Coconut (shredded & unsweetened)
Mango
Raisins
Spices
Here's a rundown of the spices you'll likely find in our pantry any time you open it up. However, your spice drawer may look a little different based on the recipes you typically cook up! We also like to keep a few spice blends on hand too like Italian seasoning, lemon pepper, and taco seasoning.
Did you know that spices can lose their flavor over time? If you have some spices that have been living in your pantry for a long time, it may be time to do a spice drawer clean out. Most spices last for about 1-2 years. Not sure if it is still good? It should have a strong smell and taste as well as a rich color.
Basil
Bay leaves
Black salt (also called Kala Namak) – adds an eggy flavor to tofu scramble.
Cardamom
Cayenne
Chili powder
Cinnamon
Cloves
Cream of tartar
Cumin
Curry powder
Everything bagel seasoning
Fennel
Garam Masala
Garlic powder
Ginger
Italian seasoning
Lemon pepper
Mustard powder
Nutmeg
Oregano
Onion powder
Paprika (sweet and smoked)
Peppercorns
Pumpkin pie spice
Red pepper flakes
Rosemary
Sage
Taco seasoning
Thyme
Turmeric
Pantry Organization and Containers