These easy vegan brownies can be whipped up in just a matter of minutes in just one bowl! They have a delicious fudgy texture that you would never guess was vegan.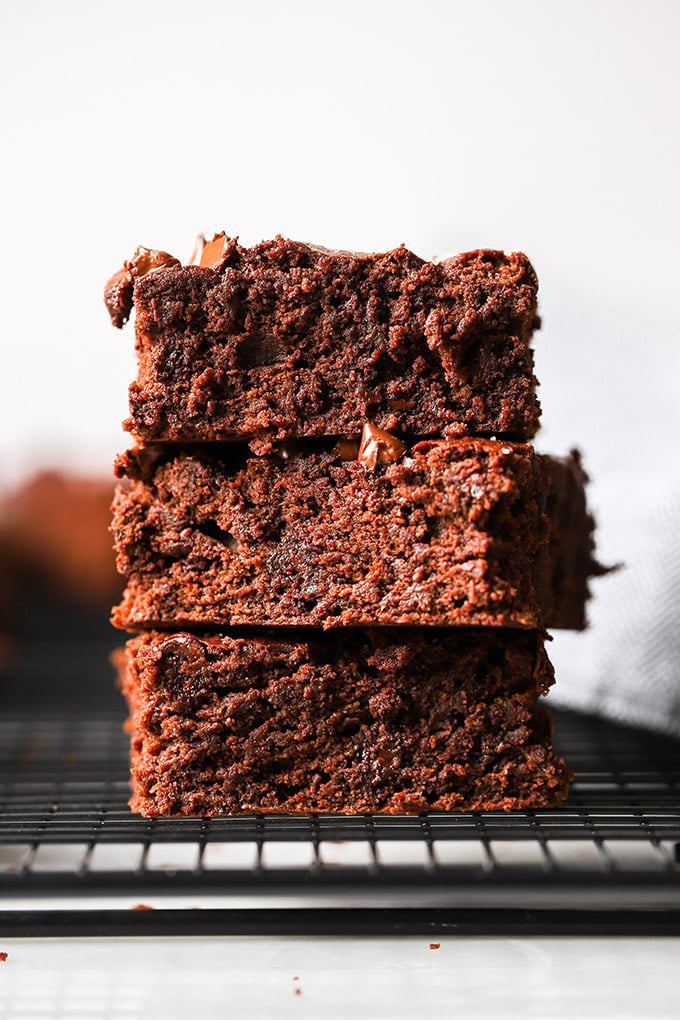 I am always a little hesitant to share desserts on my blog because I feel like I have to create only "healthy" stuff. However, I also have a big sweet tooth and I think it is important for you to know that it is ok to eat dessert! You don't have to eat only "healthy" foods to be healthy. You can and you should eat the occasionally brownie, cookie, ice cream, etc! These easy vegan brownies can be whipped up in just a few minutes all in one bowl. (I am all about fewer dishes!)
Tips for Making Easy Vegan Brownies
Use ground flax seed to replace the eggs that are usually in brownie recipes to make it vegan. Add warm water to ground flax seeds and they form a gel that helps hold these brownies together.
Make this all in one bowl! Combine your wet ingredients with the sugar first and then sift in your dry ingredients. Stir with a spoon just until everything is incorporated. 
Just like a regular brownie batter, try not to over-mix your batter! You just want to make sure there are no big clumps of dry ingredients. 
Line your pan with parchment paper to make it easier to remove the brownies from the baking dish.
In the last 5 minutes of baking, test if your brownies are done by inserting a toothpick into the center of the pan. If the toothpick comes out mostly clean, your brownies are done and can be removed from the oven.
To make it easier to cut your brownies, allow them to cool completely before cutting with a sharp chef's knife. Wipe the chef's knife off between each cut to get cleaner brownie slices. 
I like to sprinkle my finished brownies with a little course sea salt when they come out of the oven. (I am all about that sweet/salty combo!)
Feel free to add other mix-ins besides chocolate chips. I've also added chopped nuts (like walnuts, pecans, etc), freeze-dried berries, shredded unsweetened coconut, etc.
Can you freeze these brownies?
Yes! These brownies freeze well. I just slice them up and then store them either in a Tupperware container or ziplock bags. 
Are vegan brownies healthy?
Vegan brownies are just like any other brownie recipe – they should be enjoyed as a treat rather than a staple in your diet. Since you aren't using butter and eggs to make vegan brownies, they will have less saturated fat. However, they still have quite a bit of sugar which should be consumed in moderation. Just because brownies aren't he
Looking for more dessert recipes? Check out these!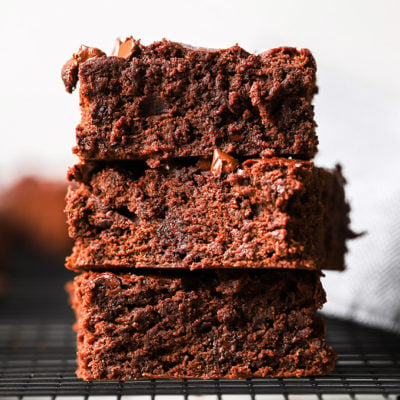 Easy Vegan Brownies
These one bowl vegan brownies can be whipped up in just a matter of minutes! They have a delicious fudgy texture that you would never guess was vegan.
Ingredients
2 tablespoons ground flax seeds I use Bob's Red Mill
5 tablespoons warm water
1/2 cup granulated sugar
1/4 cup packed brown sugar
1/3 cup canola oil
3/4 cup unsweetened almond milk
1 cup whole wheat flour
3/4 teaspoon baking powder
3/4 cup unsweetened cocoa powder
1 teaspoon espresso powder optional
1/4 teaspoon salt
1/2 cup vegan chocolate chips + extra for topping
Instructions
Preheat the oven to 350 degrees Fahrenheit and line an 8"x8" glass baking dish with parchment paper. 

In a large mixing bowl, whisk together the flax seeds and water. Allow to sit for a couple minutes until gel starts to form.

Add the sugar, brown sugar, oil, and almond milk. Whisk together until sugar starts to dissolve. 

Place sifter over bowl and add flour, baking powder, cocoa powder, and espresso powder (if using). Remove sifter and add salt. Stir with wooden spoon just until all ingredients are incorporated. 

Add chocolate chips and stir a couple times to distribute through batter. 

Transfer batter to prepared baking dish. Top with additional chocolate chips. Bake for 30-35 minutes or until toothpick inserted into brownies comes out clean. 

Allow to cool in the pan for 15 minutes. Lift brownies out of the pan using the parchment paper and allow to cool an additional 15-30 minutes before slicing and serving.
Nutrition
Serving: 1/9th Recipe | Calories: 304kcal | Carbohydrates: 44g | Protein: 4.5g | Fat: 15g | Saturated Fat: 4g | Polyunsaturated Fat: 11g | Sodium: 82mg | Fiber: 5.5g | Sugar: 26.5g
Reader Interactions