Make your Saturday morning breakfast extra special with a batch of these tasty vegan carrot cake waffles.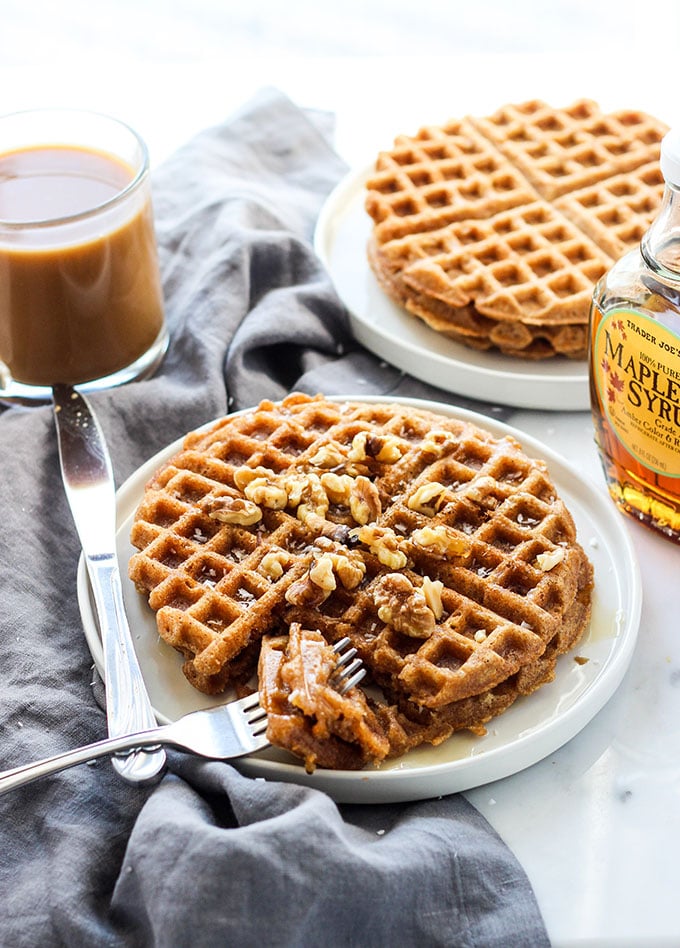 Let's just call this week breakfast week on the blog, shall we? I know I just posted about baked oatmeal on Tuesday, but these tasty vegan carrot cake waffles just couldn't wait to be shared! After wanting a waffle maker for ages, I finally convinced Will that we have enough cabinet space in our kitchen to squeeze in a small waffle iron. Plus, we were already at Bed Bath and Beyond buying couple other items on a gift card from our wedding so why not pick one up? I felt like a little kid waking up on Christmas morning when I got up the next day and made a batch of these vegan carrot cake waffles.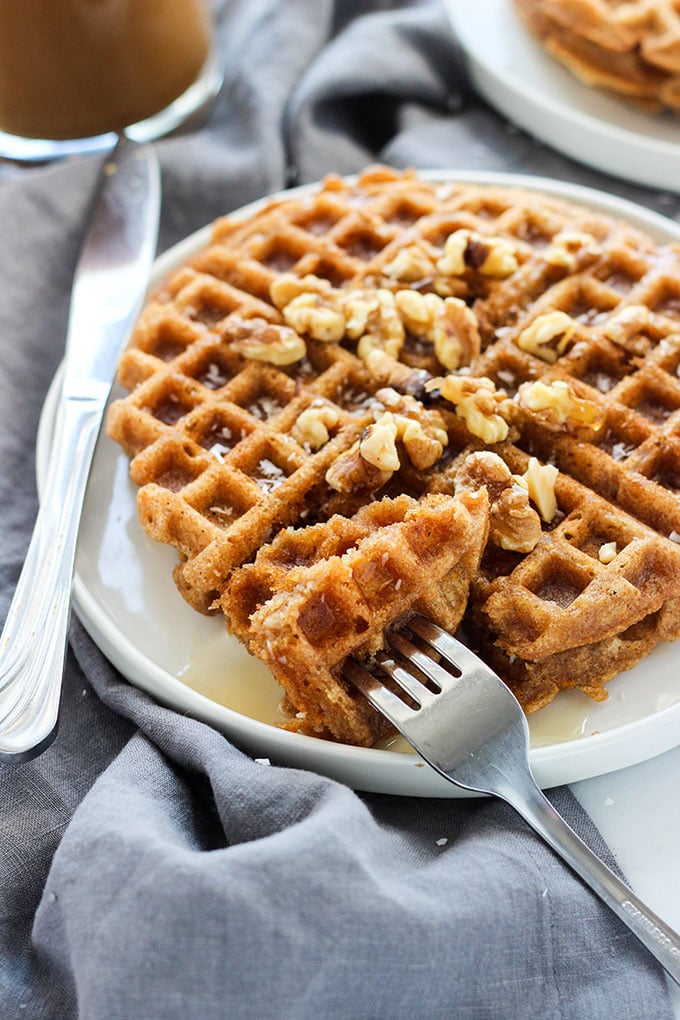 Carrot cake was my absolute favorite dessert when growing up. I would always request a carrot cake whenever my birthday came around. (Speaking of which, I am turning 29 very soon. Eek!) These waffles have some of the great flavor of carrot cake, just in breakfast form. Make these waffles for your family this weekend and I'm sure they would never guess they were vegan! I served mine with a sprinkle of shredded coconut, chopped walnuts, and maple syrup. Mmm….!
More Delicious Breakfast Recipes You'll Love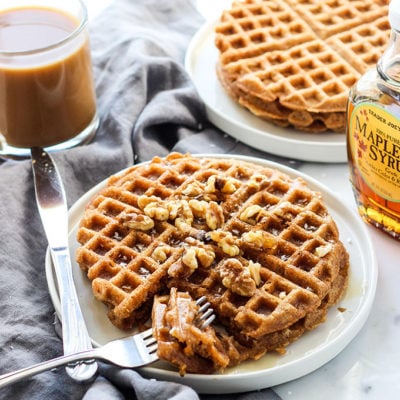 Vegan Carrot Cake Waffles
Make your Saturday morning breakfast extra special with a batch of these tasty vegan carrot cake waffles.
Ingredients
1 3/4 cup whole wheat flour
1/4 cup granulated sugar
1 teaspoon baking powder
1 tablespoon cornstarch
1/4 cup unsweetened coconut flakes
1/8 teaspoon salt
1/2 teaspoon ground cinnamon
1/4 teaspoon ground nutmeg
1/2 cup finely shredded carrot
1/2 teaspoon grated ginger root
1 1/2 cup unsweetened almond milk
1/2 cup vegetable oil
1 teaspoon vanilla extract
To Serve:
Maple syrup
Chopped walnuts
Unsweetened coconut flakes
Instructions
Preheat your waffle iron to medium-high heat.

In a large mixing bowl, whisk together this dry ingredients (flour, sugar, baking powder, cornstarch, coconut flakes, salt, cinnamon, and nutmeg).

In a small bowl, combine the carrot, ginger, almond milk, vegetable oil, and vanilla. Stir well to combine.

Pour the wet ingredients into the bowl with the flour and stir well to combine.

Spray your waffle iron with cooking spray and spread 1/2 cup of batter evenly on bottom plate. Close lid and cook 6-7 minutes or until indicator on waffle iron goes off. Repeat until all the batter is used up.
Nutrition
Serving: 1waffle | Calories: 428kcal | Carbohydrates: 45g | Protein: 6g | Fat: 27g | Saturated Fat: 6g | Polyunsaturated Fat: 13g | Monounsaturated Fat: 6g | Trans Fat: 1g | Sodium: 252mg | Potassium: 220mg | Fiber: 6g | Sugar: 11g | Vitamin A: 2143IU | Vitamin C: 1mg | Calcium: 159mg | Iron: 2mg
SaveSave
Reader Interactions