This sheet pan vegan sausage and veggies with pesto meal has quickly become a regular weekly dinner option for us! It is kind of hard to call it a "recipe" since there isn't much to cook. You are mostly just combining some produce and a few store-bought products for a super simple meal. However, many of you loved my teriyaki tofu sheet pan meal so I thought I would share this one too!
Tips for Making this Sheet Pan Vegan Sausage and Veggies with Pesto
Lining your baking sheet with parchment paper or aluminum foil is optional but makes clean-up super easy! I use parchment paper because I need new baking sheets (they're sooo old!) and this prevents sticking.
You can definitely switch up the veggies in this meal if you'd like. I used broccoli, cabbage, and carrots in this version. It changes every time based on what we have in the fridge or what is in season. You can totally make this with cauliflower, potatoes, brussels sprouts, bell pepper, and more.
Make it into a grain bowl by serving with cooked quinoa like I did below. I've also served it with roasted potatoes as well. I just roast the potatoes on a separate pan at the same time in the oven. They are usually done at the same time.
There are a lot of tasty plant-based sausage options available in stores. We usually use sausages from Tofurky or Field Roast when making this.
In the summer, I try to have homemade pesto on hand for this recipe these days I just use some from the store. I love and using the vegan pesto made by Gotham Greens!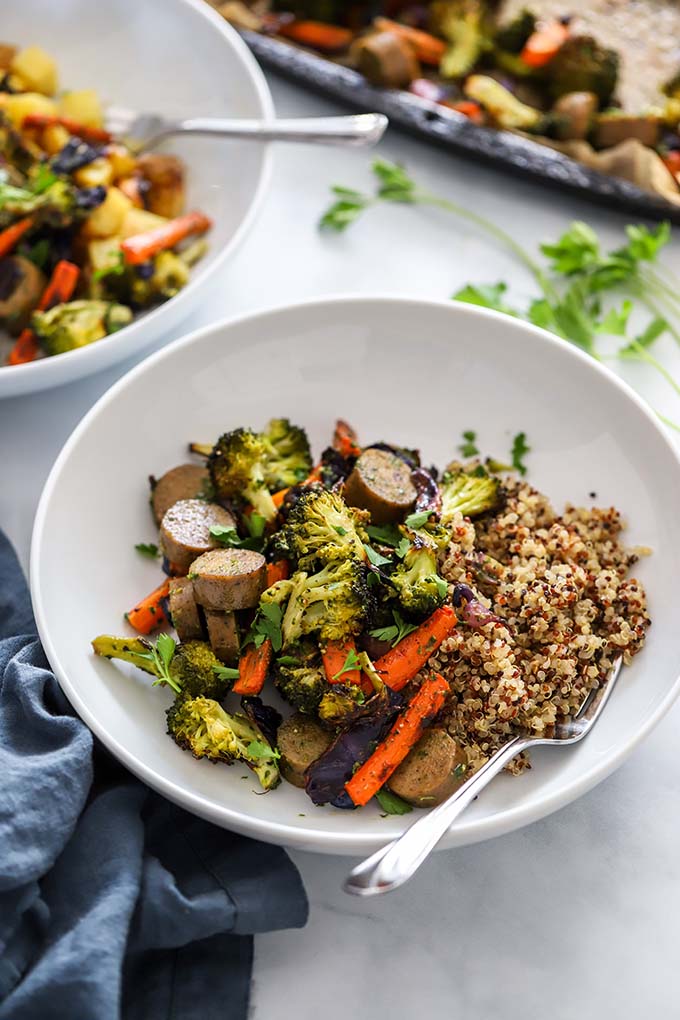 For more simple sheet pan meals…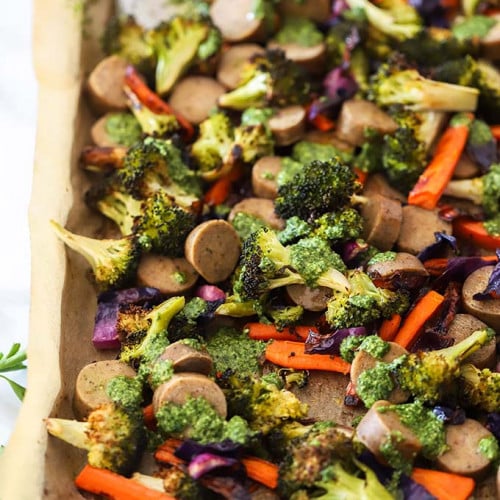 Sheet Pan Vegan Sausage and Veggies with Pesto
This quick and easy sheet pan vegan sausage and veggies with pesto meal is sure to become a weekly favorite! Serve with your favorite grain. 
Ingredients
5 carrots peeled
1/4 head of purple cabbage
1 small head broccoli
2 tablespoons olive oil
3 vegan sausages sliced
1/3 cup vegan pesto divided
Instructions
Preheat the oven to 425 degrees Fahreneit. Line baking sheet with parchment paper and set aside. 

Cut vegetables into evenly sized pieces and add to baking sheet. Pour olive oil over top and toss to coat. Bake for 30 minutes on lower rack of oven. 

Add sliced sausages and toss to coat in any oil leftover from the vegetables. Bake for another 15 minutes. Test carrots and broccoli with a fork. If tender, then remove from the oven. Otherwise, continue to bake until fork tender. (Baking times sometimes vary by oven.)

Allow veggies to cool a couple of minutes. Pour 1/4 cup of the pesto over the veggies and sausage. Toss to coat well.

Serve over quinoa, roasted potatoes, or grain of your choice and drizzle with the rest of the pesto, as desired. Taste and add sea salt and pepper if needed. 
Nutrition
Serving: 1/3 Recipe | Calories: 385kcal | Carbohydrates: 23g | Protein: 12g | Fat: 29g | Saturated Fat: 6g | Polyunsaturated Fat: 23g | Sodium: 600mg | Fiber: 7g | Sugar: 8g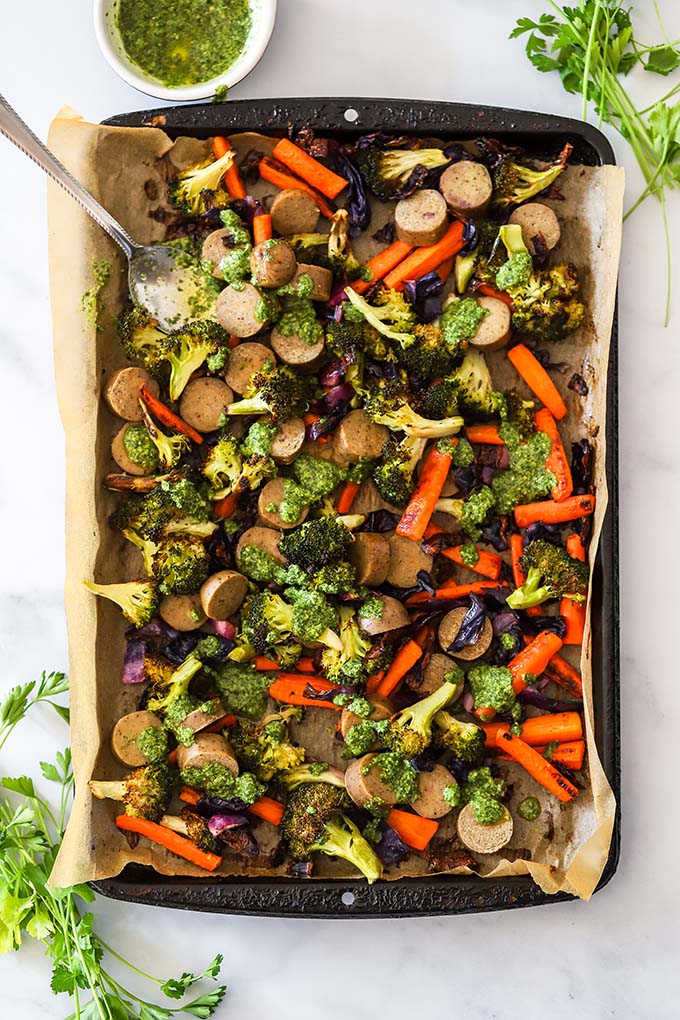 Reader Interactions