Thank you Modern Table for sponsoring this post. This delicious, complete protein pasta is made from three plant-based ingredients — eat clean with Modern Table pasta today!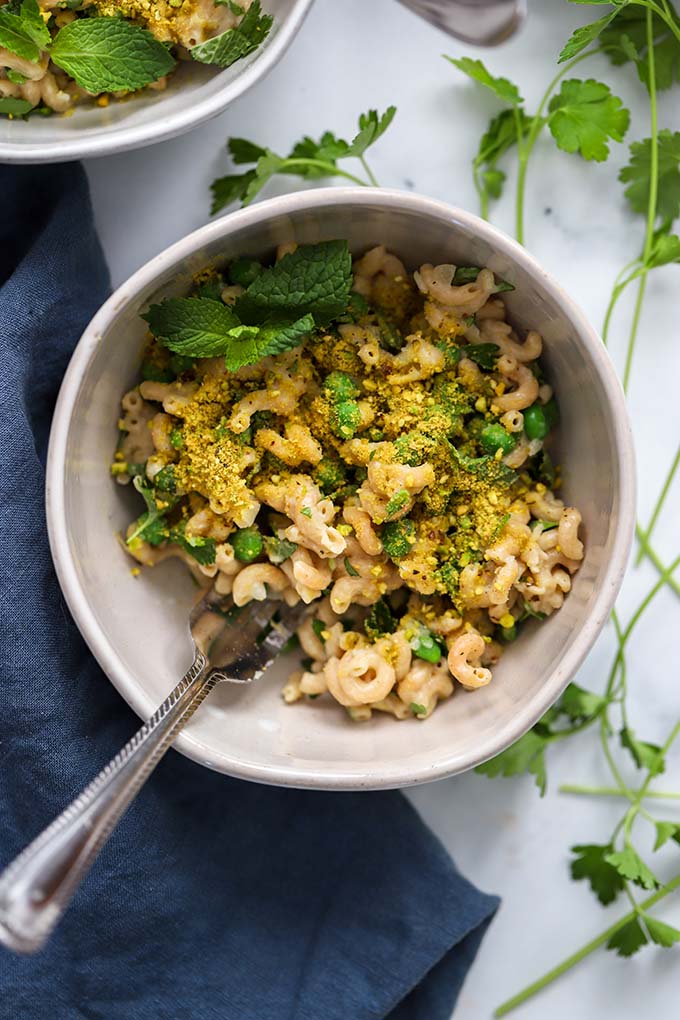 We survived the polar vortex and now I'm looking forward to spring! Unfortunately, it doesn't really warm up for a couple more months here in Chicago so in the meantime, I am making meals like this creamy vegan pasta with peas and mint. The bright flavors of mint and lemon transport me to warmer, sunnier days.
I always try to keep a box or two of pasta on hand in the pantry for whipping up simple and healthy meals like this one. These days, it has gotten easier to find gluten-free, plant-based pastas in the store. Modern Table's complete protein pasta (ie. contains all 9 essential amino acids) has quickly become a favorite of mine.
With only three plant-based ingredients, the plain pastas are vegan, non-GMO, and gluten-free. I used their spirals shaped pasta for this recipe as they pair so well with the vegan cream sauce.
Ingredients You'll Need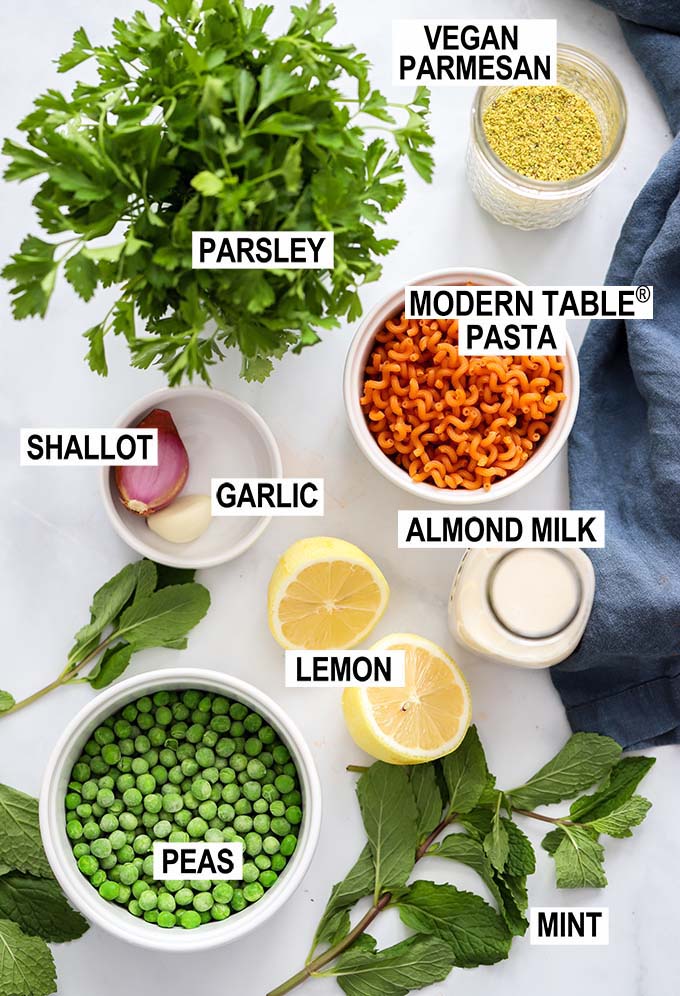 Shallot: Shallots belong in the same plant family as onions but have a milder flavor than regular white or red onions with a hint of garlic flavor.
Garlic: The garlic gets sautéed with the shallot in a little bit of olive oil to add lots of flavor to the sauce.
Peas: Peas add a pop of green color and a touch of sweetness to this pasta recipe.
Lemon: You will use both the juice and the zest from the lemon for this recipe.
Pasta: You'll need Modern Table spirals pasta for this recipe. All pastas are lentil-based and contain complete proteins – meaning they have the 9 essential amino acids our bodies need for strong energy, good digestion, and muscle health.
Mint and Parsley: I love incorporating herbs like mint and parsley into recipes like this pasta for a pop of fresh flavor.
Almond milk: Make sure to use a plain, unsweetened almond milk for this sauce. Double check the ingredient list as some unsweetened almond milk has vanilla added. Since the almond milk is the base of the savory sauce, you want to make sure it isn't sweet.
How to Make Creamy Vegan Pasta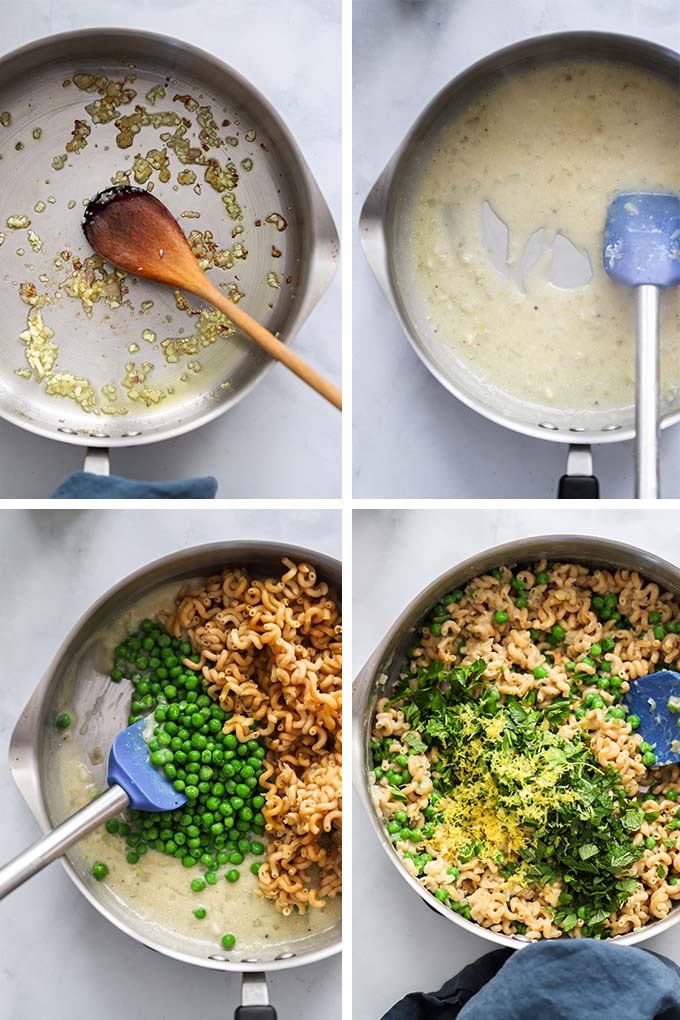 This recipe is super simple to make! You'll start by boiling some water for the pasta and then begin to make your sauce.
To make the sauce, sauté the shallot and garlic in olive oil and then stir in the almond milk and a slurry made from corn starch to thicken it without gluten. Finally, you'll mix in the peas, cooked pasta, lemon, and fresh herbs.
To serve, you'll top this pasta with a delicious homemade vegan parmesan. We keep a jar of this in our pantry for sprinkling on dishes like this pasta. It also tastes great as a healthy topping on popcorn! All you need for the parmesan in nutritional yeast, pistachios, garlic powder, salt and pepper. Blitz it all together in a food processor until it resembles a breadcrumb consistency.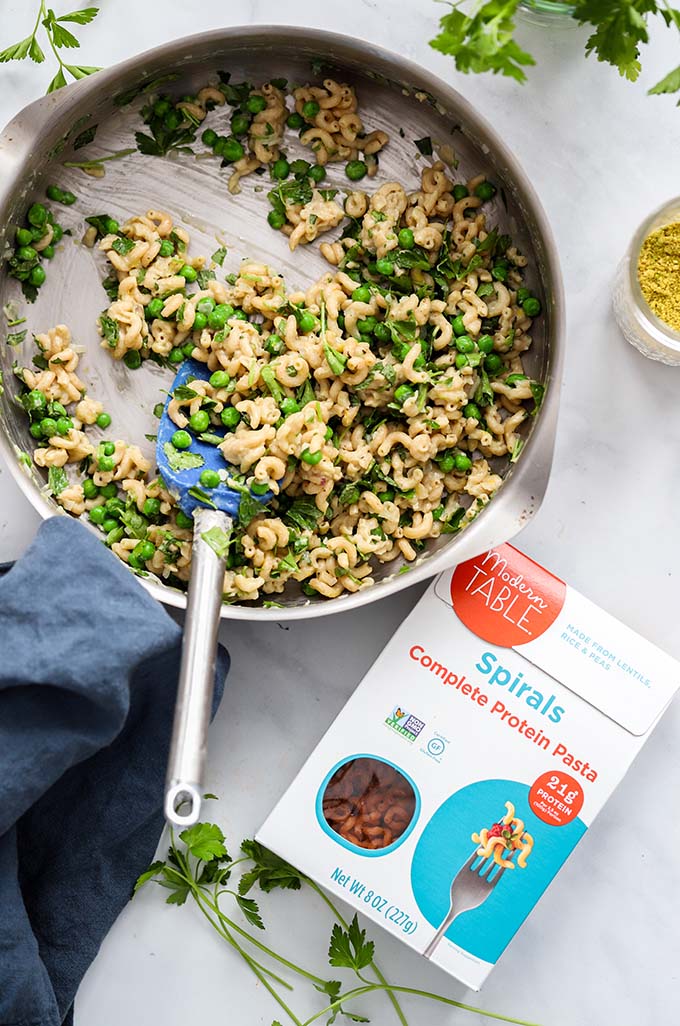 This recipe is…
Vegan, gluten-free, dairy free, egg-free, and simple to make! If you are looking for another recipe with major spring vibes, you'll also love my spring quinoa risotto.
More Delicious Pasta Recipes You'll Love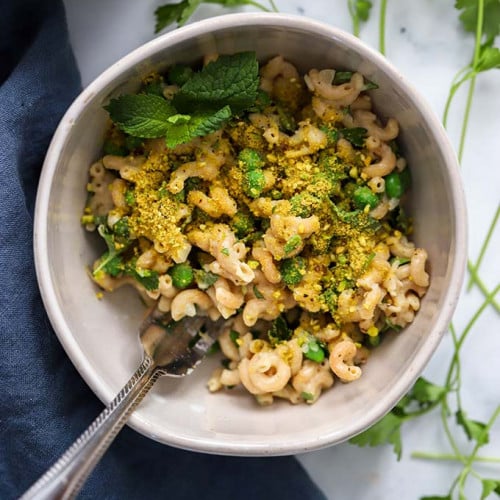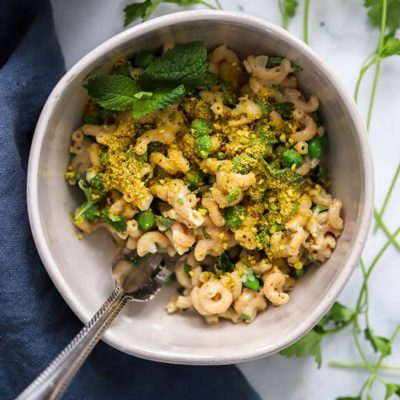 Creamy Vegan Pasta with Peas and Mint
This creamy vegan pasta with peas and mint can be whipped up in under 30 minutes for a healthy weeknight dinner. Top with a delicious vegan parmesan!
Ingredients
For the Pasta
1 8 oz package pasta
1 tablespoon olive oil
1 shallot minced (~3 tablespoons)
1 clove garlic minced
1 cup almond milk unflavored and unsweetened
1/4 cup vegetable broth
1 tablespoon cornstarch
1 tablespoon water
1 cup peas fresh or frozen
1/4 cup chopped fresh mint leaves
1/3 cup chopped fresh parsley
1 tablespoon lemon juice
Zest from 1 lemon
Sea salt and ground black pepper to taste
Instructions
Add water to medium saucepan and add a generous amount of salt. Bring to a boil and add 1 package pasta. Cook for 5 minutes then drain and set aside. 

Meanwhile, add olive oil to a large skillet. Add shallots and cook 1 minute. Stir in the garlic and cook another minute. 

Stir in the milk and broth and bring to a simmer.

Mix together water and cornstarch in a bowl. Stir into the skillet with the almond milk and cook for another 1-2 minutes or until thickened. 

Turn the heat to low and add the peas and cooked pasta. Stir well to coat pasta in sauce.

Remove from heat and add the mint, parsley, lemon juice, zest salt, and pepper. 

To make the parmesan, add all the ingredients to a food processor and pulse until it resembles bread crumbs. 

To serve, divide pasta into bowls and top with vegan parmesan. 
Notes
Nutrition facts for pasta without the vegan parmesan.  Prepared recipe can be stored in the refrigerator for up to 3 days.
Nutrition
Serving: 1/4 Recipe | Calories: 303kcal | Carbohydrates: 46.5g | Protein: 15g | Fat: 6g | Saturated Fat: 0.5g | Polyunsaturated Fat: 5.5g | Sodium: 212mg | Fiber: 5g | Sugar: 2.5g
Reader Interactions