Start your morning off right with this healthy blueberry cashew smoothie packed with antioxidants, protein, and fiber! Cashews are a great way to add lovely texture and healthy fats to smoothies.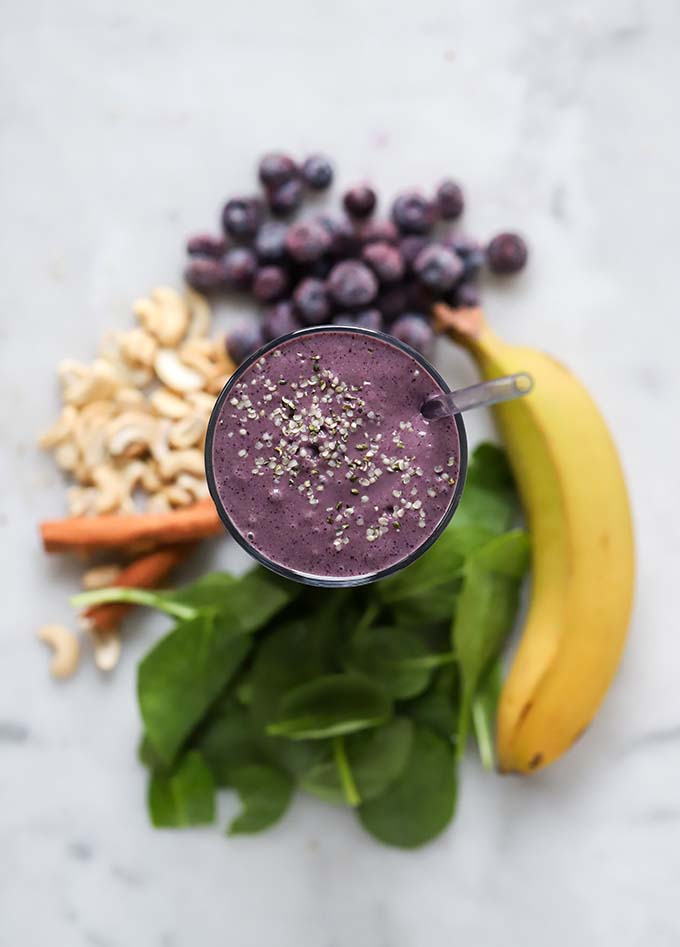 This blueberry cashew smoothie has been my go-to breakfast for the last few months. I just whip it up in the morning and take it with me to sip on in the car during my commute. Even in the winter months, I tend to stick with my normal smoothie because there never seems to be enough time in the morning to sit down and eat anything else for breakfast!
Why is this blueberry cashew smoothie good for you?
Blueberries: There is a lot of nutrition packed into these little berries. Blueberries are a good source of vitamin C which is essential for building collagen for healthy skin and hair but it is also a powerful antioxidant. Speaking of antioxidants, diets high in antioxidant-rich foods like blueberries may help protect our brain cells as we age.
Cashews: A 1 ounce serving of cashews provides healthy fats, vitamins, minerals, and 5 grams of protein. Many Americans don't eat enough magnesium and this nutrient plays a role in almost 300 different metabolic reactions including: energy production, cell signaling, and building essential molecules (like DNA!). Another important reason to get enough magnesium? Magnesium deficiency has been linked to increased risk for cardiovascular disease, osteoporosis, and more. A serving of cashews provides 20% of the RDA for magnesium.
Yogurt: Make sure to use plain, unsweetened yogurt when making your smoothies to reduce the sugar content. Yogurt is a great source of protein (use Greek yogurt to up the protein in this smoothie!). Yogurt is also chock full of probiotics which are specific types of bacteria found in fermented foods. These "good" bacteria help support healthy digestion.
Banana: Banana is a good source of prebiotics so it is the perfect food to pair with the yogurt in this smoothie. Prebiotics are non-digestible fibers that act as food for the good bacteria in your gut.
Spinach: Spinach is a good source of folate and vitamins A and K. Although calcium and vitamin D get most of the attention for their role in bone health, vitamin K is also important for building and maintaining strong bones. Green leafy vegetables like spinach are some of your best sources of vitamin K; perfect for pairing with a calcium-rich food like yogurt.
Cinnamon: I love adding a dash of cinnamon to this smoothie for just for little flavor but also an antioxidant boost. There is some interesting research looking at how cinnamon may be able to help stabilize blood sugars, but more research is needed before we can really make any recommendations about how much cinnamon is needed to have healthy benefits.
Hemp Hearts: I buy these at Trader Joe's and I sprinkle them on all kinds of things! They are high in protein (10 grams per serving which is 3 tablespoons) and heart healthy omega-3 fatty acids.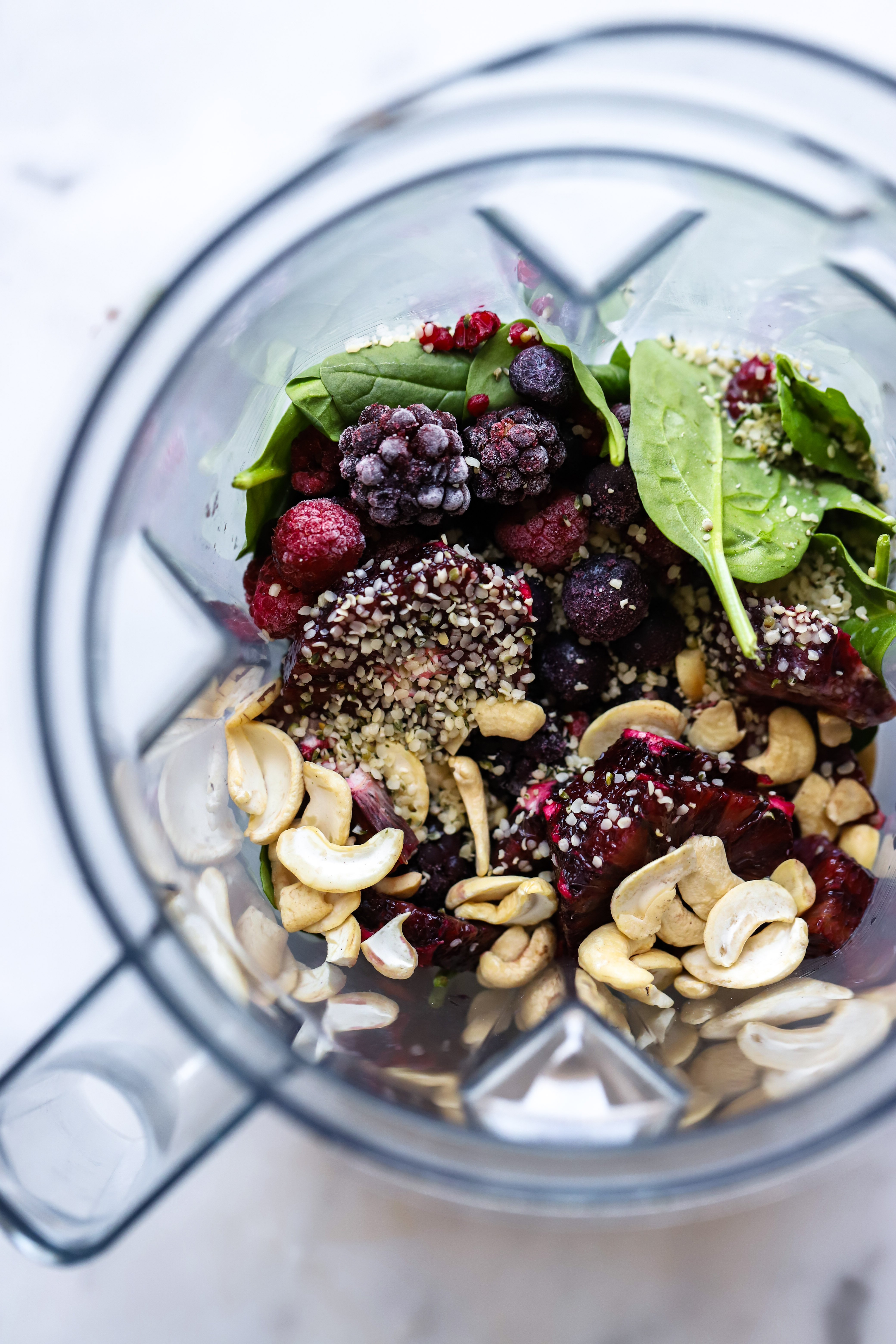 Are Smoothies Good for You?
The short answer is, yes! Most mornings I drink a smoothie for breakfast because they are really easy to make and I can take it with me to sip on in the car during my morning commute. However, not all smoothie recipes are created equal. Many people say that smoothies aren't good for you because they can be loaded in sugar.
Smoothies can be high in sugar, but I think it is also good to consider the source of the sugar. If you are adding a lot of honey, fruit juice, flavored yogurt, etc., the sugar content can be too high. Limit the added sugars in your smoothies by adding naturally sweet foods like fruit, dates, or fruit juice.
It is also important to make sure your smoothies incorporate some healthy fat and protein to make sure your blood sugar isn't on a roller coaster after drinking it. That same fat and protein also makes the smoothie more filling so you aren't reaching for a snack just an hour later.
Another great reason to love smoothies? You can easily get in an extra serving of vegetables (we could all use more of those right?) by tossing a handful of greens into your smoothie. I like fresh baby spinach in my smoothies because you can't taste it and most any blender can break them down. (I feel like you need a high-powered blender to make kale palatable in a smoothie!)
Frequently Asked Questions
I don't have a high powered blender, can I still make this smoothie?
Yes! You can soak your cashews to soften them so that they puree easier for this smoothie. To soak, add cashews to a bowl and cover with water. Allow to soak overnight in the fridge. To soften cashews faster, pour boiling/very hot water over cashews in a bowl and let them soak for at least 20 minutes.
Can I use cashew butter?
Yep! Cashew butter would be a great substitute for the raw cashews in this smoothie. Add 1-2 tablespoons of cashew butter instead of raw cashews.
How do I add more protein to my smoothie?
Add 3 tablespoons of hemp hearts or chia seeds before blending for an extra 5-10 grams of protein. You can also add a scoop of plant-based protein powder.
This Smoothie Is…
Vegetarian and gluten free. Make it dairy free and vegan by using a vegan plant-based yogurt in place of a dairy-based yogurt.
More Delicious Recipes You'll Love
Did you love this recipe? Make sure to leave a ⭐️ rating and tag #dietitiandebbie on instagram!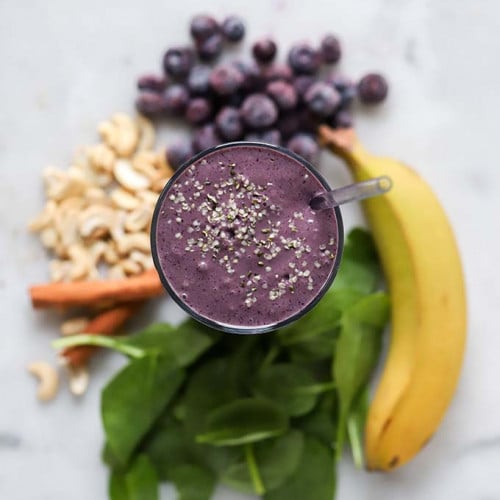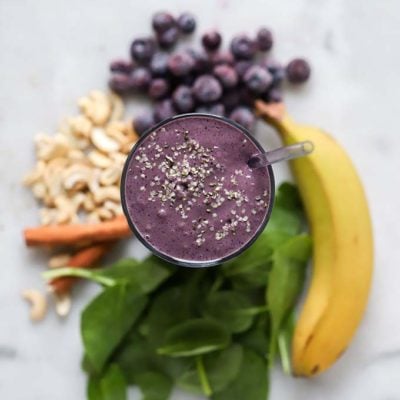 Blueberry Cashew Smoothie
Start your morning off right with this healthy blueberry cashew smoothie packed with antioxidants, protein, and fiber!
Ingredients
1 banana
1 cup frozen blueberries
1/4 cup cashews
3/4 cup unsweetened almond milk
1/2 cup plain yogurt dairy-free if you prefer
Handful of spinach
Pinch of cinnamon
Sprinkle of hemp hearts
Instructions
Place all of your smoothie ingredients into a blender and puree until smooth.
Notes
If you don't have a high powered blender, soak your cashews in a jar of water overnight to soften them before blending. You could also substitute 1 tablespoon cashew butter. 
Nutrition
Serving: 1Recipe | Calories: 463kcal | Carbohydrates: 62g | Protein: 13g | Fat: 18g | Saturated Fat: 5g | Polyunsaturated Fat: 13g | Cholesterol: 16mg | Sodium: 86mg | Fiber: 9g | Sugar: 35g
Reader Interactions