Will and I picked up the spiralizer attachment for our Kitchenaid mixer a couple of weeks ago and we are obsessed! We have totally put our spiralizer to work over the last week putting different veggies through it. I can't wait for the farmers market to start up again in a couple of weeks so I can get creative with new spiralized salads this summer. What about you guys? Do you have a spiralizer? Do you love it or hate it? So far, we are totally loving it!
In other news, my apartment looks like a total disaster outside the shot of these spicy asian style sweet potato noodles. (Real life vs. blog life!) We are moving to our new apartment on Thursday so everything is half packed up in boxes. I can't wait to get settled into our new place! Let's get back to these noodles shall we?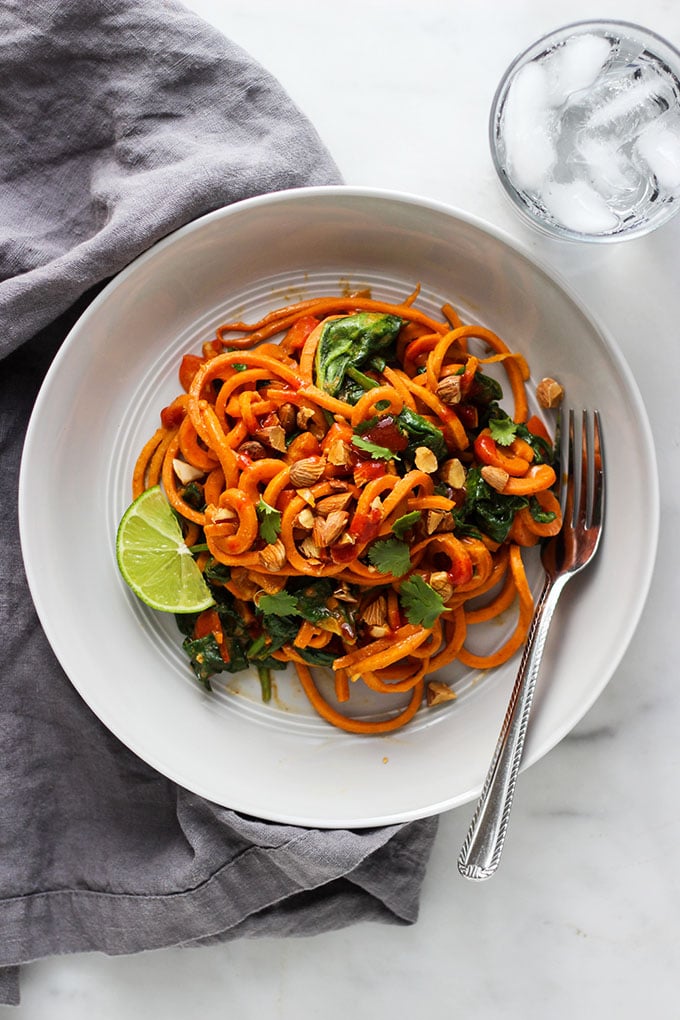 The sauce for these spicy asian style sweet potato noodles was adapted from a spring roll dip recipe that I had created for a client a few months ago. I had been craving it again and decided to adapt it as a sauce for these noodles. OMG. It was so good! This dish actually comes together super quickly so it is perfect for a weeknight when you want to get dinner on the table ASAP. You just stir up the sauce in a small bowl, spiralize your potatoes, and then toss everything into a deep skillet to saute until the noodles are tender. So simple! Make it a meal by tossing some crispy tofu or other protein on top.
More Recipes You'll Love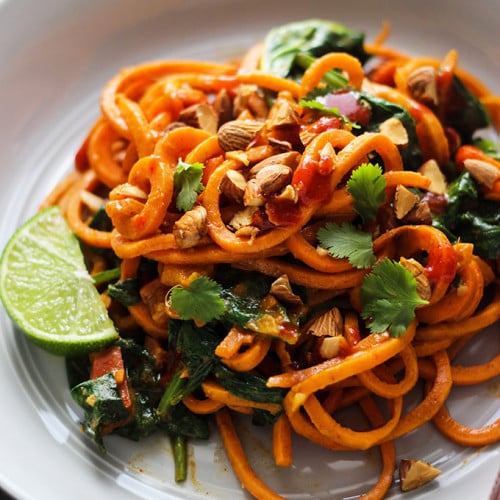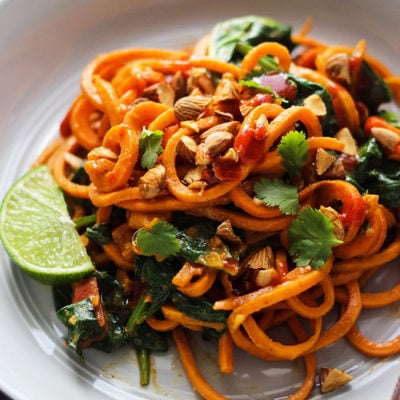 Spicy Asian Style Sweet Potato Noodles
Spice up your weekly dinner routine with these spicy Asian style sweet potato noodles which whip up in just 30 minutes in one pot!
Ingredients
For the Sauce:
1/3 cup creamy almond butter
4 tablespoons water
2 tablespoons sriracha
1 tablespoon reduced sodium soy sauce
For the Noodles:
3 medium sized sweet potatoes peeled
1 tablespoon olive oil
1 red bell pepper chopped
1/4 cup vegetable broth
2 cloves garlic minced
5 ounce bag baby spinach leaves
1 teaspoon grated fresh ginger root
Juice from 1/2 lime
Dash of cayenne if desired
Pinch of sea salt to taste
To Serve:
Fresh lime wedges chopped almonds
Instructions
Add all the sauce ingredients to a small mixing bowl and use a wire whisk or fork to mix until creamy.

Use a spiralizer to create noodles from the sweet potatoes.

In a large, deep skillet add the olive oil and sweet potatoes and turn on medium-high heat. Saute for 2 minutes, tossing to coat the potatoes in oil.

Stir in the almond butter sauce, bell pepper, broth, and garlic. Saute for 2 minutes, tossing pasta to coat in the sauce.

Stir in the spinach and ginger. Cook for 3-4 minutes until spinach is all wilted and mixed into the noodles.

Squeeze in the lime juice and saute another 3-5 minutes or until sweet potatoes are slightly tender but still hold their shape. (Don't overcook or else your sweet potato noodles will fall apart! They should still have a little bit of a bite to them when you taste one.)
Nutrition
Serving: 1/4 recipe | Calories: 280kcal | Carbohydrates: 32g | Protein: 7g | Fat: 15.5g | Saturated Fat: 1.5g | Polyunsaturated Fat: 14g | Sodium: 930mg | Fiber: 6.5g | Sugar: 8.5g
Reader Interactions