Skip the takeout and make these healthy vegan curry soba noodles with crispy tofu. You'll want to curl up with a big bowl of these every night!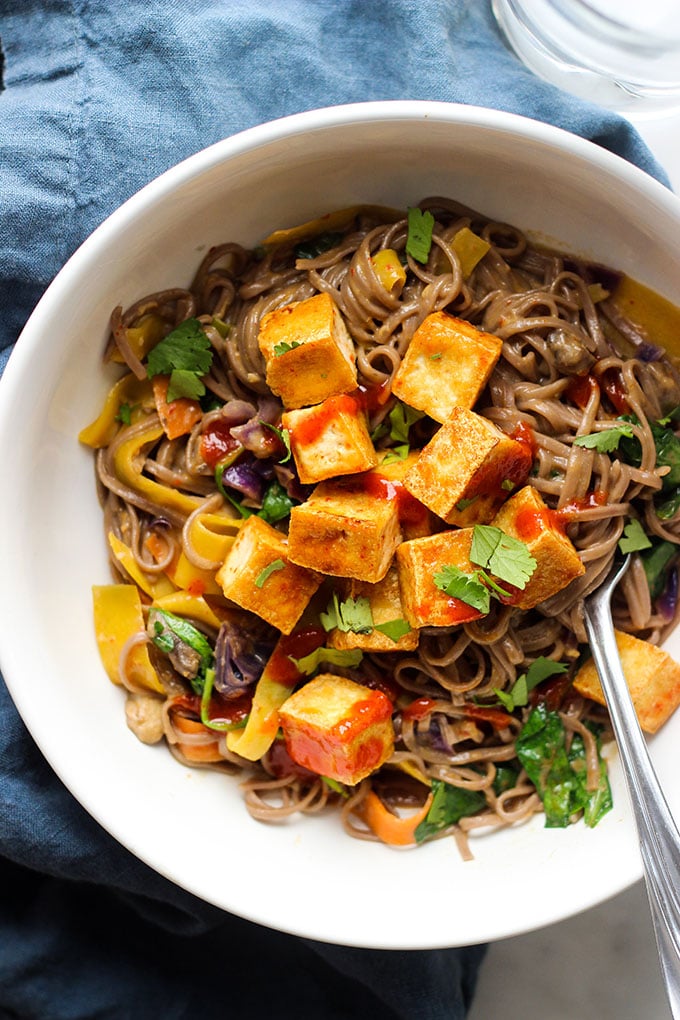 These vegan curry soba noodles with crispy tofu is the type of meal you crave on a chilly night when you just want to sit on the couch with your favorite show on Netflix and eat dinner out of a big bowl. 🙂 I think the hardest part of this dish is being patient while the tofu cooks.
Tips for Making Ultra Crispy Tofu in the Skillet
After some trial and error, I found the best way to cook extra crispy tofu on the stovetop is the let the tofu cook on each side for 2-3 minutes. Gently shake the pan frequently to keep your tofu from sticking, but don't shake it so much that your tofu pieces flip before they are ready. As one side browns, I use a fork to gently roll each piece onto the next side. It sounds a little tedious, but I promise you'll fall in love with those beautifully browned and crispy tofu pieces!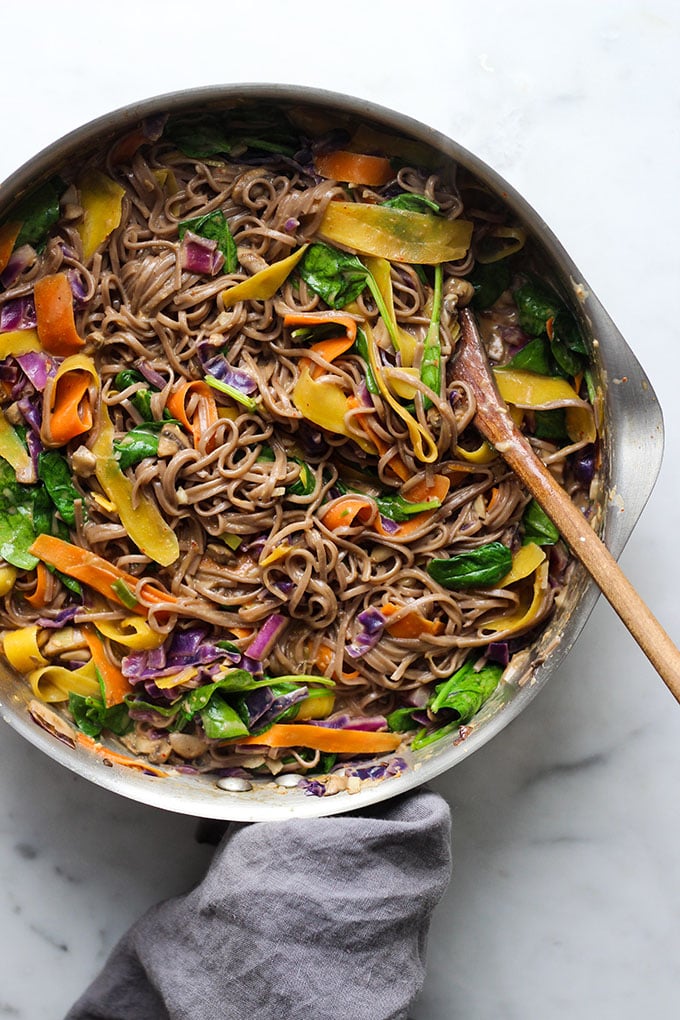 Tips for Making this Recipe
The rest of the recipe is pretty straight forward. While you are cooking up your tofu, bring your soba noodle water to a boil and cook them. Next, you'll cook up some veggies in a deep skillet with the curry paste and coconut milk before adding your soba noodles. Stir everything together and top each serving with your tofu before eating. I also drizzled it with a little sriracha (obsessed!) and a few chopped cilantro leaves for a pop of color. To make sure the tofu stays crispy, I stored it in a separate container from the noodles.
How to Reheat the Tofu
Skip the microwave if you want to keep your tofu crispy when reheating the leftovers, a toaster oven or air fryer are the best ways to reheat it.
Toaster Oven: add tofu to toaster oven tray in single layer and bake until reheated and crispy, about 7-8 minutes.
Air Fryer: Add the tofu pieces to the basket of the air fryer and reheat at 350 degrees for 7-8 minutes or until heated through.
More Recipes You'll Love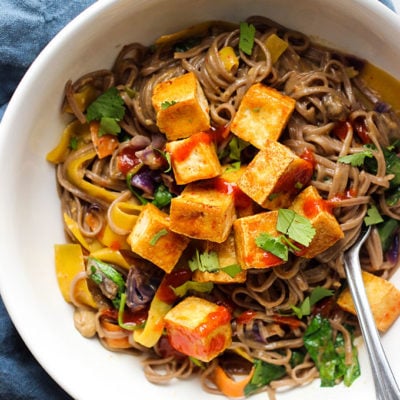 Vegan Curry Soba Noodles with Crispy Tofu
Skip the greasy takeout and make these healthy vegan curry soba noodles with crispy tofu. You'll want to curl up with a big bowl of these every night!
Ingredients
For the Noodles:
8 ounces soba noodles
1 tablespoon canola oil
1 1/2 cups ~3 oz chopped purple cabbage
1 cup chopped cremini mushrooms
3 carrots peeled and cut into ribbons
1 inch fresh ginger grated
2 cloves garlic minced
1 green onion thinly sliced
1 1/2 tablespoons red curry paste - not all curry paste is vegetarian/vegan so double check the ingredients
1 13.5 oz can full fat coconut milk
1/2 cup vegetable broth
2 tablespoons soy sauce
1/2 5 oz bag baby spinach leaves
Instructions
For the Tofu:
Drain your tofu and slice in half vertically. Place both slabs on a plate lined with a towel. Top with a second towel and place something heavy on top. (I use a cast iron skillet.) Press tofu for 15 minutes.

After your tofu is pressed, slice it into 1" cubes. Heat 1 tablespoon of the canola oil in a skillet for 1 minute. Add the tofu and cook on one side for 2-3 minutes or until browned, shaking the pan gently periodically to keep the tofu from sticking. Gently turn over each piece and cook on the next side for 2-3 minutes. Repeat until all sides are browned. Transfer to a bowl and toss with soy sauce and sriracha to coat. Set aside.
For the Noodles:
Meanwhile, heat a medium saucepan full of water to a boil. Add the soba noodles and cook for 8 minutes. Drain and set aside.

In a deep skillet, add 1 tablespoon of the canola oil with the cabbage and mushrooms. Sauté for 6-8 minutes or until cabbage is starting to soften.

Stir in the carrots, ginger, garlic, and green onion. Sauté for 1 minute.

Stir in the curry paste, coconut milk, vegetable broth, and soy sauce until combined. Bring to a simmer for 1-2 minutes.

Add the cooked soba noodles to the pan and stir well to coat in sauce. Stir in the spinach leaves and cook another 1-2 minutes, stirring frequently, until spinach is wilted.

To serve, dish out noodles into bowls and top with tofu. Drizzle with sriracha and sprinkle with chopped cilantro.
Nutrition
Serving: 1/6 recipe | Calories: 385kcal | Carbohydrates: 42g | Protein: 15g | Fat: 19.5g | Saturated Fat: 8g | Polyunsaturated Fat: 11.5g | Sodium: 715mg | Fiber: 3g | Sugar: 5g
Reader Interactions