Thanks to California Walnuts for supporting Dietitian Debbie Dishes and sponsoring this post! Recipe and opinions are my own.
It may be hard to find someone who doesn't love the classic dinner staple, spaghetti and meatballs! On the blog today, I am giving that classic recipe a Mediterranean make-over. Thanks to growing research, you may have already heard about the health benefits a Mediterranean diet has to offer such as reducing the risk of heart disease.
Why is the Mediterranean diet so healthy? Some of the health benefits may be attributed to the emphasis placed on eating more plant-based foods like fruits, vegetables, whole grains, legumes and nuts (like walnuts!). Plant based fats like olive and canola oils are often used in place of butter when cooking and intake of red meat is limited to just a few servings a month.
In this "Mediterraneanized" version of the classic spaghetti and meatballs I've incorporated many of the key principles of the diet while also increasing the fiber and nutrient content!
The beef in the meatballs is replaced with lentils which are not only a great source of plant-based protein, but also fiber and iron. In addition, walnuts are ground up and incorporated in the meatballs since they are a great source of alpha-linolenic acid (ie. the plant-based Omega 3 fat!) as well as protein, magnesium, and phosphorus.
The fiber content of this dish is also increased by using whole grain pasta and replacing half of the noodles with spiralized zucchini. The spiralized zucchini adds more color and fiber to the final dish. You may even find that you can convince your kids to eat more zucchini by serving it in noodle form!
Top it all off with your favorite pasta sauce, shredded parmesan cheese, and a few chopped walnuts for a fun crunch.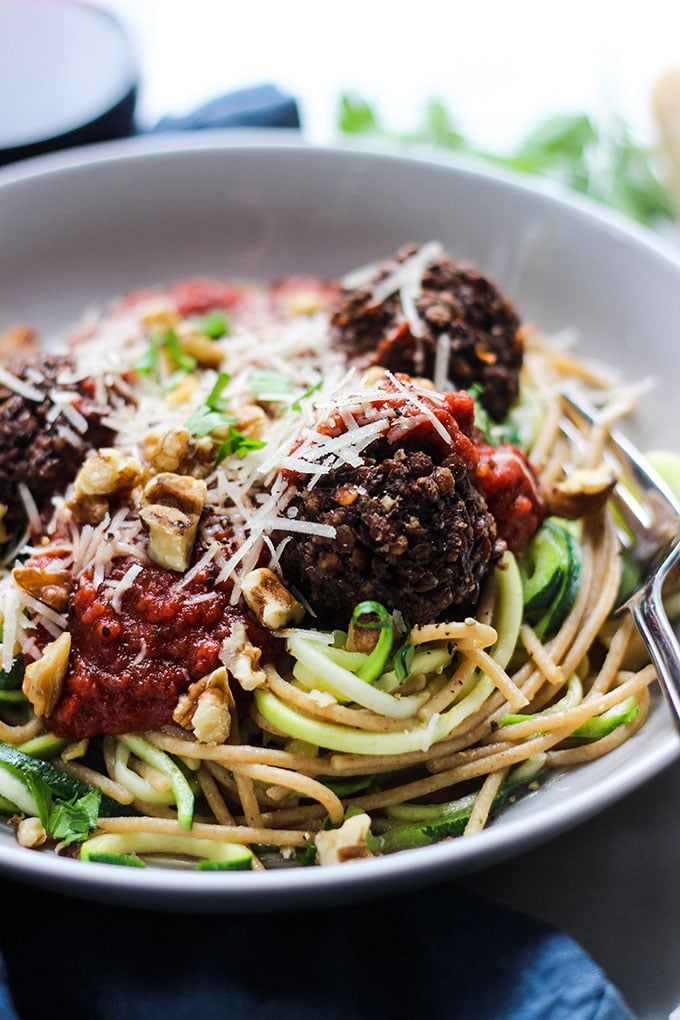 To speed up your prep time on a weeknight, make the meatballs ahead of time and store in the refrigerator for up to 3 days before using. You can also freeze these meatballs for future use! If spaghetti isn't your thing, I've also incorporated these meatballs into other dishes like curry, sandwiches, or even salads.
More Delicious Recipes You'll Love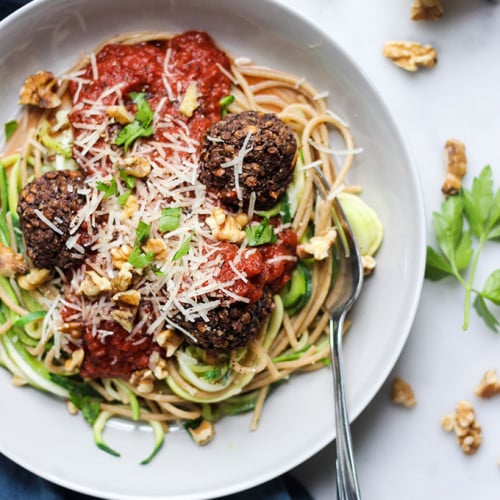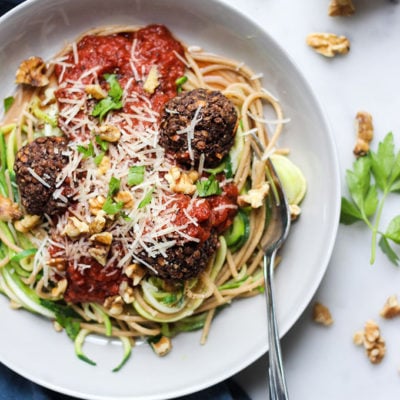 Lentil Walnut "Meatballs" and Spaghetti
Classic spaghetti and meatballs get a healthy, Mediterranean makeover in this tasty lentil walnut "meatballs" and spaghetti recipe!
Ingredients
For the Lentil Meatballs
1 cup small brown lentils
2 1/2 cups vegetable broth
1 tablespoon olive oil
1/2 cup chopped onion
1 1/2 cup chopped cremini mushrooms ~1/2 of an 8 oz. pkg
1/3 cup red wine
3 cloves garlic minced
1 teaspoon Italian seasoning
1/2 cup walnuts
1 egg
3 chopped sun dried tomatoes soaked in hot water 10 minutes
1/4 cup panko breadcrumbs
1/8 teaspoon sea salt
1/8 teaspoon ground black pepper
For the Pasta
1 zucchini
4 ounces whole grain spaghetti noodles
2 1/2 cups spaghetti sauce
To Serve
Shaved Parmesan cheese
Chopped walnuts
Instructions
Make the Lentil Meatballs
Preheat the oven to 350 degrees Fahrenheit. Spray a 9″x11″ glass baking dish with cooking oil and set aside.

Rinse your lentils and pick through them to remove any shriveled lentils or pebbles. Transfer to a medium saucepan and add broth. Bring to a simmer, cover with lid, and cook for 20 minutes. Remove the lid and cook for an additional 10 minutes as needed until lentils are tender and any remaining broth has been cooked off.

While the lentils are cooking, add olive oil to a non-stick skillet over medium-high heat. Stir in the onions and mushrooms. Cook 3-5 minutes or until onions are tender and translucent. Stir in the red wine, garlic, and Italian seasoning. Cook another 5 minutes or until the wine has cooked off.

In a food processor, add the walnuts and pulse until they are finely ground. Add in the lentils, egg, tomatoes, onion/mushroom mixture, breadcrumbs, salt, and black pepper. Pulse just until a dough forms. (You still want most of the lentils to be whole.)

Make 2″ balls with the lentils and arrange in a single layer in baking dish. (Recipe makes about 14-16 meatballs.) Bake for 30-35 minutes or until meatballs are browned and firm when pressed lightly with your finger.
Make the Pasta
While the meatballs are baking, cook your pasta and heat up your favorite pasta sauce. Spiralize the zucchini and toss in with the boiling pasta water in the last minute of cooking. Strain pasta and zucchini.

To serve, divide pasta between 5 dishes. Top with 1/2 cup pasta sauce and 3 meatballs. Sprinkle with parmesan and chopped walnuts to serve.
Notes
The meatballs freeze well if you want to store for future use. Add to an airtight container for freezing. Reheat for a few seconds in the microwave when ready to eat or reheat in the oven at 350 degrees Fahrenheit for 10-15 min.
Nutrition
Serving: 3meatballs | Calories: 414kcal | Carbohydrates: 58g | Protein: 20g | Fat: 13g | Saturated Fat: 2g | Polyunsaturated Fat: 7g | Monounsaturated Fat: 4g | Trans Fat: 1g | Cholesterol: 33mg | Sodium: 1155mg | Potassium: 1146mg | Fiber: 16g | Sugar: 9g | Vitamin A: 942IU | Vitamin C: 20mg | Calcium: 96mg | Iron: 6mg
Reader Interactions