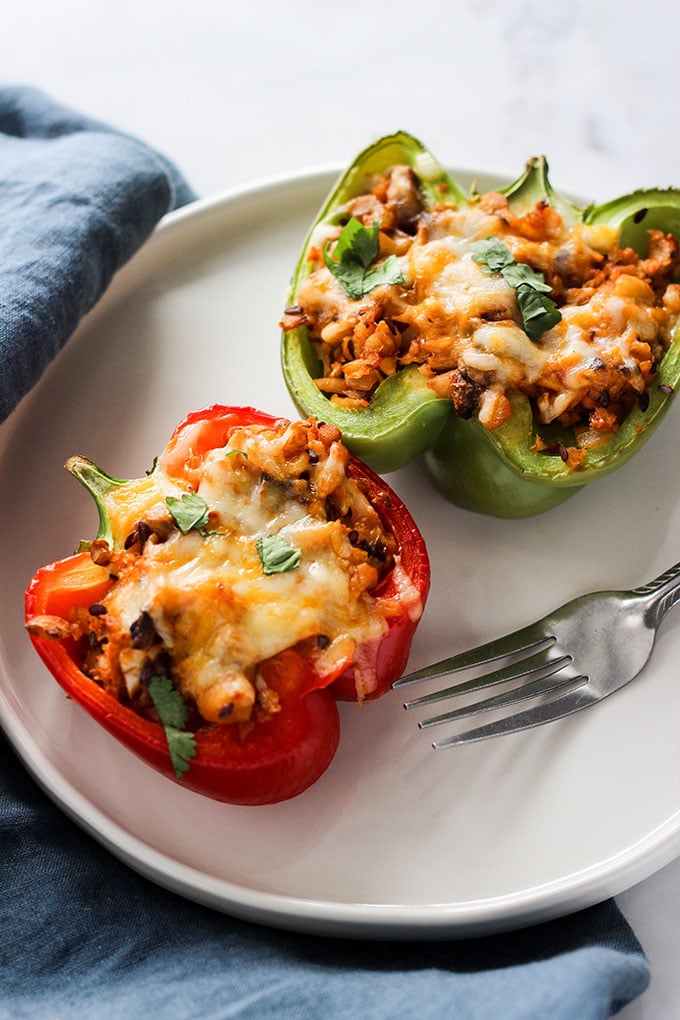 Stuffed peppers bring back fond memories of my wedding road trip in October. When Will and I stayed with some of my college friends in Columbus, we made stuffed peppers for them. It was fun to take over their kitchen for a night rather than going out to eat. We hadn't had stuffed peppers again since then until Will made them a couple weeks ago. They were so good! I tweaked the recipe a bit more until I thought it was "blog worthy" as Will likes to say. Lol. These spicy tempeh stuffed peppers are truly vegetarian comfort food at its best!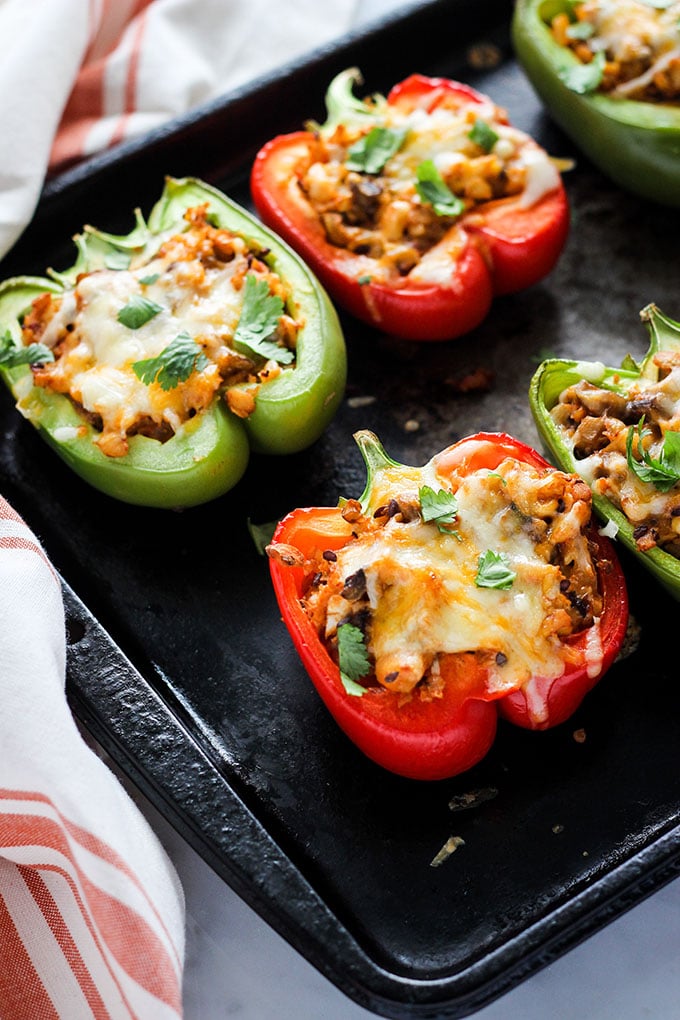 To keep these low-carb friendly for Will, I used cauliflower instead of rice which also increases the fiber. I also love that these are almost a one pan meal as the filling is all cooked together in a large skillet and then baked off inside the peppers. It makes enough filling to stuff 4-5 peppers (depending on their size) so we always have lots leftover for packing for lunch at work. We had slightly smaller bell peppers, so we were able to eat 2 stuffed halves as a serving.
Since I cook with canned chipotles often, I have found that their spice level tends to vary from can to can. Depending on your spice tolerance, you may want to start with just a tablespoon of chipotle and go up to 1/4 cup per your preference. Instead of spooning the sauce out of the can, I usually just puree the whole can of chipotle peppers and sauce together until smooth and use it in recipes.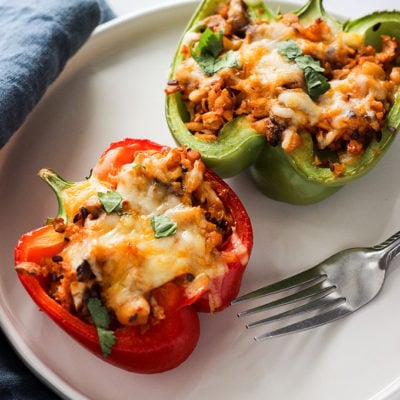 Spicy Tempeh Stuffed Peppers
Try this vegetarian and gluten free spin on a classic comfort food by whipping up this spicy tempeh stuffed peppers recipe for dinner tonight.
Ingredients
For the Stuffing:1/2 head cauliflower ~10 oz. of cauliflower
2 tablespoons olive oil divided
8 oz. package tempeh crumbled
1/2 onion chopped (~1/3 cup chopped)
8 oz. package button mushrooms chopped
2 cloves garlic minced
1 teaspoon dried oregano
1 teaspoon cumin
1/4 cup salsa OR canned chipotle sauce use chipotle if you like spicy
1 15 oz. can tomato sauce
Sea salt and ground black pepper to taste
3/4 cup shredded pepper jack cheese divided
4 bell peppers
To serve: chopped fresh cilantro and sour cream
Instructions
Preheat the oven to 400 degrees Fahrenheit.

Add the 1/2 head cauliflower to a food processor and pulse until cauliflower resembles rice. (It should make about 2 cups of riced cauliflower.) Set aside.

Heat up 1 tablespoon of the olive oil in a large skillet. Add the tempeh and stir fry until golden, about 7-9 minutes. Transfer to a bowl and set aside.

To the same skillet, add the other tablespoon of olive oil and chopped onion. Cook 3-5 minutes or until onion is translucent and beginning to brown. Stir in the chopped mushrooms. Cook until moisture from the mushrooms is cooked off, about 5 minutes. Stir in the garlic and cook another 1 minute.

Add the cauliflower, oregano, and cumin. Cook another 2-3 minutes, stirring frequently.

Stir in the browned tempeh, chipotle sauce and tomato sauce. Bring to a gentle simmer and turn off the heat.

Stir in 1/2 cup of the shredded cheese into the mix in the skillet. Stir until melted and evenly distributed in the filling.

Cut bell peppers in halves lengthwise (from stem to bottom) and arrange on a baking sheet. Divide filling evenly between the halved peppers. Top with remaining 1/4 cup of shredded cheese.

Bake for 35-40 minutes or until cheese is browned and peppers are tender when poked with a fork.
Notes
Instead of spooning the sauce out of the can, I usually just puree the whole can of chipotle peppers and sauce together until smooth and use it in recipes.
Nutrition
Serving: 1pepper (2 halves) | Calories: 322kcal | Carbohydrates: 20g | Protein: 20g | Fat: 20g | Saturated Fat: 6.5g | Polyunsaturated Fat: 14.5g | Cholesterol: 20mg | Sodium: 472mg | Fiber: 4.5g | Sugar: 8g
Reader Interactions