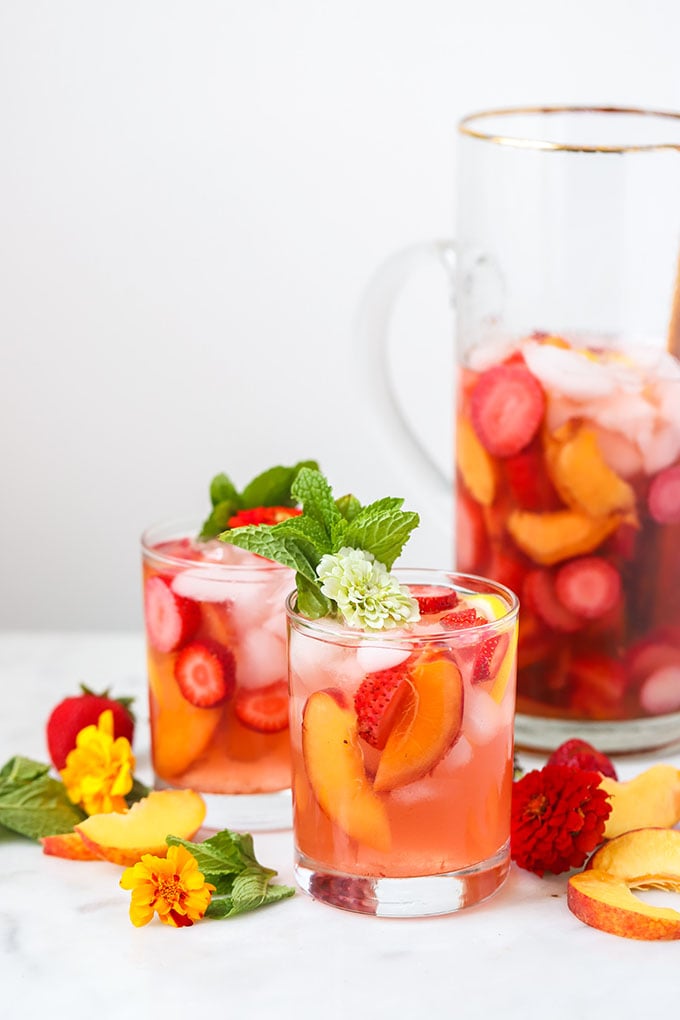 One of our favorite summer-time activities/date nights in the city is the annual Shakespeare in the Park show. We pack up a blanket, lots of snacks, and a bottle of rosé to enjoy while we watch the show. (This year it was A Midsummer Night's Dream!) It is the perfect way to spend a summer evening.
I don't know what it is about rosé, but it is more often than not my drink of choice in the summer. Since I have it in my fridge often these days, I felt like it was about time I used my rosé in a fruity sangria! In this simple summer version, I added peaches, strawberries, and lemon and I love how they paired with the rosé.
To make sangria, all you do is mix everything up in a big pitcher and let it chill in the refrigerator overnight. So simple! The longer you let your sangria "marinate" in the fridge, the more fruity flavor your sangria will have when you do serve it.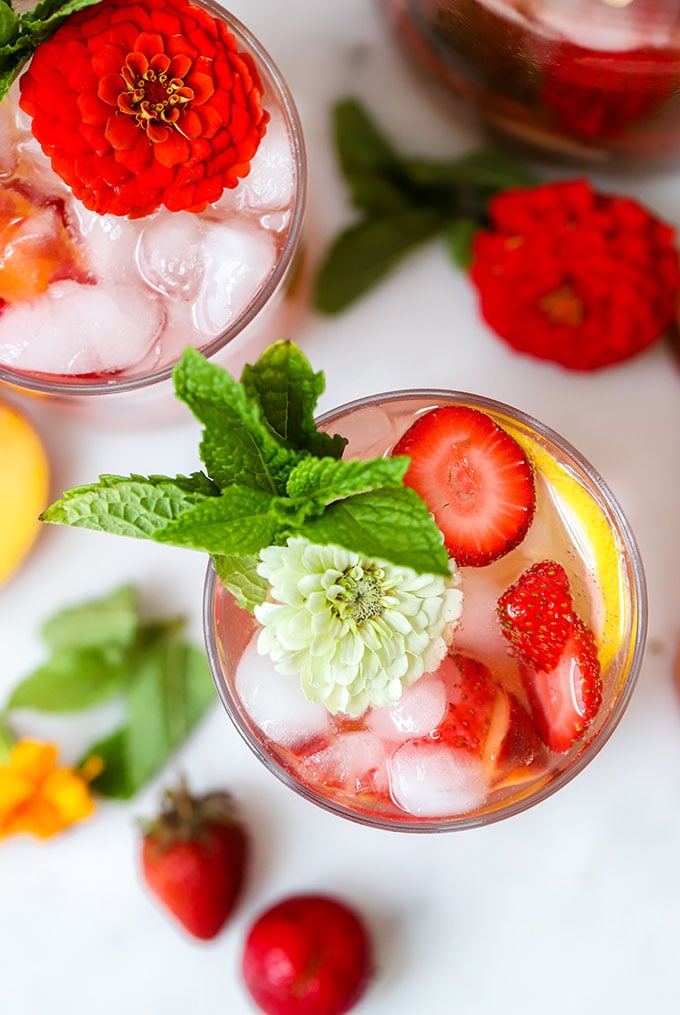 I am a big fan of any "dry" rather than sweet rosé. Although, I don't really know what to look for when shopping for them. (Does anyone??) More often than not, I just pick up whatever rosé has the coolest label at the store and cross my fingers that it isn't too sweet. Lol. If you have any favorite rosé brands that aren't too sweet, let me know!
My current favorite is Underwood's rosé but I am always looking for new ones. 😉 Hope you love this sangria! If you are looking for some other fun summery cocktails, be sure to check out my ginger raspberry komucha cocktail and pineapple jalapeño mojito. If you want a wintery wine cocktail, this mulled wine is my favorite.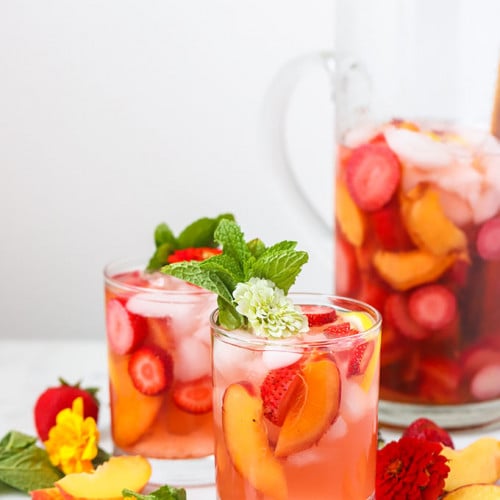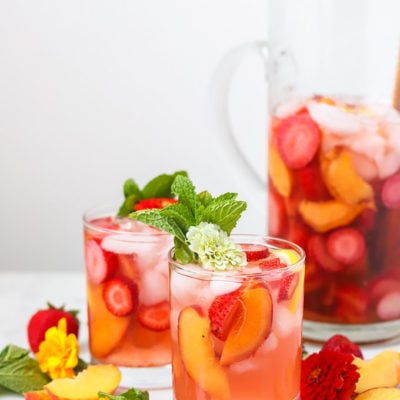 Strawberry Peach Rosé Sangria
This simple peach and strawberry rosé sangria is a refreshing and delicious cocktail for summer that is easy to make for a crowd!
Ingredients
For the Sangria:
To Serve:
Ice 1 can sparkling water (I used tangerine LaCroix), strawberries, peaches, mint, edible flowers
Instructions
For the Sangria
Add all of your sangria ingredients to a pitcher and stir. Let it sit in the fridge 4 hours to overnight to let the flavors blend together.
To Serve
To serve, add ice to 5 glasses and evenly divide sangria between each. Top with sparkling water and garnish as desired.
Notes
If you like a sweeter sangria, you may want to add 1 tablespoon sugar to the mixture when mixing the ingredients in a pitcher to chill.
Nutrition
Serving: 1/5 recipe | Calories: 100kcal | Carbohydrates: 22g | Fat: 1g | Polyunsaturated Fat: 1g | Sodium: 2mg | Fiber: 4g | Sugar: 15g
SaveSaveSaveSaveSaveSaveSaveSave
Reader Interactions