This simple peach and strawberry sangria is a refreshing and delicious cocktail for summer that is easy to make for a crowd! It's perfect for brunch, showers, or BBQs with friends or family.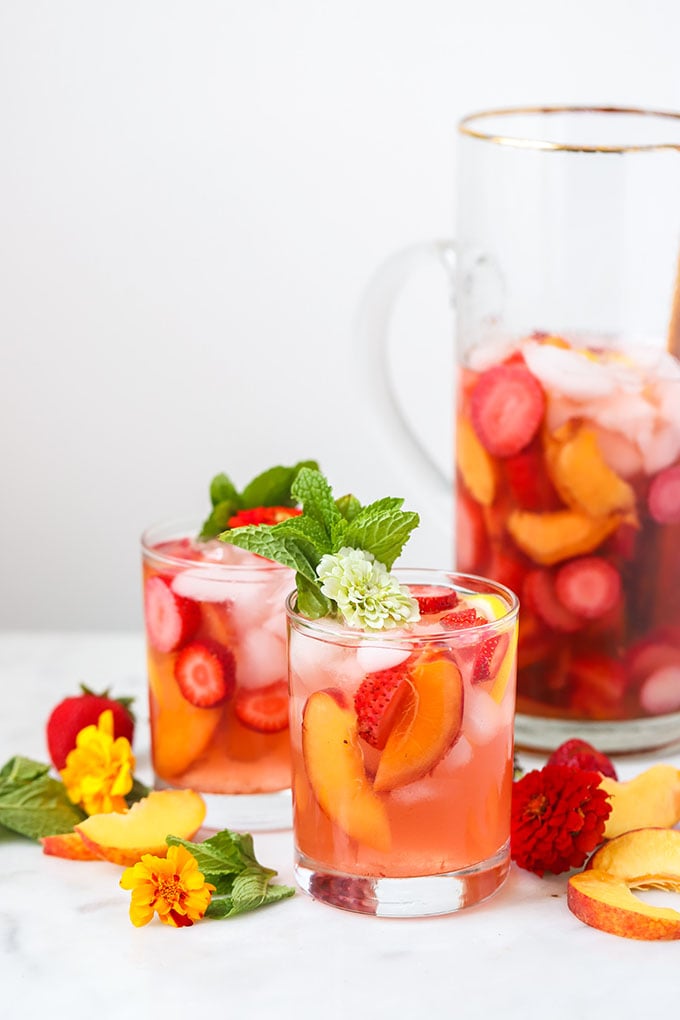 This post was originally published August 2018; updated July 2023.
One of our favorite summer-time activities/date nights in the city is the annual Shakespeare in the Park show. We pack up a blanket, lots of snacks, and a bottle of rosé to enjoy while we watch the show. (This year it was A Midsummer Night's Dream!) It is the perfect way to spend a summer evening.
I don't know what it is about rosé, but it is more often than not my drink of choice in the summer. Since I have it in my fridge often these days, I felt like it was about time I used my rosé in a fruity sangria! In this simple summer version, I added peaches, strawberries, and lemon and I love how they paired with the rosé. But you can make this strawberry peach sangria recipe with a nice white wine as well!
Why You'll Love this Recipe
Perfect for Summer: If you want something simple and refreshing to sip in this summer, you're going to love this sangria strawberry peach rosé sangria recipe.
Great for Gatherings: This is the perfect batch cocktail option for serving friends or family for brunch, bridal showers, or a summer BBQ.
Ingredients You'll Need
White Wine or Rosé: Using a white wine or rosé instead of red wine to make a sangria makes it feel so much more summery and light. Use a dry wine or a lightly sweet one for this sangria. Fruity blends are great. We like these dry white wine varieties: Pinot Grigio, Sauvignon Blanc, Verdejo or a dry Riesling.
Grand Marnier: This citrusy liqueur pairs well with the fresh fruit as well as the fruity flavors in the wine. We have also used Triple Sec or Cointreau since we have it on hand for margaritas. (You'll love these cucumber watermelon margaritas!) You can also substitute a different fruity liquor like peach liqueur or raspberry vodka.
Fresh Fruit (Peaches, strawberries, lemon): I thought this combination of fresh summer fruit is so delicious paired with white wine or rosé. If you don't have strawberries, you can also use raspberries in this easy rosé sangria recipe.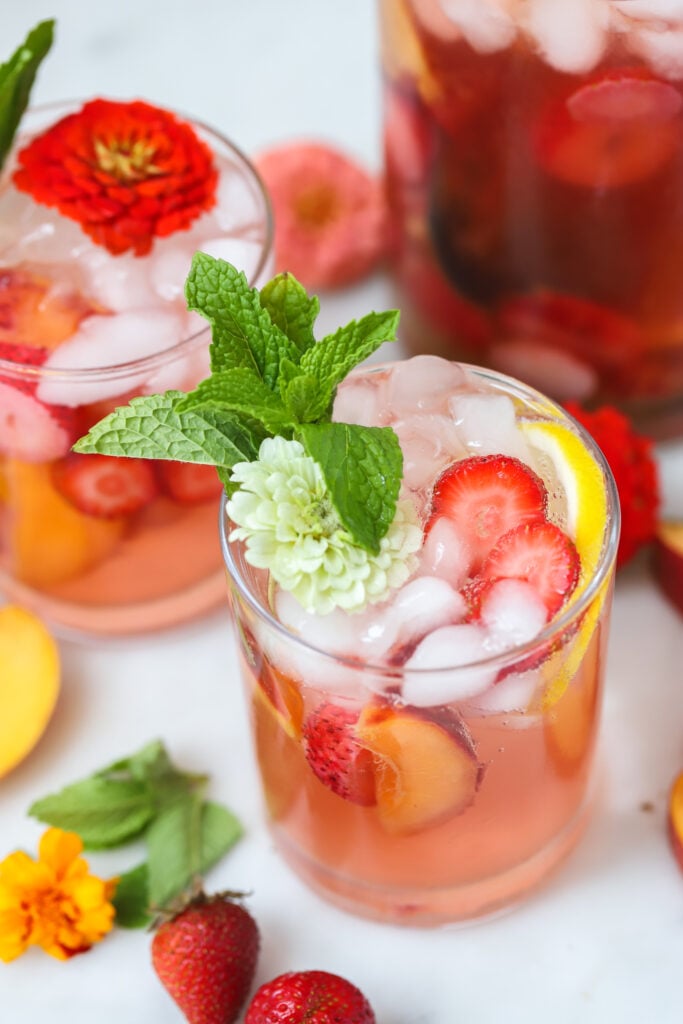 How to Make Strawberry Peach Sangria
Slice up your fruit: Cut up all the fresh peaches, fresh strawberries, and lemon you'll need for the sangria.
Add to Pitcher & Chill: Add your sliced fruit, liqueur, and wine to a large pitcher and stir. Allow your sangria to chill in the fridge for 1-4 hours before serving. The longer the chilling time, the more fruity flavor when you serve this fruity white sangria.
Serve: Pour sangria into serving glasses (like a wine glass) with a bit of the soaked fruit and top with fresh mint and edible flowers. So pretty! You can also add a splash of bubbles to the top of the glass if you'd like. We love having this pretty sangria with brunch – check out my 30+ vegan brunch recipe roundup for plenty of ideas!
Recipe Notes:
Make it bubbly: When serving, top your glasses of white wine sangria with a splash of sparkling water, lemon-lime soda, club soda, or tonic water.
Use fresh fruit: It is possible to use frozen fruit for sangria, but we found that you get the best flavor from fresh fruit. Also, frozen fruit tends to fall apart more when soaked in the wine so you'll have prettier drinks with fresh fruit.
Ideal Chilling Time: For best flavor, you want to let your sangria chill for a bit in the fridge, but you also don't want to chill it so long that the fruit starts to get soggy and lose their vibrant color. Aim to chill your rosé sangria for 1-4 hours before serving.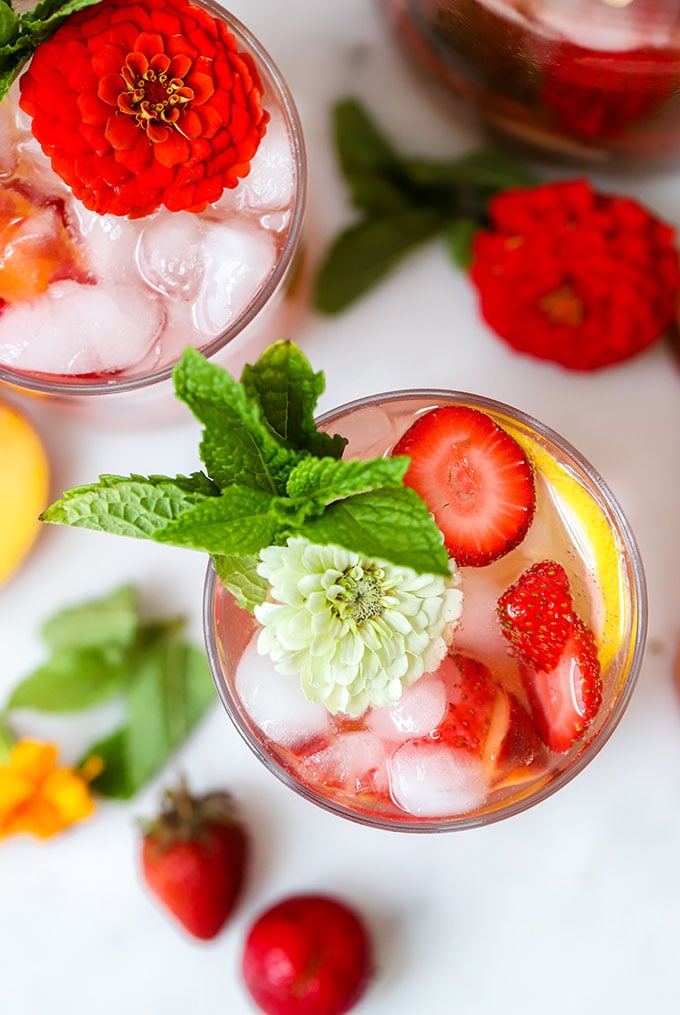 Recipe FAQs
Is sangria wine dry or sweet?
The finished sangria drink will be sweet, so use a dry white wine or rosé so you have more control over how sweet the finished sangria will be.
What is rosé sangria made of?
Like other sangria recipes, this rosé sangria recipe is made with orange liqueur, fresh fruit (like peaches and strawberries) and a dry rosé (instead of the traditional red or white wine). You can also top with a splash of sparkling water or lemon-lime soda.
How long does sangria last?
Sangria is best served within 24 hours of making. However, it can be stored in the fridge for up to 2-3 days. The longer it is stored, the stronger the flavors. The fruit also can get a little soggy with longer storage times.
More Cocktail Recipes You'll Love
Hope you love this delicious strawberry peach sangria! If you are looking for some other fun summery cocktails, be sure to check out my ginger raspberry komucha cocktail and pineapple jalapeño mojito. If you want a wintery wine cocktail, this mulled wine is my favorite.
Did you love this recipe? Make sure to leave a ⭐️ rating and tag #dietitiandebbie on instagram!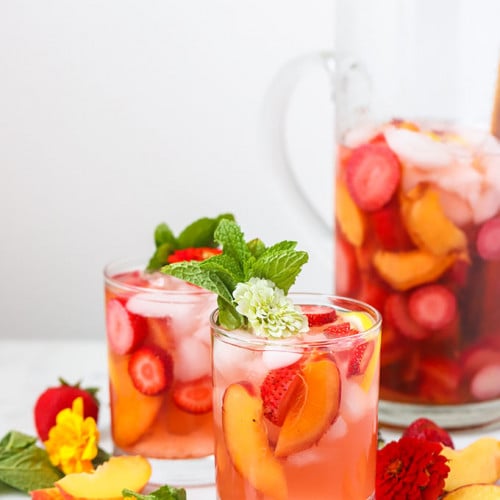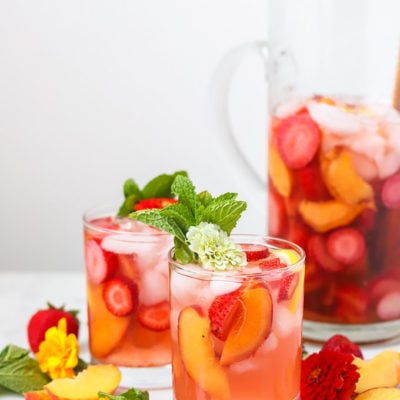 Strawberry Peach Rosé Sangria
This simple peach and strawberry rosé sangria is a refreshing and delicious cocktail for summer that is easy to make for a crowd!
Ingredients
For the Sangria:
To Serve:
Ice, sparkling water, fresh mint edible flowers
Instructions
For the Sangria
Add all of your sangria ingredients to a pitcher and stir. Let it sit in the fridge 1-4 hours to let the flavors blend together.
To Serve
To serve, add ice to 5 glasses and evenly divide sangria between each. Top with sparkling water and garnish as desired.
Notes
Variations: use plums or apricots instead of peaches or raspberries instead of strawberries. 
Storage: sangria is best served within 24 hours, but can be stored in the fridge for up to 2-3 days. The fruit will get a little soggy and lose some of its color over time. 
Nutrition
Serving: 1/5 recipe | Calories: 100kcal | Carbohydrates: 22g | Fat: 1g | Polyunsaturated Fat: 1g | Sodium: 2mg | Fiber: 4g | Sugar: 15g
SaveSaveSaveSaveSaveSaveSaveSave
Reader Interactions