Did you know that it is super simple to make creamy and delicious peanut butter at home in just 5 minutes? Here's how to make healthy peanut butter with just 2 ingredients and a food processor.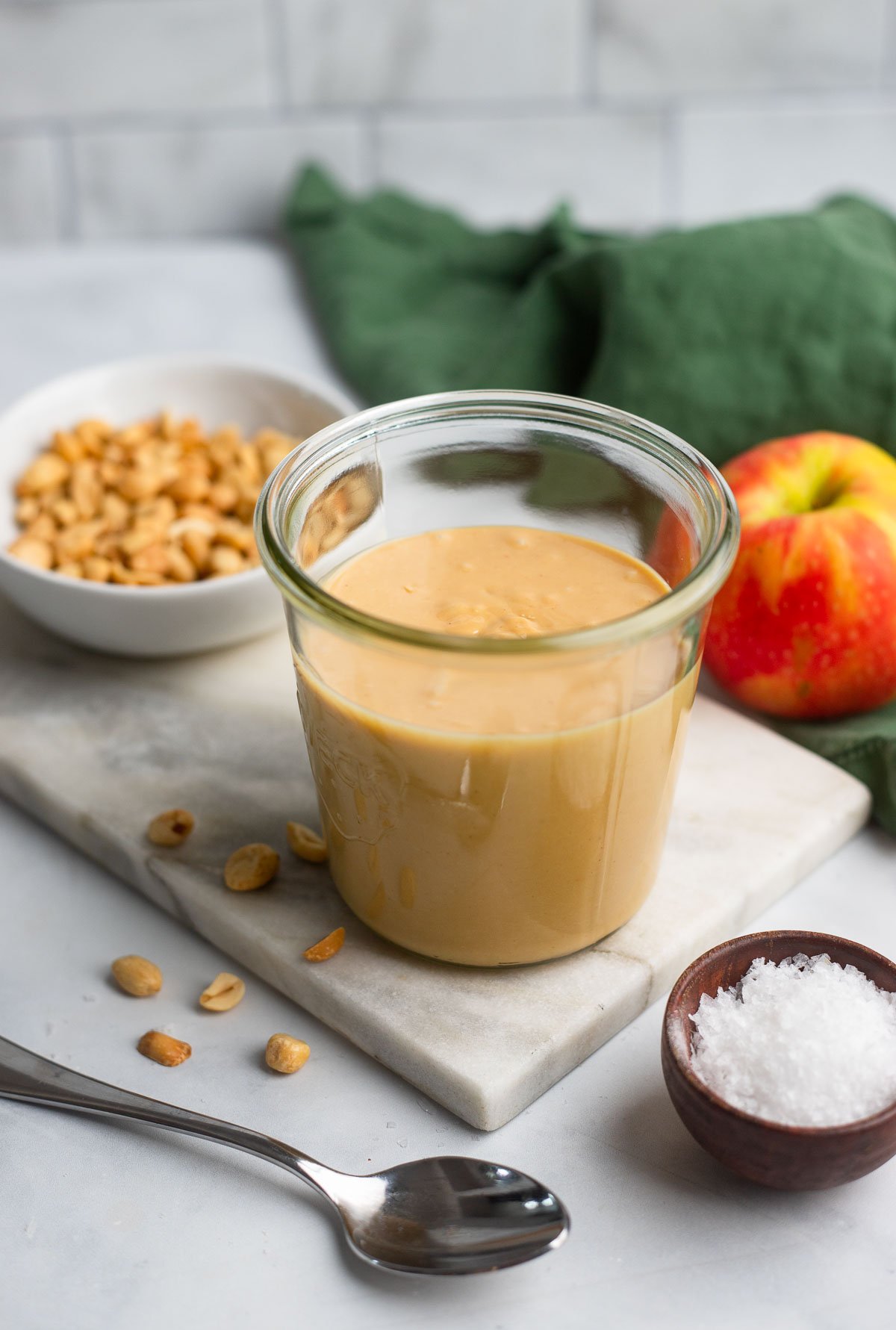 Our small family of 3 manages to go through a lot of peanut butter! So a few months ago I decided to try and make creamy peanut butter at home; why had I never realized that it was so easy?! All you need are 2 simple ingredients, sea salt and peanuts, to make this delicious homemade peanut butter recipe with no oil or added sugar.
Is Peanut Butter Healthy?
As a plant-based dietitian, I feel like I am often recommending peanut butter! It's not only delicious, but it has a bunch of great health benefits too.
Plant-Based Protein: adding a serving (2 tablespoons) of peanut butter to oatmeal or toast is a great way to boost the protein since it provides 8 grams of protein.
Heart Healthy Fats: peanut butter is high in fat which is why it is a higher calorie food. However, the fat in peanut butter is heart healthy monounsaturated fat – the same fat as you find in olive oil.
Vitamins: peanut butter is rich in Vitamin E which plays an essential role in immune function. It is also a good source of folate, an important nutrient for pregnancy.
Minerals: a serving of peanut butter is a good source of minerals such as phosphorus (important for bone health) and magnesium (essential role in metabolism and DNA formation).
Why Should You Make Your Own Peanut Butter?
Budget Friendly: My go-to brand of natural peanut butter in the store was up to $6 a jar! That really adds up fast in a family who goes through at least 1 jar of peanut butter a week. Making this homemade version with roasted peanuts from the bulk section saves me at least $2.50!
Salt and Sweeten to Taste: If you are looking to reduce your sodium or added sugar intake, making your own healthy homemade peanut butter lets you control how much salt/sugar goes into it.
Add Fun Flavors: Experiment with new peanut butter flavors by mixing in cocoa powder, chocolate, pumpkin spice and more.
Ingredients You'll Need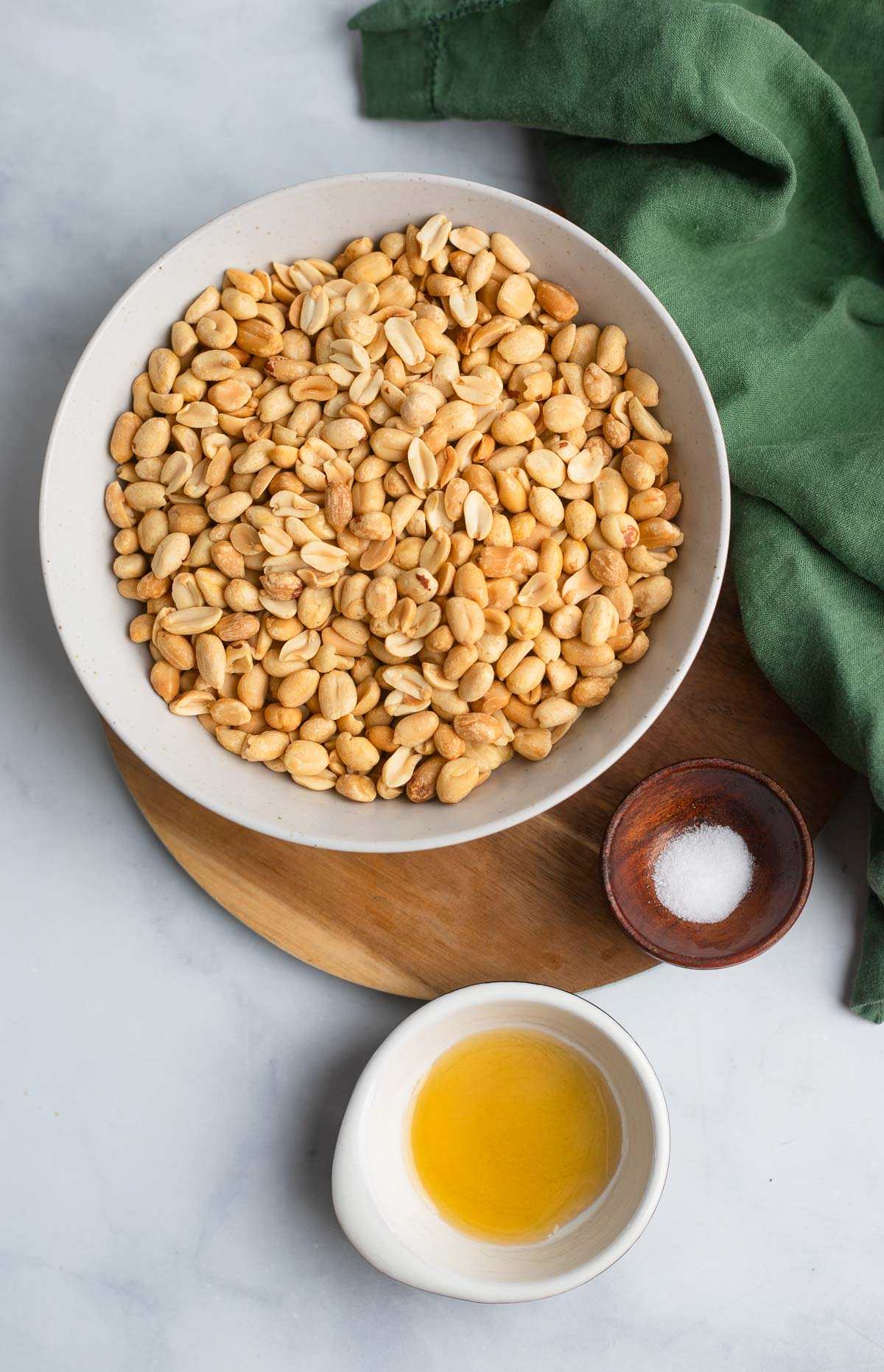 Roasted, Unsalted Peanuts: Roasted peanuts have the best flavor for peanut butter, so look for the roasted ones when shopping at the grocery store. (It's easy to roast them yourself though if you only have raw peanuts!) You also want to make sure they are unsalted because the pre-salted ones will make your homemade peanut butter too salty.
Sea Salt: Bring out the flavor of your peanut butter with a bit of salt. Start with about 1/4 teaspoon and increase to 1/2 teaspoon based on your salt preference.
Maple Syrup (optional): Sweeten your peanut butter with a bit of maple syrup if desired. I usually skip the sweetener because I am pairing it with sweet jam for PB&Js or using it in savory recipes. A little goes a long way – just about 2-3 teaspoons is usually enough for us but you can add more if you'd like. You can also use a sugar-free liquid sweetener in place of the maple syrup.
How to Roast Peanuts: If you only have raw peanuts, you can easily roast them at home! Preheat your oven to 350 degrees Fahrenheit. Add peanuts in an even layer to a baking sheet (parchment paper optional). Bake for 8-12 minutes until they are golden brown and smell roasted. Allow to cool to room temperature before using for homemade peanut butter.
How to Make Healthy Peanut Butter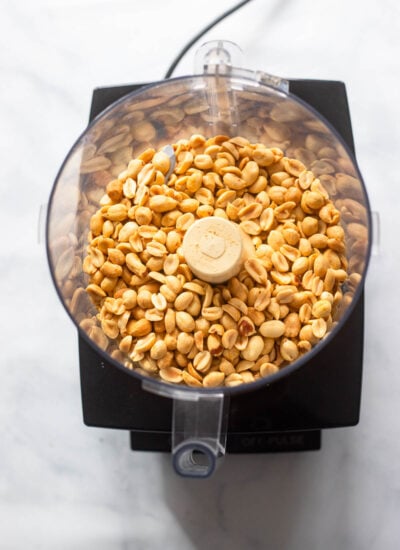 Step One: Add 3 cups of peanuts and sea salt to a food processor.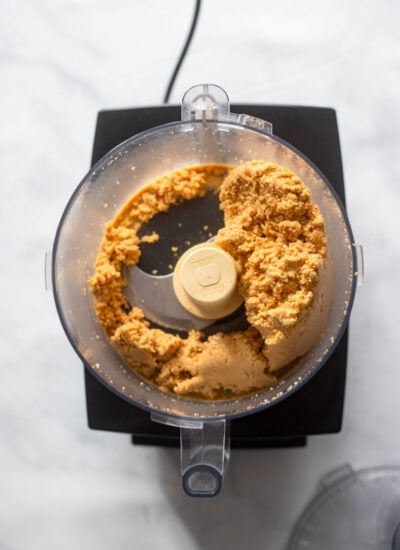 Step Two: Puree peanuts until smooth. It takes a few minutes. After a minute or two it will form a dough-like ball. Keep pureeing!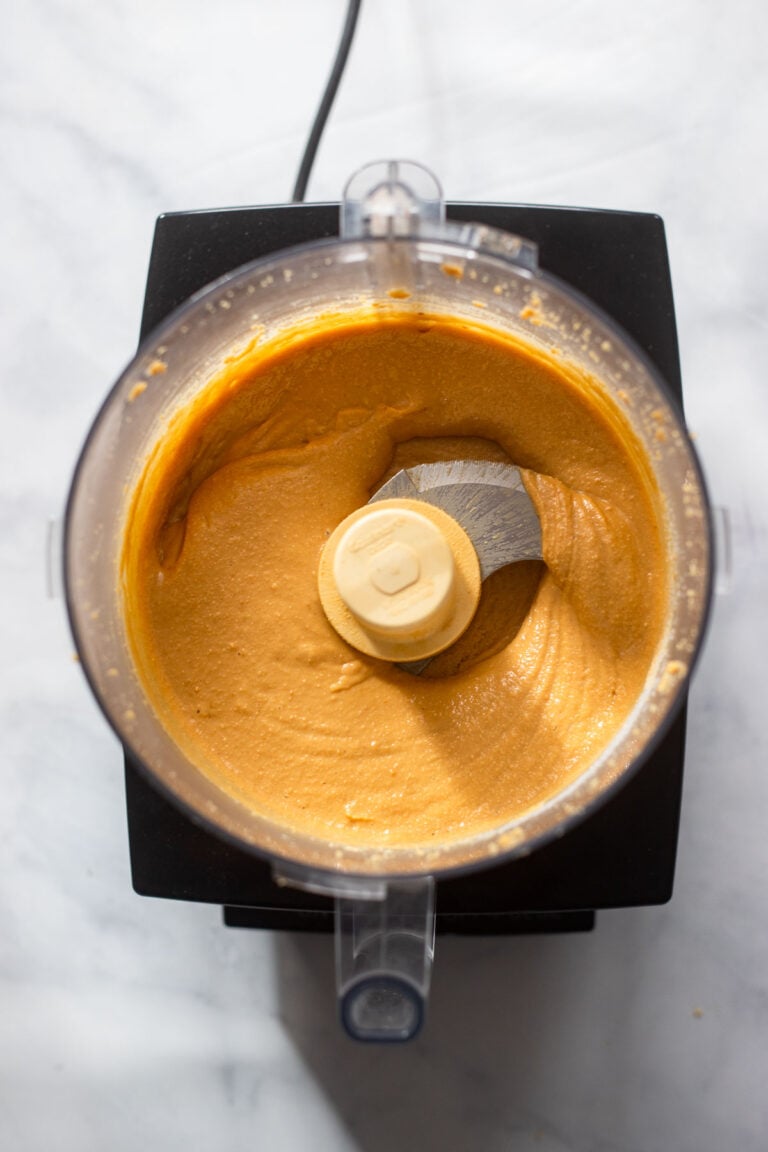 Step Three: Peanut butter mixture is smooth and creamy when finished. Taste and add more salt if needed.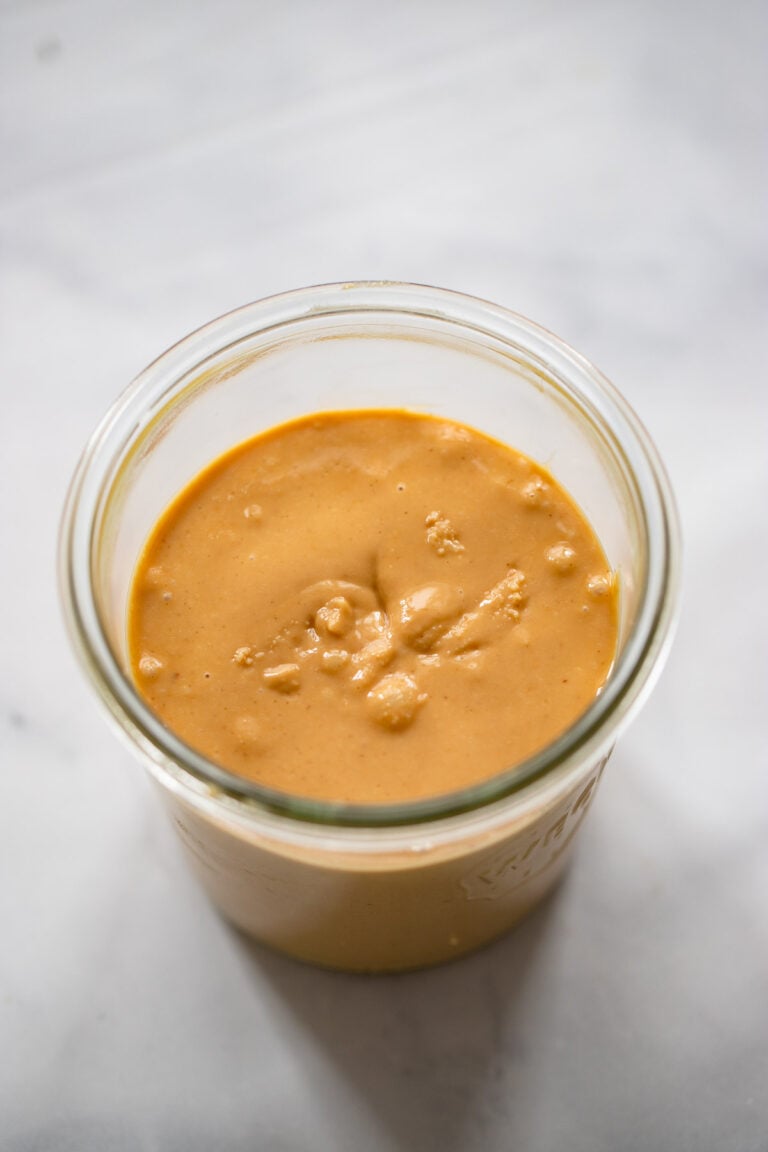 Step Four: Add to an airtight container or airtight jar and store in the refrigerator. Freshly made peanut butter will be runny but it thickens up as it chills in the refrigerator.
Expert Tips
Use Roasted Peanuts: for the best flavor, you want to make sure to use roasted peanuts rather than unroasted/raw peanuts. See pink box above for instructions on how to roast peanuts at home.
Adjust Sweetness & Salt: use the salt and maple syrup listed in the recipe card as a starting point. Taste and add more of either if you'd like.
Don't have a food processor? You can also make this in a high-powered blender! I like to use the food processor because it is more hands off, but you can use a blender too. You may just have to stop it and scrape down the sides a couple of times.
Flavor Variations
Cinnamon: When blending up your peanut butter, add 1/2 to 1 teaspoon ground cinnamon.
Pumpkin Spice: In the fall, it's so fun to flavor your peanut butter with a bit of pumpkin spice! Just add add 1/2 to 1 teaspoon pumpkin spice to your peanut butter.
Maple: If you like a sweet peanut butter, increase the maple syrup to 1-2 tablespoons for both sweetness and a bit of maple flavor. Even better when paired with some cinnamon!
Chocolate: Add 3-4 tablespoons cocoa powder to the food processor before blending for a chocolate peanut butter.
Delicious Ways to Use Peanut Butter
We use peanut butter for everything from oatmeal, to toast, to stir fry so we use a lot of it! It's such a great way to add filling protein, fat, and flavor to a meal or snack. Here are a few healthy peanut butter recipes that can get you started: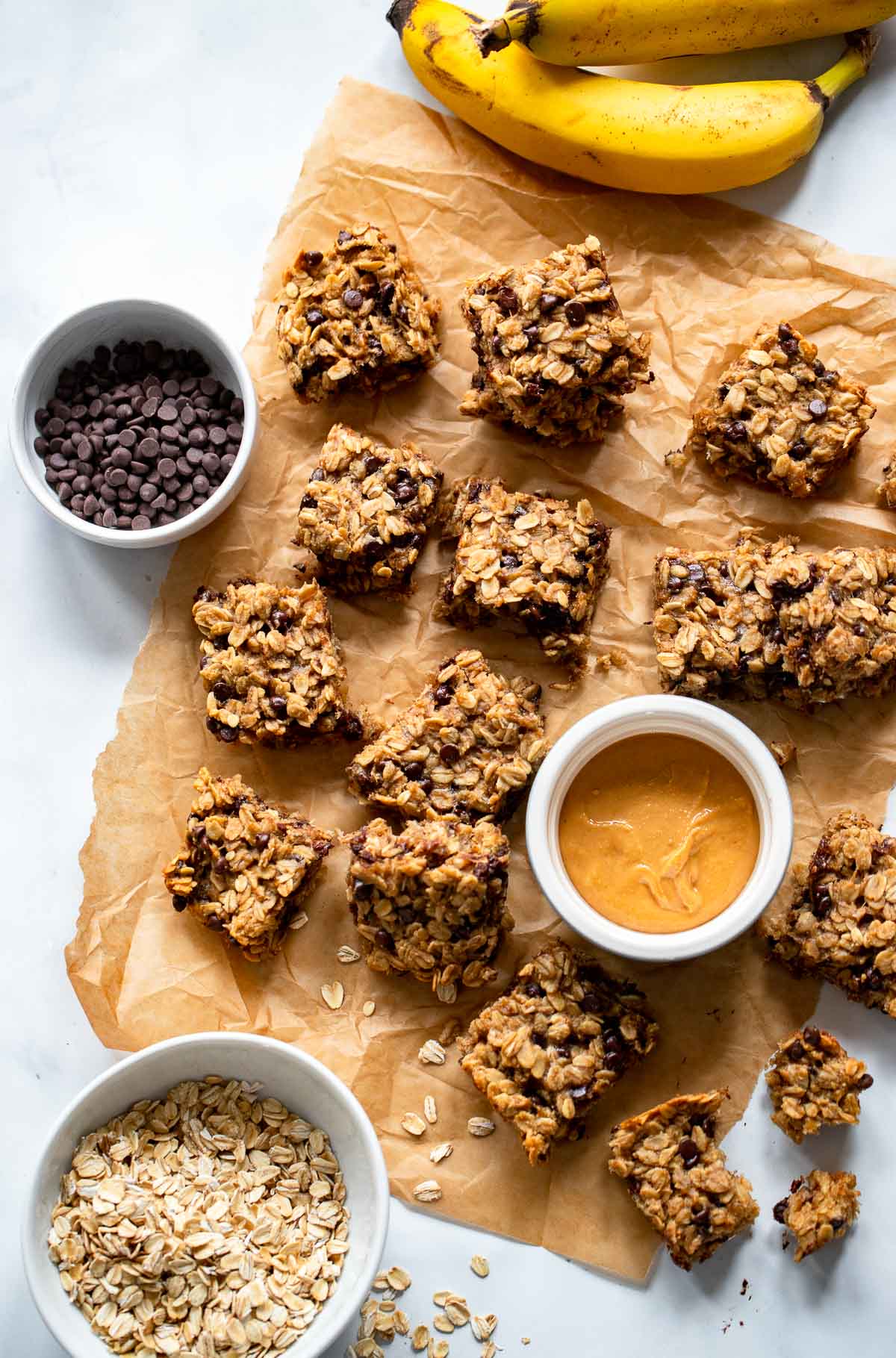 FAQs
How long does homemade peanut butter last?
According to the USDA, a homemade peanut butter can last about 3-4 months in the refrigerator. Store-bought peanut butters often contain stabilizers that means the shelf life is longer than homemade.
How many carbs in natural peanut butter?
Peanut butter made without added sugar is generally low in carbohydrates. This homemade peanut butter has 9 grams of carbs per serving (2 tablespoons).
Is peanut butter gluten free?
Yes, peanuts do not contain gluten so peanut butter is gluten free.
Did you love this recipe? Make sure to leave a ⭐️ rating and tag #dietitiandebbie on instagram!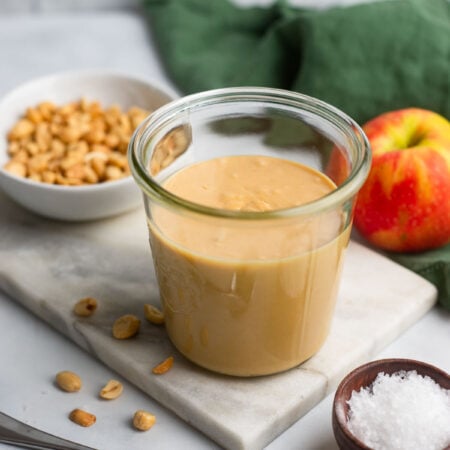 Healthy Homemade Peanut Butter
This healthy homemade peanut butter is just 2 ingredients and takes only 5 minutes to make in the food processor (no oil and no added sugar needed). It's also cheaper to make your own!
Ingredients
3 cups roasted, unsalted peanuts (~1 lb)
1/2 teaspoon sea salt
Instructions
Add peanuts and sea salt to a food processor (or blender) and puree until smooth and creamy.
Notes
Recipe makes about 1 1/4 cups of peanut butter. 
Store peanut butter in the fridge in an airtight container for up to 3-4 months.
Nutrition
Serving: 2tablespoons | Calories: 257kcal | Carbohydrates: 9g | Protein: 11g | Fat: 22g | Saturated Fat: 3g | Polyunsaturated Fat: 4g | Monounsaturated Fat: 11g | Sodium: 119mg | Potassium: 278mg | Fiber: 4g | Sugar: 2g | Calcium: 25mg | Iron: 1mg
Reader Interactions