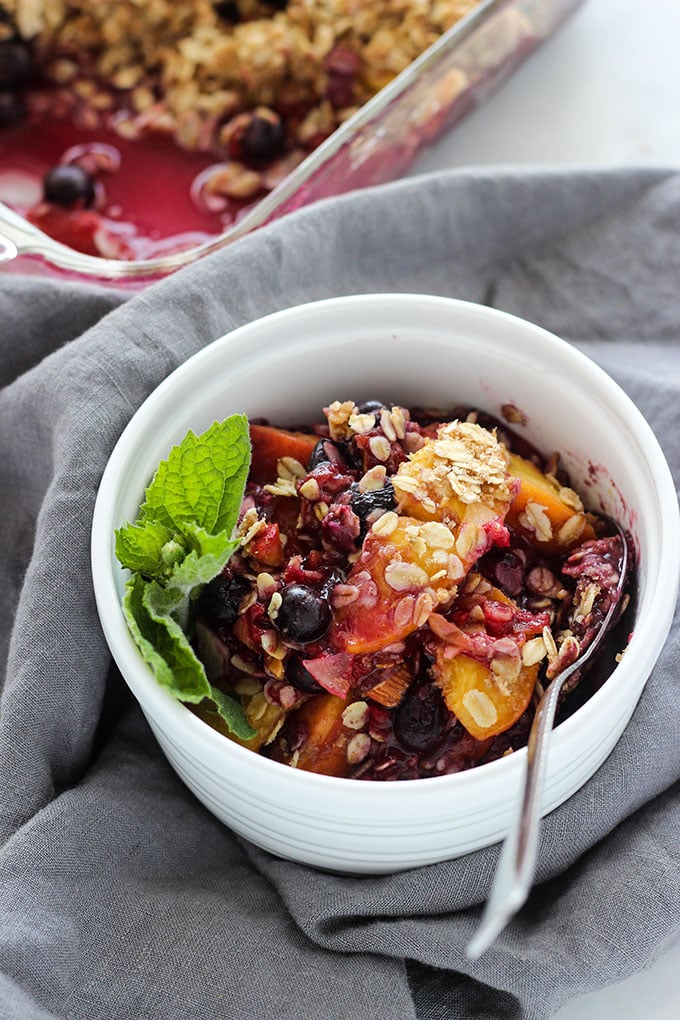 This vegan berry crisp was born when we bought a little too much fruit at the farmer's market. Oops! Does that happen to anyone else? It all just looks so good! I figured, why not turn it into a tasty crisp for a simple dessert that we can enjoy over the next couple of days? This week we both took off of work to have a "stay-cation" which means we are trying to make the most of some of the cool stuff Chicago has to offer. So far we've checked out the Chicago Cultural Center, The Lincoln Park Zoo, chilled on the beach, and enjoyed some coffee while we customized our new bikes at Heritage Bicycles! There has also been a lot of sleeping in, cooking, and finally finishing Breaking Bad. Honestly, I could totally see myself having another stay-cation next year. 🙂
This crisp comes together super fast and you'd never guess it was vegan! Instead of butter in the crumb topping, I mixed in some coconut oil to make it all stick together. Also, for fun I crumbled in some toasted coconut chips, but you also use unsweetened coconut flakes too.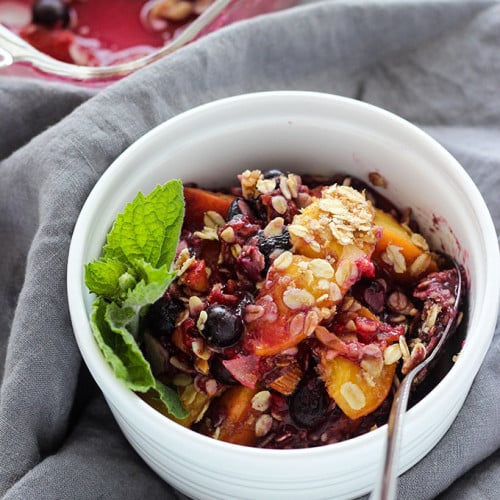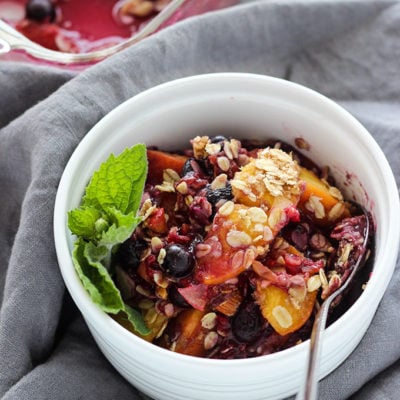 Vegan Peach Berry Crisp
Whip up this delicious vegan peach berry crisp for a dessert that tastes like the best flavors of summer.
Ingredients
Filling:
3 peaches pit removed and thinly sliced
1/3 cup raspberries
1 cup blueberries
1 tablespoon packed, brown sugar
1 tablespoon flour
1 teaspoon vanilla
Dash of salt
Crumb Topping:
1 cup oats regular, not quick-cooking
1/4 cup flour
2 tablespoons packed, brown sugar
1/4 cup chopped almonds
1/4 cup coconut chips or unsweetened coconut flakes
1/4 cup coconut oil
Dash of salt
Instructions
Preheat the oven to 350 degrees Fahrenheit.

Add the fruit to an 8"x8" glass baking dish. Sprinkle with brown sugar, flour, vanilla, and salt and toss to coat.

In a small mixing bowl, combine all of the crumb topping ingredients. Toss to combine until it starts to stick together in small clumps. Sprinkle evenly over fruit in baking dish.

Bake 40-45 minutes or until fruit is bubbling and crumble topping is golden brown.
Notes
Serve warm with a scoop of vegan vanilla ice cream.
Nutrition
Serving: 1/4 recipe | Calories: 410kcal | Carbohydrates: 48g | Protein: 7g | Fat: 21g | Saturated Fat: 14g | Polyunsaturated Fat: 7g | Sodium: 81mg | Fiber: 7g | Sugar: 21g
Reader Interactions