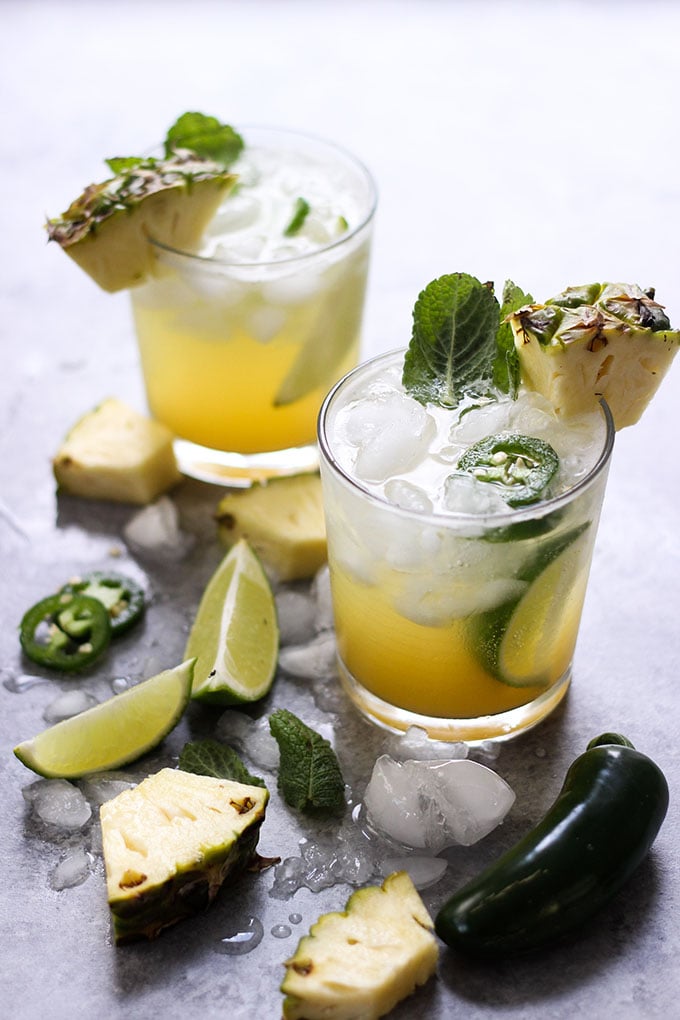 Will and I just got back from a quick weekend trip to Ohio to visit with college friends in Cleveland and Columbus which included a visit with one friend's newborn! It feels like May and June are filled with happy gatherings including lots of showers for new babies or brides.
Of course, a great party should include some tasty beverages! These pineapple jalapeño mojitos were inspired by a recent trip to a new kombucha bar in my neighborhood where I picked up a pineapple jalapeño kombucha. It was so good, I wanted to combine those flavors again in cocktail form. 🙂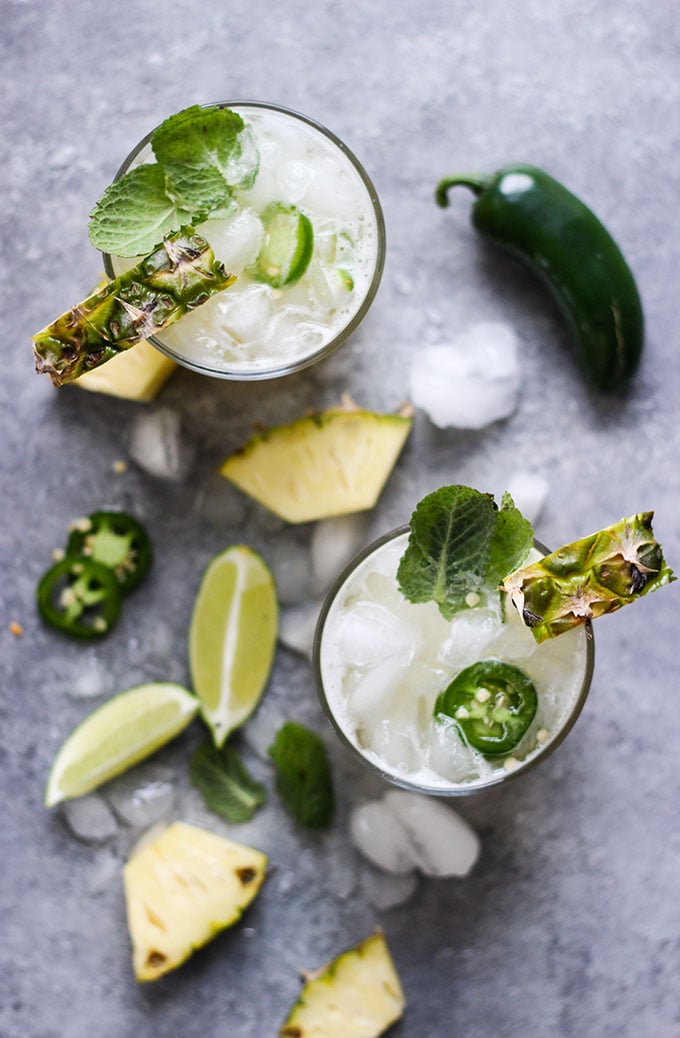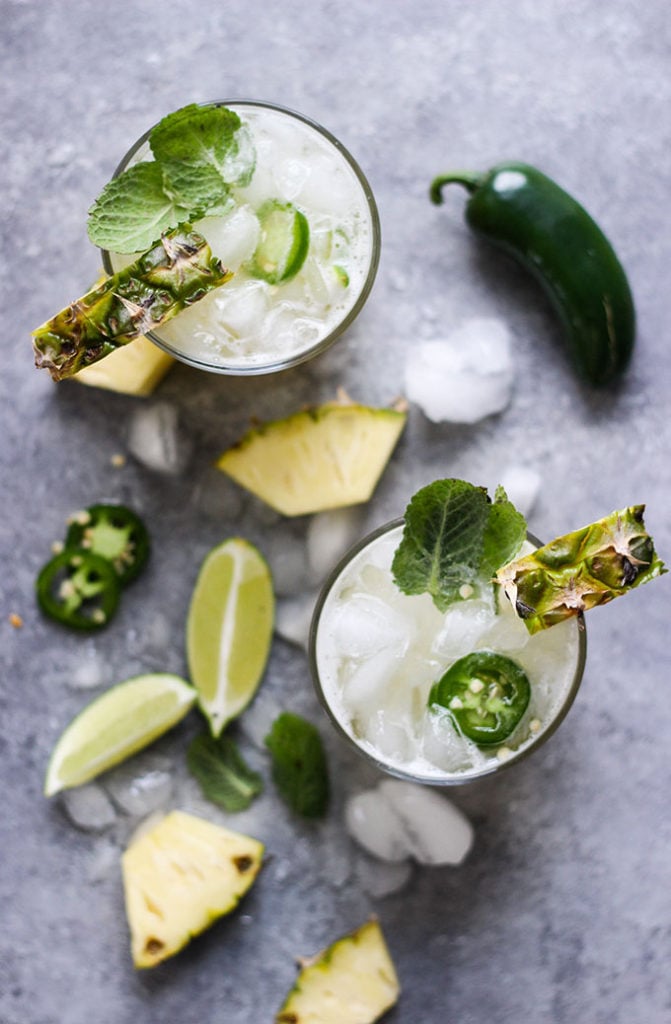 This pineapple jalapeño mojito recipe makes enough for 2 eight ounce cocktails but you can easily double or triple the recipe to make enough to share! I love the hint of spice that the jalapeños add to this, but don't worry it's not overwhelming if you are one that is sensitive to spicy foods. The fresh pineapple and mint are so refreshing, I feel like this is a drink I'll want to sip on all summer long!
More Cocktail Recipes You'll Love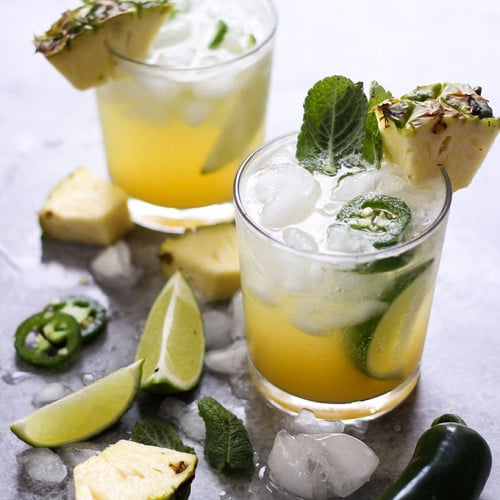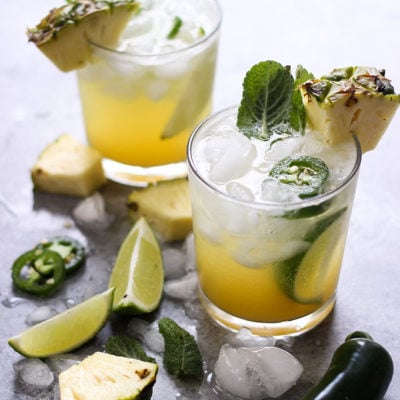 Pineapple Jalapeno Mojito
Why not trade out your traditional mojito for something more exciting like these spicy pineapple jalapeño mojitos? Jalapeño, pineapple, lime, and mint create a refreshing drink you'll want to sip on all summer long.
Ingredients
1 cup chopped fresh pineapple
2 tablespoons water
1 teaspoon sugar
1 lime juiced (~1 oz. juice)
1/2 jalapeno thinly sliced
6-8 large fresh mint leaves
3 ounces white rum
6-8 ounces club soda
Crushed ice
To Garnish: mint jalapeno, pineapple pieces
Instructions
In a small blender cup, puree pineapple, water, and sugar. Strain through cheesecloth and transfer to cocktail shaker. It should make around 3 ounces of juice. (You could also use 3 oz. store bought pineapple juice instead.)

Add the lime juice, jalapeño, mint, and rum to the cocktail shaker and muddle well. Add a couple of ice cubes and shake to chill. Strain mixture into 2 cocktail glasses, dividing evenly.

Top with crushed ice until glass is 1/2-3/4 filled and then top off with club soda.

Garnish each glass with additional jalapeño slices, lime wedges, and sliced pineapple.
Nutrition
Serving: 1drink | Calories: 158kcal | Carbohydrates: 17g | Protein: 1g | Fat: 1g | Saturated Fat: 1g | Polyunsaturated Fat: 1g | Monounsaturated Fat: 1g | Sodium: 21mg | Potassium: 135mg | Fiber: 2g | Sugar: 11g | Vitamin A: 102IU | Vitamin C: 53mg | Calcium: 27mg | Iron: 1mg
Reader Interactions