This vegan burrito bowl is loaded with flavor and nutrients like fiber, protein, and healthy fats. Topped with a simple chimichurri sauce that can't be beat!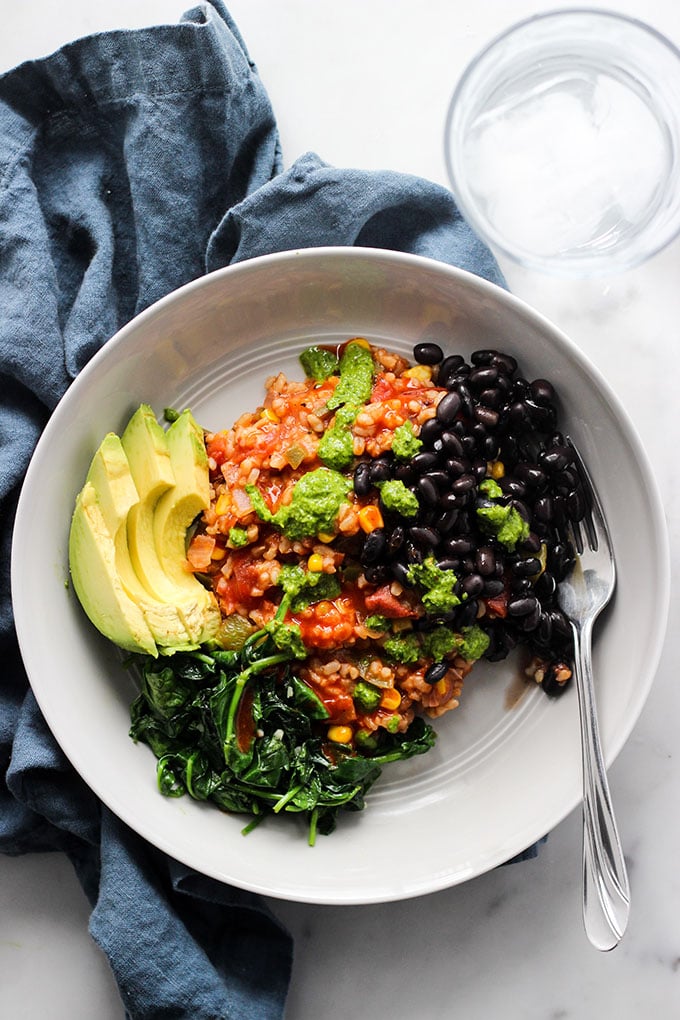 Today, I am pulling a recipe out from the archives! Occasionally, I am hoping to go back and revamp some of my older recipes from the blog. There are some good ones lurking in the archives that need new pictures or another round of recipe testing to make them more reliable and tasty.
My vegan burrito bowl has been one of my more popular posts for sometime, but there were some tweaks I wanted to do to make the recipe better. I corrected the cooking time/method for the brown rice, made some tasty adjustments to the chimichurri sauce, and switched up the toppings.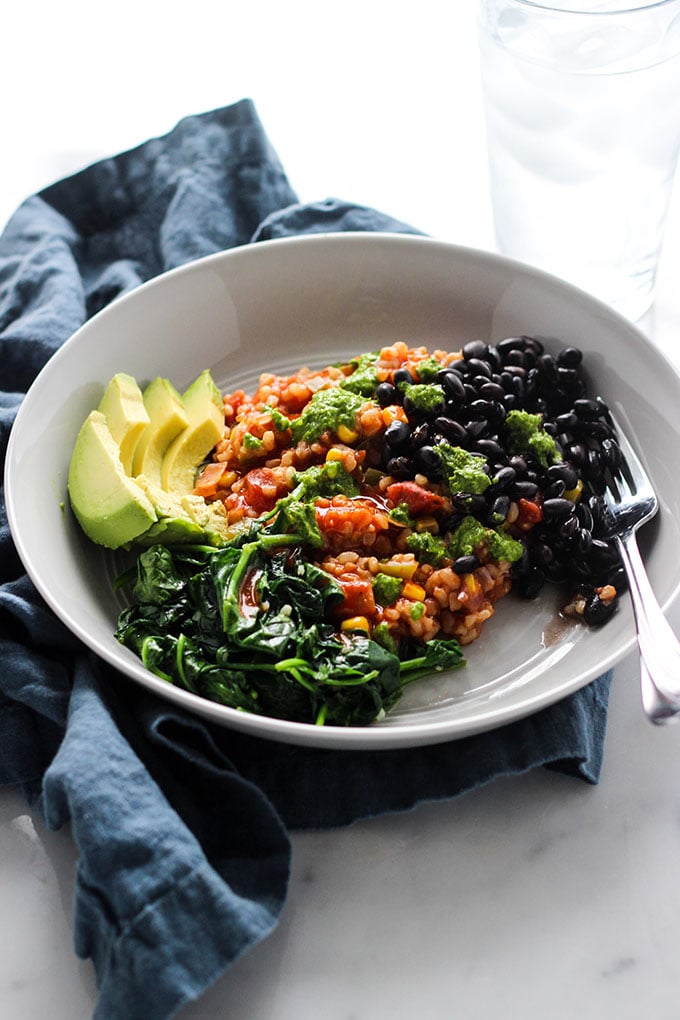 I am currently crushing hard on sautéed spinach on just about anything. I've been packing leftovers for my lunch at work and sautéing some spinach in the morning with just a splash of olive oil, garlic, salt, and pepper until it wilts like I did for the bowl above.
I always feel like I need just a little more green on my plate and that sautéed spinach is so quick and so tasty! Also, it cooks down so much, I feel like I could probably eat the whole bag in one sitting…
Looking for more bowl inspiration? Check out my post on how to make a macro bowl or follow me on Instagram where I post more regularly about other bowl based meals I've been eating lately.
More Delicious Recipes You'll Love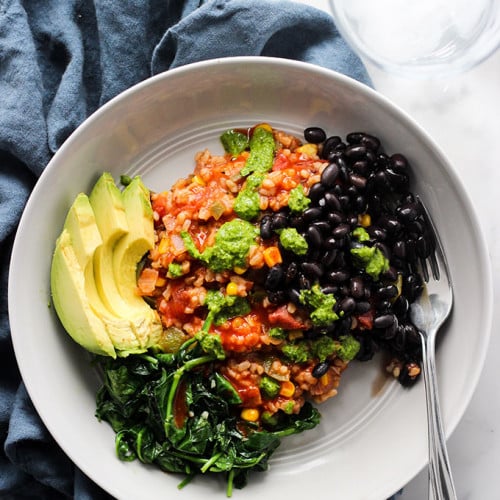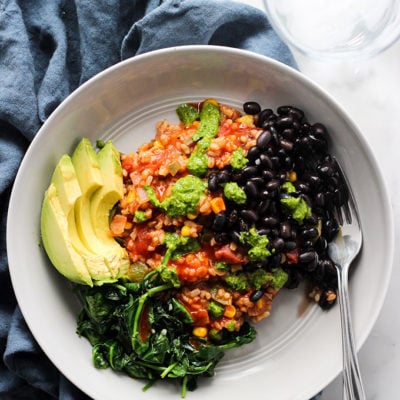 Vegan Burrito Bowl
This vegan burrito bowl is loaded with flavor and nutrients like fiber, protein, and healthy fats. Topped with a simple chimichurri sauce that can't be beat!
Ingredients
For the rice:
1 cup short grain brown rice
1 tablespoon olive oil
2 cups water
1 green bell pepper chopped
1/2 red onion chopped
1 jalapeno seeds discarded, chopped
2 cloves garlic minced
1 28 oz. can fire roasted diced tomatoes
1 cup frozen corn kernels
1/4 cup salsa
1 teaspoon cumin
1 teaspoon oregano
1 tablespoon pureed chipotle in adobo sauce optional - but highly recommended!
Sea salt and Black Pepper to taste
For the Black Beans:
1 tablespoon olive oil
1/4 cup chopped yellow onion
1/4 teaspoon cumin
1/4 teaspoon smoked paprika
1 clove garlic minced
1/4 cup vegetable broth
1 15 oz. can black beans, drained and rinsed
Sea salt and ground black pepper to taste
For the Chimichurri:
1/2 cup fresh parsley leaves
1/2 cup fresh cilantro leaves
1 tablespoon fresh squeezed lemon juice
1/4 teaspoon red pepper flakes
2 cloves garlic
2 tablespoons olive oil
Dash of sea salt
To serve: sliced avocado OR guacamole corn, sauteed spinach, etc.
Instructions
To cook the rice:
Add rice to a colander and rinse well under cold water.

In a medium saucepan, add the rice and olive oil. Saute for 3-4 minutes to toast the rice. When it starts to smell fragrant and nutty and some of the tips of the rice begin to brown slightly, it is time to add the water.

Add 2 cups of water to the pan. Bring to a boil on medium-high heat.

Turn the heat down to all it be become a gentle simmer again. Put the lid on the pot and continue to let it gently simmer for 45 minutes. (Do not uncover the pot during this time!)

Remove the lid and fluff with a fork. If the rice is still a little crunchy, add a little more water, replace the lid and cook another 10 minutes. If there is still a lot of water in the pan, drain the water.

Place the lid back on and let it rest for 10-15 minutes. Use immediately or store up to 3-5 days in the fridge before making the rest of the burrito bowl. I was able to get about 3 1/2 cups of cooked rice from 1 cup dried rice.

Set your cooked rice aside. In a large, deep skillet, add the olive oil, bell pepper, onion, and jalapeno. Saute until onion is softened, about 3-5 minutes.

Add the garlic and saute another minute.

Stir in the tomatoes, corn, salsa, cumin, oregano, chipotle (if using), and cooked rice. Saute until liquid from canned tomatoes has cooked off, about 7-9 minutes. Season with salt and ground black pepper.
For the Black Beans:
Heat the olive oil for 1 minute in a non-stick skillet. Add the onion and saute for 3-5 minutes or until onion is translucent and softened.

Add the cumin, paprika, and garlic and cook another minute.

Stir in the broth and beans and bring to a simmer. Allow to simmer for 5-7 minute or until most of the broth has cooked off. Season with salt and ground black pepper to taste.
For the Chimichurri Sauce:
Add all of the chimichurri sauce ingredients to a single serving blender cup and puree until smooth.
To Assemble:
Divide the rice, beans, and other vegetables evenly among four bowls. Drizzle each bowl with ~1 tablespoon of chimichurri. (A little goes a long way!)
Notes
To make the spinach, I added about 1-2 teaspoons of olive oil to a non-stick skillet and sautéed 1 (6 oz.) bag of spinach with 1 clove minced garlic until wilted. Sprinkle with salt and pepper. (It takes just 3 minutes and I've been adding it to all of my lunch meals lately!)
Nutrition
Serving: 1/4 recipe | Calories: 500kcal | Carbohydrates: 76g | Protein: 13g | Fat: 16.5g | Saturated Fat: 2.5g | Polyunsaturated Fat: 14g | Sodium: 750mg | Fiber: 14g | Sugar: 9.5g
Reader Interactions