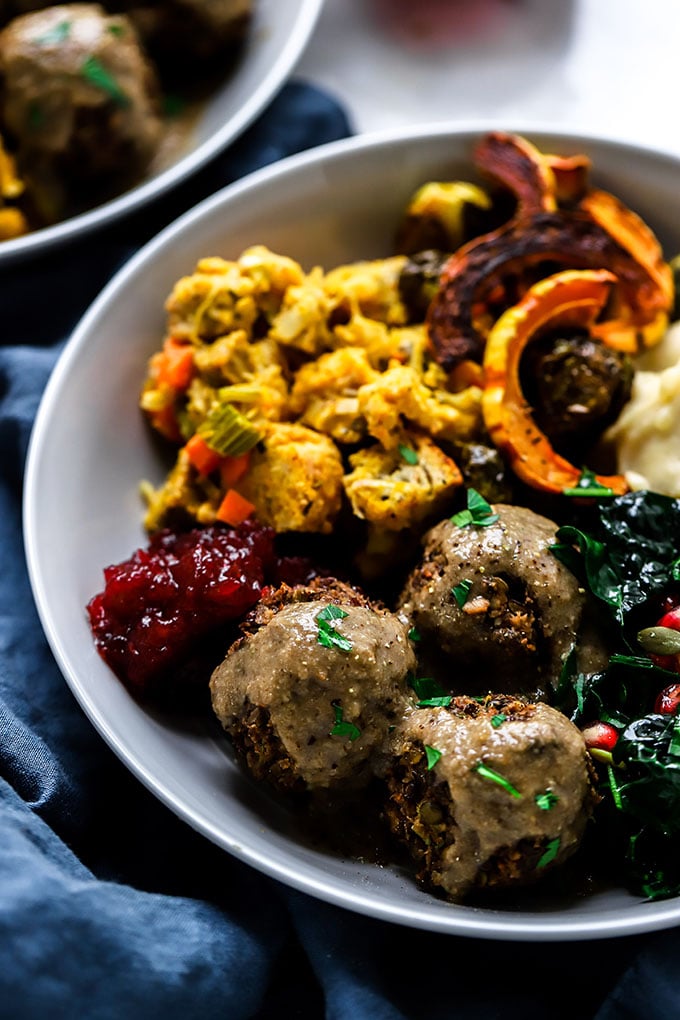 If you are still looking for a vegan-friendly entree for Thanksgiving this year, look no farther than this vegan meatball with mushroom gravy recipe! Thanksgiving can sometimes be a difficult holiday to navigate as a vegetarian or vegan both for a guest and the host. I'm hoping that by sharing recipes like this one, I can help both of you out!
The great thing about this vegan meatball recipe is that the "meatballs" can be made in advance and either stored in the refrigerator for up to 3 days, or in the freezer for much longer than that. When ready to serve, simply reheat them in the oven while making the mushroom gravy and you are all set! Also, if you are looking for other vegetarian or vegan Thanksgiving dishes, I have you covered! I rounded up my favorites from the blog here –> Vegetarian Thanksgiving Recipes.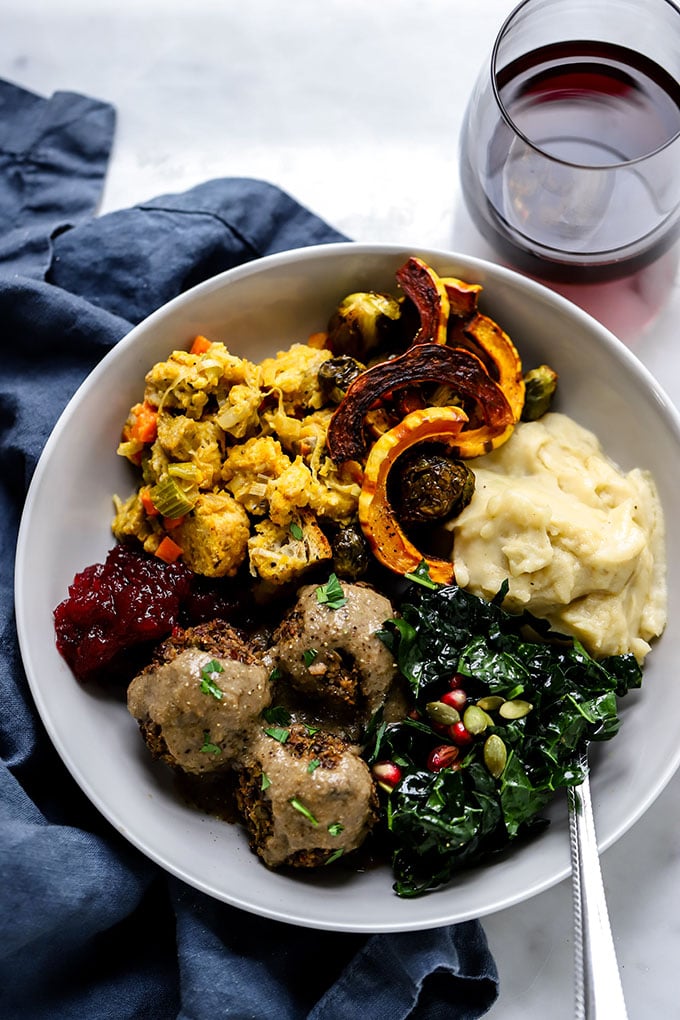 This recipe is adapted from another lentil meatball recipe I posted a few months ago on my blog except that I changed the recipe to be vegan with the addition of some ground flax seed. Flax seed not only makes a great egg replacement, but it also happens to provide some healthy omega-3 fat!
In addition, I added some Thanksgiving flavor with the addition of some dried cranberries, herbs, and a tasty mushroom gravy. I added miso (fermented soybean paste) in my mushroom gravy to add some more umami flavor, but I know it is an ingredient that can be hard to find so you can easily leave it out.
Also, a tip for forming your lentil balls that I found helpful was to use an ice cream scoop to spoon out the lentil mixture and then reshape it a little with your hands. In the past, I was frustrated that my meatballs were never a consistent size, but using the ice cream scoop made all the difference.
PPS – This pomegranate ginger sangria would be the perfect addition to any friends-giving meal. 😉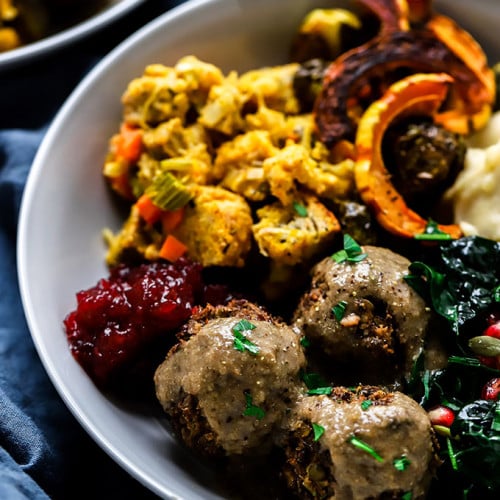 Vegan Meatballs with Mushroom Gravy
These vegan meatballs with mushroom gravy are a great plant-based alternative to Thanksgiving turkey and way more tasty than any store-bought veggie loaf!
Ingredients
For the Lentil Meatballs
1 cup dried brown lentils rinsed
2 1/2 cups vegetable broth
2 tablespoons ground flax seed
5 tablespoons water
1 tablespoon olive oil
1/2 cup chopped celery
1/2 cup chopped onion
1/2 cup peeled and chopped carrot
1 cup chopped button cremini mushrooms
1/4 cup red wine
2 cloves garlic minced
2 tablespoons soy sauce
1 teaspoon fresh or dried thyme
1 teaspoon fresh or dried rosemary
1/2 cup walnuts
1/4 cup panko breadcrumbs
1 tablespoon fresh or dried parsley
Sea salt and ground black pepper to taste (Start with 1/8th teaspoon and increase as needed)
For the Gravy
1 tablespoon vegan butter
8 oz button (cremini) mushrooms, chopped
1/2 cup chopped onion
1 cup vegetable broth
1 tablespoon cornstarch OR all-purpose flour
1 tablespoon white miso OR soy sauce
1 tablespoon oregano fresh or dried
Sea salt and ground black pepper to taste
Instructions
To Make the Lentil Meatballs
Preheat the oven to 350 degrees Fahrenheit.

Add lentils and broth to a medium size sauce pan. Bring to a simmer and then cover. Cook for 25-30 minutes or until lentils are tender but not falling apart. Take off the lid and cook off any remaining broth if needed. Otherwise, remove from the heat and set aside.

Combine ground flax and water in a small bowl. Stir to combine and set aside.

Add the olive oil, celery, onion, carrot, and mushrooms to a non-stick skillet and saute until tender, about 5-7 minutes. Stir in the red wine, garlic, soy sauce, thyme, and rosemary. Cook another 2-3 minutes or until liquid is cooked off. Turn off the heat and set aside to cool about 5 minutes.

Meanwhile, add walnuts to a food processor and pulse until ground into breadcrumb consistency. Add the cooked lentils, cooked vegetables, flax seed egg, breadcrumbs, parsley, salt and pepper to the food processor. Pulse until dough forms.

Spray a baking dish or cookie sheet with cooking oil and form 13 balls out of the lentil mixture using an ice cream scoop. Bake for 40-45 minutes or until browned.
To Make the Mushroom Gravy
Melt butter in a small saucepan and add the mushrooms and onion. Saute for 5-7 minutes or until mushrooms start to wilt and release their moisture.

Add the broth and bring to a simmer.

In a small bowl, stir together cornstarch and 1 tablespoon of water. Add to the saucepan.

Stir continuously while you add in the soy sauce, miso, and oregano. Bring back to a simmer and cook for 6-8 minutes or until gravy begins to thicken. Use an immersion blender to puree until smooth. (You can also transfer to a tradition blender to puree.) Add salt and ground black pepper to taste.

To serve, portion meatballs onto a plate and cover with gravy. One serving is about 3-4 meatballs.
Notes
Makes 13 meatballs and 1 1/4 cup gravy.
Nutrition
Serving: 3meatballs | Calories: 136kcal | Carbohydrates: 16g | Protein: 6g | Fat: 6g | Saturated Fat: 1g | Polyunsaturated Fat: 3g | Monounsaturated Fat: 2g | Trans Fat: 1g | Sodium: 482mg | Potassium: 320mg | Fiber: 6g | Sugar: 2g | Vitamin A: 1064IU | Vitamin C: 3mg | Calcium: 35mg | Iron: 2mg
Reader Interactions