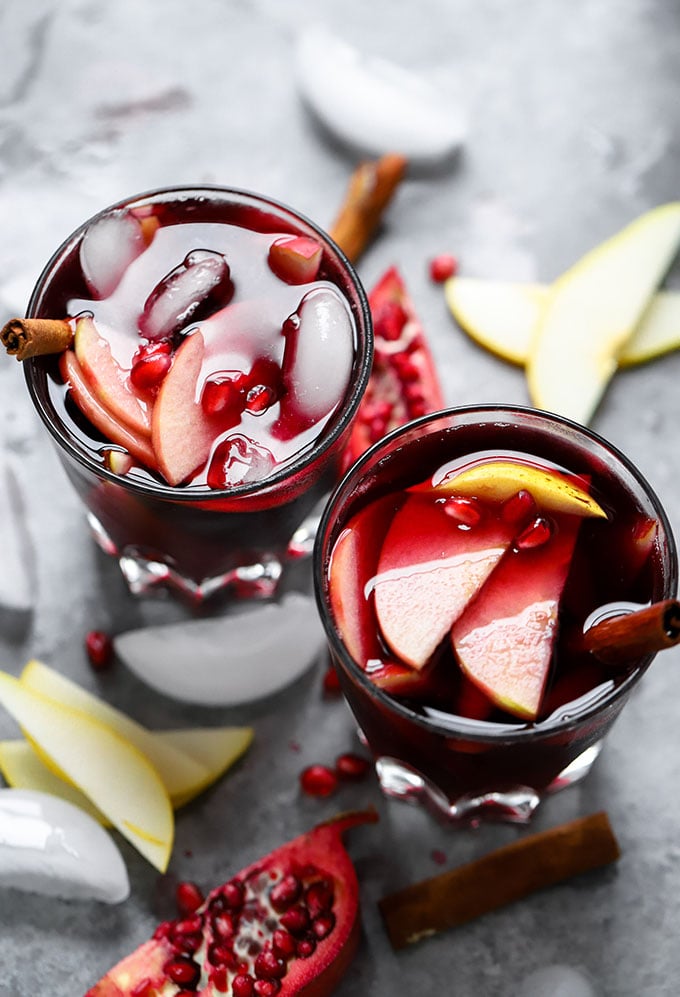 This pomegranate ginger sangria is the perfect cocktail for any of your upcoming holiday gatherings! It is super simple to whip up and one batch can serve a small party. 🙂 If you have been around a while, you may have noticed that I am a huge fan of ginger. Seriously, I love it in smoothies like this pumpkin spice smoothie, cocktails like this ginger raspberry kombucha cocktail, curries like this easy vegan pumpkin curry and more!
To get a gingery zing in this sangria, I added some ginger kombucha. (The GT's brand "gingerade" flavor kombucha is one of my favorites!) If you aren't familiar with kombucha yet, basically it is a tea beverage made by fermenting tea with a "scoby" ie. colony of bacteria and yeast. This fermentation process means that it has some probiotics which support gut health in the finished product.
I started adding kombucha to my cocktails because I love the way it adds flavor, a touch of sweetness, and a bit of carbonation.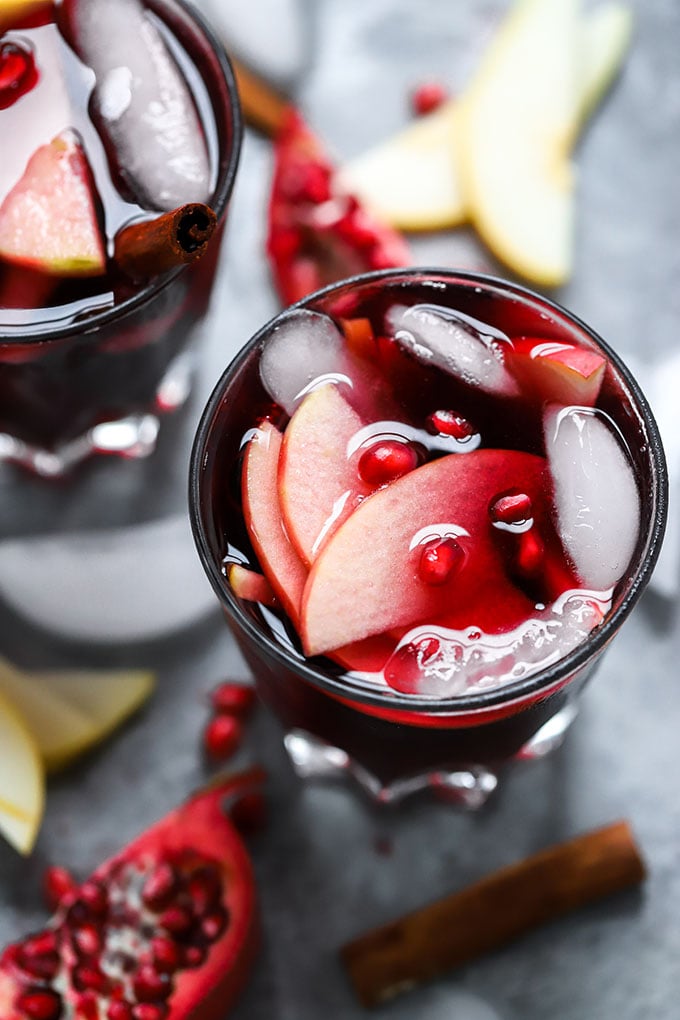 Cocktails are usually pretty simple to whip up to begin with, but I love that sangria can be made by literally pouring everything into a pitcher and waiting. Although it can be hard to wait, sangria tastes best after you let it chill in the refrigerator for 24 hours or more.
It will get sweeter with time (without having to add sugar!) and the flavor from the fruit and cinnamon starts to intensify. In fact, I found this sangria was tastiest the second day after I made it! To serve, I cut up extra fruit to garnish the glass also with a cinnamon stick. Cheers!
More Drink Recipes You'll Love
Pomegranate Ginger Sangria
This pomegranate ginger sangria is the perfect cocktail for the holidays. Made with red wine, ginger kombucha, and pomegranate juice, this cocktail is loaded with healthy antioxidants.
Ingredients
1 bottle red wine
1/2 cup brandy
1/2 cup pomegranate juice
1/2 cup ginger kombucha
1 pomegranate
1 pear, sliced
1 apple, sliced
3 cinnamon sticks
Ice
Instructions
Add all of your ingredient to a large pitcher and stir. Allow to sit in the refrigerator overnight to allow the flavors to intensify. To serve, add to a 6 oz. glass with ice. Garnish with extra fruit and cinnamon sticks.
Nutrition
Serving: 1drink | Calories: 240kcal | Carbohydrates: 25g | Protein: 1g | Fat: 1g | Saturated Fat: 1g | Polyunsaturated Fat: 1g | Monounsaturated Fat: 1g | Sodium: 9mg | Potassium: 389mg | Fiber: 4g | Sugar: 16g | Vitamin A: 31IU | Vitamin C: 8mg | Calcium: 39mg | Iron: 1mg
Reader Interactions