This vegetarian lasagna soup is hearty and filling without being laden with calories like a traditional lasagna. Easily adapted to be vegan too!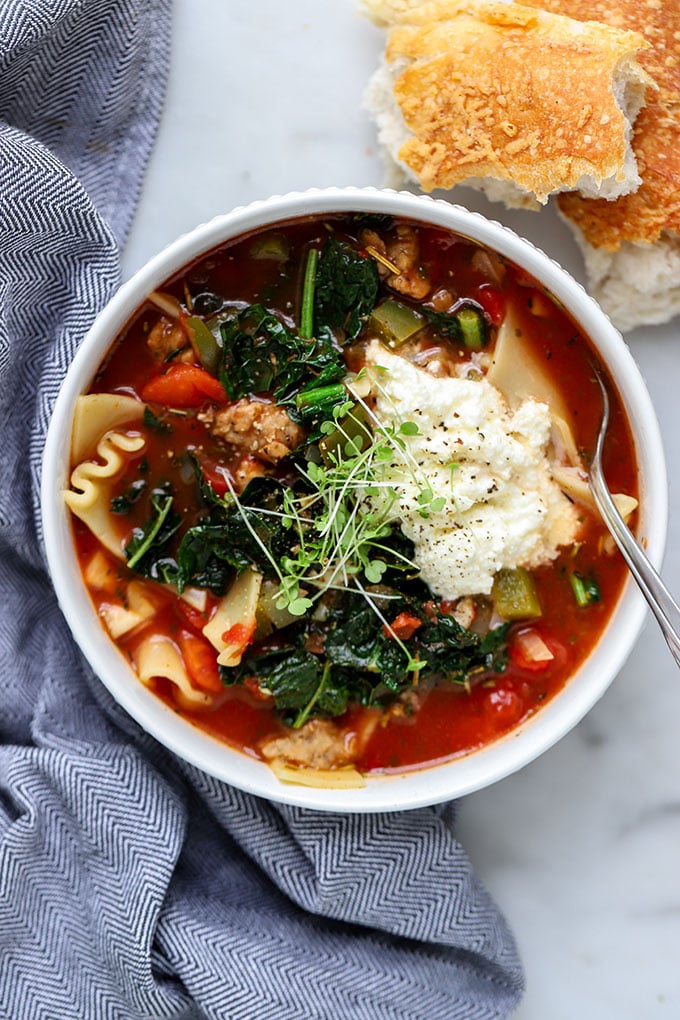 When summer ends, I get excited to pull out my cold weather layers because I much prefer cozy sweaters to short shorts. The colder weather also means that soup season is here! (Soup season is my favorite season. Anyone else?)
I have a bunch of favorite soups already hiding in the archives including this vegan cheddar broccoli soup, this miso soba noodle soup, and this Italian farro soup. I highly recommend checking those ones out after making this vegetarian lasagna soup. 🙂
This vegetarian lasagna soup definitely serves up lots of comfort-food vibes without the hassle of making a traditional baked lasagna – all those layers! Instead, you'll cook up everything in one big pot and serve it up with a dollop of ricotta cheese. (Love lasagna but not all the fuss? Be sure to also check out my one pot vegan skillet lasagna!)
Want to make it vegan? Simply leave off the ricotta or use a vegan ricotta option! (Seriously, that's it!)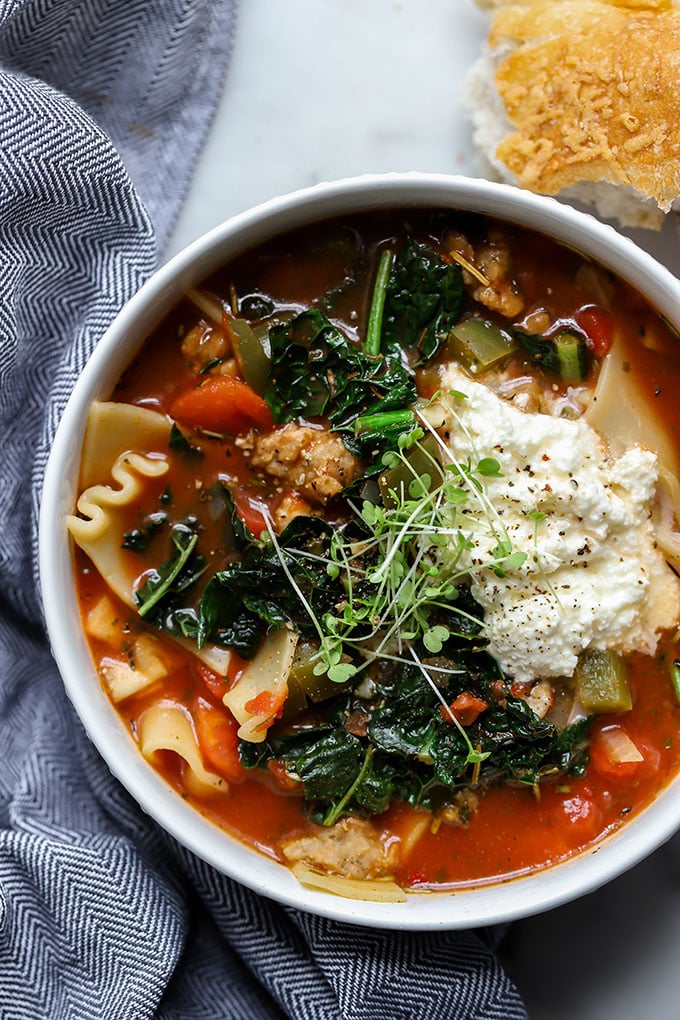 Tips for Making this Soup
Let's talk a little more about what goes into this lovely vegetarian lasagna soup. You'll start out with some onion, green pepper, mushrooms and garlic. That gets seasoned with some dried herbs (thyme, oregano, rosemary, parsley and a bay leaf).
Next, you'll toss in some veg-based sausage crumbles. I used Lightlife's Gimme Lean veggie sausage which comes in a log that you break apart into bite size pieces. You can usually find it in the refrigerated section with the tofu and other similar plant-based proteins.
Can't find any veggie sausage? No worries! Simply replace it with a 15 oz. can of chickpeas or navy beans. After your herbs, sausage, and veggies have gotten cozy together, you'll add in your broth and canned tomatoes.
Let it all simmer together before adding in the kale and lasagna noodles for the last few minutes. I served it with a dollop of ricotta cheese and a big hunk of fresh baked bread I had picked up at the farmers market – doesn't get any better than that!
More Recipes You'll Love
Did you love this recipe? Make sure to leave a ⭐️ rating and tag #dietitiandebbie on instagram!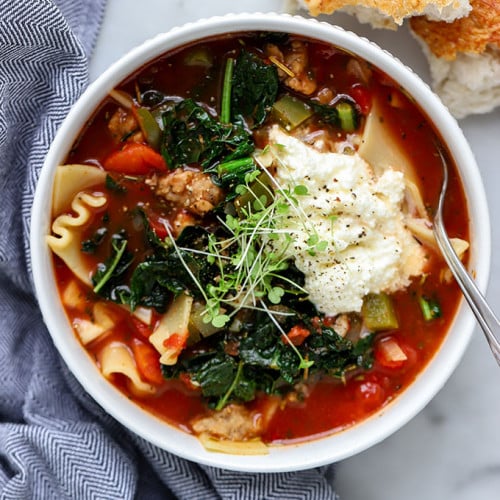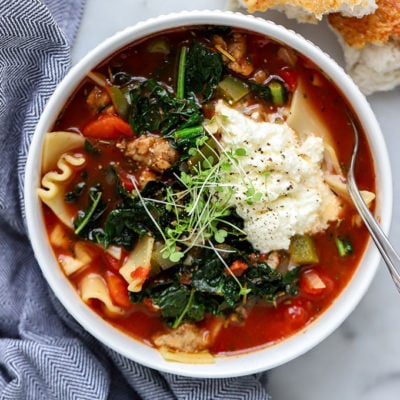 Vegetarian Lasagna Soup
This vegetarian lasagna soup is hearty and filling without being laden with calories like a traditional lasagna. Easily adapted to be vegan too!
Ingredients
8 lasagna noodles broken into pieces
2 tablespoons olive oil
1 cup chopped onion
1 green bell pepper chopped
2 cups chopped mushrooms ~10-12 cremini mushrooms
1/2 14 oz. package Lightlife Gimme Lean veggie sausage, crumbled (or other vegetarian sausage product)
2 cloves garlic minced
1 teaspoon dried thyme
1 teaspoon dried oregano
1 teaspoon dried rosemary
1 bay leaf
Dash of red pepper flakes
2 teaspoons dried parsley
2 tablespoons tomato paste
1 quart vegetable broth
2 14.5 oz cans diced tomatoes
1/2 bunch lacinato kale stems removed and chopped
Sea salt and ground black pepper to taste (start with 1/8 teaspoon of each and increase as needed)
Ricotta cheese
Instructions
Fill a medium size saucepan with water and bring to a boil. Cook broken lasagna noodles until al dente according to package directions. Drain and set aside.

In a large stock pot, add olive oil, onion, green pepper and mushrooms. Saute for 3-5 minutes or until onion is softened and translucent.

Stir in the crumbled sausage and cook 2-3 minutes until sausage starts to brown.

Add the garlic and cook another minute.

Stir in the herbs (thyme, oregano, rosemary, bay leaf, red pepper flakes, and parsley) and tomato paste and cook for 1 minute.

Stir in the vegetable broth and diced tomatoes. Bring to a simmer and cook for 5-7 minutes.

Add the kale and cooked lasagna noodles cook another 7-9 minutes. Add salt and ground black pepper to taste.

To serve, add ricotta cheese and microgreens.
Notes
Recipe very loosely adapted from this Lasagna Soup Recipe from Food Network –> http://www.foodnetwork.com/recipes/food-network-kitchen/lasagna-soup-2268968 Use a low sodium vegetable broth to reduce the sodium in this recipe.
Nutrition
Serving: 1/5 recipe | Calories: 410kcal | Carbohydrates: 59g | Protein: 18g | Fat: 12g | Saturated Fat: 3.5g | Polyunsaturated Fat: 8.5g | Cholesterol: 13mg | Sodium: 850mg | Fiber: 8.5g | Sugar: 12.5g
Reader Interactions