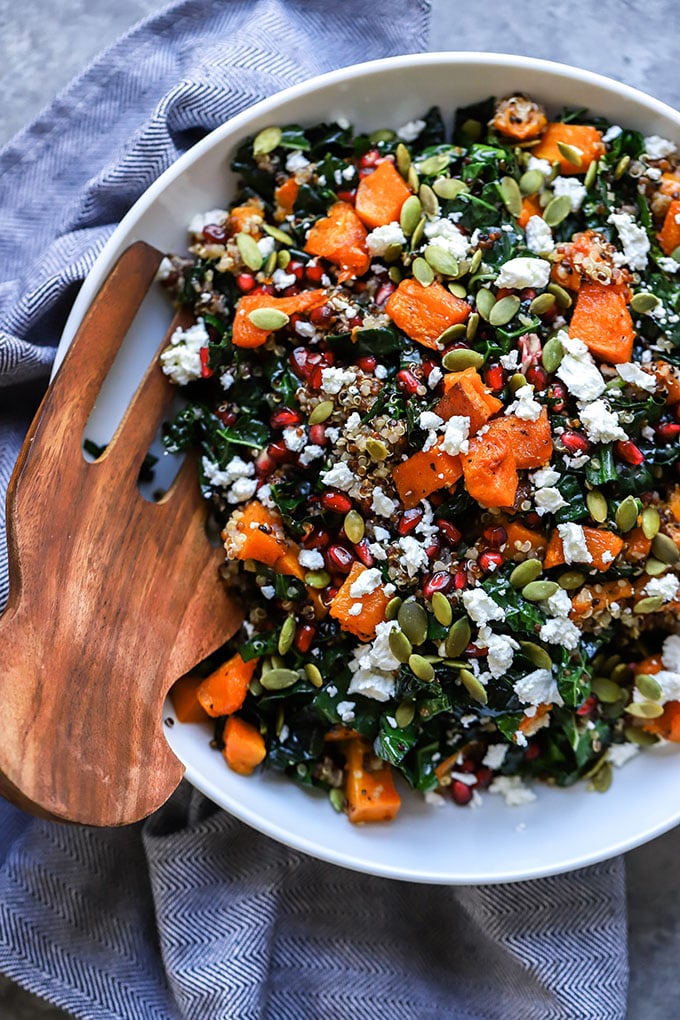 In case you are still looking for any last minute dishes for Thanksgiving, this delicious winter kale salad would be a perfect healthy side dish! Since Will and I are both dietitians, we often feel obligated to bring the "healthy" dish to any parties or potlucks. A kale salad like this one is totally a cliche thing for a dietitian to bring to dinner, but I promise this winter kale salad is delicious! Plus, it doesn't hurt to have something a little healthier on the table right?
If you want to get started on this salad a little early, you can roast the butternut squash and make the quinoa ahead of time. When you are ready to assemble your salad, you can reheat them a bit (which I recommend) or add them in cold. If you are like me and love the crispier butternut squash pieces, I found that reheating the butternut squash in a toaster oven helps it crisp up again as if you had just pulled it out of oven the first time. Yum!!!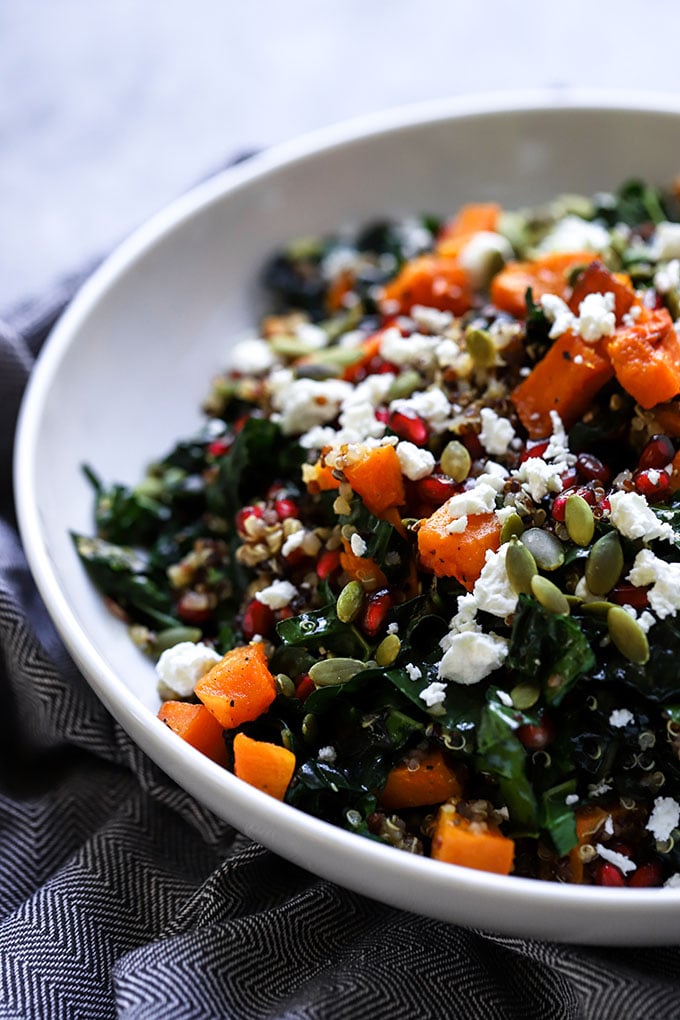 Winter Kale Salad Preparation Tips
After making my fair share of not so tasty kale salads, there are a few secrets I've learned to make them taste so much better. In fact, I find that I often crave more kale salads than spring mix salads in the colder winter months. I prefer to use lacinato (dinosaur) kale in my salads because I feel it gets much softer with the right treatment with the tips below. Plus, it is much prettier than the curly kale variety in salads! Here are my tips:
Give your kale a massage. It makes a big difference! Massaging your kale in a bit of olive oil or lemon juice and a sprinkle of salt helps break down the cell walls in the kale leaves so the leaves are much softer. A little olive oil/lemon juice seems to go a long way, usually I only need about 1 teaspoon oil for a bunch of kale. After massaging, let it sit for 5 minutes to allow it to soften a bit more.
Chop it up. First, make sure you remove the tough inner stems of the kale – you definitely don't want to include those in your salad! Next, cut your kale into thin 1/3 inch strips. This makes it so much easier to eat and it will get much softer when you massage it.
Pair it with citrus. Kale can be a little on the bitter side so I find it is important to use some citrus juice either when I massage the kale leaves for a salad or in the dressing. I think the flavor of the citrus balances out some of that bitter flavor. Plus, the acid in the citrus also helps break down the cell walls in the kale, making it easier to chew. Creamy dressings also work well for balancing out the bitter flavor of kale. (This kale salad with yogurt citrus dressing is the best of both worlds – citrus-y and creamy!)
Add warm toppings. Just like oil and acid help soften the kale leaves, so will adding warm toppings which will slightly cook the leaves. For this salad, feel free to add the quinoa and roasted butternut when it is still a little warm. Speaking of toppings, balance out the bitter kale and acidic vinaigrette with something creamy like goat cheese and you've got a winning salad.
More Tasty Salad Recipes: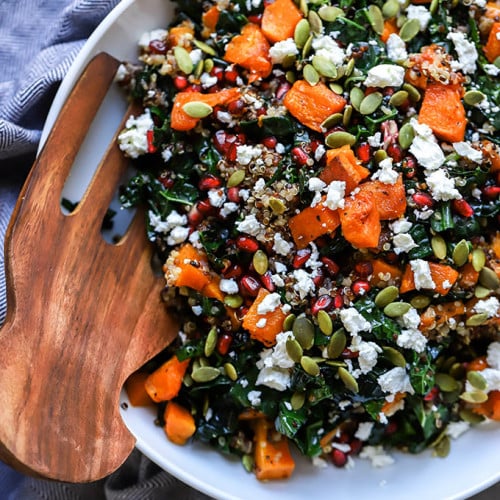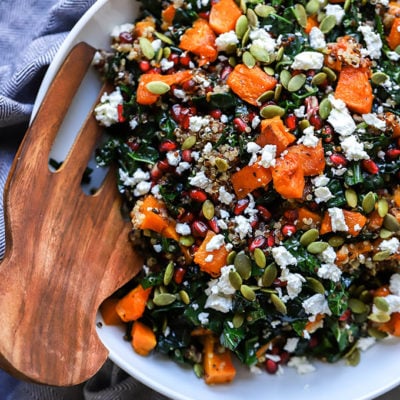 Winter Kale Salad
This winter kale salad is the perfect healthy addition to your holiday gatherings! Made with roasted butternut squash, pomegranate, and goat cheese.
Ingredients
Instructions
For the Squash
Preheat oven to 375 degrees Fahrenheit.

Peel and chop butternut squash into 1/2 inch pieces. Add to a baking sheet and drizzle with olive oil, salt, and black pepper. Toss to coat and bake fro 40-45 minutes or until soft with browned edges. Remove from the oven and set aside.
For the Quinoa
To make the quinoa, rinse quinoa well in a fine strainer. Add rinsed quinoa to a small saucepan and pour in broth. Bring a simmer and then cover. Cook for 20 minutes or until broth is absorbed and quinoa is soft. Turn off heat and set aside.
For the Dressing
Make the vinaigrette by adding all the ingredients to a jar and shaking until well mixed.
Salad Assembly
Remove stems from kale leaves and thinly slice. Add to a large salad bowl and drizzle with olive oil, lemon juice and a sprinkle of salt. Massage until leaves start to soften.

Stir in butternut squash, cooked quinoa, pomegranate, pumpkin seeds, and dressing. Toss to coat.

Top salad with goat cheese.
Nutrition
Serving: 1/5 salad | Calories: 435kcal | Carbohydrates: 46g | Protein: 10g | Fat: 26g | Saturated Fat: 4.5g | Polyunsaturated Fat: 21.5g | Cholesterol: 5mg | Sodium: 360mg | Fiber: 8.5g | Sugar: 13.5g
SaveSave
Reader Interactions