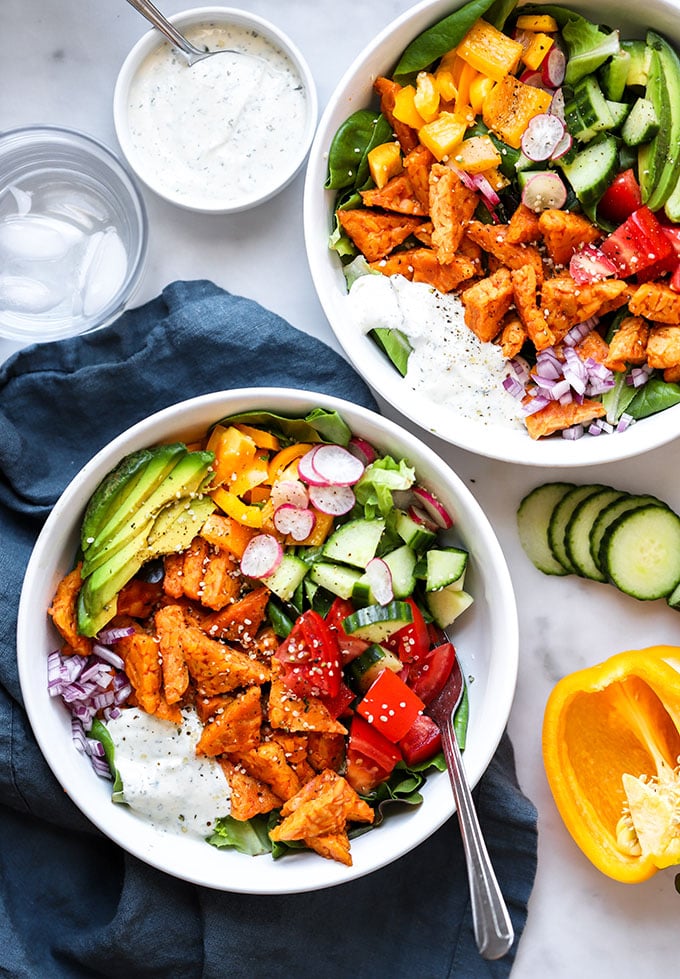 These buffalo tempeh salads have quickly become a weekly dinner option for Will and I since summer started. Some days you just really can't bring yourself to turn on the oven so these tempeh salads are the perfection solution. Until recently, I didn't know just how easy it is to make your own buffalo sauce at home. It's literally just 2 ingredients so I debated whether I should even post this "recipe" since it is so simple! You also have to serve it with some ranch dressing since buffalo and ranch are a perfect match. I have yet to come up with a recipe for a vegan ranch that I like so I would just use your favorite store-bought vegan ranch. The rest of the salad add-ins are totally up to you! These days, we are usually adding whatever market vegetables we need to use up.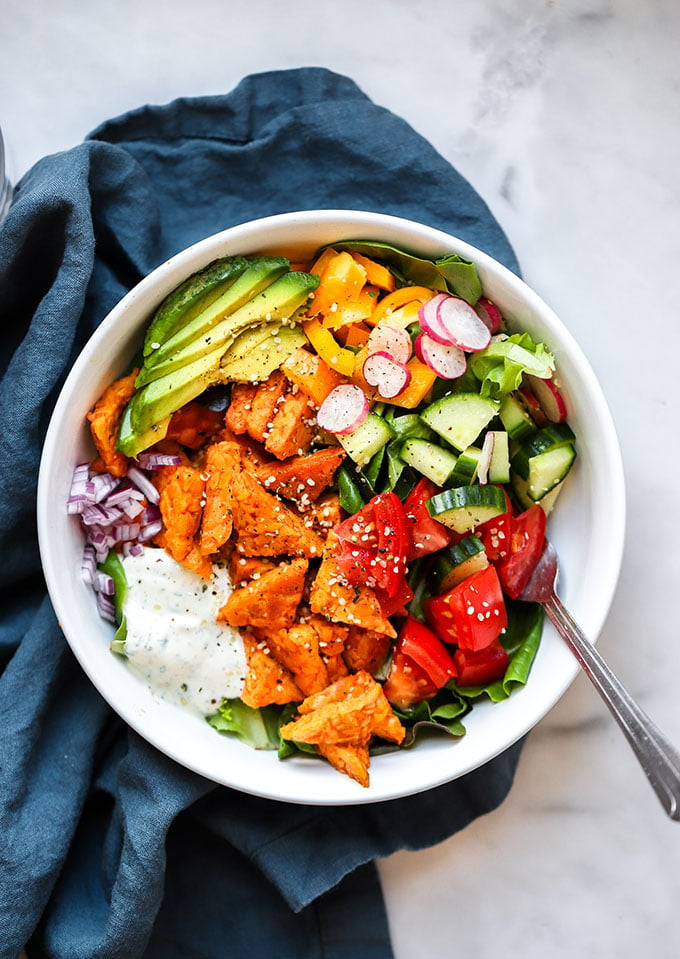 When I posted the photo of this salad on instagram, a lot of people mentioned that they had never used buffalo sauce on tempeh before and I was like "OMG – you have to try it!". Tempeh is seriously like a sponge and just soaks up all that buffalo sauce. I think it would be a great way to introduce a newbie to tempeh since buffalo sauce is such a familiar ingredient and it pairs so well with the mild flavor of tempeh!
More Delicious Salad Recipes to Try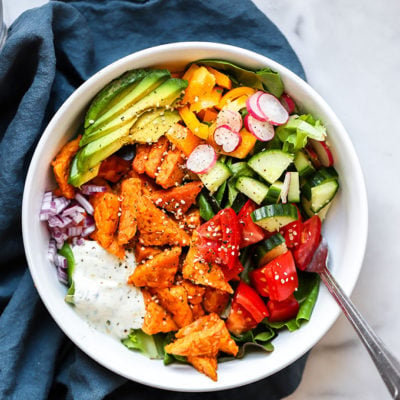 Buffalo Tempeh Salads
These filling buffalo tempeh salads are a perfect meal for hot summer nights when you don't want to cook but still want to eat healthy.
Ingredients
For the Tempeh: 1/4 cup hot sauce
1/4 cup vegan butter
2 tablespoons canola oil
8 oz. tempeh
For the Salads: Store-bought vegan ranch dressing salad greens, cucumber, bell pepper, tomato, avocado, purple onion, radish
Instructions
Add the hot sauce and butter to a small saucepan. Cook over low heat until butter is melted. Stir well to combine. Set aside. 

Cut the tempeh into 1" squares and then in half into a triangle shape. Carefully, half each piece again to create a 1/3" triangle piece. 

In a non-stick skillet, add oil and sauté tempeh until lightly browned, about 3-4 minutes on each side. Turn off heat and pour on buffalo sauce. Toss to coat. 

Assemble salads. Divide tempeh evenly between 2 salads. 
Notes
**Nutrition facts below are for the tempeh only.** Nutrient composition of the entire salad will differ based on which vegetables and dressing you use. 
Nutrition
Serving: 1/2 recipe | Calories: 423kcal | Carbohydrates: 12.5g | Protein: 22g | Fat: 35g | Saturated Fat: 30g | Polyunsaturated Fat: 5g | Sodium: 422mg | Fiber: 8g | Sugar: 1g
SaveSave
SaveSave
SaveSave
SaveSave
SaveSave
SaveSave
Reader Interactions