This pretty strawberry avocado salad just screams "spring"!!! The fresh strawberries at the grocery store over the weekend were calling my name. As the seasons change, I try incorporating new things into my salad for lunch at work so that it never gets boring. For example, this strawberry avocado and spinach salad is my new salad crush for spring.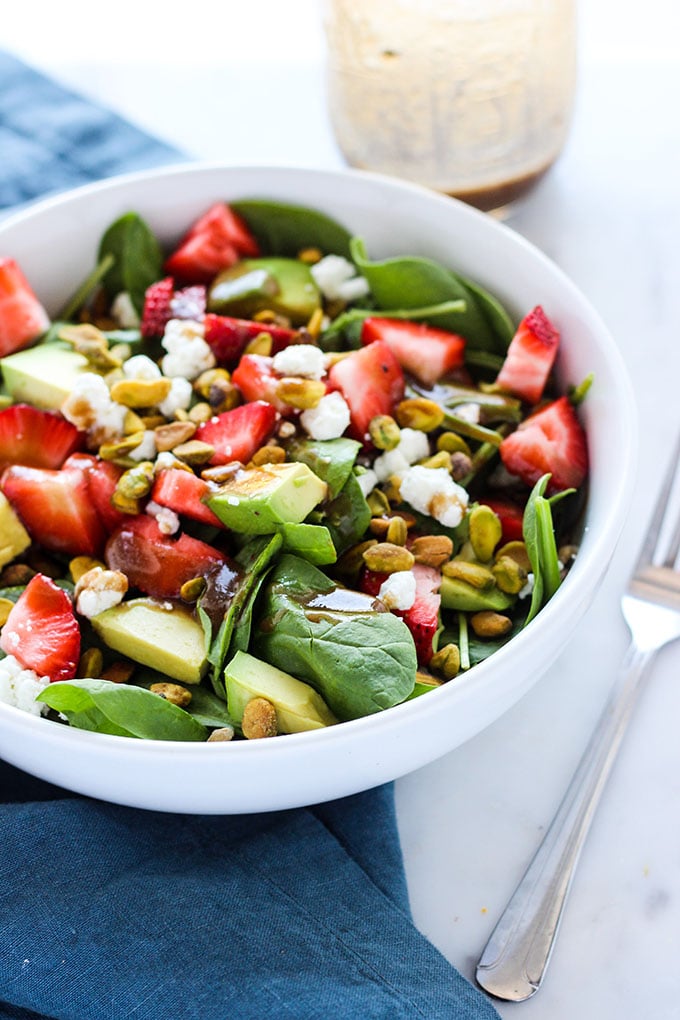 In the bowl above you have a medley of spinach, avocado, sweet strawberries, crumbled goat cheese, pistachios and a simple balsamic vinaigrette. I also added some farro to bulk up this salad so it feels more like a meal. Farro is an ancient grain that is very similar to barley. You can find it in the bulk bin section of most stores or purchase it online from a brand like Bob's Red Mill. You can easily use barley, buckwheat, or quinoa in its place if you aren't feeling adventurous. When packing this salad up for lunch the next day, I would wait to add the dressing until you are ready to eat so that nothing gets soggy.
More Delicious Recipes
Strawberry Avocado and Farro Salad
Brighten up your desk lunch by packing this strawberry avocado and farro salad for a change. It's full of antioxidants and fiber to help you get your spring glow.
Ingredients
1/2 cup uncooked farro
5 cups fresh spinach leaves
5-6 large fresh strawberries chopped
1/2 avocado chopped
1/3 cup unsalted shelled pistachios
2 ounces crumbled goat cheese
For the dressing:
4 tablespoons olive oil
2 tablespoons balsamic vinegar
1 teaspoon Dijon mustard
1 teaspoon maple syrup
Dash of sea salt and ground black pepper
Instructions
Place farro in a small saucepan and cover with 1" of water. Bring to a boil on the stove and then cover and lower heat. Gently simmer for 30 minutes or until tender. Drain water and set aside.

Toss all of your salad ingredients (spinach through goat cheese) together in a large bowl.

Combine all of the salad ingredients together in a jar and twist on the lid. Shake vigorously to combine.

Toss cooled farro in the salad bowl with the rest of the salad ingredients. Divide evenly between 2-4 bowls. Drizzle with dressing and serve.
Notes
Recipe makes enough salad for 4 side salad servings or 2 entree size servings.
Nutrition
Serving: 1/4 recipe | Calories: 350kcal | Carbohydrates: 26g | Protein: 9.5g | Fat: 24.5g | Saturated Fat: 5g | Polyunsaturated Fat: 19.5g | Cholesterol: 6.5mg | Sodium: 144mg | Fiber: 5.5g | Sugar: 5g
Reader Interactions