This vegan and gluten free chickpea taco salad is super simple to whip up! Canned chickpeas are tossed with spices and salsa in a skillet and then added to salad greens with a fresh chopped veggies and roasted sweet potato.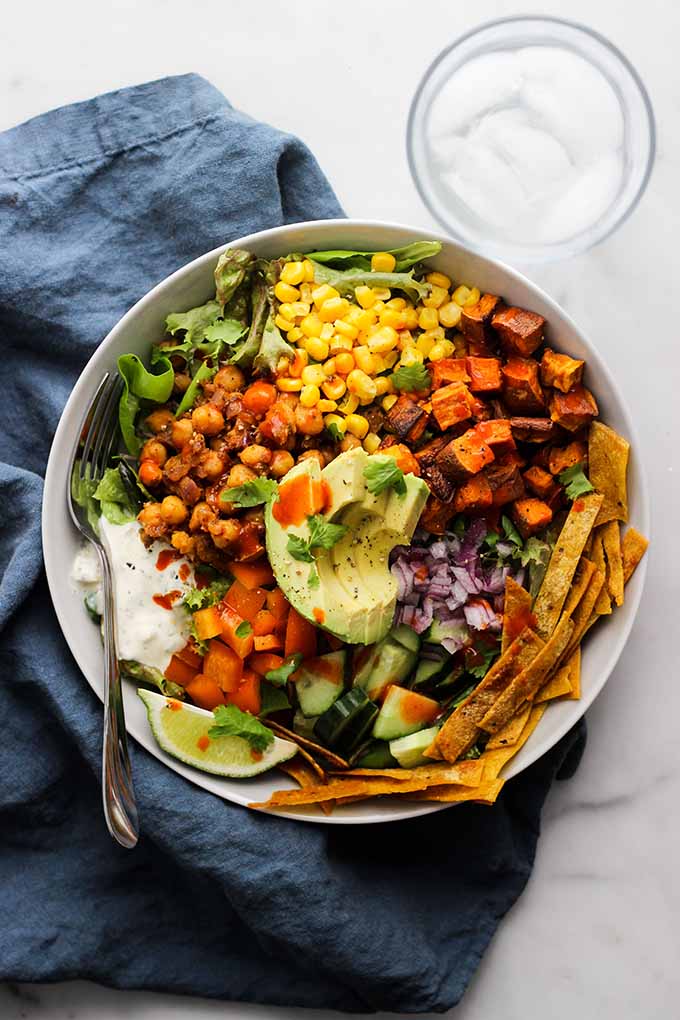 Pssst…. Salad doesn't have to be boring! This easy chickpea taco salad is a perfect example of how you can make a filling salad at home that also tastes delicious.
I love salads that are overloaded with tasty toppings like this chickpea taco salad! We still had some chickpeas leftover in the freezer from the batch we cooked up last week so I seasoned them up with onion, cumin, salsa, garlic, and oregano and tossed them onto some salad greens. I'm sharing the recipe for the chickpeas here, but the rest of the salad is up to you!
Taco Salad Topping Suggestions
Seriously, you can use whatever veggies you have on hand to toss on there. I included red onion, orange bell pepper, cucumber, roasted sweet potatoes, corn, avocado, and corn tortilla strips. Serve with your favorite ranch dressing, a drizzle of hot sauce, squeeze of lime, and some chopped cilantro.
A Couple Tips to Speed Up Prep Time
Recipes like this chickpea taco salad are great for weeknights when you don't want to do a lot of cooking. You could even chop up your ingredients on the weekend to make prep even faster. I usually roast a couple of sweet potatoes in the oven on Sunday so I have them on hand to add into tasty salads like this one throughout the week.
Looking for more salad recipes? Check out these!
Chickpea Taco Salad
This chickpea taco salad is super simple to whip up and can be easily adapted to ingredients you already have on hand.
Ingredients
For the Chickpeas:
For the Salad:
5 oz. package spring greens
Corn
Avocado
Dressing Here's my favorite ranch recipe
Tortilla chips
Red Onion
Chopped Cilantro
Hot Sauce I used Cholula brand
Cucumber
Chopped tomatoes
Chopped bell pepper
Roasted sweet potatoes
Instructions
Heat olive oil in a non-stick skillet for 1 minute. Add the onion and saute for 3-4 minutes or until softened. Add the chickpeas, garlic, cumin, oregano, cayenne, and salsa. Saute until liuqid from salsa has cooked off and thickened, about 5-7 minutes. Season with salt and black pepper to taste.

Assemble salads according to ingredients you have on hand. Chickpeas make 3 servings.
Notes
Nutrition information is for the chickpeas as the total nutrient content of the salad will vary based on how you decide to build your salad.
Nutrition
Serving: 1/3 recipe | Calories: 200kcal | Carbohydrates: 26g | Protein: 8g | Fat: 8g | Saturated Fat: 1g | Polyunsaturated Fat: 7g | Sodium: 575mg | Fiber: 8.5g | Sugar: 2g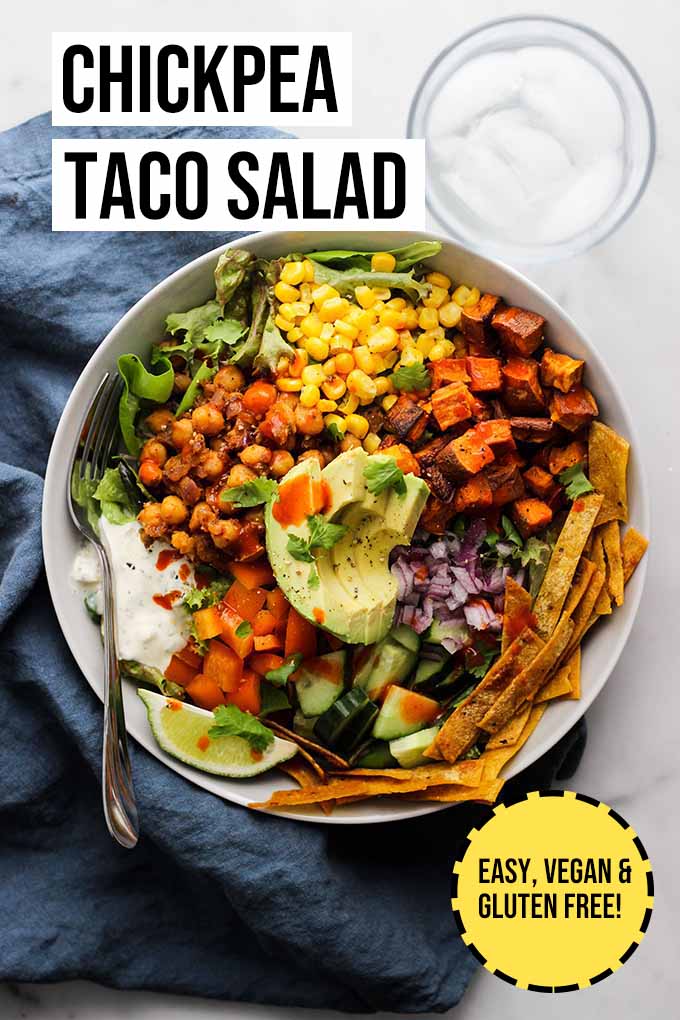 Reader Interactions