Savor the flavors of summer with this vegan strawberry spinach salad topped with lemon poppyseed dressing and coconut bacon. You'll want to make it on repeat all summer!
This right here is the quintessential salad of spring/summer! As soon as strawberries made their appearance at the farmer's market, we've been buying at least 2 quarts a week. Strawberry season feels so short, I have to make the most of it! This strawberry spinach salad with lemon poppyseed dressing is one tasty way to enjoy that weekly strawberry haul.
Tips for Making this Salad
Even though washing spinach doesn't take long, I like to save myself a step and just buy the packaged pre-washed spinach leaves from the store. Baby spinach is my favorite to use for this salad since leaves are smaller and more tender.
You'll want to use an avocado that is still just a little bit firm so that it holds together better in the salad when sliced.
Add the dressing right before serving! Once the dressing is added, the spinach starts to wilt over time, so it is best to add the dressing right before you eat.
You'll have leftover coconut bacon, but have no fear, I have a couple of other recipes linked below that will help you use it up!
Feel free to mix up the nuts. I love tossing almonds on salads but you could also use pistachios, pepitas, or walnuts if you prefer.
Don't have any strawberries? Use another fresh fruit you love like blueberries, peaches, plums, pear, apple, etc.
Here's what you'll need to make this strawberry spinach salad
For the salad, you'll need spinach, avocado, red onion, strawberries, and almonds. The lemon poppyseed dressing comes together quick with just some lemon, olive oil, poppyseed, Dijon mustard, maple syrup, salt, and pepper. I love the lemony punch from the lemon zest in this dressing. I like to use a microplane (affiliate link) grater like this one to zest the lemon. Make sure to try and remove only the yellow part of the lemon peel where all the flavor is and avoid grating down to the white part which is bitter.
How to serve this salad
Since this salad doesn't have much protein on it's own, you'll want to serve it alongside a protein and some carbs to make it a meal. Since it's the start of summer, we've been firing up the grill so I will sometimes have this alongside of a veggie burger or veggie sausage and roasted potato.
Looking for more tasty recipes? Check out these! (Pssst – they all use coconut bacon so you can use up the leftover from this recipe.)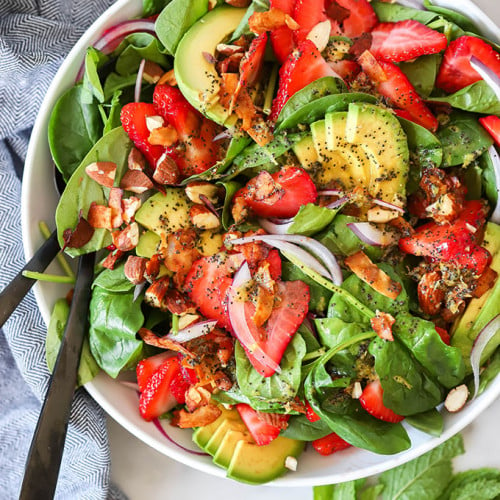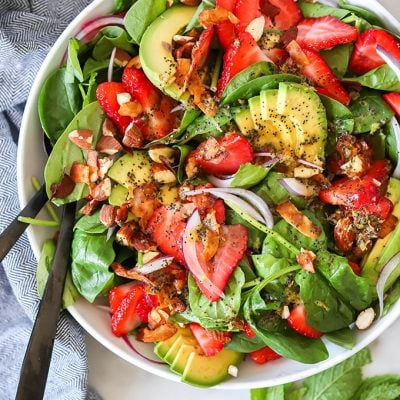 Strawberry Spinach Salad with Lemon Poppyseed Dressing
Savor the flavors of summer with this vegan strawberry spinach salad with lemon poppyseed dressing and coconut bacon. You'll want to make it on repeat all summer!
Ingredients
Coconut Bacon: 
1 1/2 cups unsweetened coconut chips
2 tablespoons soy sauce
1 teaspoon maple syrup
1/2 teaspoon smoked paprika
1 tablespoon liquid smoke
1/4 teaspoon ground black pepper
Lemon Poppyseed Dressing:
1/4 cup olive oil
2 tablespoons lemon juice
Zest from 1 lemon
1 teaspoon maple syrup
1/2 teaspoon Dijon mustard
1 teaspoon poppyseeds
1/4 teaspoon sea salt
1/4 teaspoon ground black pepper
Salad:
8 cups fresh spinach
2 cups sliced strawberries
1 avocado thinly sliced
1/3 cup chopped almonds
1/3 cup thinly sliced red onion
1/3 cup coconut bacon
Instructions
To Make the Coconut Bacon: 
Preheat the oven to 350 degrees. Line a baking sheet with parchment paper. 

In a large bowl, addd all the coconut bacon ingredients and toss with a wooden spoon to evenly coat the coconut chips in marinade. Spread in a single layer on the baking sheet linked with parchment paper. Bake for 12-14 minutes, tossing halfway through, until golden brown. (Watch closely the last few minutes so that it doesn't burn!) Remove from the oven and set aside to cool.
For the Dressing: 
Add all of the dressing ingredients to a jar. Screw lid onto jar tightly and shake vigorously to mix. 
For the Salad: 
Add spinach, strawberries, almonds, onion, and bacon to a large salad bowl. Drizzle with dressing and toss to coat. Serve immediately.
Notes
This salad makes 3 large meal sized salads or 4 smaller side salads. 
Nutrition
Serving: 1/4 recipe | Calories: 290kcal | Carbohydrates: 18g | Protein: 4g | Fat: 25g | Saturated Fat: 6g | Polyunsaturated Fat: 19g | Sodium: 205mg | Fiber: 6.5g | Sugar: 5.5g
Reader Interactions