Trade in your traditional greens based salad for this hearty vegetarian roasted cauliflower, feta, and lentil salad with a simple lemon vinaigrette. This salad is hearty enough for a packable lunch for work or a flavorful side dish.
Winter is here and it is time to switch up your salad game. Trust me, I love a good lettuce-based salad but these days I am craving something heartier. This roasted cauliflower, feta, and lentil salad is just the thing!
Tips for Making this Roasted Cauliflower, Feta, and Lentil Salad
Although it may look fancy, this salad isn't really that complicated to make! Here are a few of my tips for making sure your salad tastes great.
Don't overcook your lentils. Once your lentils are simmering, don't just set a timer for 20 minutes and forget about them! I start tasting a couple lentils at the 12 and 15 minute mark to see if they are getting soft. Since you want your lentils to hold together in the salad, it is best to err on the side of a little less cooked. Also, don't just cook your lentils until the liquid is cooked off! They could be too soft at that point. If your lentils are done, simply drain off any extra broth before using them in this salad.
The dressing calls for shallot. What are shallots? Shallots belong in the same plant family as onions but have a milder flavor than regular white or red onions with a hint of garlic flavor. I like using shallot vs raw garlic/onion in salad dressings because it adds great flavor but isn't as overpowering. Shallots grow in clusters like garlic, but are the size of a small red onion. You can usually find them in the produce aisle at most grocery stores. In a pinch, just substitute the same amount of finely chopped red onion for the dressing in this salad
Why is This Salad Good For You?
Cauliflower: Even though cauliflower isn't as colorful as other fruits and vegetables doesn't mean it isn't as nutrient dense! Cauliflower is a good source of vitamin C, folate, vitamin K, and vitamin B6. Also, like other cruciferous vegetables it is high glucosinolates which are sulfur containing compounds that provide health benefits. For example, higher intakes of cruciferous vegetables have been linked to lower risk of many cancers and researchers suspect it may be partly due to the antioxidant properties of the glucosinolates.
Lentils: Lentils are a great source of plant-based protein. In fact, one cup of cooked lentils provides 14 grams of protein. Legumes are also a great source of fiber with about 16 grams per 1 cup serving. In addition to fiber and protein, lentils are also a great source of iron, vitamin B6 and magnesium. Many Americans don't get enough magnesium in their diet which is important to note since magnesium deficiency has been associated with cardiovascular disease, osteoporosis, hypertension, and diabetes. Regularly incorporating foods that are high in magnesium in your diet like lentils will help you meet the recommended intake for magnesium.
Pomegranate: Pomegranate is high in anthocyanins, the type of antioxidants found in red fruits and vegetables. Eating a diet high in antioxidant rich foods may help protect brain cells from damage as you age. A 1/2 cup serving of pomegranate arils has 72 calories, 3.5 grams of fiber, and 1 gram of protein.
Almonds: Almonds are a good source of fiber, vitamin E, calcium, phosphorus, and magnesium. Even though almonds are calorie-dense, research has not associated increased almond/nut intake with weight gain. Regular consumption of almonds is also associated with decreased risk of heart disease thanks in part to the plant sterols found in almonds.
Is Cauliflower Low Carb?
Yep! A 1 cup serving of cauliflower has only 5 grams of carbohydrates and 2 grams of fiber. For those looking to lower their carbohydrate intake, using cauliflower in place of higher carb foods like rice or pasta is a great strategy. Will and I make cauliflower "rice" often and incorporate that in recipes for regular rice. These are some of my favorites –> cauliflower fried rice with tofu and spicy tempeh stuffed peppers.
This recipe is…
Vegetarian, gluten free, vegan (if you leave off the feta).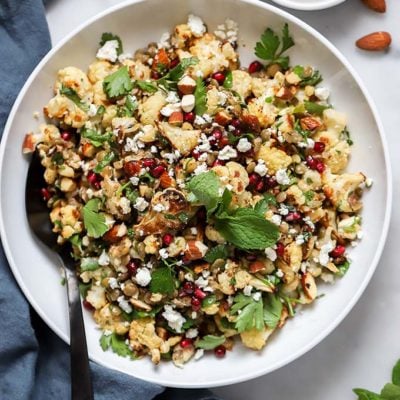 Roasted Cauliflower, Feta, and Lentil Salad
Trade in your traditional greens based salad for this hearty roasted cauliflower, feta, and lentil salad with a simple lemon vinaigrette. 
Ingredients
For the Salad: 
1 head cauliflower ~40 oz
2 tablespoons olive oil
1/2 cup dried brown lentils
1 1/4 cup vegetable broth
1/2 cup chopped roasted unsalted almonds
1/4 cup chopped fresh mint
1/3 cup chopped fresh parsley
1/3 cup pomegranate seeds
1/3 cup crumbled feta
Dressing:
1/4 cup olive oil
2 tablespoons lemon juice
1 teaspoon lemon zest
1 teaspoon Dijon mustard
1 tablespoon finely chopped shallot
1/4 teaspoon salt
1/4 teaspoon ground black pepper
Instructions
Preheat the oven to 425 degrees Fahrenheit. Line baking sheet with parchment paper. 

Chop cauliflower into 1-2" florets. Toss with olive oil in a large bowl and arrange in a single layer on baking sheet. Bake for 40-50 minutes or until cauliflower is tender and browned. Set aside.

While the cauliflower bakes, add lentils and broth to a small saucepan. Bring to a boil and then lower heat so that lentils come down to a simmer. Simmer until lentils are tender (~20 min). Drain off any broth if you have any left in the pan. Set aside. 

Make the dressing by adding all the dressing ingredients (oil to black pepper) to a jar. Screw the lid on the jar tightly and shake to mix up the dressing. 

To assemble your salad, add the cauliflower, cooked lentils, almonds, mint, parsley, pomegranate, and feta to a large bowl. Drizzle with dressing. Toss well to mix everything together. 

Serve immediately or store in the fridge for up to 3 days. Tastes great packed as a salad to take to work for lunch!
Nutrition
Serving: 1/4 recipe | Calories: 437kcal | Carbohydrates: 29g | Protein: 12.5g | Fat: 32g | Saturated Fat: 5g | Polyunsaturated Fat: 27g | Cholesterol: 8mg | Sodium: 524mg | Fiber: 7g | Sugar: 7g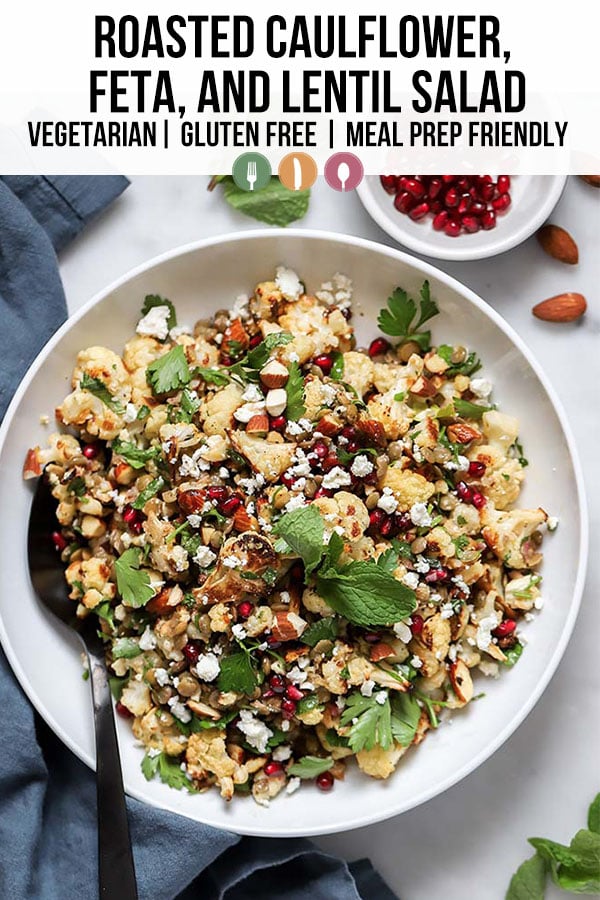 Reader Interactions