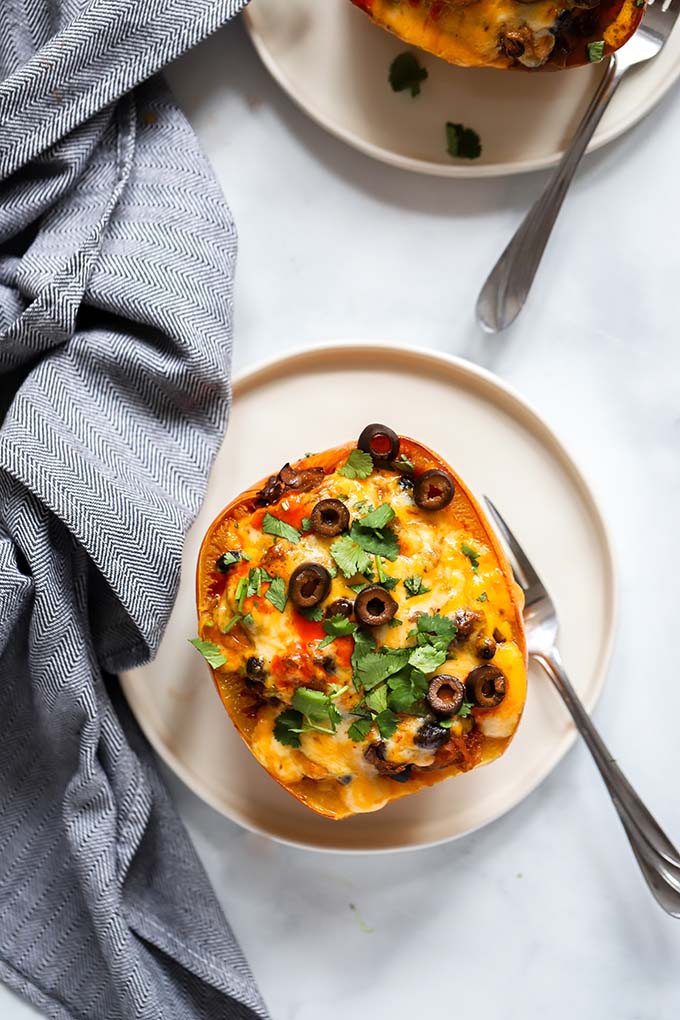 Spaghetti squash has become a staple in our house. We try to eat somewhat seasonally, so our options are quite limited in the winter in Chicago! Luckily, there are dozens of ways to creatively cook up spaghetti squash so you don't get bored. This vegetarian enchilada spaghetti squash is my personal favorite way to enjoy spaghetti squash at the moment. 🙂
How do you cook spaghetti squash?
There are many ways to cook spaghetti squash, but my favorite way is to bake them. Spaghetti squash contains a lot of moisture so roasting it like this helps cook off some of that extra water. Cut your spaghetti squash in half lengthwise. Scoop out the seeds with a spoon and discard OR save them to roast later for a healthy snack. Rub the insides of the cut squash with some olive oil and then place them cut-side down on a baking sheet lined with parchment paper. The squash normally takes about 45-60 minutes in a 350 degree Fahrenheit oven. You'll know it is done when you can easily pierce the outer skin with a fork. Use the same fork to scrape out the strands on the inside of the squash for this recipe.
Is spaghetti squash good for you?
Yes! Incorporating more vegetables like spaghetti squash into your diet is going to be good for you. Spaghetti squash is lower in calories and carbohydrates than most other winter squash (like butternut squash). It also has little to no flavor so it is easy to incorporate into a variety of recipes. A 1 cup serving of spaghetti has 221 calories, 43 grams of carbohydrates, and 2.5 grams of fiber compared to 1 cup of spaghetti squash which has only 49 calories, 10 grams of carbohydrates, and 2 grams of fiber.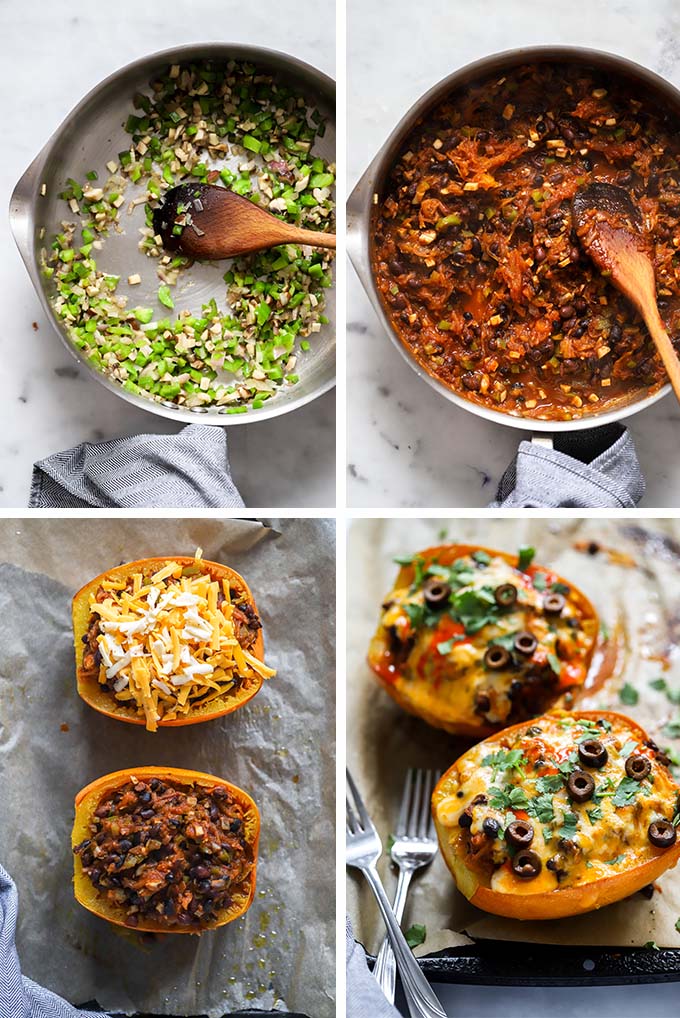 Tips for Making this Vegetarian Enchilada Spaghetti Squash
We have made this vegetarian enchilada squash a few times because it is relatively simple to make and so delicious!
You'll start by roasting your spaghetti squash in the oven. I know that cutting the raw spaghetti squash in half is tough work so I have a tip or you! A fellow dietitian found that if you score the squash where you want to cut it and then microwave it for 5 minutes, it is so much easier to cut! Here is the link to her full tutorial. It really works!
There are a million ways to cook spaghetti squash online, but my favorite way is to roast it cut side down in the oven until fork tender.
When scraping out the "spaghetti" from the inside of the squash, make sure you don't pierce through the skin as you'll be adding the filling back into the shell of the squash to serve this dish. (Don't you love how spaghetti squash makes its own little bowl for serving!)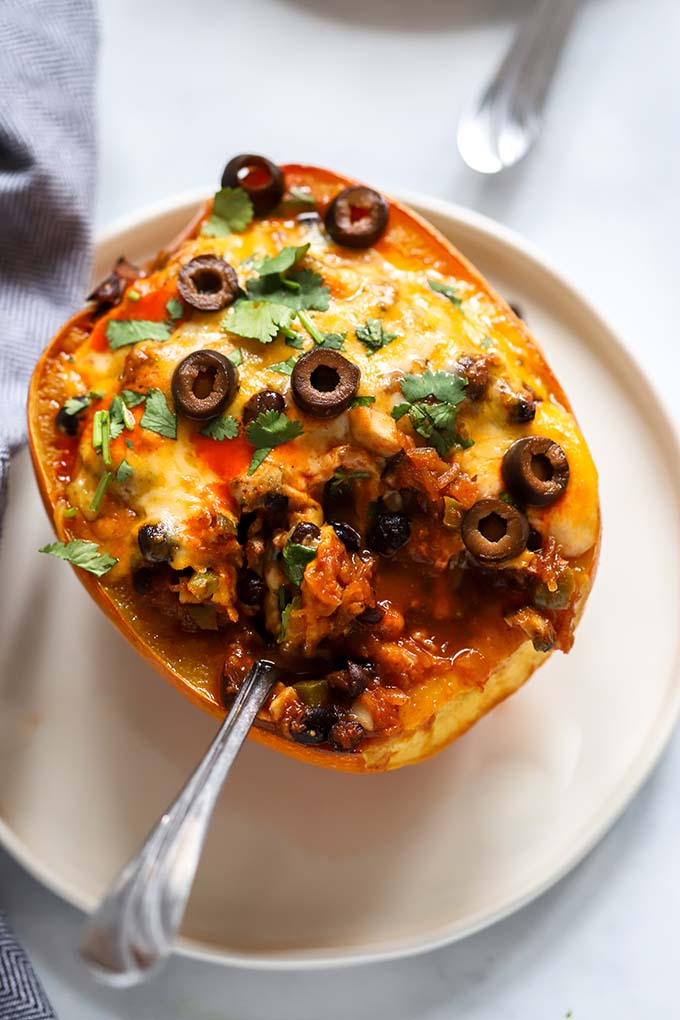 Looking for more tex-mex recipes? Check out these!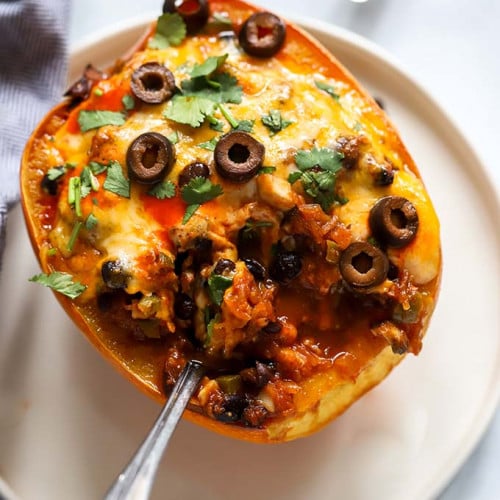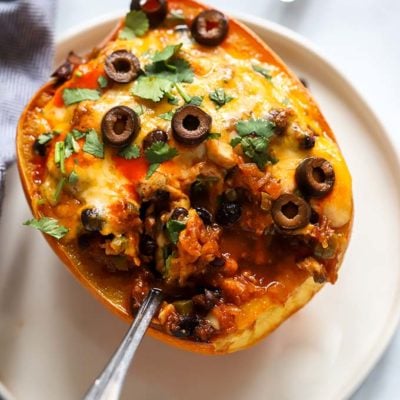 Vegetarian Enchilada Spaghetti Squash
This vegetarian enchilada spaghetti squash is simple to throw together but looks like you spend all day cooking! Vegetarian, gluten free
Ingredients
1 medium spaghetti squash ~40 oz
2 tablespoons olive oil
1/2 red onion chopped (~3/4 c. chopped)
1 green bell pepper chopped
1 cup chopped mushrooms
1 teaspoon cumin
Dash of cayenne
2 cloves garlic minced
1 15 oz can black beans, drained and rinsed
1 10 oz jar enchilada sauce
2 tablespoons hot sauce skip if your enchilada sauce is spicy
1 cup shredded cheese I used cheddar and pepper jack
To serve: sliced black olives chopped cilantro, sour cream, hot sauce
Instructions
Preheat the oven to 350 degrees Fahrenheit. Line a baking sheet with parchment paper.

Cut spaghetti squash in half lengthwise and scoop out seeds. Rub cut side with olive oil and place cut side down on baking sheet. Bake for 40-45 minutes or until fork tender. 

Meanwhile, add oil to a large, deep skillet over medium-high heat. Sauce the onion, green pepper, and mushrooms until tender, about 5 minutes. 

Stir in the cumin, cayenne, and garlic. Cook another 1 minute.

Stir in the black beans, enchilada sauce, hot sauce. Cook another 1-2 minutes to heat everything up. 

Scrape insides out of the cooked spaghetti squash using a fork and add to the skillet with the bean mixture. Stir well to mix everything together. Turn off the heat and divide filling between the 2 squash shells. 

Top with cheese and put under the broiler on low until cheese is melted. 

Serve with desired toppings: sliced black olives, chopped cilantro, sour cream, and hot sauce. 
Nutrition
Serving: 1/4 recipe | Calories: 425kcal | Carbohydrates: 46g | Protein: 19g | Fat: 20.5g | Saturated Fat: 7.5g | Polyunsaturated Fat: 13g | Cholesterol: 29.5mg | Sodium: 559mg | Fiber: 13g | Sugar: 11.5g
Reader Interactions