This vegan baked ziti is comfort food at its best. A simple vegan ricotta and cashew cream sauce replace the cheese used in traditional baked ziti.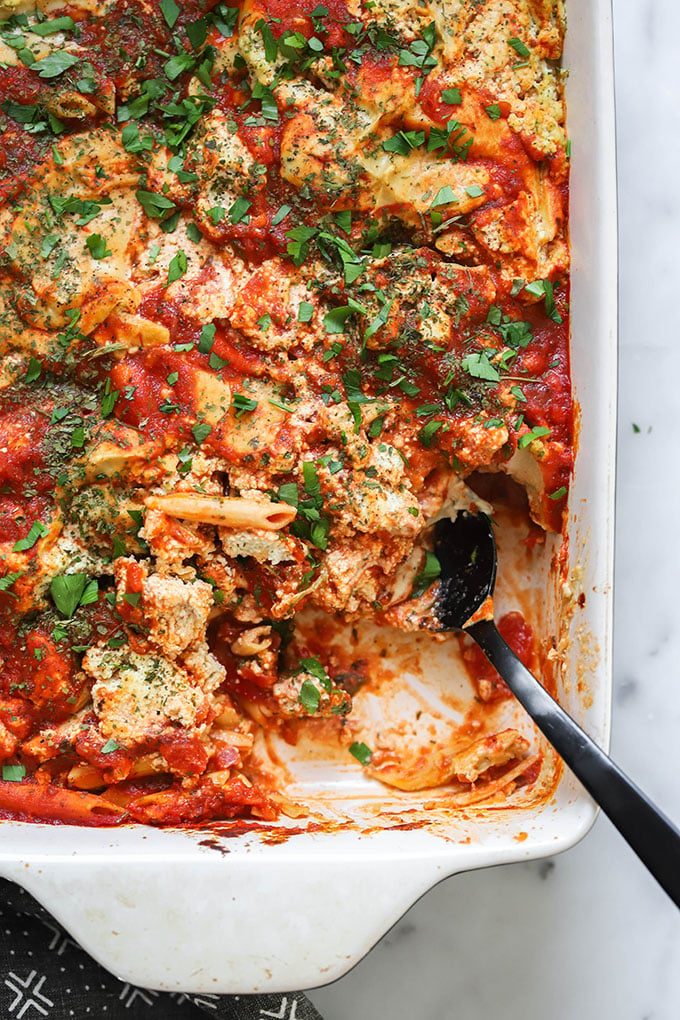 Let's talk comfort food! There is nothing better than tucking into a classic home cooked dish like a vegan spinach lasagna, vegetarian TVP stuffed peppers, or this vegan baked ziti. This is the perfect dish for serving up with a nice salad like this vegan Italian chopped salad for a hearty and filling dinner. You'll need to dirty a few dishes for this one so I don't make it every week, but if the craving hits on a Sunday I'll whip up a pan of this ziti.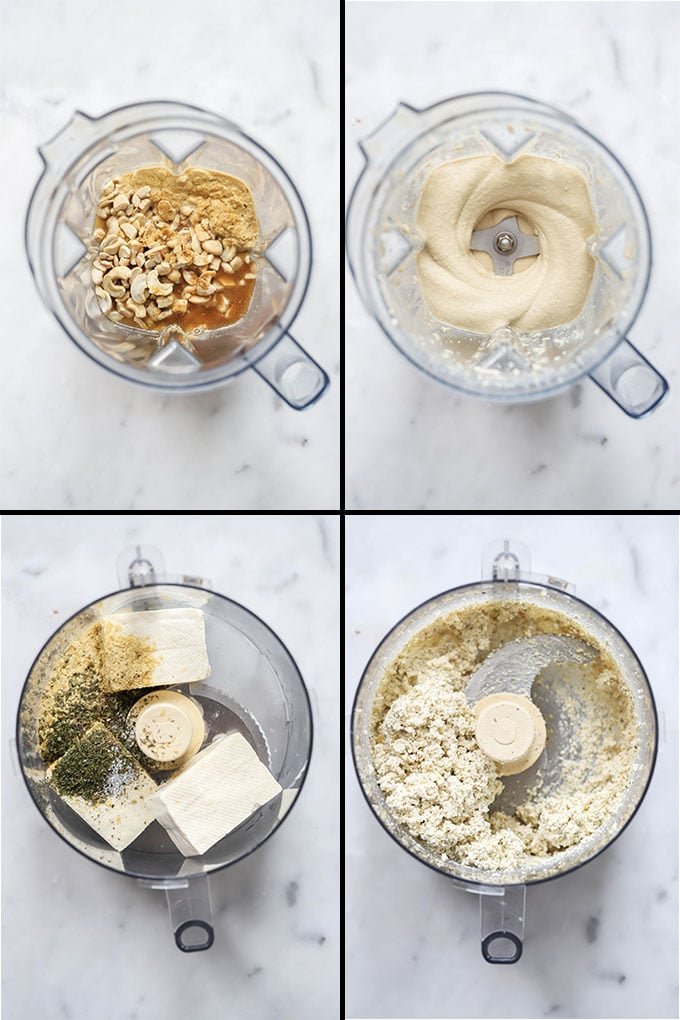 Vegan Baked Ziti Ingredients and Tips:
Pasta: Although I called this baked ziti, I actually used penne in the recipe a couple of times, either noodle works! To bump up the protein, I like using a bean/lentil based pasta like Banza. Make this gluten free by choosing a gluten free pasta.
Pasta Sauce: To make prep for this dish easier, just use your favorite storebought tomato sauce. My go-to brands for yummy tomato sauce are: Rao's and Muire Glen.
Tofu: You'll want a firm tofu for the vegan ricotta in the recipe. It's the same ricotta that I use in my vegan lasagna recipe.
Nutritional Yeast: This is the secret ingredient for getting that cheesy flavor into the ricotta and cashew cream.
Spinach: When the pasta is just about done, I toss in the spinach to cook it quickly before adding it to this baked ziti.
Spices: We're keeping it simple so you only need some Italian seasoning and dried parsley for this recipe.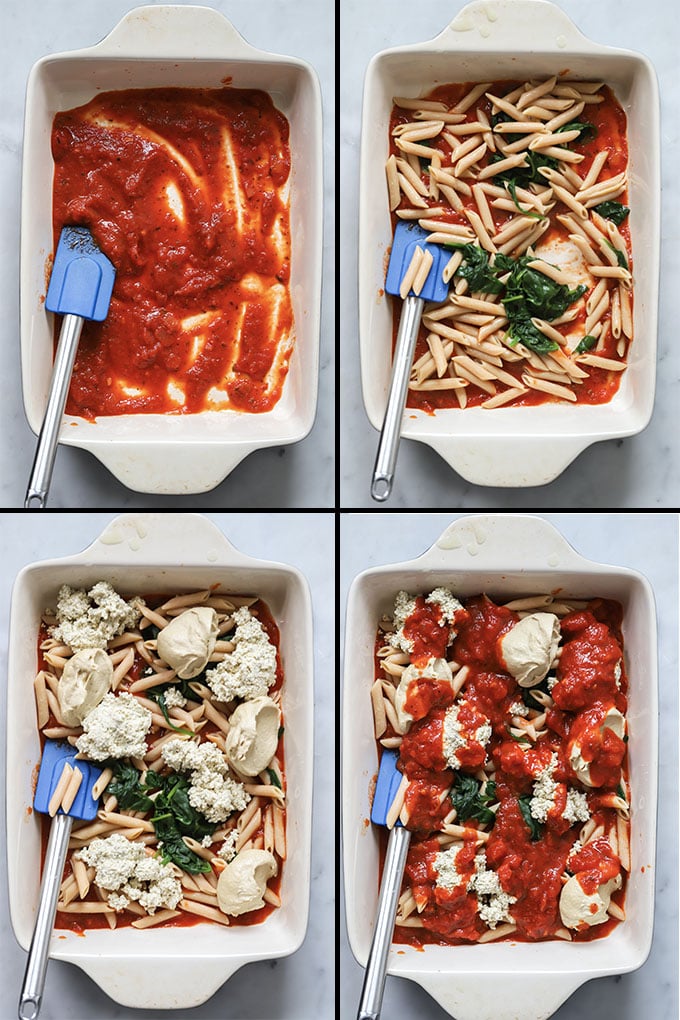 How to make Vegan Baked Ziti
Preheat the oven and bring a pot of water to boil for the pasta.
While you wait on the pasta, make the vegan ricotta by adding all the ingredients to a food processor. Pulse until your tofu takes on the consistency of ricotta.
Next, make the cashew cream in the blender. Be sure to soak the cashews in water either overnight in the fridge OR for 15 minutes in some very hot water. This helps soften them up so they puree easier. If you have a high powered blender like a Vitamix, you can skip the soaking.
To assemble, layer your baked ziti ingredients in the pan – first add some sauce, then the pasta, then dollop on the ricotta and cashew cream. Repeat until all the ingredients have been added to the pan.
Bake the ziti for 25 minutes covered with foil and then another 10-15 minutes without the foil until bubbling. Allow to cool about 10-15 minutes before serving.
More vegan comfort food recipes you'll love: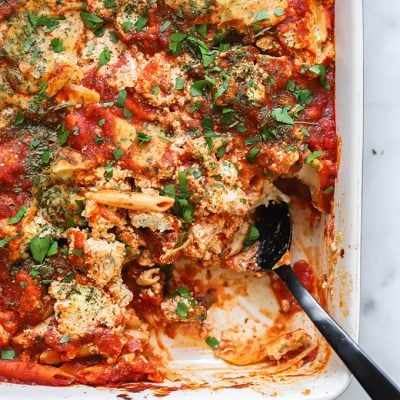 Vegan Baked Ziti
No need to load up your baked ziti with lots of cheese. This vegan baked ziti is still just as creamy thanks to tofu ricotta and cashew cream. 
Ingredients
8 oz package ziti can sub gluten-free pasta
1 25.5 oz pasta sauce
Vegan Ricotta:
14 oz package firm tofu drained
1/4 cup nutritional yeast
1 teaspoon Italian seasoning
1 teaspoon dried parsley
1/4 teaspoon sea salt
Instructions
Preheat oven to 350 degrees Fahrenheit. 

Add water to a large saucepan and bring to a boil. Add pasta and cook according to package directions, but remove from water 2-3 minutes before completely finished cooking. 

Make the vegan ricotta by adding all the ingredients (tofu, nutritional yeast, Italian seasoning, parsley, and sea salt) to a food processor and puree until it resembles ricotta. 

Make the cashew cream by pureeing all the ingredients (cashews, broth, nutritional yeast, and soy sauce)  in a blender until smooth. (Start at a low speed and gradually increase the speed for best results.)

Layer all of the ingredients into an 8"x11" baking dish. Cover with aluminum foil and bake for 30 minutes. Remove the foil and bake another 10-15 minutes or until filling is bubbling. 

Allow to cool for about 5 minutes before serving. Garnish with fresh parsley if desired. 
Notes
Pssst - this recipe is great with some easy vegan parmesan Easy Vegan Parmesan sprinkled on top when serving! 
Nutrition
Serving: 1/6 recipe | Calories: 480kcal | Carbohydrates: 49g | Protein: 26g | Fat: 21.5g | Saturated Fat: 3.5g | Polyunsaturated Fat: 18g | Sodium: 350mg | Fiber: 6g | Sugar: 8g
Reader Interactions