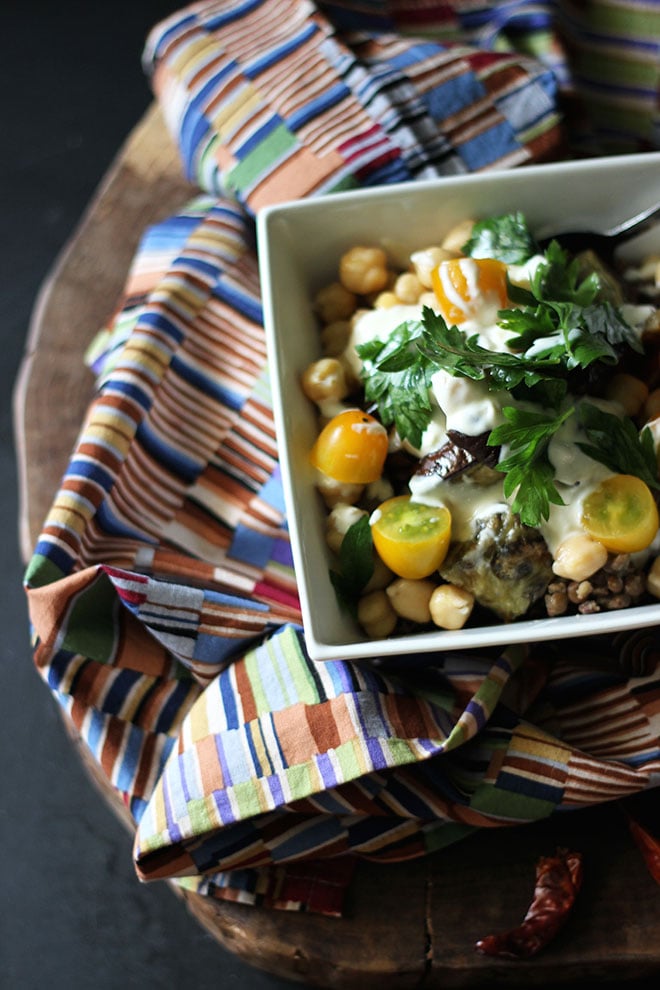 Will is the reason I like eggplants today. You see, whenever I used to try and cook them in college/grad school, they always turned out a bit bland and slightly bitter. Then Will came along and made these broiled eggplant slices in a soy ginger marinade that were amazing. Under his tutelage, I've learned a few key tips for cooking eggplant that actually tastes good!
Choose eggplants that have a smooth skin and are firm to the touch. A fresh eggplant will be less bitter and more tasty than one that has been on the shelf longer. Summer fresh eggplants from the farmers' market are always so much better than winter ones bought at the supermarket. When you buy an eggplant, use it as soon as possible after bringing it home!
Globe eggplants need salted while long, skinny Japanese eggplants can be prepped without the extra step. Before prepping a globe eggplant, toss in salt and let sit in a colander for at least 10 minutes or until you see moisture beading on the surface of the cut pieces. Rinse thoroughly and pat dry with paper towels.
Cook your eggplant thoroughly to get the best flavor. Raw or half-cooked eggplant isn't going to turn out well.
Eggplant loves olive oil so be generous! Mediterranean inspired flavors are perfect for eggplant.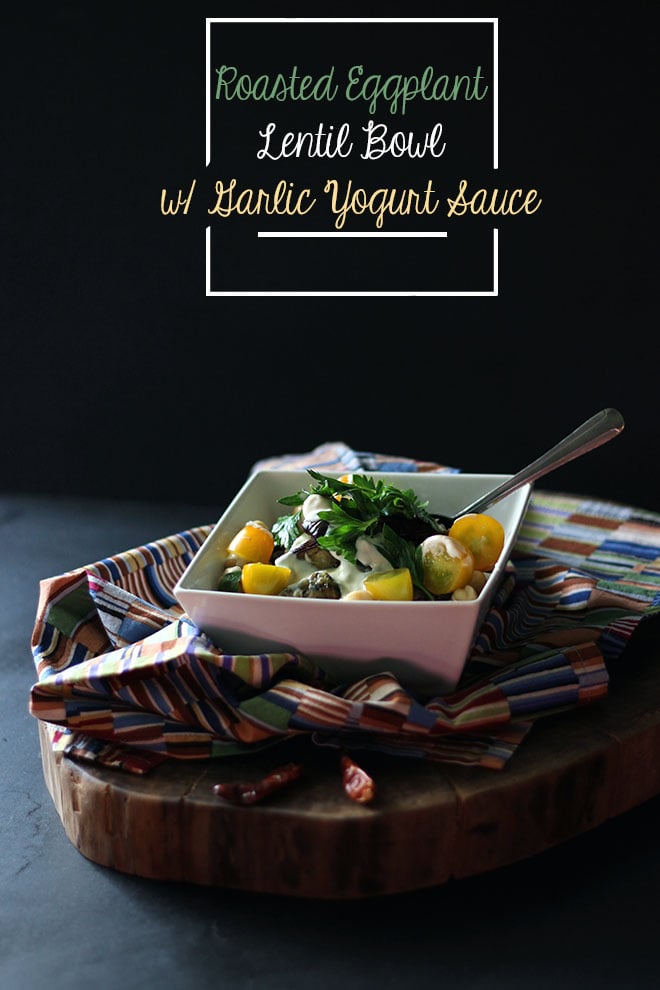 Let's talk about what's going on in this delicious bowl! Lentils packed with traditional Indian flavors make the base. On top of the lentils, pile on some tender roasted eggplant, garlic yogurt sauce, halved cherry tomatoes, and parsley. Give it a stir and you have one delectable vegetarian meal in a bowl!
More Recipes You'll Love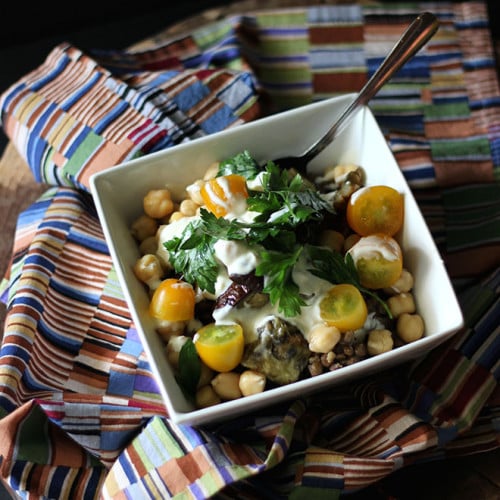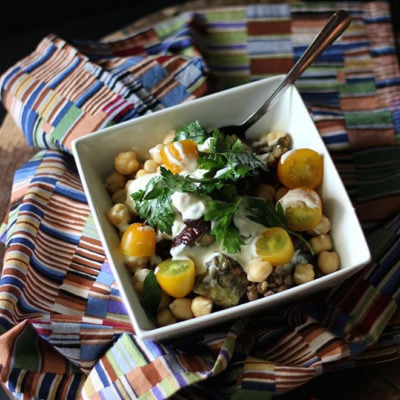 Roasted Eggplant and Lentil Bowl with Garlic Yogurt Sauce
This Mediterranean inspired dish is a wholesome, complete meal that can be served in just a bowl!
Ingredients
For the Lentils:
1 cup uncooked brown lentils washed and picked over
2 cups vegetable broth
2 tablespoons minced fresh ginger ~1″ root
2 garlic cloves minced
1/2 tablespoon cumin
2 cloves
1 teaspoon ground black pepper
2 small dried ancho peppers optional
2 tablespoons butter
For the Garlic Yogurt Dressing:
Garnish/Toppings:
1 15 oz can chickpeas, rinsed
Halved cherry tomatoes
Chopped fresh parsley
Instructions
Heat lentils, broth, and spices (ginger through peppers) in a medium saucepan over medium-high heat. Bring to a simmer and cover partially. (Tilt the lid so some steam can still escape.) Simmer for 25-30 minutes or until vegetable broth is absorbed and lentils are tender. Stir in butter until melted.

While the lentils are simmering, slice eggplant into 1/4″ slices. Layer in a colander and generously salt them. Toss to distribute the salt and set aside for 5-7 minutes. Rinse the eggplant and pat dry. Arrange eggplant slices in a single layer on a large cookie sheet (or two!). Brush both sides of the eggplant slices with olive oil and broil for 1-2 minutes. Check on the slices and turn if they are starting to lightly brown. Brush again with olive oil. Repeat until slices are tender and evenly browned. Remove from oven and sprinkle with a bit of salt.

In a small bowl, mix the yogurt dressing ingredients together with a fork. Stir until evenly mixed.

To make the bowls – divide lentils into 4 bowls, top with chopped eggplant slices, spoon yogurt dressing on top and garnish with fresh, chopped parsley, chickpeas, and halved cherry tomatoes.
Nutrition
Serving: 11/2 cups | Calories: 415kcal | Carbohydrates: 38g | Protein: 17.5g | Fat: 22g | Saturated Fat: 6g | Sodium: 491mg | Fiber: 9.4g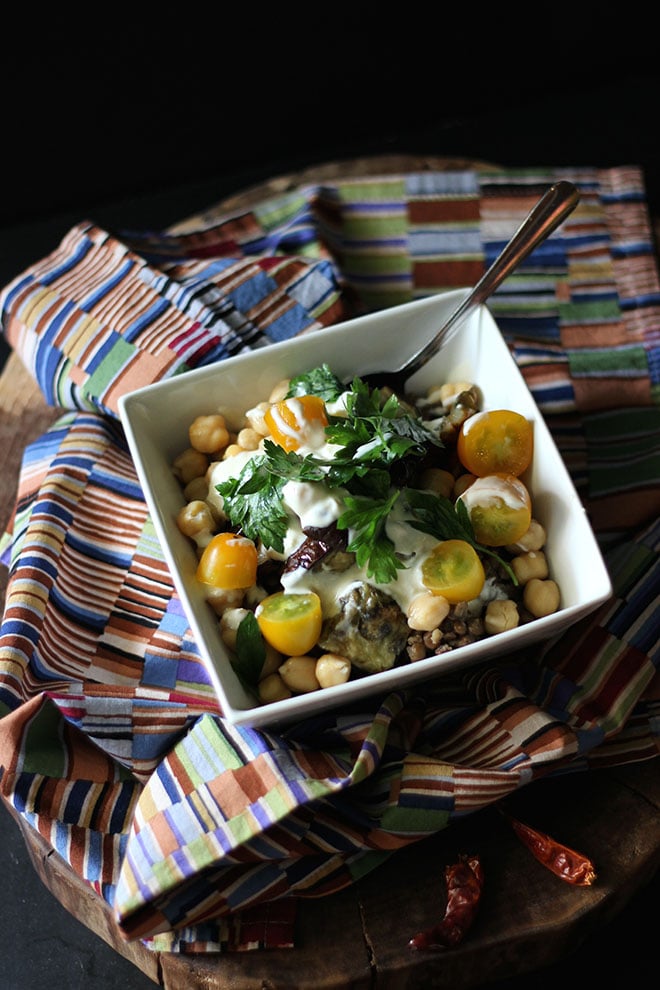 Reader Interactions