Did you know that you could make a shortcut lasagna in just one skillet? This easy vegan skillet lasagna has quickly become one of my favorite weeknight dinner options. All the flavor of your favorite comfort food but made in just one pot.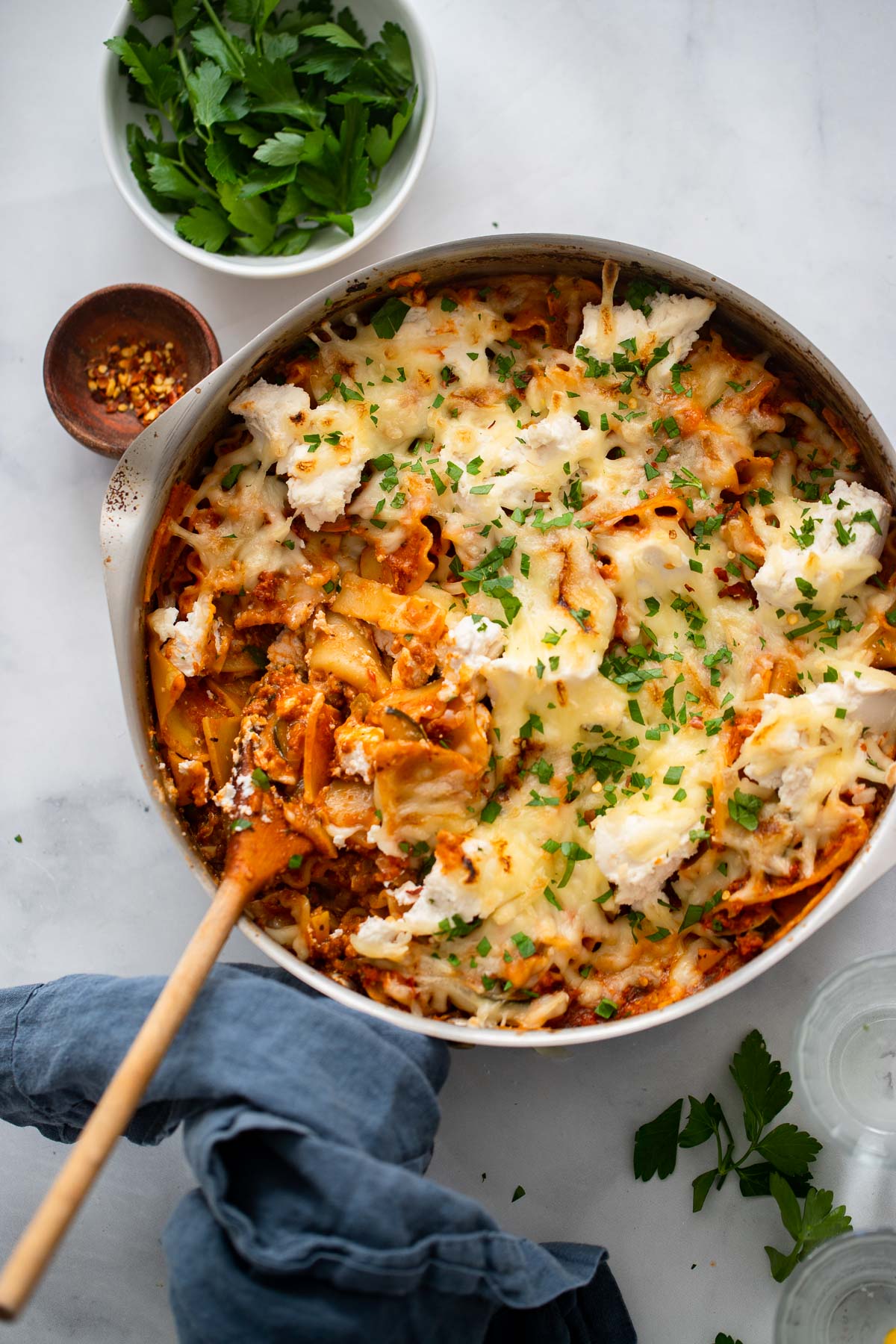 As the mom of a toddler, I love having a variety of plant-based one pot recipes that I can turn to when I need to make something for dinner quick. This easy vegan skillet lasagna recipe is my new favorite! It has all the rich flavors of traditional lasagna but can be whipped up in just 40 minutes. A win if you ask me!
In case you are looking for more delicious vegan pasta recipes, here are a few of my other favorites from the blog: vegan pesto pasta, creamy beet pasta, and vegan stuffed shells.
Why You'll Love this Recipe
It's easy! This one pot dinner is great for weeknights when you need to get something on the table quickly.
It freezes well so any extra leftovers can be stored for future meals.
This recipe is vegan, dairy free, and egg free. It can easily be made gluten free as well by swapping out the lasagna noodles for a gluten free noodle.
Ingredients You'll Need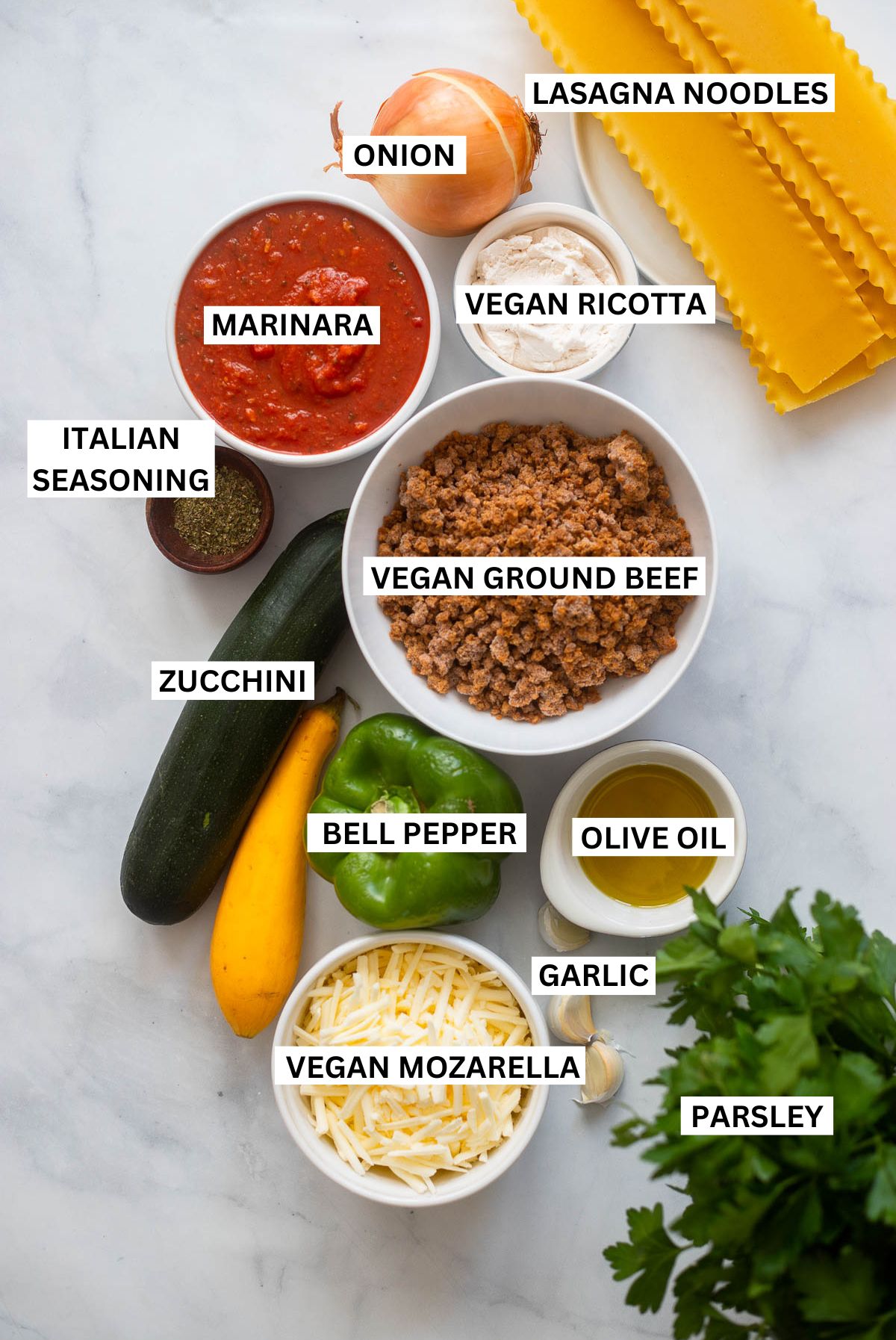 Lasagna Noodles: this recipe works with either traditional lasagna noodles or no-boil lasagna noodles. Make a gluten free lasagna skillet by subbing with gluten free lasagna noodles.
Marinara: use your favorite marinara or pasta sauce for this skillet – just double check the ingredients to make sure it is vegan.
Vegan Ground Beef: Use any vegan ground beef or crumbles that you like. I used the plant-based crumbles from Gardein for this recipe. You could also use a can of white beans in place of plant-based crumbles if you prefer.
Vegan Mozarella & Vegan Ricotta: my favorite vegan mozzarella for this skillet lasagna is the shreds from VioLife but you can use your favorite. If you want to splurge, buy some vegan ricotta for this dish as well! (I really like the one from Kite Hill.) I have made it both ways, so don't worry if you can't find vegan ricotta, you can omit it. If you are feeling ambitious, you can make a tofu ricotta using the recipe from my vegan lasagna.
Zucchini, Onion, and Bell Pepper: Add extra fiber and nutrients to your lasagna skillet by incorporating this classic combination of veggies. We also use summer squash sometimes instead of zucchini. Any color of bell peppers works for this recipe.
Step by Step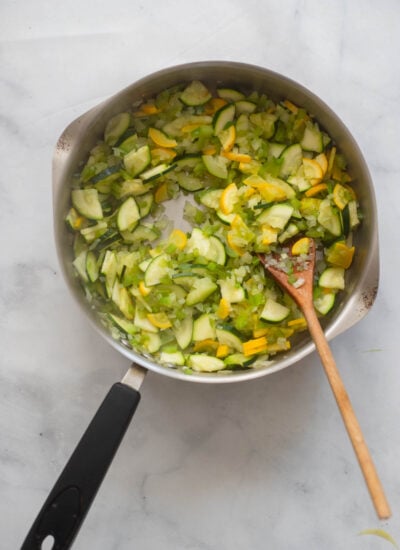 Step One: Add the olive oil, onion, pepper, and zucchini to a large skillet over medium heat and sauté until onion is softened.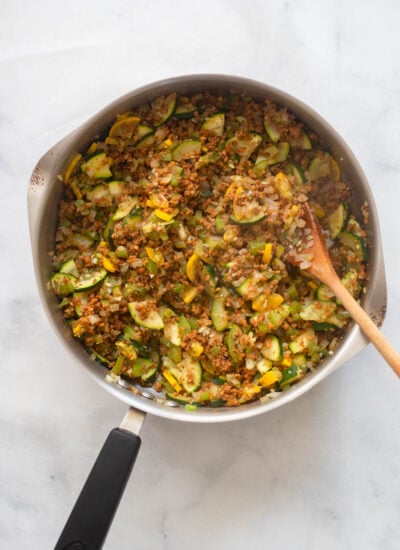 Step Two: Stir in the vegan ground beef, garlic, and Italian seasoning and cook for another couple of minutes.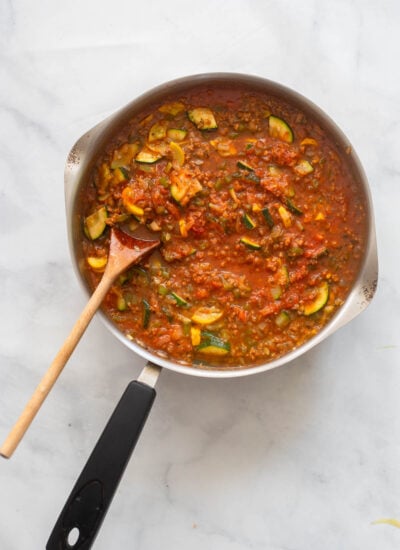 Step Three: Add the marinara and water. Bring to a boil over medium heat.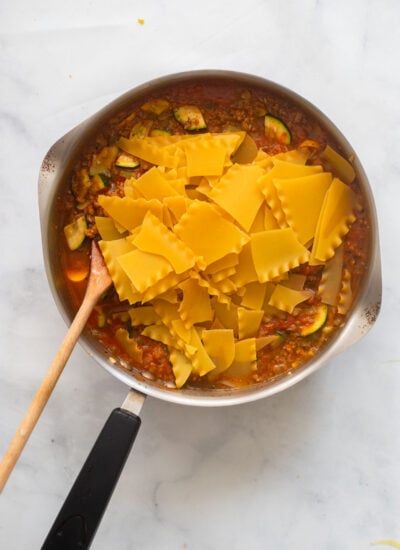 Step Four: Add the broken lasagna noodles, broken into large pieces. Stir into the sauce. Cover with a lid and simmer for 25-30 minutes, stirring every 5 minutes or so until the noodles are cooked and sauce has thickened.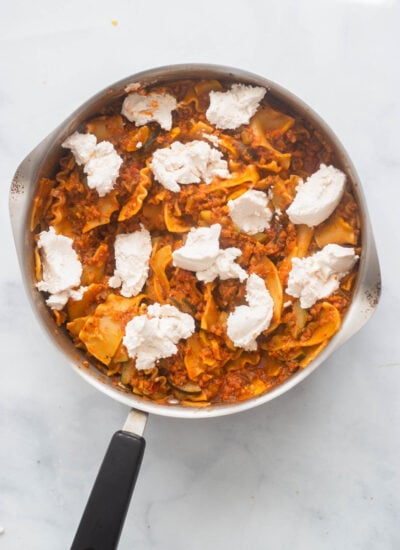 Step Five: Add spoonfuls of vegan ricotta cheese (if using).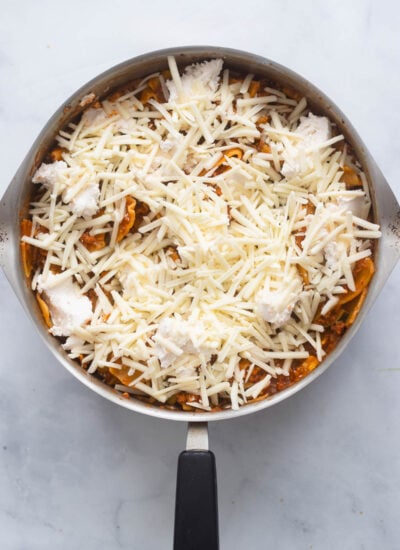 Step Six: Sprinkle the top of the skillet with vegan mozzarella cheese shreds. Place under the broiler on high for 1-3 minutes or until the cheese has melted. Garnish with chopped fresh parsley and red pepper flakes and serve!
Expert Tips
Stir Frequently: You'll need to stir every 5 minutes or so after adding the lasagna noodles so they don't stick together or burn to the bottom of the pan.
Medium Low Heat: After adding the noodles, keep the lid on as much as possible and use medium low heat as you don't want all the sauce to cook off before the pasta is done.
Customize to Your Preference: feel free to add different veggies, use different pasta shapes, or add different herbs like more basil. You can even top with a bit of vegan parmesan cheese. (Here's a recipe for my plant based parmesan!)
What to Serve with Skillet Lasagna
We like to keep it simple and serve this skillet lasagna with either a salad or some steamed veggies. Here are some ideas:
Steamed or roasted vegetables: such as green beans, broccoli, cauliflower, or cabbage.
Recipe FAQs
Can I use no boil lasagna noodles?
Yes – you can also use no boil lasagna noodles for this recipe. You may find that you can reduce the simmer time as the no boil noodle soften faster.
Can I freeze this skillet lasagna?
Yes, this recipe freezes well if you want to save the leftovers. Just store in an airtight container in the freezer and allow to thaw in the fridge overnight before reheating in the oven or microwave.
What's the best skillet to use?
I use a 10 inch sauté pan from Oneida for this recipe but it looks like it is discontinued. A large skillet with tall sides like this stainless one works best for this recipe.
Did you love this recipe? Make sure to leave a ⭐️ rating and tag #dietitiandebbie on instagram!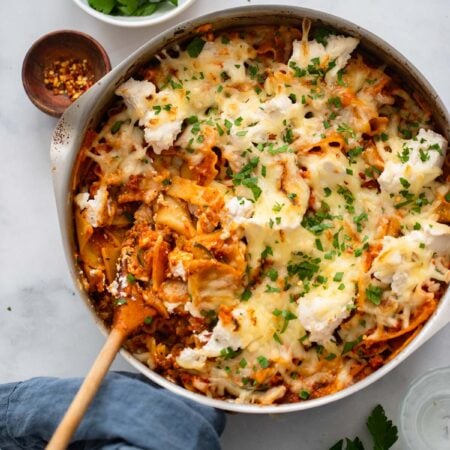 Vegan Skillet Lasagna (One Pot!)
Did you know that you could make a shortcut lasagna in just one skillet? This easy vegan skillet lasagna has quickly become one of my favorite weeknight dinner options. 
Ingredients
1 tablespoon olive oil
2 small zucchini, quartered and sliced
1 bell pepper, chopped
1 onion, chopped
3 cloves garlic, minced
2 1/2 cups veggie crumbles
2 teaspoons Italian seasoning
1 jar (24 oz) marinara sauce
1 1/2 cups water
9 lasagna noodles, broken into 2 inch pieces
8 oz vegan ricotta (optional)
1 cup shedded vegan mozzarella
Instructions
Place a 12-inch skillet with a tight-fitting lid over medium-high heat. When the skillet is hot, add the oil, zucchini, bell pepper, onions, and garlic. Cook for 5-7 minutes or until onion is translucent.

Stir in the veggie crumbles and Italian seasoning. Cook another 1-2 minutes to warm up the frozen crumbles.

Stir in the marinara and water. Bring to a boil. Add the broken lasagna noodles and cover. Cook for 25-30 minutes, stirring every 5 minutes, until noodles are softened.

Turn off the heat and add spoonfuls of the vegan ricotta (if using) evenly throughout the pan. Add the vegan mozzarella in an even layer over top and broil for 1-2 minutes to melt. Garnish with fresh chopped parsley or basil to serve.
Notes
Leftovers: Store leftovers in the refrigerator for up to 3 days. Reheat on the stovetop or microwave. 
To Freeze: Allow recipe to cool to room temperature and then add to an airtight container to freeze. I like to freeze in smaller individual size portions so I can reheat them individually. Reheat in the microwave. Lasagna can be stored in the freezer for up to 3 months.
Nutrition facts are calculated without the vegan ricotta.
Nutrition
Calories: 339kcal | Carbohydrates: 51g | Protein: 15g | Fat: 9g | Saturated Fat: 2g | Polyunsaturated Fat: 2g | Monounsaturated Fat: 2g | Trans Fat: 0.01g | Sodium: 883mg | Potassium: 749mg | Fiber: 7g | Sugar: 9g | Vitamin A: 1255IU | Vitamin C: 47mg | Calcium: 69mg | Iron: 4mg
Reader Interactions