Use up all those late summer eggplants and tomatoes in this easy tomato and eggplant bake topped with mozzarella and fresh basil.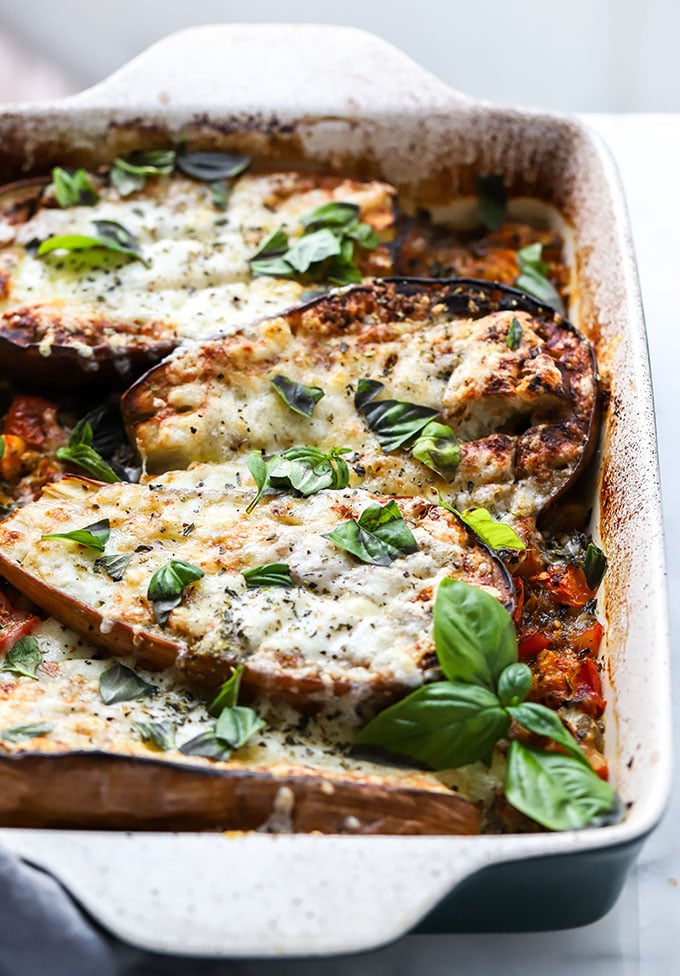 I've got the perfect recipe today to help you use up some of that late summer produce that may be overwhelming those of you with home gardens or friendly neighbors with large gardens! This time of year, tomatoes and eggplants are at their peak so it is the perfect opportunity to make this tomato and eggplant bake.
I found myself with a pile of tomatoes and eggplant on my counter after shopping the farmers market and decided to whip up this tomato and eggplant bake for dinner. It reminds me of a deconstructed eggplant parmesan without all the fuss of breading eggplant slices and cooking them individually.
As you can see below, you basically just line the bottom of your baking dish with a layer of fresh chopped tomatoes tossed with garlic, onion, and Italian seasoning. Next, you'll layer your eggplant over top of that and brush it with olive oil.
Stick it in the oven and basically forget about it for about an hour! The last step is adding some cheese to the top and finishing it off in the broiler so that cheese gets nice and melty and golden brown. Mmmm!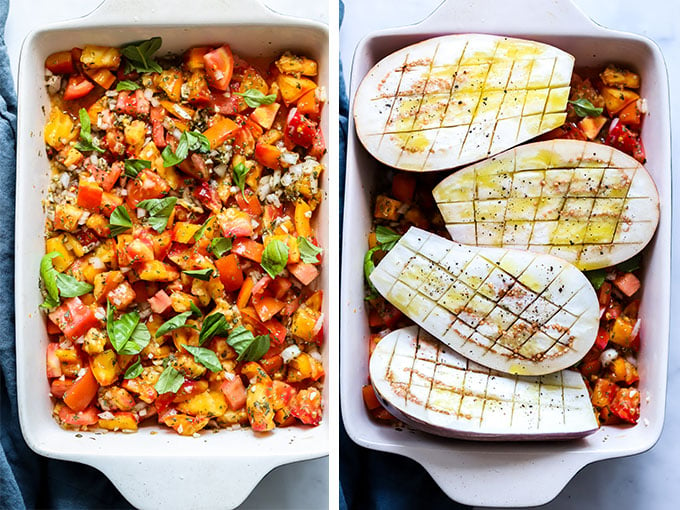 Tips for Making this Tomato and Eggplant Bake
I recommend using a 9″ x 11″ baking dish for this recipe since you may have trouble fitting your eggplants side by side in a smaller dish. If you need, you could evenly divide everything between 2 8 " x 8″ baking dishes.
Don't have heirloom tomatoes? Use cherry tomatoes! They roast up just as nicely under the eggplant in this dish. You can likely also use canned (diced or crushed) tomatoes. I haven't tried this dish with canned tomatoes yet – but will make sure to update this post when I do!
Make sure you don't skip the salting step. Globe eggplants like the ones in this recipe can be a little bitter, but salting them draws out that bitterness. (How cool is that?!)
I baked these for 75 minutes in my oven at home, but you may need to adjust the baking time by a few minutes depending on your oven, altitude, etc. You're ready to add the cheese when your eggplant is very fork tender – like, it basically falls apart when you touch with your fork.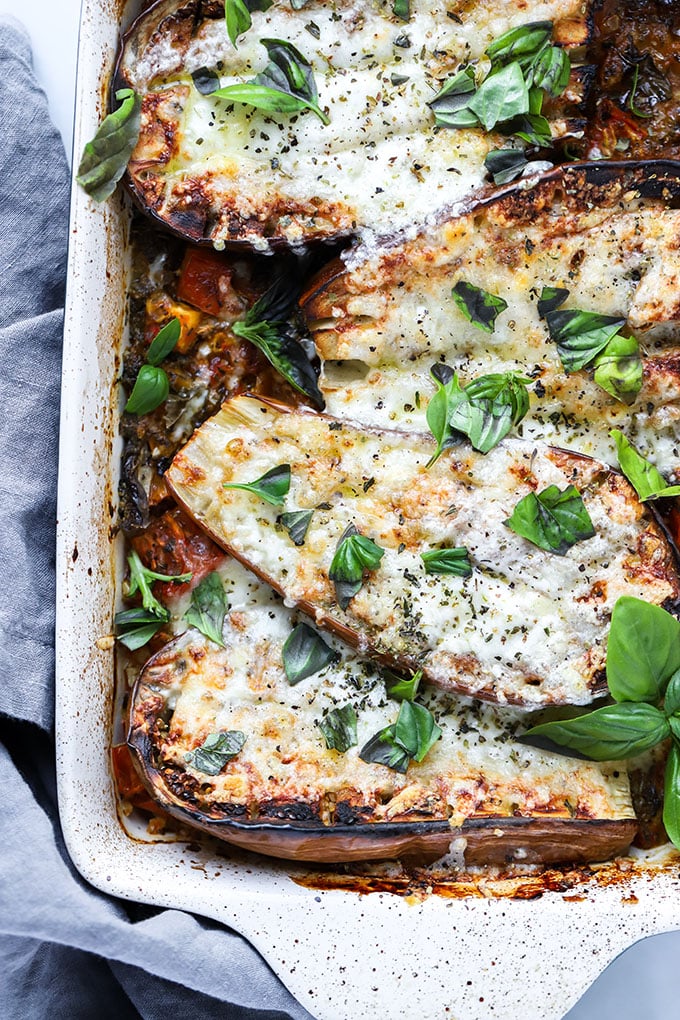 What to Serve with this Tomato and Eggplant Bake
I like serving this dish with an Italian flavored veggie sausage. (These pesto spinach veggie sausages from Tofurky are my fave!) You could also buy veggie sausage crumbles and add it to the top of this dish when serving.
More Eggplant Recipes You'll Love
Tomato and Eggplant Bake
Use up all those late summer eggplants and tomatoes in this easy tomato and eggplant bake topped with mozzarella and fresh basil. 
Ingredients
2 medium eggplants ~2 1/2 lbs total
4 1/2 cups chopped tomatoes I used 2 large heirloom tomatoes
3/4 cup chopped yellow onion
3 cloves garlic minced
2 tablespoons Italian seasoning
1/2 teaspoon sea salt
1/2 teaspoon ground black pepper
1/4 cup olive oil
1 1/2 cups shredded mozarella cheese
1 small bunch basil chopped
Instructions
Preheat oven to 375 degrees Fahrenheit. 

Slice eggplants in half lengthwise and cut crosswise into meat of eggplant (as seen above), making sure to leave skin intact. (You don't want to end up cutting it into cubes!) Salt cut sides generously and place in 9″x11″ baking dish. Set aside. 

Chop tomatoes and toss with onion, garlic, Italian seasoning, salt, and pepper.

Check on eggplants and pat away any moisture and extra salt with a paper towel. Pour tomato mixture into bottom of the pan and place eggplants on top. 

Brush cut sides of eggplants with olive oil and add a dash of salt and pepper. 

Bake for 65-75 minutes or until eggplants are very tender when poked with a fork. Brush with additional olive oil as needed during cooking.

Top with mozzarella and place under broiler on high for 4-5 minutes until cheese is melted and starting to turn golden brown in spots. 

Remove from oven and let cool 5-10 minutes. Top with fresh basil leaves and serve!
Nutrition
Serving: 1/4 recipe | Calories: 318kcal | Carbohydrates: 28g | Protein: 18g | Fat: 16g | Saturated Fat: 2g | Polyunsaturated Fat: 14g | Cholesterol: 8mg | Sodium: 930mg | Fiber: 12g | Sugar: 16g
Reader Interactions