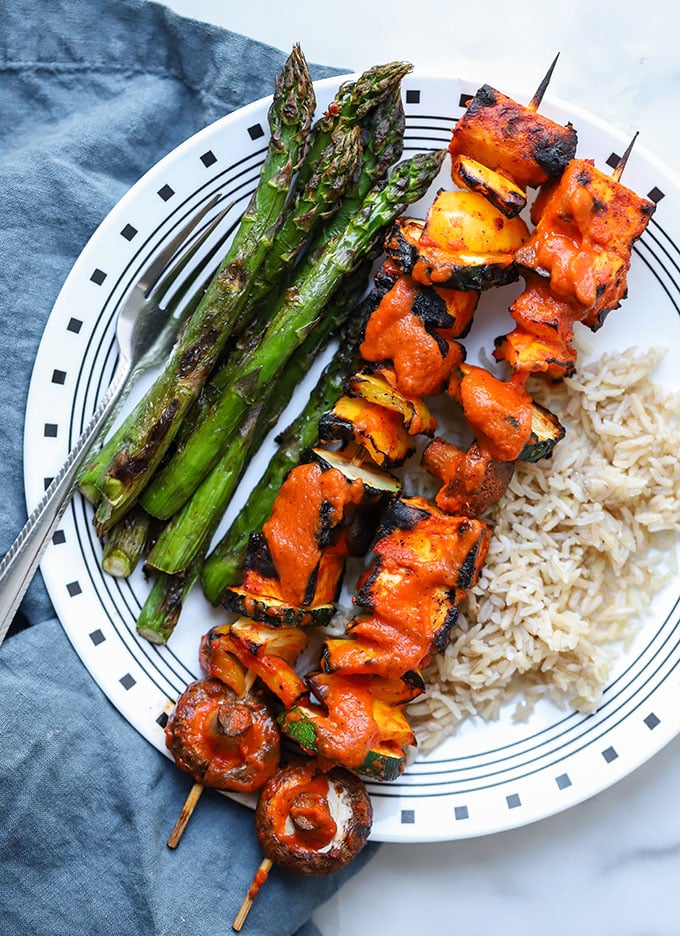 Since the weather has warmed up and it feels like summer already, we've been firing up the grill a couple times a week. I had been craving kebabs so I created these grilled tofu kebabs with red pepper sauce over the weekend and we couldn't get enough! We served them up with some brown rice and a few spears of asparagus we picked up at the farmers market. Mmmm!
Why You'll Love this Recipe
Great for a quick, summer meal when served over couscous or rice.
The red pepper sauce uses simple pantry staples like jarred red peppers and tomatoes.
The perfect recipe for serving to plant-based guests at your next barbecue.
Ingredient Notes and Substitutions
Tofu: make sure to use extra firm tofu for this recipe.
Vegetables: we like to use mushrooms, zucchini, and bell pepper for these kebabs, but feel free to use others like cherry tomatoes and red onion.
Jarred Red Peppers: smoky and a little sweet. The perfect sauce for basting on the tofu as it grills.
Curry Paste: Adds a punch of flavor and some heat to the simple red peppers sauce for these kebabs.
Coconut Milk: Increases the creaminess factor of the sauce. You can use either full fat or lite coconut milk.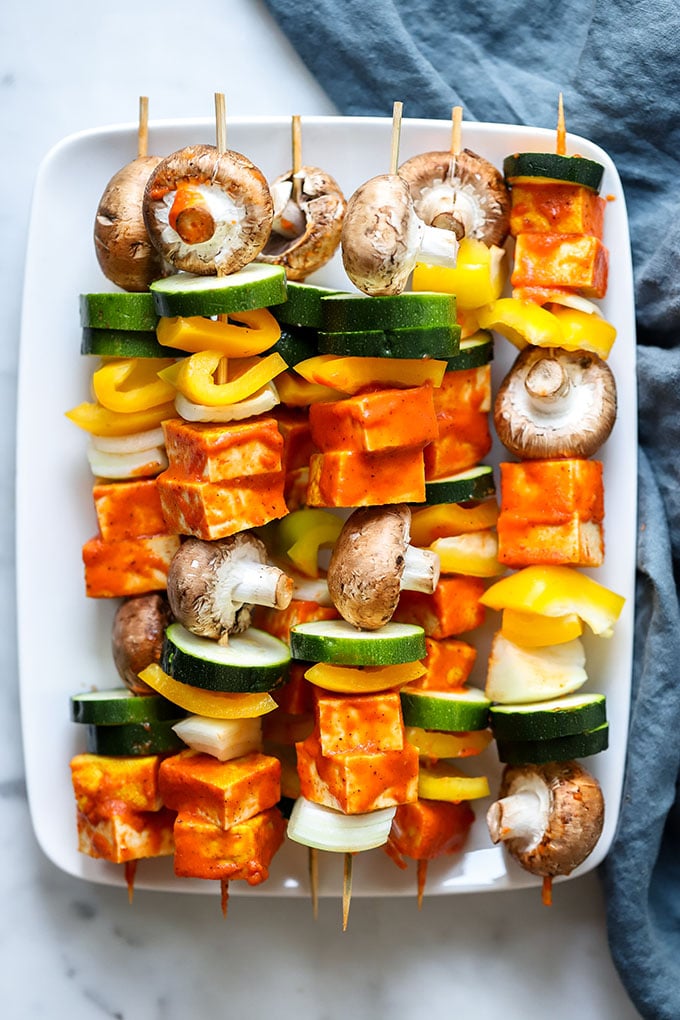 The sauce recipe makes more than you'll need for marinating the tofu. As the kebabs cook on the grill, brush with extra sauce and drizzle it on after cooking when serving.
If using wooden skewers, make sure to soak them for up to 30 minutes before using for this recipe to prevent them from burning on the grill.
Make Ahead and Storage
Pre-chop the vegetables and prep the tofu up to 3 days in advance. Just store in an airtight container in the fridge. You can also make the red pepper sauce up to 3 days in advance and store in a jar with a tight fitting lid in the fridge. Assemble the kebabs on the skewer up to 1 day in advance and cover with plastic wrap.
Store any leftovers in an airtight container in the refrigerator for up to 3 days.
More Delicious Recipes You'll Love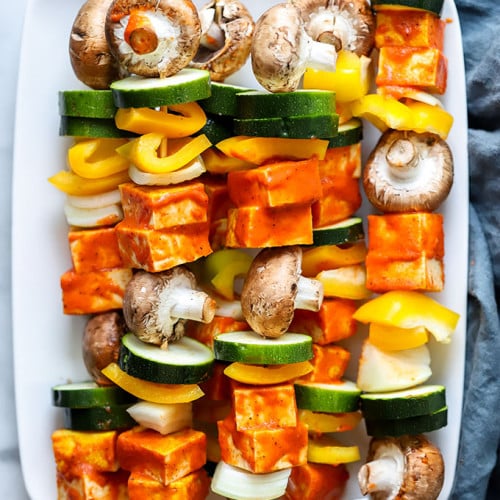 Grilled Tofu Kebabs with Red Pepper Sauce
Fire up the grill and make these simple grilled tofu kebabs with red pepper sauce. The grilled tofu gets nice and crispy and that sauce is so delicious! 
Ingredients
For the Red Pepper Sauce
15 oz can diced fire roasted tomatoes drained
7.75 oz jar roasted red peppers, drained
1/4 cup coconut milk
1 tablespoon red curry paste
Sea salt and ground black pepper to taste
For the Kebabs
16 oz extra firm tofu cubed
1 bell pepper
1 zucchini
1 pint baby portobello mushrooms
1/2 yellow or red onion
Wooden skewers
Instructions
Add the sauce ingredients to a blender and puree until smooth. Pour 3/4 cup sauce into an 8″x8″ baking dish. 

Add the cubed tofu to the dish and toss to coat in sauce and place in the refrigerator.

Prepare your grill for cooking. 

Chop the vegetables into large pieces. 

When your grill is ready, assemble skewers. (Recipe should make 6-7)

Cook over medium-high heat, turning occasionally until blackened around edges. Brush periodically with extra sauce from baking dish. 

To serve, drizzle with extra red pepper sauce.
Notes
**Not all curry paste is vegan/vegetarian so make sure to read the ingredients label. 
Nutrition
Serving: 2Skewers | Calories: 251kcal | Carbohydrates: 20g | Protein: 19.5g | Fat: 13.5g | Saturated Fat: 4.5g | Polyunsaturated Fat: 9g | Sodium: 193mg | Fiber: 5.5g | Sugar: 9g
Reader Interactions