This 4 ingredient strawberry frozen yogurt with no ice cream maker is a healthy way to cool off in the summer! It tastes just like soft serve but is made vegan & dairy free with just frozen fruit and plant-based yogurt.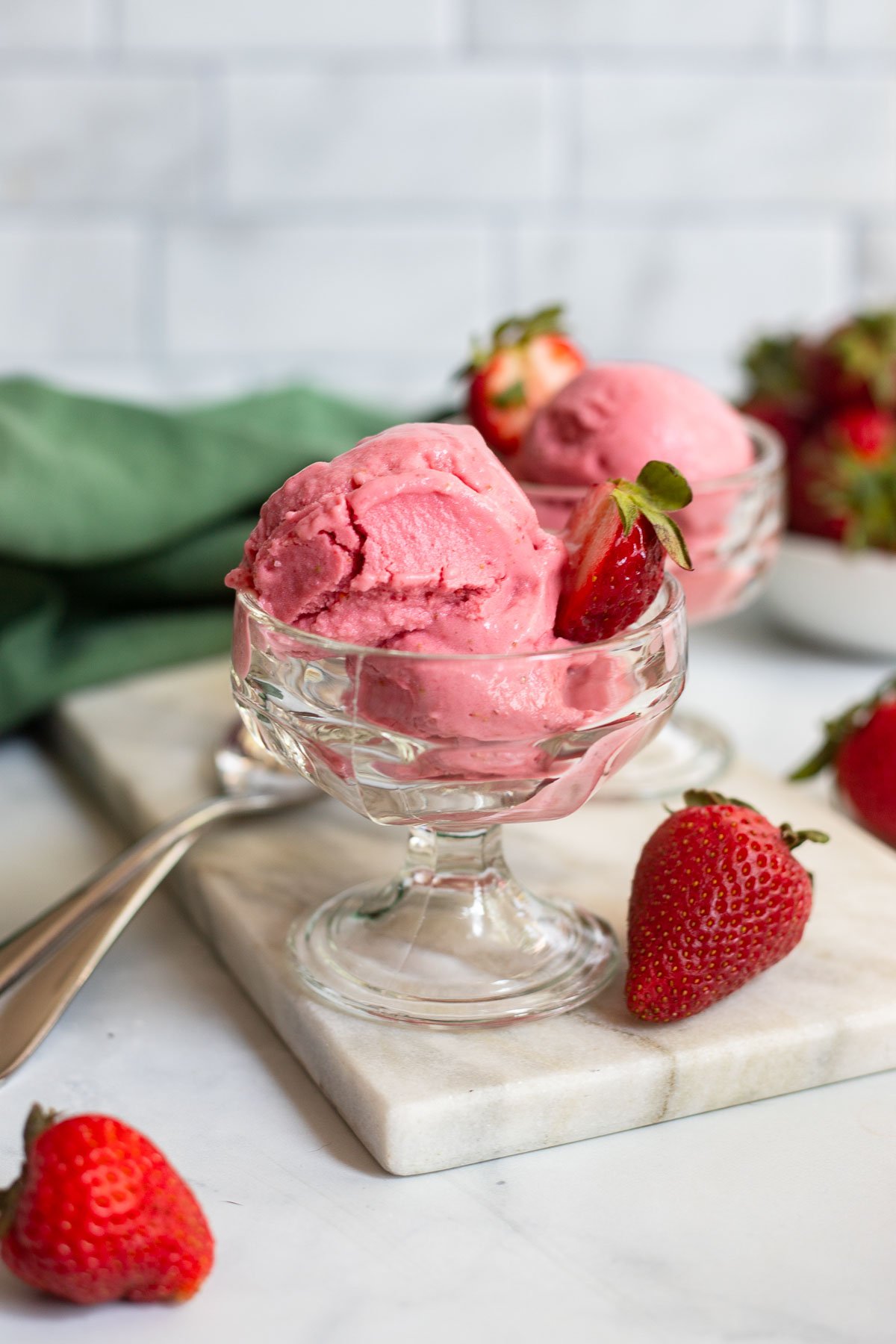 Post originally published April 2016; updated June 2023.
I loved how this strawberry frozen yogurt turned out and honesty, it couldn't be any more simple. Simply puree all of your ingredients together in a food processor until smooth and serve. So much easier than homemade ice cream. In just minutes you have a delicious dessert that is also healthy!
I did quite a bit of google searching on how to make frozen fruit yogurt at home. Unlike some other recipes for frozen yogurt, this one does not require a ice cream maker either! You just have to make sure to use frozen fruit when preparing the yogurt.
If we aren't whipping up a batch of this homemade strawberry frozen yogurt, these mango lime popsicles are another fruity healthy treat that we love.
Why You'll Love this Recipe
Short and Sweet Ingredient List: with only 4 simple ingredients, it's hard to find an excuse not to make this this easy frozen yogurt recipe. It's such a great treat for cooling off after a hot summer day.
Ready in 5 Minutes: since you'll use frozen strawberries for this recipe, you can eat it right after pureeing in the food processor – so creamy!
Customizable: we used strawberries for this homemade frozen yogurt recipe but you can easily swap out any frozen fruit that you have on hand such as blueberries, pineapple, mango, and more!
Ingredients You'll Need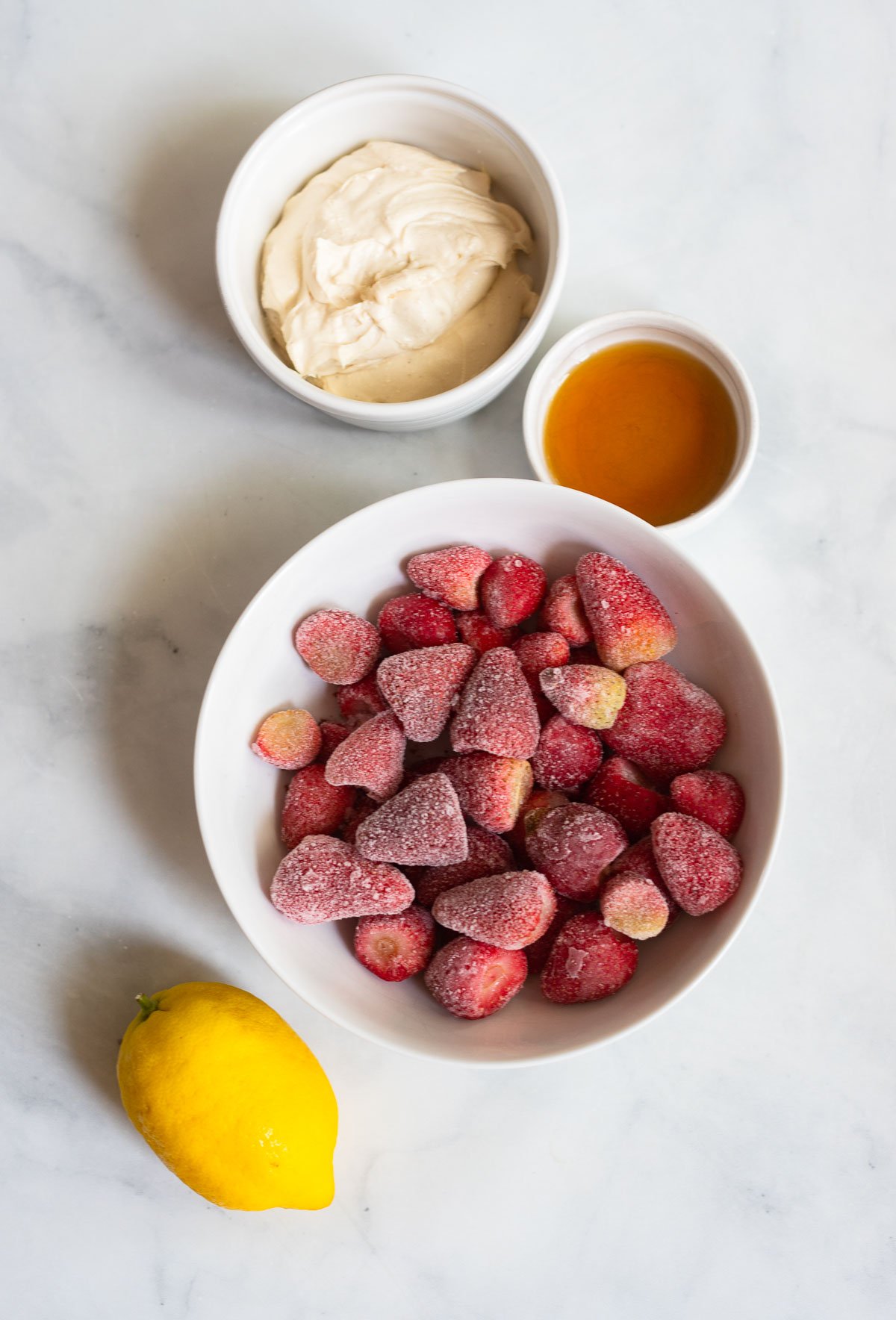 Frozen Strawberries: you'll need to use frozen strawberries for this recipe since it does not require any churning in an ice cream maker. If you only have fresh strawberries, you'll want to freeze them first. 
Yogurt: I like to use a dairy-free yogurt for this recipe so it is vegan too. We really liked the way the vanilla plant-based Siggi's yogurt tasted in this recipe – but any will work. If you want to use a dairy-yogurt, try a vanilla flavored one. Greek yogurt would also work well.
Maple Syrup: I like to add a little sweetness with maple syrup. If using an unsweetened yogurt, you may want to use more maple syrup. We usually add anywhere from 1-3 tablespoons. You can use any sweetener you prefer like agave or honey (if not vegan).
Lemon: adding just a little bit of lemon juice and lemon zest brightens up the strawberry flavor. Use fresh squeezed lemon for the best flavor.
Variations
Strawberry-Banana: reduce the strawberries to 3 cups and add 1-2 frozen bananas before blending for a strawberry banana version.
Strawberry-Pineapple: use 2 cups frozen strawberries and 2 cups pineapple for a tropical variation on the recipe.
Strawberrry-Mango: use 2 cups frozen strawberries and 2 cups mango and use lime juice instead of lemon juice. So yummy!
How to Make Dairy Free Strawberry Frozen Yogurt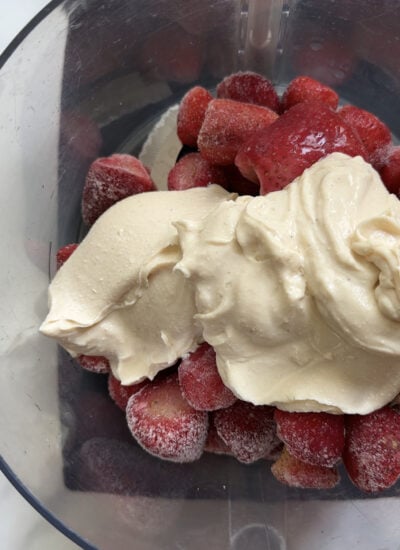 Step One: Add all of your ingredients (strawberries, yogurt, maple syrup, and lemon juice & zest) to a food processor.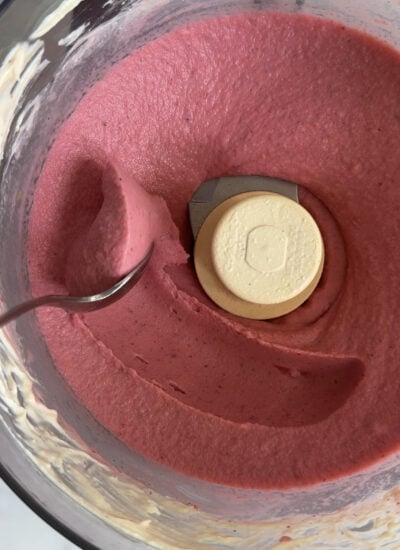 Step Two: Blend until smooth (it may take up to 5-7 minutes). Serve immediately or transfer to a container to a freezer-safe container for 1 hour if you would like a more scoop-able texture.
Expert Tips
Have Patience: the frozen yogurt really does take a full 5-7 minutes to get the right texture in the food processor. Initially, it will get all crumbly, but just keep waiting and it will eventually smooth out. Stop the food processor occasionally to scrape down the sides as needed.
Food Processor vs Blender: I like to make this in my food processor, but you can also make it in a high speed blender. For the blender, you need to use the tamper to push the fruit down onto the blades as it blends.
Serving: Serve this right after making or store in an airtight container in the freezer. It does get very firm if you leave it in the freezer. To make it scoop-able again, let it sit out on the counter to thaw.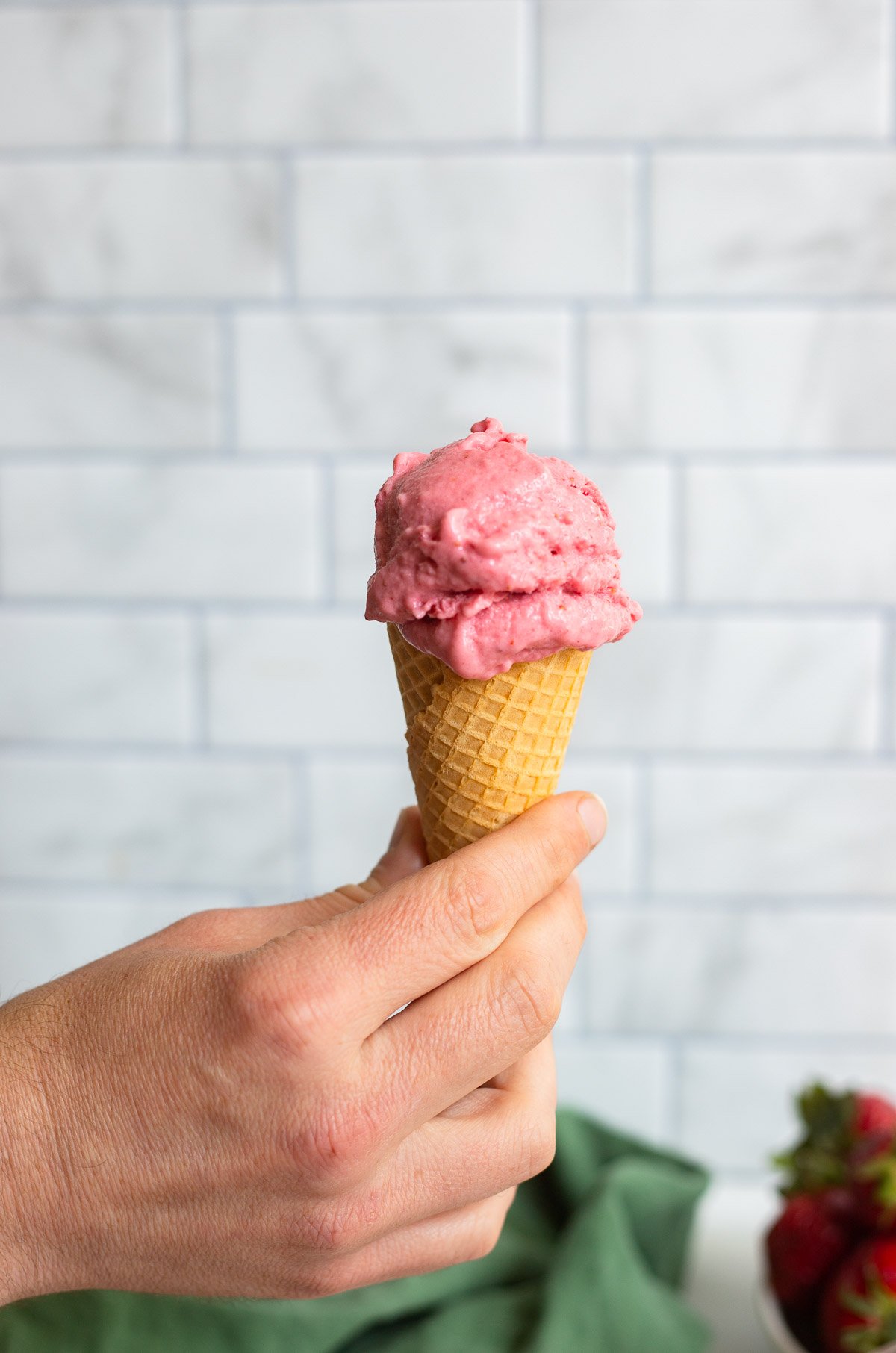 Recipe FAQs
What is strawberry frozen yogurt made of?
This healthy strawberry frozen yogurt recipe is made from just 4 ingredients: frozen strawberries, vanilla yogurt, maple syrup, and lemon juice.
What kind of yogurt is best for this frozen yogurt?
Just about any variety of vanilla or plain yogurt will work for this recipe (dairy, Greek, non-dairy) – just choose your favorite! Thicker/creamier full-fat yogurt will make a creamier frozen yogurt than a low-fat yogurt. My go-to yogurt for this recipe is the vanilla plant-based yogurt from Siggi's. 
Can I use other fruit besides strawberries?
Yes! This same healthy recipe works well for a variety of different fruit like mixed berries, peaches, pineapple, mango and more.
More Recipes You'll Love
Did you love this recipe? Make sure to leave a ⭐️ rating and tag #dietitiandebbie on instagram!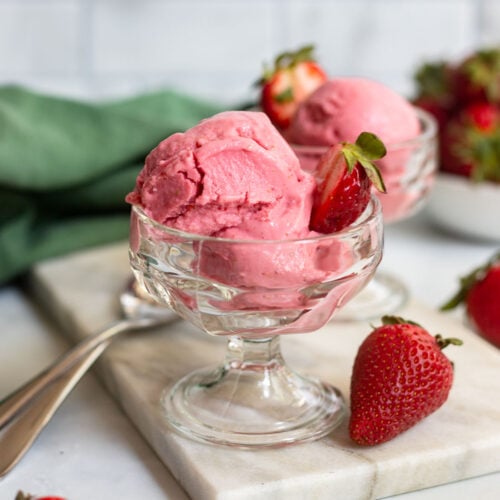 Strawberry Frozen Yogurt
This dairy free 4 ingredient strawberry frozen yogurt is a healthy way to cool off in the summer! It tastes just like soft serve but is made with just frozen fruit and plant-based yogurt.
Ingredients
1 lb frozen strawberries (4 cups)
1 cup vanilla plant-based yogurt
1-3 tablespoons maple syrup
1/2 lemon (zest and juice)
Instructions
Place all your ingredients in a food processor and puree until smooth.

Serve immediately for a soft frozen yogurt or transfer to a container and freeze for up to 60 minutes to create round scoops.
Notes
If you leave this in the freezer too long, it will become too hard to scoop. If that is the case, just let it set out on the counter for a few minutes to soften.
Nutrition
Serving: 1serving | Calories: 91kcal | Carbohydrates: 19g | Protein: 2g | Fat: 1g | Saturated Fat: 0.1g | Polyunsaturated Fat: 0.2g | Monounsaturated Fat: 0.1g | Sodium: 9mg | Potassium: 203mg | Fiber: 3g | Sugar: 12g | Vitamin A: 17IU | Vitamin C: 81mg | Calcium: 102mg | Iron: 1mg
Reader Interactions