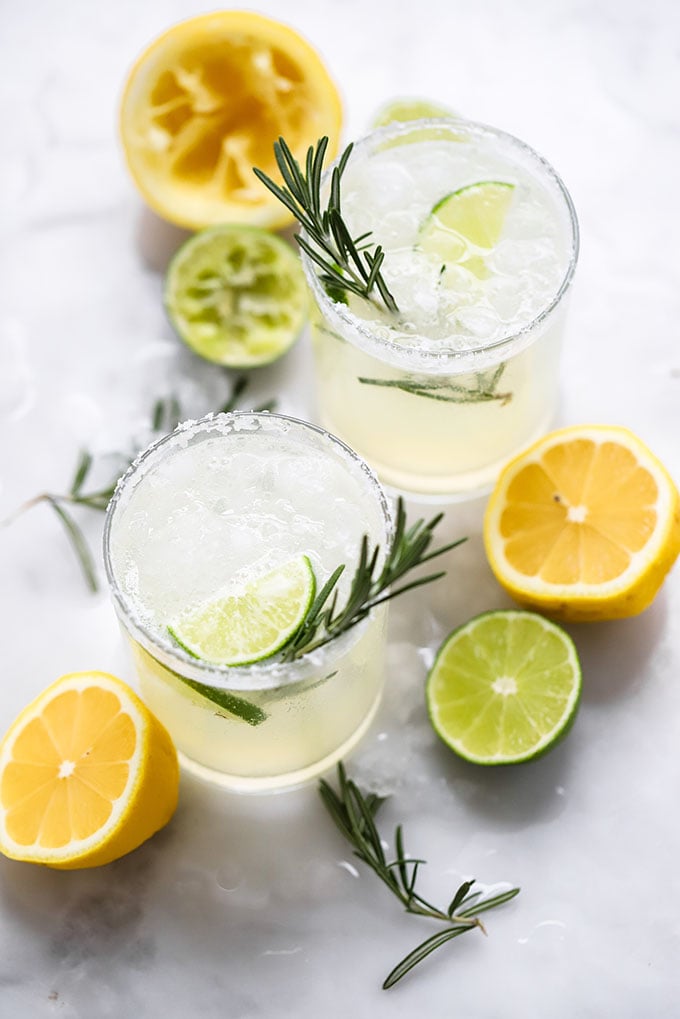 It has been entirely too long since I last posted a margarita recipe here! The approach of Cinco de Mayo felt like a good time to remedy that with this simple rosemary margarita recipe. This recipe is a bit of a "copy-cat" recipe of a rosemary house margarita at one of my favorite restaurants in Chicago called Antique Taco. Antique Taco was one of the first restaurants I tried when I moved to the city thanks to a recommendation from a coworker. We've lived in Chicago now for almost 6 years and it is still a favorite and one that we often take out-of-town friends. Although they have a seasonal margarita, the house rosemary one is still my go-to.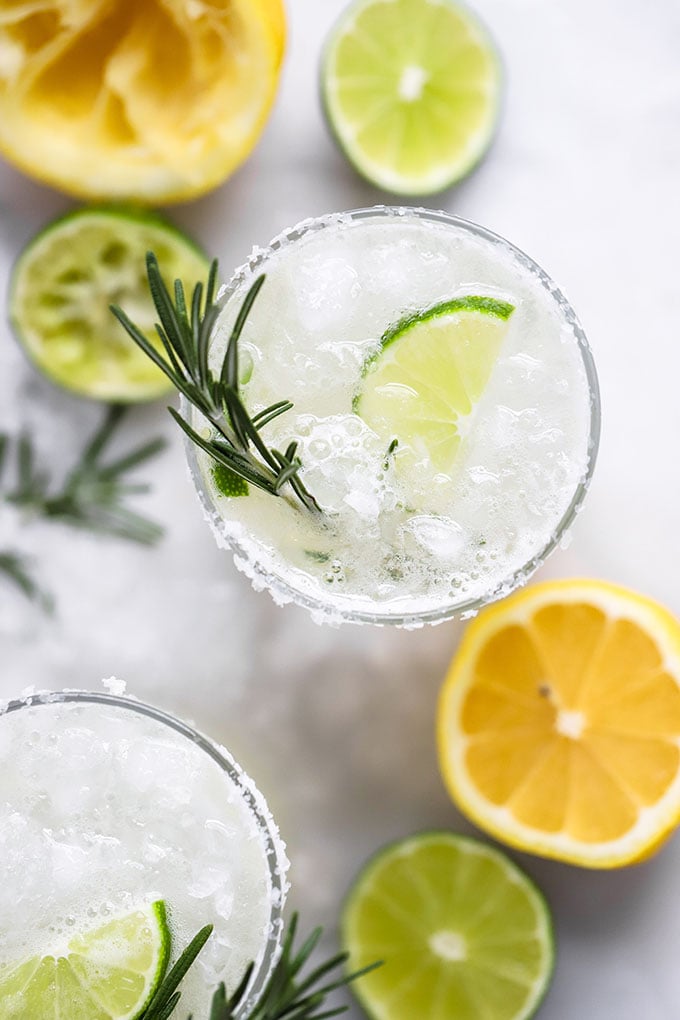 My copy-cat simple rosemary margarita is just as tasty as the real thing! It still has a traditional margarita base with lime, but also a hint of rosemary from the simple syrup. I also added some lemon and a bit of orange liqueur. I like making margaritas without a mix since it will have much less sugar. A traditional margarita mix can have as much as 24 grams of sugar per 4 oz! Of course, although healthier, it should still be enjoyed in moderation. 😉
Looking for a few other tasty vegetarian or vegan Cinco de Mayo eats? Check out some of these!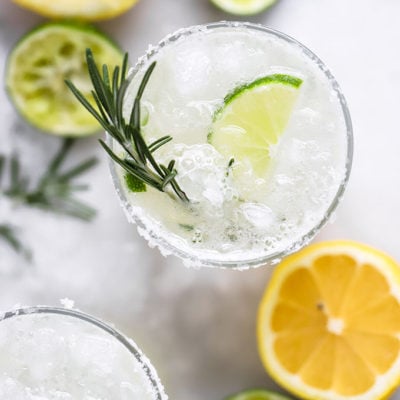 Simple Rosemary Margarita
Whip up a few of these simple rosemary margaritas for Cinco de Mayo this year! Easy to make and lower in sugar than a margarita made with a store-bought mix. 
Ingredients
Simple Syrup:
1/2 cup granulated sugar
1/2 cup water
1-2 sprigs fresh rosemary
For the Margarita:
2 teaspoons simple syrup
Juice from 1 lemon
Juice from 2 limes
3 oz. silver tequila
2 oz Grand Marnier (or Triple Sec)
3 sprigs fresh rosemary
Ice
Margarita salt
Club soda or flavored water (I used lime LaCroix)
Instructions
Add water and sugar to a small saucepan and bring to a boil. Stir until sugar is dissolved and turn off heat. Set aside and add the rosemary. Let rosemary steep for 1 hour. 

Rub squeezed lime over rim of glasses and roll in margarita salt. Set aside. 

To make the margaritas, add 2 teaspoons of the simple syrup, lemon and lime juices (~4 oz), tequila, Grand Marnier, 1 sprig fresh rosemary, and a couple of ice cubes to a shaker. Cover shaker with lid and shake vigorously to combine. 

Add crushed ice to 2 glasses and evenly divide margarita between them. Top with club soda/flavored water and garnish with sliced lime and fresh rosemary.
Notes
Nutrition information for these margaritas is estimated as liquors are not required to have nutrition facts labels.  Feel free to use less simple syrup per cocktail if you want to decrease the sugar content even more. (I sometimes skip it entirely since the Grand Marnier is a little sweet!)
Nutrition
Serving: 1drink | Calories: 221kcal | Carbohydrates: 18g | Protein: 1g | Fat: 1g | Saturated Fat: 1g | Polyunsaturated Fat: 1g | Monounsaturated Fat: 1g | Sodium: 10mg | Potassium: 14mg | Sugar: 18g | Calcium: 3mg | Iron: 1mg
Reader Interactions