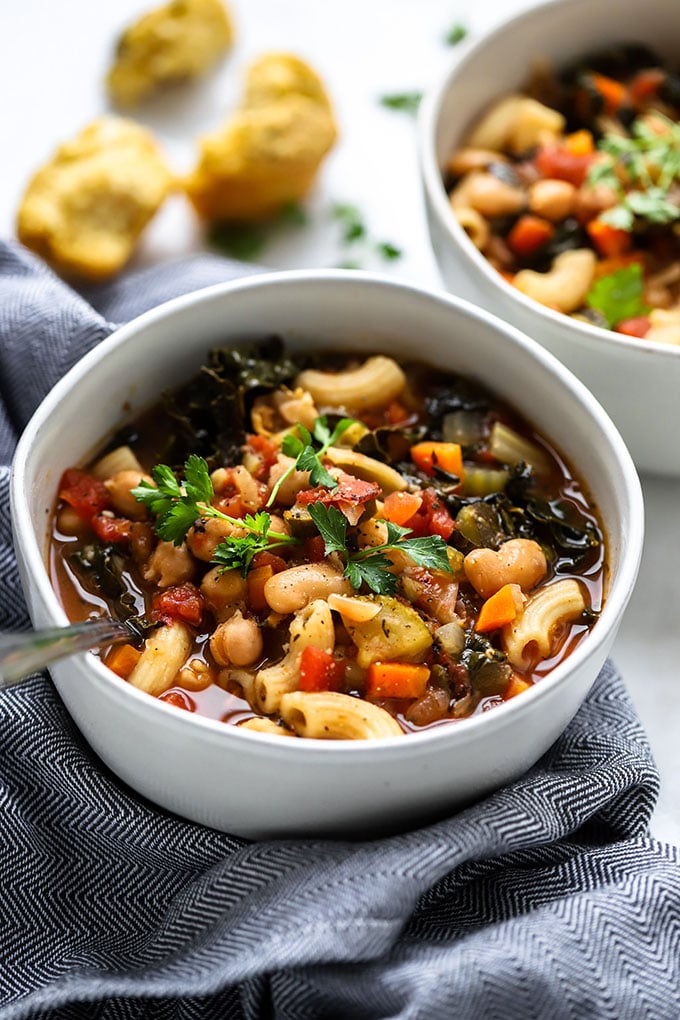 TLDR – jump to the bottom of this post, add the ingredients for this recipe to your shopping list, and make this delicious crockpot vegan minestrone soup ASAP! 🙂
Last week, I shared this soba noodle with peanut sauce recipe as a great option for meal prepping on the weekend so you have healthy lunches for the week. Soup recipes like this crockpot vegan minestrone soup are also great for meal prepping! This recipe makes about 6-8 servings so I was able to stretch it out into grab-and-go lunches for myself for the whole work week. Soup is actually one of my favorite "meal prep" kind of recipes since most recipes make so much more than Will and I can eat in one meal – I always have leftovers! Plus, I feel like soup tastes even better the next day. Anyone else? I also tend to crave soup every day when the weather is cold, so I have been trying to hold back from posting only soup recipes all winter!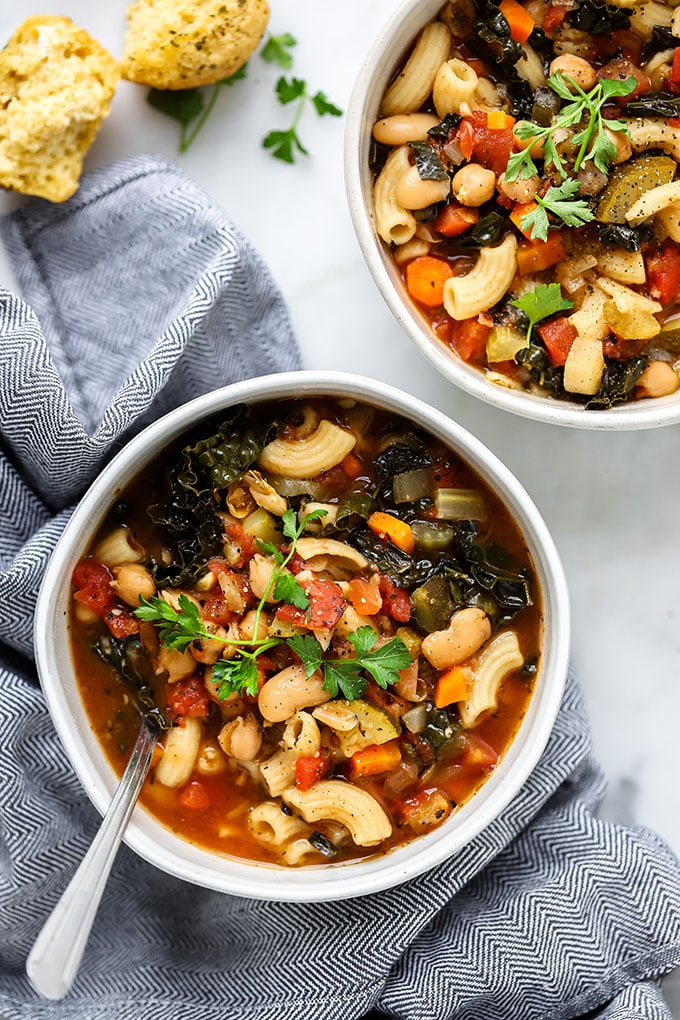 Tips for making this vegan minestrone
This crockpot vegan minestrone is super simple to make. The most time consuming part is chopping up all the veggies at the start. You'll need onion, celery, carrots, garlic, zucchini, canned tomato, and kale. With such a variety of vegetables, you know this soup will be packed with nutrients. For plant-based protein and extra fiber, I added both white beans and chickpeas. In the last 1-2 hours of cooking, you add in the dried whole wheat pasta which cooks up in the crockpot – no need to dirty a pot to boil the noodles separately. (Praise hands for fewer dishes!) You'll cook this soup for 8 hours in the crockpot which means you can easily have it cook while you are at work for the day because who doesn't like coming home to a hot meal all ready to eat?
Also, since there isn't any cheese in this vegan twist on traditional minestrone, I recommend making a batch of my easy vegan parmesan to sprinkle on top. Yum!
Looking for more soup recipes? Here are some of my favorites!
Did you love this recipe? Make sure to leave a ⭐️ rating and tag #dietitiandebbie on instagram!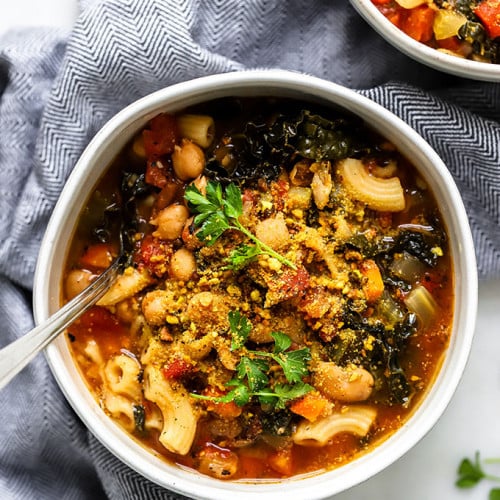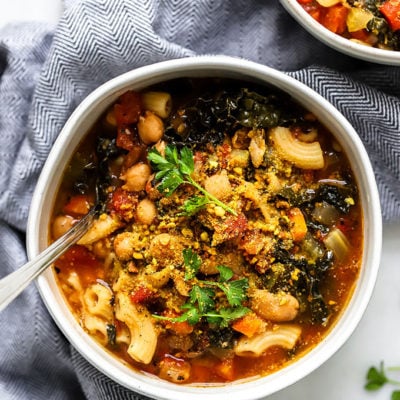 Crockpot Vegan Minestrone Soup
This crockpot vegan minestrone soup couldn't be any easier to make and is packed with plant-based protein and fiber. 
Ingredients
2 tablespoons olive oil
1 cup chopped yellow onion ~1 small onion
1 cup chopped celery ~2-3 stalks
1 cup peeled and chopped carrots ~2 carrots
4 cloves garlic minced
1 15 oz. can chickpeas, drained
1 15 oz. can canellini white beans, drained
2 tablespoons tomato paste
1 teaspoon dried rosemary
2 teaspoons dried oregano
1 teaspoon dried thyme
1/8 teaspoon dried red pepper flakes
1/2 teaspoon sea salt
1/2 teaspoon ground black pepper
2 dried bay leaves
8 cups 2 quarts vegetable broth
1 24 oz. can diced fire roasted tomatoes
1 1/2 cups chopped zucchini ~1 medium zucchini
1 small bunch lacinato kale stems removed, chopped
1 1/2 cup dried macaroni noodles
Instructions
Add all of the ingredients from olive oil to zucchini to a crockpot and stir to combine. Turn crockpot onto high for 8 hours. At 6 hours, add the kale and macaroni noodles. Cover with lid again and let finish cooking the final 2 hours. Add more salt and black pepper to taste if needed.
Notes
Note you can lower the sodium content by using low sodium canned beans and low sodium broth.
Nutrition
Serving: 1/6 th Recipe | Calories: 339kcal | Carbohydrates: 58g | Protein: 14g | Fat: 6.5g | Saturated Fat: 1g | Polyunsaturated Fat: 5.5g | Sodium: 1720mg | Fiber: 11g | Sugar: 10.5g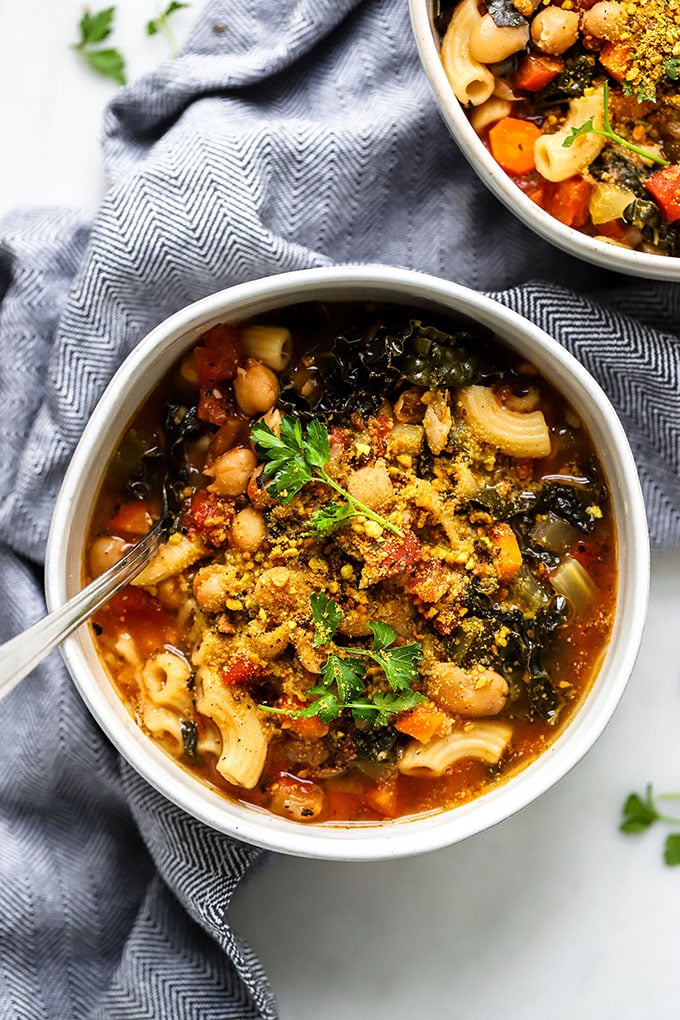 Reader Interactions