Cozy up to this fall flavor inspired trail mix that is gluten free and vegan and has no added sugars. Homemade apple chips are a fun addition to this fall trail mix!
Trail mix sometimes gets discredited as a healthy snack since it can be high in calories. It's true that you have to be careful what bag of trail mix you pick up at the store as many include a lot of candy/sugar. If you are anything like me, you can't help but pick out the chocolate! (If you are looking for a trail mix with chocolate – check out my healthy road trip trail mix post!)
However, if you do it right, trail mix can certainly be a very healthy snack option. The key is to incorporate whole grain, protein, and healthy fat without a lot of added sugars (ie. candy!).  
This trail mix is perfect for fall. One secret to lightening up this trail mix is the addition of popcorn. Popcorn adds lots of volume to each serving without adding a lot of calories. In fact, 3 cups of popped corn only has only 93 calories and 3 grams of fiber. Instead of candy, the sweetness of this trail mix comes from dried fruit: cranberries and apple chips. Of course, you could add just a bit of sweetness by mixing in a 1/2 tablespoon of brown sugar or a drizzle of maple syrup.
Did you know that you can dehydrate foods in your oven rather than using a dehydrator? I was super excited to try it out! Apple chips seemed like a good start and it turns out they were actually really easy. All you have to do is cut your apples into very thin slices, place them in a single layer on a parchment paper lined cookie sheet, and bake on low heat (200 degrees Fahrenheit) for around 2 hours.
I sprinkled mine with some cinnamon and nutmeg before baking for some added flavor. Right out of the oven, they are a delicious crisp chewy. I stored mine in a ziploc bag overnight and found they lose a little of their crispness and become more chewy over time.
Feel free to adjust this recipe for whatever nuts or dried fruits you have on hand. I was thinking pecans would be a delicious substitute for the walnuts! If you want the prep-time to go faster, purchase your apple chips from the store and use a bag of microwave popcorn. Just make sure you check the nutrition facts label on the microwave popcorn to make sure it doesn't have any trans fat. (A lot of them do!) 
More Snack Recipes You'll Love
Did you love this recipe? Make sure to leave a ⭐️ rating and tag #dietitiandebbie on instagram!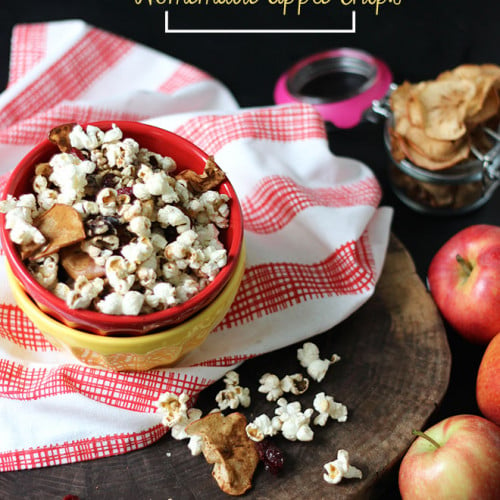 Fall Trail Mix with Homemade Apple Chips
Cozy up to this fall flavor inspired trail mix that is gluten free and vegan and has no added sugars. Homemade apple chips are a fun addition to this trail mix!
Ingredients
For the apple chips:
2 apples thinly sliced
3 cups water
2 tablespoons lemon juice
Dash of cinnamon
Dash of nutmeg
For the trail mix:
1/3 cup popcorn kernels or 1 bag microwave popcorn
2 tablespoons canola oil
1/4 cup dried cranberries
1/4 cup sunflower seeds
1/2 cup walnuts
1/2 teaspoon cinnamon
Dash of salt
Instructions
To make the apple chips:
Preheat the oven to 200 degrees Fahrenheit.

To make the apple chips, thinly slice apples horizontally through the core with a kitchen knife or mandolin. Let soak in a large bowl with the water and lemon juice for 10 minutes. (To help prevent browning.)

Line 2 cookie sheets with parchment paper and set aside.

Pat apple slices dry with a paper towel and arrange in a single layer on the cookie sheet. Sprinkle with cinnamon and nutmeg. Bake for 45 minutes to 1 hour. Flip the apple slices, sprinkle with cinnamon and nutmeg again and bake for another hour. When finished, chips should start to curl around the edges and turn light brown. Let cool on pan.
To make the trail mix:
In an enamel stock pot, add the canola oil and 2 kernels of corn. Heat over medium-high heat unit the kernels pop.

Quickly add the 1/3 cup of kernels and cover. Let pop, shaking occasionally for about 5 minutes, or until you don't hear any more kernels pop for more than 15 seconds.

Sprinkle popcorn with cinnamon and salt. Stir in the apple chips, cranberries, seeds, and walnuts.
Nutrition
Serving: 2cups | Calories: 326kcal | Carbohydrates: 29g | Protein: 6g | Fat: 23g | Saturated Fat: 2g | Polyunsaturated Fat: 21g | Sodium: 170mg | Fiber: 7g | Sugar: 11g
Reader Interactions