Will and I are celebrating our 2 year wedding anniversary this weekend, so I thought it would be fun to share this vegetarian cheeseboard for two that I created! This small spread is perfect for a date night for 2 when you want to stay in, sip some wine, and catch up on Netflix. (Which happens often around here in the winter!) What are some of your favorite date night activities? We cook a lot so we typically choose dinner out at a new-to-us restaurant. (In Chicago, there are so many great ones to choose from!) Some other date night activities we enjoy include:
Going for a long bike ride around the city or along the lakeshore path. In the summer, this usually includes a pit stop for an ice cream cone.
Seeing a comedy show at one of the many venues here in the city.
Visiting a local brewery down the street to play board games and sip on beer. (They are dog friendly so Honey often comes with us as well!)
Packing a picnic and watching Shakespeare in the Park in the summer.
Driving to Starved Rock Park to escape the city for a few hours of hiking. (Honey makes a third wheel for this activity too!)
Visiting one of the many arcade bars in town. The pinball machines are my fave!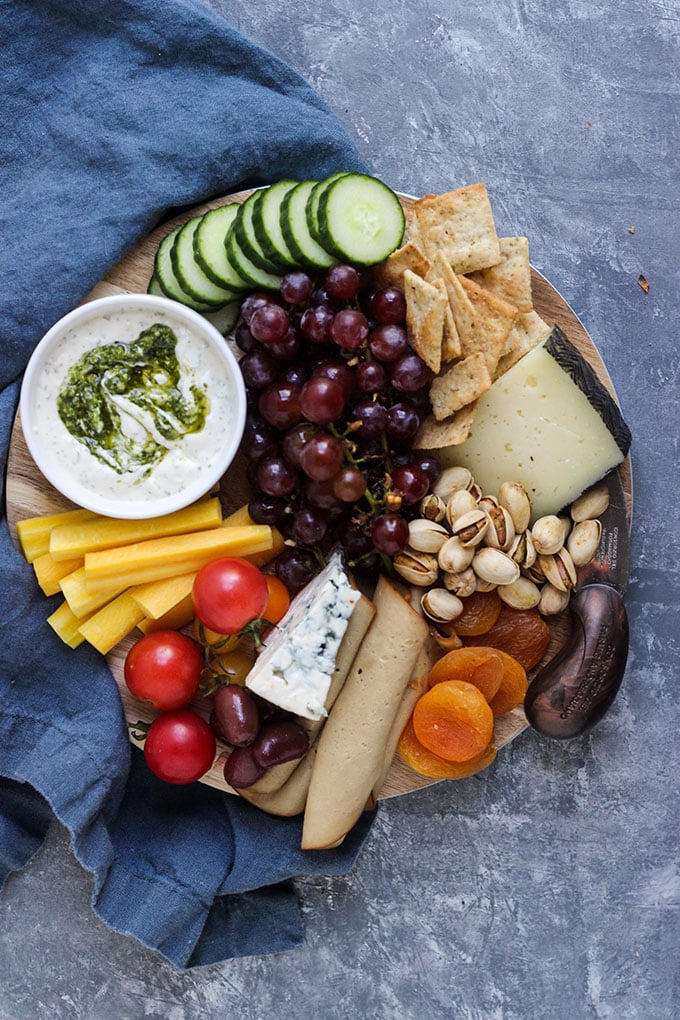 Let's talk about what's included in this cheeseboard! The dip is a homemade ranch dressing (Will's secret recipe) with some store-bought pesto stirred in. (Highly recommend trying this with your favorite ranch – a total game changer!) I included two types of cheese, a blue cheese and a manchego but you can substitute these for your favorites! For something sweet, I grabbed some grapes and dried apricots. The vegetables are carrots, tomato, and cucumber which all pair well with the ranch dip. You also may be wondering about those meat slices, they are from tofurky! They aren't sponsoring this post in any way, I just love their deli slices. I included the hickory smoked flavor slices in my board above. To finish, add some olives, pistachios, and their favorite crackers.
Vegetarian Cheeseboard for Two
Make this vegetarian cheeseboard for two for a fun date night in this weekend! This one includes cheese, crackers, pistachios, apricots and more.
Ingredients
Ranch dressing with pesto
Small bunch of grapes
Small piece manchego and blue cheese
Handful of cherry tomatoes
Handful of pistachios
2 carrots peeled, halved, and quartered
4-5 olives
3-4 " cucumber sliced
Handful dried apricots
5-6 to furky or other vegetarian deli slices
Handful of crackers
Instructions
Arrange ingredients on a large plate or cutting board and serve.
Reader Interactions